11 Art Deco Interior Design Ideas to Get You Inspired (with Pictures)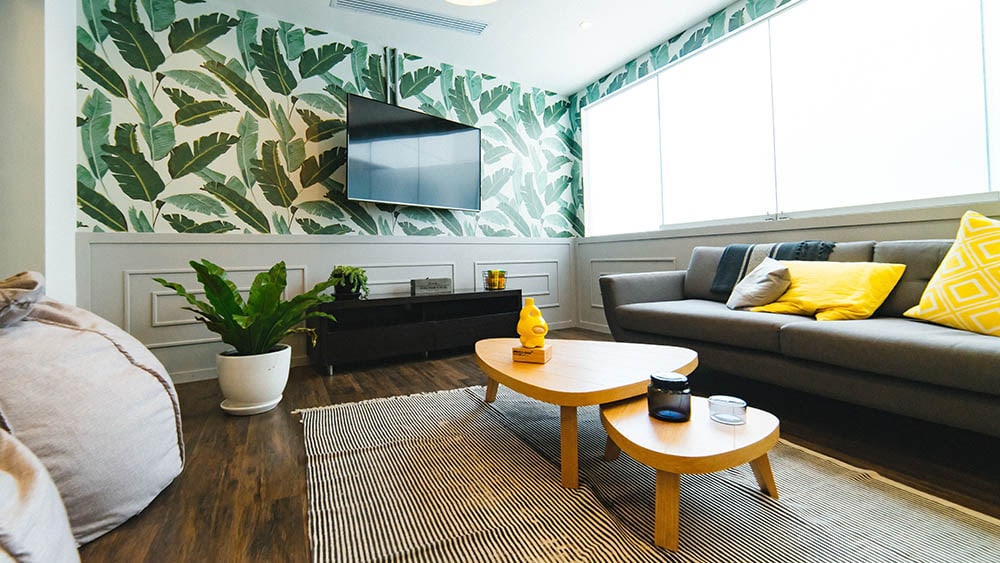 Once upon a time, Art Deco was the way to decorate a room, especially in the "Roaring '20s". However, it has largely fallen out of favor today. But after a decade of white, modern décor, Art Deco is making a comeback as something a bit more interesting than the modern style. If you're looking to stand out, then Art Deco will absolutely do that for you.
If you're looking for Art Deco ideas for your home, we have plenty for you. From animal prints to geometric patterns, these ideas will help you add a bit of Art Deco to any space.

The Top 11 Art Deco Interior Design Ideas for Your Home
1.

Animal Prints
Animal prints are traditionally an Art Deco style. Adding an animal print as a run (like in this picture) or even just as a pillow can really spice up a room. You don't want to necessarily mix animal prints or use them too much. However, they can be extremely useful to break up a space and help add some interest.
---
2.

Vivid Geometry
At the heart of Art Deco is its vivid geometry. You can't have Art Deco without geometric patterns on just about everything. While mixing multiple patterns in one space can be challenging, it doesn't have to be. This picture shows how you can keep the same color scheme to mix a wide range of different patterns.
Wallpaper, pillows, rugs, and furniture are all interesting places to add some geometry. If you're designing a room or your whole home in the Art Deco style, aim for plenty of geometric patterns.
---
3.

Interesting Furniture
Art Deco is all about interesting décor. Therefore, when adding furniture to a room, choose interesting pieces that look like they have a story. Instead of your usual, straight-lined chair, choose an interesting chair like the one in this example.
Of course, not all of your furniture has to be interesting. In fact, too much interesting furniture can just seem cluttered. However, remember that furniture can be a decoration piece in itself if it is on the more interesting side. Antiques are a great option for Art Deco, as they often look interesting and have a story to tell.
---
4.

Metallic and Glass
When going for as much glam as possible, add mirrors and mirror-like materials to a room. Metallic and glass materials work best, as you can see in this room. These materials are particularly useful for smaller spaces, as they can make a room seem bigger than it really is.
When choosing finishings, aim to have at least one metallic piece in a room. However, as this picture demonstrates, having multiple metallic statement pieces works well too.
---
5.

Sometimes, Simple is Better
Sometimes, simple lines and a few statement pieces are a better option than trying to shove all design tips into one room. You'll notice how this bathroom does have some metallic finishings and geometric shapes. However, for the most part, everything is much more toned down.
If your whole home is in an Art Deco style, you may want to have one or two rooms that are noticeably toned down. These rooms will help offset the other rooms and create a more balanced home.
---
6.

Go for Greens and Blues
While you can technically do Art Deco in any color, modern Art Deco does seem to use blues and greens the most. In fact, these are some of the most common colors for most styles, so this isn't surprising.
Of course, you can use whatever colors you wish. However, more products are available in blues and greens, so that may be enough reason for you to go with at least one of these colors.
---
7.

Use Colors Wisely
No matter what color you choose, we recommend being careful about your scheme. Ensure that it encompasses your whole room, as Art Deco often relies on color to bring everything together. With differing patterns, time periods, and materials, color is sometimes the only thing left to make a room feel well-designed.
When used correctly, color can make a room feel glamorous, which is exactly what this style is going for.
Therefore, pick a color scheme and stick to it strictly.
---
8.

Wallpaper
Truthfully, it is very difficult to have an Art Deco style without wallpaper. Wallpaper allows you to take advantage of geometric patterns and interesting shapes that you just wouldn't be able to do with paint. Most Art Deco designs use wallpaper for this reason.
The only time you could get away with paint is if you're using patterns heavily in other parts of the room, such as a rug or pieces of furniture. Then, a neutral color on the walls may make sense. However, in most cases, going with a geometric wallpaper is your best option.
---
9.

Golden Accents
You can't get more glamorous than gold, which is why it is often utilized as accents in Art Deco style. While gold doesn't work for every color scheme, it does fit in with most. If you can fit it into your style, do it.
Gold can be used as a furniture color as well, as long as it matches everything around it. You can also find wallpaper with specks of gold in it, which is an easy way to add in some color.
---
10.

Accessorize
Accessories can make or break an Art Deco room. You can't have a complete Art Deco style without strange and fantastical accessories. Feel free to choose accessories that fit your style—and don't forget about our previous recommendations. Metallic and glass accessories go a long way to making the room feel more glamorous.
Plus, this is also where you can infuse your own personality into the room. Find accessories that you love. Thrift stores are great places for these one-of-a-kind finds.
---
11.

Don't Forget the Lights
Lighting has a huge impact on the room and you should pay attention to how the lighting affects the design. You may need to play with the exact bulbs you're using a bit to find the correct color for your home.
Plus, you should also pay attention to the light fixture that you use. In the Art Deco style, you can use a wide range of different light fixtures to achieve the look you're going for. The stranger, the better!

Conclusion
The Art Deco style relies heavily on three main components: geometric shapes, glamorous materials, and vibrant colors. When you're designing an Art Deco room, the bolder, the better. You'll typically find huge walls covered in geometric wallpapers, metallic accents, gold accessories, and antique furniture.
Usually, greens and blues work best for the Art Deco style. However, you can use any color scheme you wish, as long as it is done in a glamorous manner. Wallpaper is often a must, as it is difficult to achieve geometric shapes without them.
Luckily, Art Deco does not have to be expensive in the least. Thrift store fines work well for this style, as unique pieces can make or break a room. Therefore, many designers are able to finish a room without it costing an arm and a leg.
See Also:
---
Featured Image Credit: Dan Gold, Unsplash