9 1960s Interior Design Ideas (with Pictures)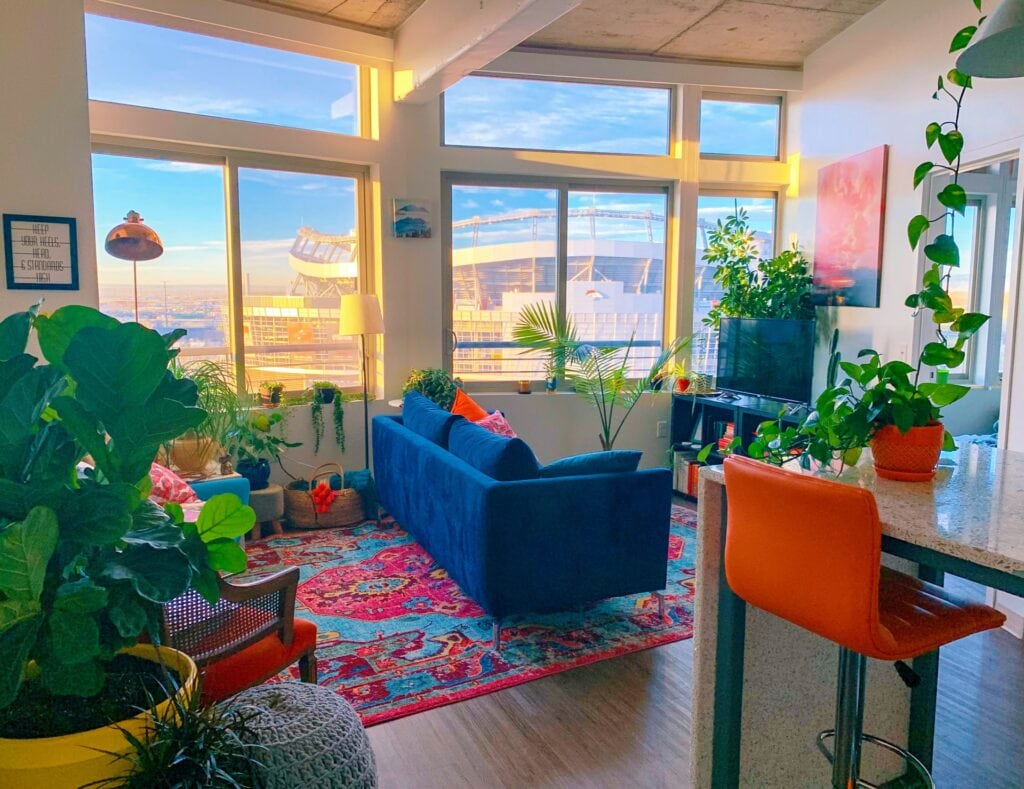 The 1960s was a decade of upheaval when everything from foreign relations and civil rights to technology and music underwent individual evolutions that would forever shape the world. Even furniture and decor weren't immune to the influences of the time. Bold and unexpected styles started to take hold, bringing psychedelic and transformative ideas to the home and cutting a distinct outline of 1960s interiors.
Decades later, the daring designs that defined the time strike nostalgic notes for eclectic home designers. It's hardly a timeless style, but if you're feeling a yen for a funky vibe, there's always room for pops of 60s flair. Get started on your retro look today with these nine 1960s interior design ideas.

The Top 9 1960s Interior Design Ideas
1.

Vibrant Colors
Varying colors were always part of the 1960s palette, but they got brighter as the years went on. Appliances, cabinets, dining tables, and sofas began moving beyond neutral tones.
Muted colors are a midcentury standard, bringing colors to essential furniture pieces without looking gaudy. A mustard yellow sofa highlights the 60s mood, as do the quintessential avocado and olive green colors for drapes, rugs, wall paint, and furniture. Going the hippie route, you can bring in more neon and psychedelic hues like bright pinks, magentas, and oranges for a loud statement.
---
2.

Eye-Popping Patterns
The 1960s weren't only an exploration of colors but also of patterns. A paisley sofa is a surefire relic of the period. Designs went in numerous directions due to various global influences. Indian and Moroccan-inspired prints were popular components in some 60s styles, but modern dynamism was equally favored, albeit not in the same room. No matter the style, the patterns always kept up with the colors to garner interest.
---
3.

Shag Rugs
The rug ties the room together, and in a dizzying array of color and pattern, there's no harm in keeping it grounded. But a neutral rug doesn't have to be any less fun than a bright checkered sofa. When pattern and color are out, texture can enter to add an element of intrigue to the carpet.
That may be why shag rugs were such a hit in the 1960s. A high pile rug is warm and cozy underfoot, a critical hint of comfort in a style dedicated to looks.
---
4.

BoHo Elements
BoHo belongs in a 60s-style room because it's a product of the 60s. The style dates back to the 1800s, but the 1960s gave it its modern definition primarily due to the hippie culture's embrace of exotic and eclectic patterns and palettes.
The style presents itself in diverse mixes of warm, natural tones and textures like wicker, burlap, and sisal. Cambodian, Persian, Moroccan, and Indian cultures are some of the primary influences from which you should pull inspiration.
---
5.

Wood Paneling
Wood paneling, especially the house-filling veneer style, can be a drab and shoddy feature of a modern interior, but there are plenty of ways to make a paneled wall a design highlight in the room.
Thin hardwood slats, for instance, add depth and shadow to a wall, offering a modern look welcome in today's interiors. Likewise, a new coat of paint can hide an outdated grain to brighten a room and provide a more timeless and versatile detail.
---
6.

Potted Plants
Plants find their way into numerous interior styles, but they are crucial components of modern and BoHo designs. Fortunately, both use similar approaches to integrate plants, giving some easy direction for a 1960s interior.
Lush, glossy greenery is the way to go. Tall corner plants work as well as hanging vines, and there doesn't seem to be a limit to how much plant life you add. Stick with popular plant species of the 60s, such as snake plants or golden pothos. For ultimate authenticity, search for a spot to display a prominent Swiss-cheese plant.
---
7.

Funky Lighting
The style features of the 60s were offbeat and bizarre, including strange takes on futuristic concepts. Furniture provides plenty of examples, but the lighting was equally unique. Mushroom lamps gave us pops of sleek minimalist forms, while lava lamps brought crazy aquariums of color into the living room.
Hanging accent lights and general lighting fixtures can also take on distinct 60s looks. Paper lampshades and explosive starburst designs were popular features of the time. Large domed lighting was another defining characteristic, as shiny chrome materials and glass gave off touches of clean, futuristic glamor.
---
8.

Space Age Design
Furniture got weird in the 60s, if for no other reason than it could. Flat pack pieces were a new trend, in vogue for seemingly savvy DIYers. Meanwhile, molded plastic technology delivered the space-age shapes and functions that most people associate with the decade.
The Panton chair is the classic symbol of the 60s décor: a flowing, single-piece chair that will immediately give any room the appropriate stylistic direction. Pod-shaped chairs and bean bags similarly did away with convention to become staples of the time. Furniture designs were organic, taking unusual shapes to attempt conforming comfort.
---
9.

Wall Art and Posters
Pop art was the movement in the 60s, and the shunning of high-brow culture made art more accessible. It was okay to put a poster in a frame. Decor didn't have to be luxurious. The rebelliousness of the time permeated the culture, ultimately loosening standards on good taste.
Vivid colors were essential in nearly all 60s art. Modern art brought them out juxtaposed against abstract geometry, and the free-flowing psychedelic prints in hippie culture made rainbow palettes a central focus.

Final Thoughts
If you want to bring a fun and lively style to your home, the 60s style is for you. The vibrant, unhindered patterns and color spectrums let you engage your quirkier side. It's a compelling blend of tastes, drawing from BoHo, mid-century, and futuristic styles. While the results are bold, challenging, and, in some cases, mind-bending, staying centered with these 1960s interior design ideas will help you create a fascinating aesthetic.
Related read: 10 Ways to Incorporate Steampunk Décor Ideas
---
Featured Image Credit: Steph Wilson, Unsplash