Aquabot X4 Pool Cleaner Review 2023 – Pros, Cons & Verdict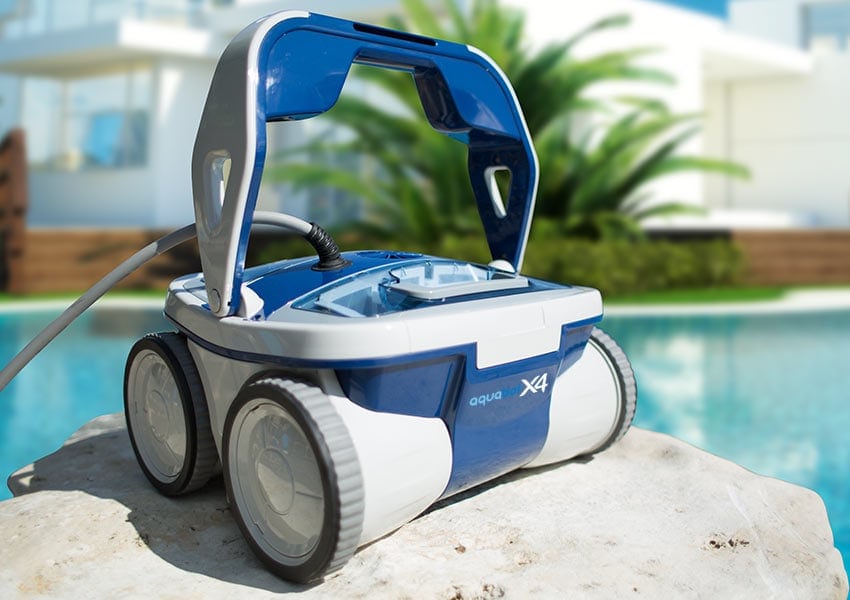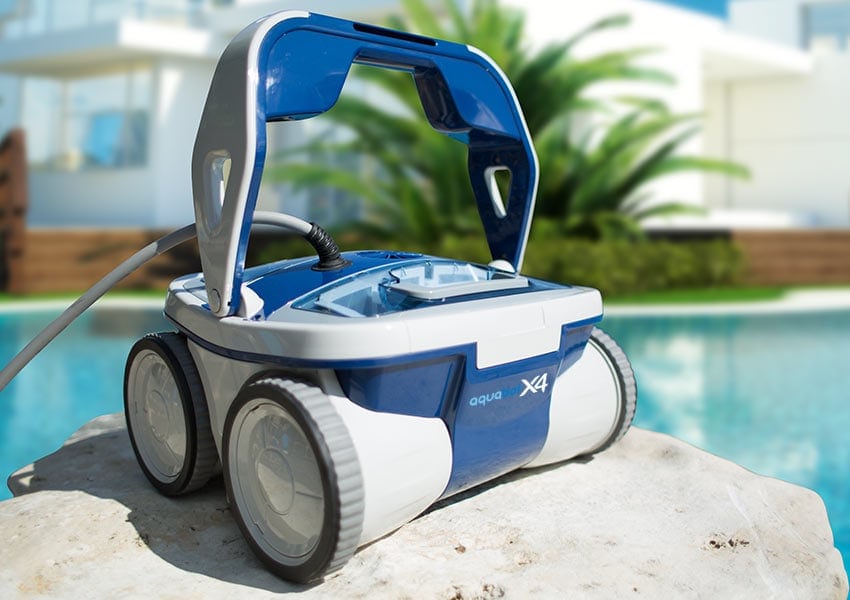 We give the Aquabot X4 Pool Cleaner a rating of 4.1 out of 5 stars. 
Build Quality: 3.4/5
Power: 4.1/5
Features: 4.2/5
Price: 4.5/5
Review Summary
The Aquabot X4 delivers robotic pool cleaning convenience and quality on a budget. It is best at scraping up and cleaning out the small stuff, capable of circulating 85 gpm while filtering out anything larger than 2 microns. It has true four-wheel drive motion, capable of moving across any surface, including tile. For its price, it comes loaded down with features. It also comes with a handy caddy to get it around your patio and to where you want to put it in. But watch out when pulling it out, It's twice as heavy as a lot of competing robotic pool cleaners.
Aquabot X4 – A Quick Look
Pros
Affordable
Removes contaminants down to 2 microns
Four-wheel drive
Cleans the waterline
Specifications
Brand name: Aquabot

Model: X4

Type: Robotic

Pool type: Inground or aboveground

Dimensions: 20.5 x 20.1 x 18.1 inches

Weight: 35.3 lbs.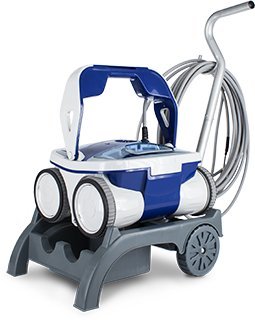 Sweating The Small Stuff
Rotating micro brushes scrub algae, bacteria, and pollen from your pool, as well as larger stuff, and it works right up to and including the water line. That stuff loosened from the floors and sides of your pool, the X4 cycles 85gpm of water through its microfilters, where anything larger than 2 microns is caught. The water returned to your pool is cleaner than it is with some drinking water filters.
Anti-tangle Swivel
A major hassle with any pool cleaner is worrying about it getting tangled up in its assorted power cords and suction hoses. That's not an issue for the Aquabot X4. A robotic pool cleaner, it has no suction hoses and it's 60-foot floating power cable comes equipped with a swivel that lets your cleaner motor its way across your pool floor and up its walls without getting tangled.
Versatile Enough For Above Or Inground Pools
The majority of pool cleaners are constructed for the inground pool market, where the money really is, so it can be a chore to find a cleaner for your aboveground pool. The Aquabot X4 is just at home climbing the walls of your aboveground pool as it is your inground pool offering robotic pool cleaning quality for pool owners frustratingly short of options.

FAQ
How good is the warranty that comes with this model?

The Aquabot X4 comes with a three-year warranty

How much power cord comes with this model?

This model comes with 60 feet of floatable cord.

How does this work on tile?

The Aquabot X4 is suitable for use on in-ground and aboveground pools and any kind of floor. A specialized kit comes with it if you need to use it on tile fiberglass.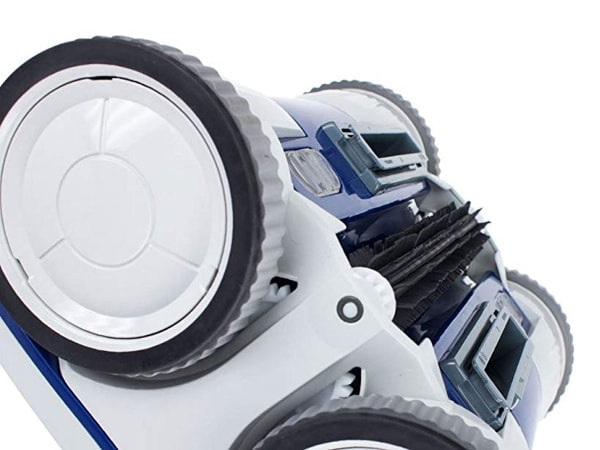 What the Users Say
Reading online reviews of pool cleaners can be a bit distressing. If you go strictly by those, no one makes a reliable, good pool cleaner, because they tend to attract a higher percentage of negative reviews than do other tool lines. It's hard to say whether this is a case that the market is just filled with duds or if it's such a reliably frustrating job and that pool cleaners tend to be so expensive that pool owners expect too much for their money and get disappointed by anything less than perfection. But, it is a reality.

The Aquabot X4 is no different. The biggest share of users was happy with it. In fact, a lot of people who ranked it very favorably raved about its all-around performance. It cleaned well and cleaned everything, including steps. If you know anything about pool cleaners and the frustration that people have using them, it often centers on their inability to adequately clean steps and ledges.

It also received praise for being easy to use for people new to pool cleaners. People also liked it because it doesn't require a lot of maintenance or attention to it once it's running.

Many of the complaints people had about it were pretty common to pool cleaners in general, that it doesn't quite do a good job cleaning some kinds of debris from the pool. It also has difficulties in corners, people reported.

One thing that should concern prospective buyers is that there were a handful of complaints about customer service. Pool cleaners are a complicated piece of technology, especially if you buy a robotic cleaner. That can create a lot of uncertainty and questions, in addition to potential service calls. Because of the cost of buying any pool cleaner, including ones that run cheaper, quality customer service is simply part of the purchase.

Overall, however, more users reported positive experiences than negative ones. Not so much more than you'd like to see, but at rates that for pool cleaners, in general, are pretty typical.

Conclusion
If you want robotic pool cleaning quality on a budget, the Aquabot X4 is a good option. It can filter 85 gpm and remove particulates and chemicals down to 2 microns, which is better performance than some drinking water filters. Suitable for both aboveground and inground pools, its four-wheel drive transmission allows it to move across any surface, including tile. It also comes with a handy caddy for the cleaner, the power supply, and the cord, so you can easily get it to exactly where you want to put it in with no hassles. It's a beast, though, and its weight will give you an upper body workout when you try to pull it from the water.

Other news from the blog:

A Review of the Dolphin Oasis Z5

An in-depth review of the Dolphin Premier