Are Jeep Wranglers Good In The Snow? Features, Performance & Tips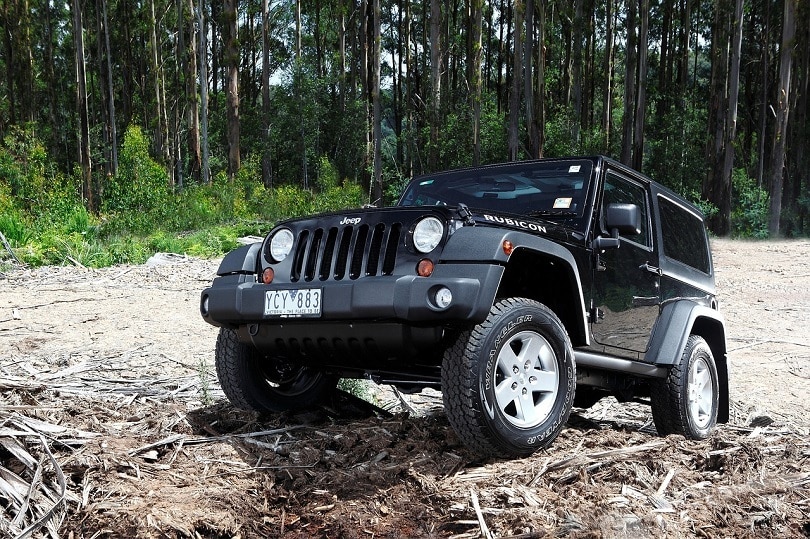 Jeep Wranglers are excellent vehicles with an outstanding off-road capability, and many people purchase them to be able to explore different terrains. These cars are robust, versatile, and durable, which is why they appeal to many people.
The whole design of this vehicle allows it to handle bad weather such as snow and ice, making Jeep Wranglers perfect for driving in the snow. The manufacturers thought about everything, so the vehicle includes extra safety features when driving during harsh winter.
If you're considering buying a Jeep Wrangler or already have it but would like to know how it performs in the snow, check out the rest of our article.
Jeep Wrangler Features That Make Winter Driving Outstanding
With the Jeep Wrangler, the main focus of Jeep's manufacturing was to create a vehicle whose specific use is off-road driving. Although this model is not as luxurious as other Jeep vehicles, it excels at what it's supposed to do—performing on different terrains.
The whole design is carefully thought out to handle all types of roads and climates, including snow and ice.
Excellent Ground Clearance
Jeep Wranglers have excellent ground clearance that varies from 8.3 inches up to 9.7 inches, which is more than standard vehicles. Because of the high ground clearance, it's much easier to maneuver a Jeep Wrangler during snow as you have a clear view of the road and a strong position above the snow.
This vehicle has maximized features to allow excellent visibility while avoiding obstacles below you.
Four-Wheel Drive
A four-wheel drive is necessary when driving in harsh winter circumstances, and a Jeep Wrangler will provide you with that feature. Due to the four-wheel drive, the vehicle's traction increases, allowing you to operate on different terrains efficiently.
Outstanding Powertrain
The Jeep Wrangler also offers an outstanding powertrain with a V6 engine and either a six-speed manual or eight-speed automatic torque. Some models of this vehicle have an alternative gasoline option or a diesel engine that enhances the snow-performing capabilities.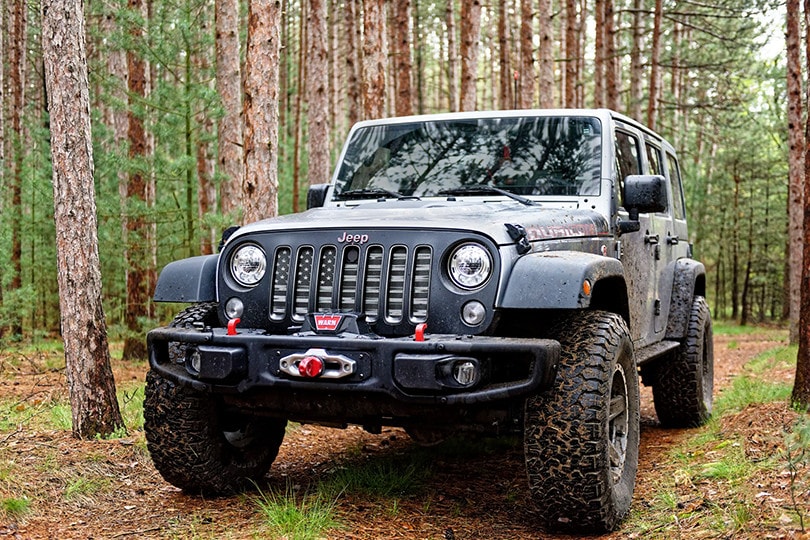 Switchable Locking Differentials
Some Jeep Wrangler models have switchable locking differentials that add an advantage during driving in snowy conditions. When driving through deep snow, a locking differential will help you plow through and get you out of a complex situation, while an automatic differential could be harmful when driving through ice and snow.
The switchable locking differentials will add the required traction so your vehicle doesn't glide on icy and snowy surfaces.
Excellent Tire Selection
As the Jeep Wrangler is built for driving on off-road terrains, it can handle various kinds of tires. Tire manufacturers continuously make new tire options for Jeeps, so your winter selection will be excellent. You can choose durable traction winter tires that will be a superb companion for driving in the snow.
Outstanding Heating System
Although a Jeep Wrangler doesn't look like a warm vehicle, it has an exemplary heating system that is very efficient. Driving in such conditions is already challenging enough, and the last thing you need is to shiver while driving!
That's why the heating system of this car is a fantastic perk to have while driving during winter, especially since the car will heat up quickly even in extremely low temperatures. Some newer Jeep Wrangler models even have a heated steering wheel and heated seats for maximum comfort and added warmth.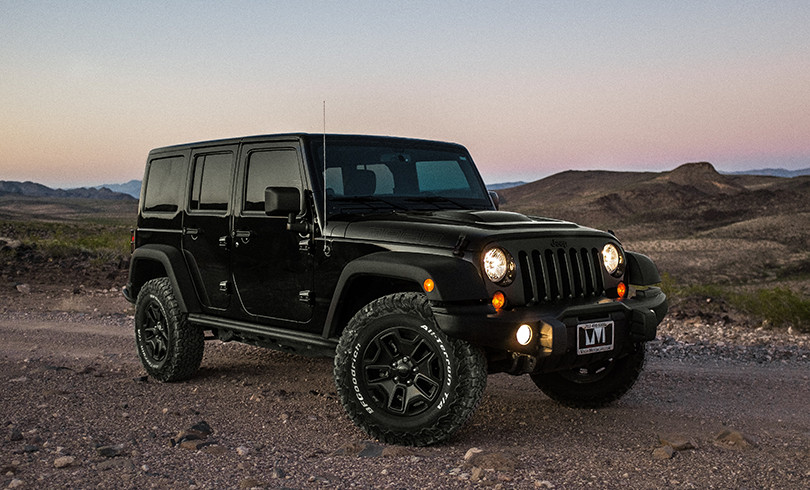 Blind Spot Monitor
This feature is only included in the latest Jeep Wrangler models, but it's worth mentioning, as it's pretty convenient. When driving in the snow, you need to have good terrain visibility, which this feature will allow. With a blind spot monitor, you'll be able to see if there are vehicles or obstacles in a spot you couldn't see without it.
Big Side Mirrors
The big side mirrors included in the Jeep Wranglers' design will also be a great addition while driving in the snow as they will also give you better visibility of the terrain. Due to their size, the mirrors and rearview mirrors will make it much easier for you to navigate through snow and ice.
Other Driver-Assistance Features
Other than the features we mentioned, Jeep Wranglers have other tricks up their sleeve. Every Jeep Wrangler has a built-in rear reversing camera, tire pressure monitoring, and hill start assist.

Are Jeep Wranglers safe while driving in the snow?
Although Jeep Wranglers are not specifically designed for winter, they are pretty safe while driving in the snow. Some models are better than others, so if you're looking for a Jeep Wrangler with the best snow and ice performance, our suggestion is the Jeep Wrangler Rubicon.
Still, even if you go for a different trim, there's no need to worry, as all Jeep Wranglers have a great off-road engine and excellent transmission that will make driving in the snow comfortable and less complicated.
A Jeep Wrangler will allow you to safely drive on snowy terrains while maintaining a good vehicle balance and precise handling. Due to the stiff suspension, you shouldn't have any issues passing any obstacles on the road, and your car should remain sturdy and stable.
How Do Jeep Wranglers Perform On Ice And Snow?
Jeep Wranglers perform well on ice and snow, and their features allow the driver to maneuver through harsh weather without complications. Due to the excellent ground clearance, you can operate the vehicle in the snow efficiently.
The four-wheel-drive will allow you to push deep into the snow, creating more traction and providing a smoother ride. As these vehicles have switchable locking differentials, you'll gain additional power in your wheels while driving on a road filled with snow.
Overall, all the features that Jeep Wranglers provide will enhance your driving experience in cold weather and make it enjoyable instead of frustrating.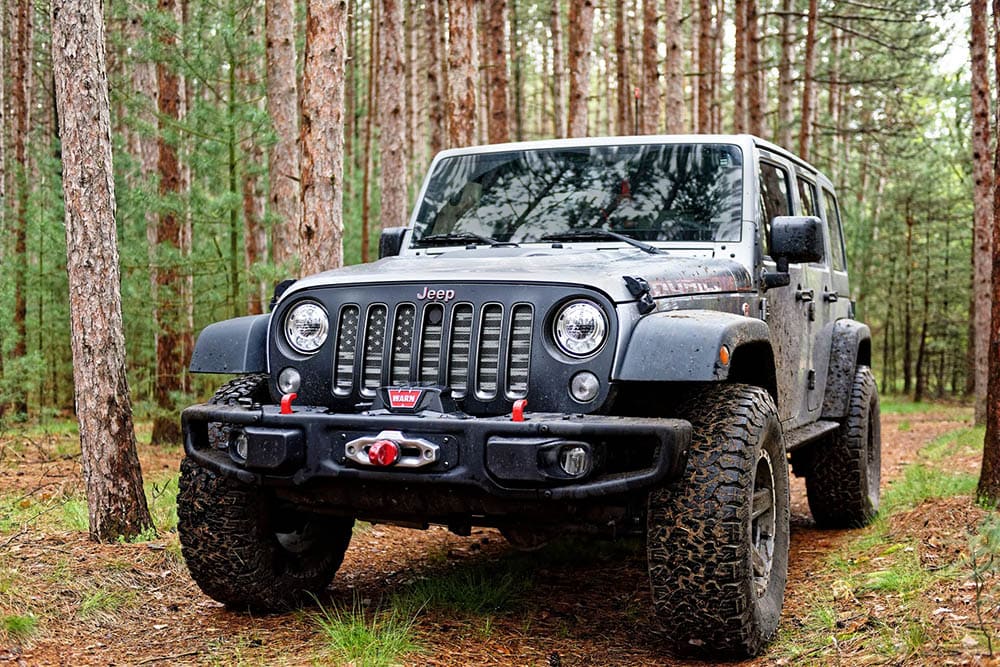 How Can I Improve The Performance of My Jeep Wrangler for Winter?
Even with all the excellent features, there are specific things you can do to improve the performance of your Jeep Wrangler for winter.
Tips to improve the performance of your Jeep Wrangler for winter:
Purchase appropriate tires: You'll need to have a good set of tires that is appropriate for the winter season.
Switch to four-wheel drive when needed: When driving on snow and ice, don't forget to turn on the four-wheel-drive feature to enhance performance on snowy terrains.
Purchase front and rear snow chains: Although this is not a necessity, a good set of front and rear snow chains will enhance your maneuvering of the vehicle in areas that aren't plowed.
Final Thoughts
The Jeep Wrangler is a vehicle that has the ability to withstand even the most challenging terrains, so there's no doubt that it will perform well in the snow. All the features that this vehicle has will help you to feel safer and drive comfortably—even when the snow is deep.
---
Featured Image Credit: Rubicon Jeep by Scozzy, Pixabay