10 Best Air Impact Wrenches of 2023 – Reviews & Top Picks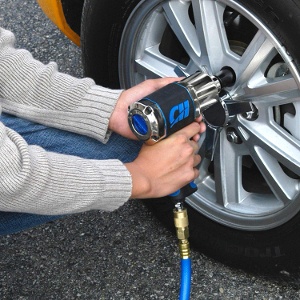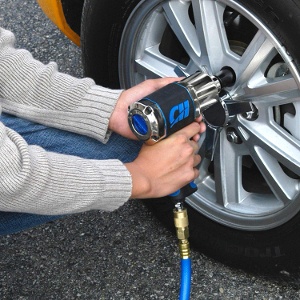 Air impact wrenches take the pain out of removing tires and loosening tight engine bolts, and they're essential tools for the aspiring home auto repair technician. If you're unfamiliar with the tools or haven't bought an air impact wrench in a long time, you should know there's never been a better time to buy than now.
With the internet on your side, you can get a great deal, but there's also a chance you get something that doesn't work well. Don't let that happen to you! We've assembled reviews of this year's best air impact wrenches so that you can find a great model at an affordable price.
We've also created a buyer's guide, so if you've never bought one of these tools before, you can learn everything you need to know before you buy.
---
A Quick Glance at Our Favorites of 2023:
Rating
Image
Product
Details

Best Overall

AIRCAT 1150 1/2-Inch

Massive torque
1
400 blows per minute
Relatively quiet
CHECK PRICE

Ingersoll Rand 2235QTiMAX 1/2″

Good torque
1
220 impacts per minute
Relatively quiet
CHECK PRICE

Best Value

Campbell Hausfeld TL140200AV

Multiple speeds
1
200 impacts per minute
Lightweight
CHECK PRICE

DEWALT DWMT70773L

Good torque
One-handed operation
Good for small compressors
CHECK PRICE

Craftsman 9-16882

Price
Relatively quiet
CHECK PRICE
The 10 Best Air Impact Wrenches:
1.

AIRCAT 1/2″ Air Impact Wrench – Best Overall
The AIRCAT 1150 1/2-Inch Air Impact Wrench is a great choice for addressing difficult bolts or loosening several bolts in quick succession without slowing down. This air impact wrench comes with 1,295 foot-pounds of force, which is enough to loosen almost any bolt. It also has 1,400 blows per minute, so it keeps steady pressure on the bolt while you work, which makes the job easier.
While no air impact wrench is quiet in the traditional sense of the world, this powerful model only produces 86 decibels, which is impressive for this type of tool. It's not quiet, but it's undoubtedly not earsplitting. It also comes with an excellent 2-year warranty, which tells you that the manufacturer stands by their product.
Unfortunately, the Aircat is so powerful that it produces uncomfortable vibrations while you work. That's a worthy tradeoff for most people, but you may not want to deal with it. Overall, the Aircat is the best 1/2-inch air impact wrench on the market.
Pros
Massive torque
1,400 blows per minute
Relatively quiet
Good warranty
---
2.

Ingersoll Rand 1/2″ Air Impact-Wrench
The Ingersoll Rand 2235QTiMAX 1/2″ could easily be the top entry on our list if the previous model didn't exist. It has decent torque at 1,300 foot-pounds and delivers 1,200 impacts per minute. Note that both values are slightly lower than the previous model but still quite good. The "Q" in the model number means this is the "Quiet" version of the popular 2235, which begs comparison to the other tool. It's quieter, only putting out 91.99 dB.
It produces less PSI than the previous model: 90 PSI to 150 PSI. If you have a smaller compressor or one with a lower maximum PSI, the Ingersoll Rand is ideal. However, the quiet 2235 doesn't pack the same punch as the regular 2235. Overall, this is a good choice if you know that you like the 2235 already and want a quieter variant or if you're someone with a low-power air compressor. This is also one of the best air impact wrenches for lug nuts.
Pros
Good torque
1,220 impacts per minute
Relatively quiet
Lower PSI requirement
Cons
Not as powerful as loud version
---
3.

Campbell Hausfeld 1/2″ Air Impact Wrench – Best Value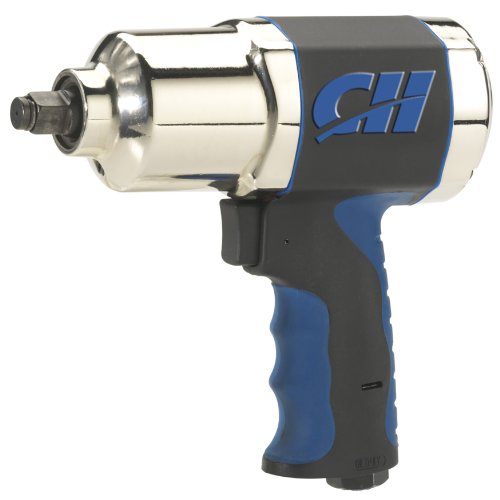 The Campbell Hausfeld TL140200AV is our pick as the best air impact wrench for the money. You can get it for a fraction of the price of the first two models on our list, but you can still get reliable performance. Unlike the other models, you can set the speed to low, medium, or high with a selection dial instead of adjusting the power by how hard you squeeze the trigger. This is great in situations where you want fine control over the process. It delivers 1,200 impacts per minute, so it's almost as good as our first two entries in that category.
It's also incredibly lightweight, weighing only 8 ounces, much less than the 10 pounds you could expect from some other models. If you're going to be in situations where extra weight will make the job more difficult, this model could be the one that you need. The one downside is that it's not very powerful and only provides 550 foot-pounds of torque. However, that's still enough for most jobs.
Pros
Price
Multiple speeds
1,200 impacts per minute
Lightweight
---
4.

DEWALT 1/2-Inch Air Impact Wrench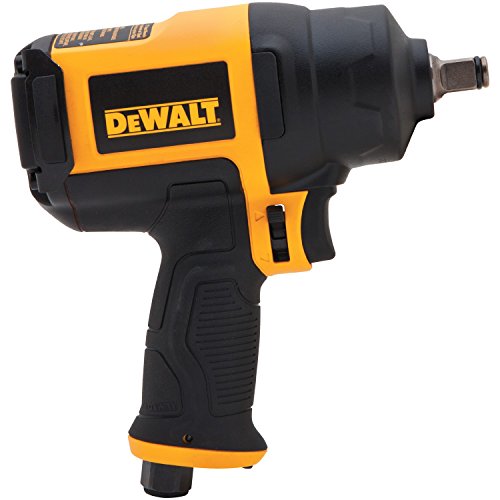 The DEWALT DWMT070773L is a very reliable, small air impact wrench. The best thing about this model is that it's small enough to operate with one hand, and DEWALT has designed the controls so that they're within easy reach. This speeds up your work as you can remove or place the bolts with one hand and tighten or loosen them using the other.
Other air impact wrenches require you to use two hands while you tighten or loosen, which takes a little more time. The DWMTP70773L is a good option if you have a smaller air compressor since it operates at a lower CFM than most similar tools.
You get 650 foot-pounds of force, which is okay, but it won't be enough for the most challenging bolts. This model also tends to attract dirt and grease, and due to its bright yellow case, it starts to look bad quickly. That might not matter to you, but it's always nice when a tool works well and looks great. This won't be the right model for everyone, but it's a great one-handed model.
Pros
Good torque
One-handed operation
Good for small compressors
Cons
Gets dirty easily
Expensive
---
5.

Craftsman Pneumatic Impact Wrench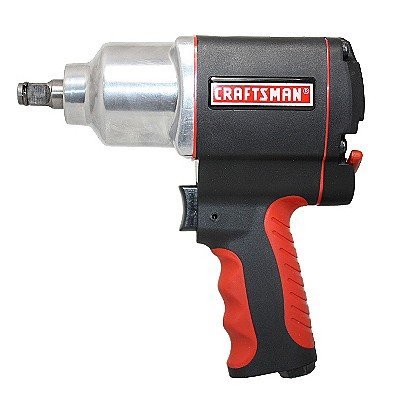 The Craftsman 9-16882 has some things going for it, but ultimately isn't the best product on our list. The first thing you'll likely notice about the Craftsman is its price. You can get it for even less than our "best value" pick on this list. That's certainly a big selling point, but as with all cheap tools, you will want to ensure that the quality meets your standards.
It is a relatively-quiet air impact wrench, which makes it good for situations where you can't make too much noise. However, it has limited power and is the only model on our list that will struggle with stuck or rusted bolts. The Craftsman also has some quality control issues, so you may not get a long-lasting model on your first try.
Even if it doesn't break, you'll probably have to deal with jams, which makes it a frustrating tool to use. If you need something cheap, this is worth a look, but if you want a frustration-free experience, look elsewhere.
Cons
Poor power
Jams
Quality control issues
---
6.

AIRCAT 3/8″ Air Impact-Wrench
If you've ever had the experience of having a rusted bolt stuck in an area where you couldn't reach it with your impact wrench, you'll appreciate the smaller fra,e of the AIRCAT 1076-XL ⅜-inch compact impact wrench. With the small size comes a drawback, however. Its 550 foot-pounds of torque just can't compete with the ½-inch drive wrenches that ranked higher on this list.
At just 2.5 pounds, it is a very comfortable wrench to hold. This is especially useful when you consider the tucked-away bolts in hard-to-reach places. Combined with the comfortable grip, it was one of our favorite tools to use. What surprised us was how quiet it was, which can be a real asset in a workshop with a loud compressor. Overall, we think the Aircat 1076 is one of this year's best 3/8″ air impact wrenches.
Pros
Tiny size
Very lightweight
Quiet operation
Cons
Not enough power
High price for what you get
---
7.

Ingersoll Rand ¾-Inch Impact Wrench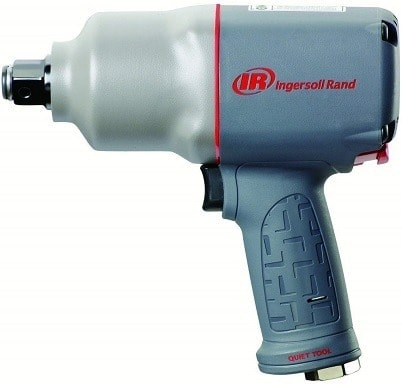 This air impact wrench from Ingersoll Rand is a powerful tool with the size and weight to match. At 7.4 pounds, this behemoth isn't the most comfortable, and maneuvering it into hard-to-reach areas isn't much of a pleasure. However, no bolt will stand up to the power of this wrench. With 1,350 foot-pounds of torque, it will make short work of even the most rusted and determined bolts.
The biggest problem is the lack of durability. Thankfully, a two-year warranty is included because you'll most likely need it. Ours worked fine but eventually started blowing air from the housing. After looking around, we discovered it is a common problem with this tool. At this price point, we hoped to see a much longer lifespan. Despite these problems, the great power earns it a spot on this list, though not near the top.
Pros
Two-year warranty
Very powerful
Cons
Very heavy
Poor longevity
Very expensive
---
8.

TZTool ½" Air Impact Wrench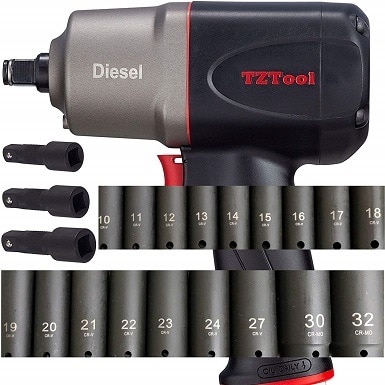 The Diesel impact wrench from TZTool is so attractive to consumers because of the deep-well impact sockets and extension bars. Buying a new impact wrench can get very expensive when you factor in the additional expense of sockets, extensions, a compressor, etc. This wrench helps remove some of the headaches from the experience by including most of what you need. For what you get, the price is very affordable.
Although the TZTool wrench seems like quite a deal for the price, it suffers in a few key areas. First, quality control is not up to par. In the package we received, one of the sockets was missing, instead being filled by a duplicate of another size. Another downfall of this wrench is that it's underpowered.
With a maximum torque in reverse of 875 foot-pounds, it had some problems getting the most rusted bolts loose. In our opinion, better wrenches with more power are available for a lower price.
Pros
Affordable price
Includes sockets and extensions
Cons
Low power
Poor quality control
Better wrenches are available for less
---
9.

Neiko 30128A Impact Wrench (Air)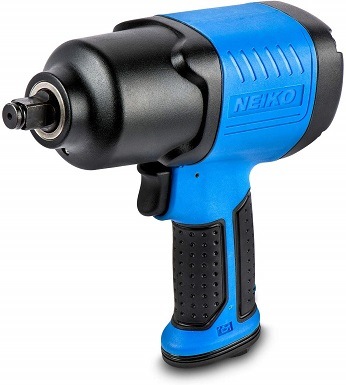 Since it's priced affordably for most DIYers, this air impact wrench from Neiko will allow you to do the basic work of removing and installing bolts. However, with a meager max power of 600 foot-pounds, it had a tough time with bolts that were only moderately corroded. It's far from a powerhouse and failed to remove several bolts that were rusted in place.
No matter how affordable, it's not powerful enough to remove the hardest bolts. On the bright side, it's lightweight, coming in at around 6 pounds. Its design is also pretty compact, making it much easier to get into tighter spaces.
Cons
Only 600 ft-lbs of torque
Couldn't remove the most rusted bolts
---
10.

ACDelco Pneumatic Impact Wrench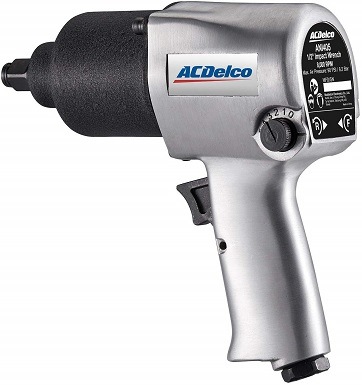 The ACDelco ANI405 Twin Hammer air impact wrench claims to be heavy-duty, but with only 500 foot-pounds of torque, it's a questionable claim at best. In our testing, it was underwhelming, to say the least. Heavy duty probably isn't the word we would choose to describe this tool. It may be rugged, thanks to the aluminum housing, but it's very weak, having problems with any bolts that show more than just a minimum level of rust and corrosion.
At just below 6 pounds, the ACDelco isn't too heavy. It's also pretty compact overall. It features several speed levels that are selectable by a dial, though we prefer a variable speed trigger. It's also sitting pretty low on the price spectrum, which honestly, is exactly where it should be. Overall, it's a decent wrench handicapped by a lack of power.
Cons
Low power
No variable speed trigger
Can't loosen the rusted bolts
---
Factors to Consider When Choosing the Best Air Impact Wrench
Hopefully, our reviews have already shown you what you should look for when you shop for air impact wrenches. If you want to learn more about the tools or want a quick refresher before you buy, be sure to check out this buyer's guide. We designed it with the beginner in mind so that they can know everything they need to know to make a great choice, but that doesn't mean it's not a great refresher course for an expert.
Torque
Torque is easily the most critical feature of an air impact wrench. If you're dealing with rusted or otherwise stuck bolts, you need an air impact wrench with a lot of torque. A good rule of thumb is that any air impact wrench with more than 1,000 foot-pounds of torque will do a good job loosening rusted and stuck bolts.
For more general tasks that don't involve stuck bolts, 500 foot-pounds of torque or more is generally enough. Air impact wrenches with less than 500 foot-pounds of torque may not have the punch you need to change tires.
Size
The size of your air impact wrench also makes a massive difference in the kind of use you get out of it. Larger models tend to have more torque, but that isn't always true. Occasionally, you can find a smaller model that packs a good punch, but that's the exception rather than the rule.
You should also keep the tool's balance in mind. The best impact wrenches have an even balance over the center of the barrel. That means when you hold it up, you don't feel it pulling to the left or the right, nor do you feel it tilting forward or backward.
You're going to attach a heavy air hose to this device, so you want it to be as balanced as possible. Maybe that's not something you think you care about, but well-balanced tools can be a pleasure to use, while unbalanced tools wear you out faster.
The upside of a smaller model is that you can get higher torques with less compressed air. These smaller air impact wrenches have a lower CFM or cubic feet per minute. Because they're smaller, they can use less air to achieve the same torque. A smaller air impact wrench can be a lifesaver if you have a small compressor or one that refills slowly.
Of course, if you want the top-end torque, especially if you're looking to find a model that can remove rusted bolts, then you'll probably have to buy a larger model. Keep that in mind while you shop.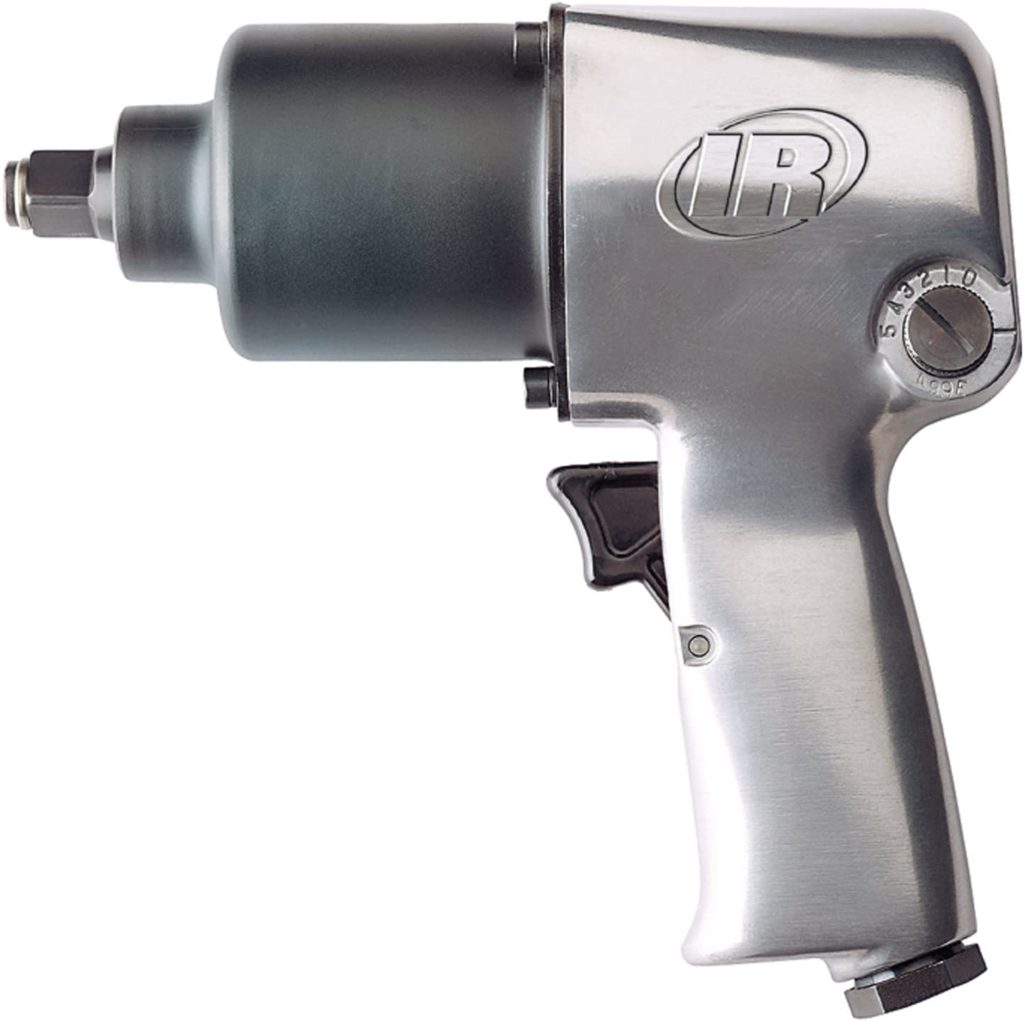 Adjustment
There are two primary ways in which air impact wrenches change the amount of torque that you're applying.
Oddly, lower-end models tend to be the ones that use an adjustable dial to change the torque. Most of these models feature a large dial on the back of the unit, and they typically have just three options: low, medium, and high. Other models feature a dial near the trigger, which makes them easy to operate with one hand.
More expensive models use a system that increases the torque as you increasingly pull down on the trigger. If you have steady hands, this can give you a finer degree of control. A common complaint about models that use this system is that they don't always smoothly increase the torque as you pull down. With some brands, the torque seems the same no matter how much you pull down the trigger, which is a disappointing flaw.
Which air impact wrench is right for you?
No model is going to be the right one for all people. There are many aspects to consider when shopping for an air impact wrench, but there are a few things you should focus on. The tool's torque is very important.
There's a good chance you know what kinds of bolts you'll be dealing with, so make sure you get a tool that's up to the task. Portability also makes a huge difference. It'll change whether you feel like you're dragging it around or if it moves with you.
Other Impact Wrenches We've Reviewed
Conclusion
The AIRCAT 1150 1/2-Inch Air Impact Wrench is our favorite model, and it comes with massive torque, a good warranty, and it runs quietly. The Ingersoll Rand 2235QTiMAX 1/2″ is the runner-up on our list, coming with good torque and quiet operation, but missing out on the top spot due to its underwhelming power. You can get the Campbell Hausfeld TL140200AV for a great price, and it comes in a lightweight frame with multiple speed selections. The DEWALT DWMT070773L is a good choice for people who need a one-handed air impact wrench. The Craftsman 9-16882 is very cheap but lacks power and quality, dropping it to last on our list.
We hope our reviews and buyer's guide have helped you learn what you should look for when you shop for an air impact wrench. Armed with this information, you should be able to find a model that you'll love using.