PB Blaster vs Liquid Wrench: Which One's Best?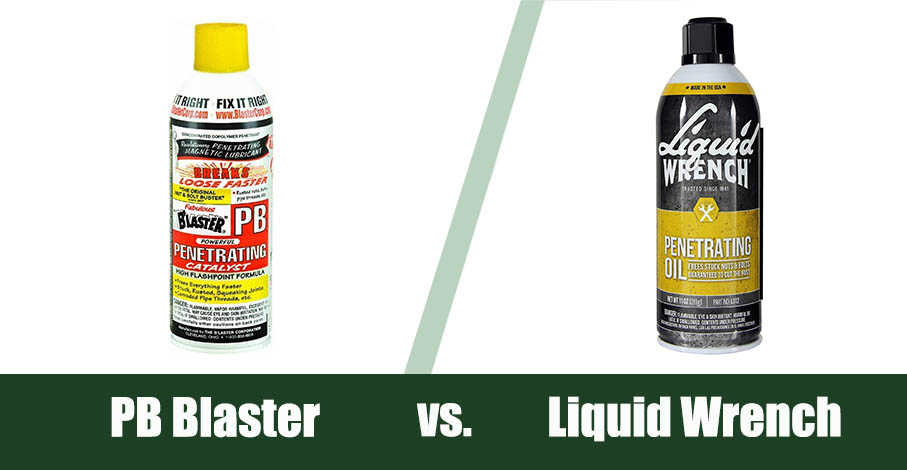 In this review, we are taking a look at two enduring and highly effective products that have been a stable in DIY toolkits for decades—PB Blaster and Liquid Wrench.
The chances are, you've already got a can or two of one these penetrating oils somewhere in your home or garage. Both are lightweight petroleum oils designed to wick their way into the threads of fasteners and provide lubrication. Whether you're trying to loosen a rusty bolt that is locked in place, separate a seized garden fitting or free-up just about any other metal-on-metal item, you're going to want one of these oils.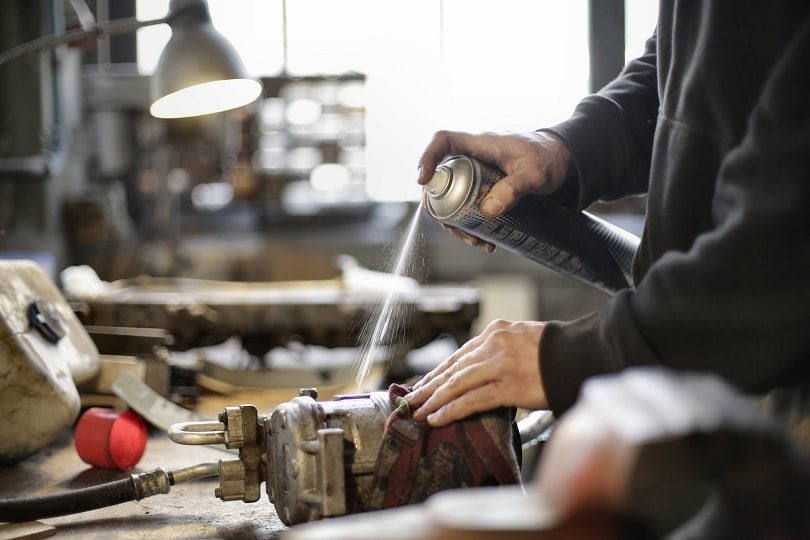 In terms of the effectiveness, there's not much difference between them. PB blaster is perhaps a little better at penetrating deep into rusted parts, and in that regard may the better of the two. But, it does have an overpowering smell, and if you need a product that you can use inside, you might prefer Liquid Wrench as its odor is much less offensive.
From a price and popularity perspective, PB Blaster is more popular and generally outsells Liquid Wrench, despite being a little more expensive. But to be fair, there's not too much difference between them in price, and on any given day you may be able to find one on sale and cheaper than the other.
Of course, you don't have to choose; you could just buy one of each.
What Are the Differences Between Them?
Performance
Edge: PB Blaster
Both of these products do a great job, but PB Blaster edges out Liquid Wrench when it comes to loosening the toughest of rust-covered nuts and bolts.  For most everyday tasks, though, either product will do the job without any problems.
Odor
Edge: Liquid Wrench
Any penetrating oil that you use is going to have a bit of an odor to it, but in a side by side comparison the smell of Liquid Wrench far less offensive than PB Blaster. If you need a product for use in an enclosed space with little or no natural ventilation, Liquid Wrench will be the best choice.
Availability
No Edge
Both products are readily available online, and in stores, you are unlikely to have any issues getting hold of either of them.
Price
No Edge
There's not a lot of difference in price between these products.  You can often get Liquid Wrench at a lower price than PB Blaster, but on any given day one or the other may be on sale, making it hard to predict which will be cheaper.
Warranty /Guarantee
No Edge
PB Blaster
The manufacturer will replace any can of their product that is less than three years old that fails to dispense correctly.
Liquid Wrench
The manufacturer offers a full refund on the purchase price if you are unhappy with the product for any reason within one year of the date of purchase.
---
Quick Rundown of PB Blaster
Developed in 1957 by William K Westley to help a friend with corroded equipment at a Florida phosphate mine, PB Blaster has been a bestselling solution to loosening rusted and corroded parts ever since. According to its manufacturers, its secret lies in its ability to work its way into the hardest to reach areas, and break free any rusted or corroded material.
PB Blaster also contains a non-evaporating lubricant that protects against further rust and corrosion.
Pros
Easy to use
Tried and tested
Extremely effective
Price
Cons
Strong odor
Insufficient propellant in cans
---
Quick Rundown of Liquid Wrench
The original Liquid Wrench formula has been available since 1941. Like PB Blaster it was developed in the United States and has always been made here. It has a fast-acting anti-seize that will cut through rust and grease quickly. The formula is made with 0% VOC (Volatile Organic Compound), making it very safe to use, even on painted surfaces and indoor work, and unlike its competitor, it has an inoffensive smell.
Pros
Price
Inoffensive smell
Very effective
Tried and tested
Cons
Not as effective on tough jobs
What the Users Say
When we conduct a head to head review like this, we think it's important to consider what everyday users of the products have to say. To that end, we've read many online product review pages and forum discussion and noted the views a large number of users.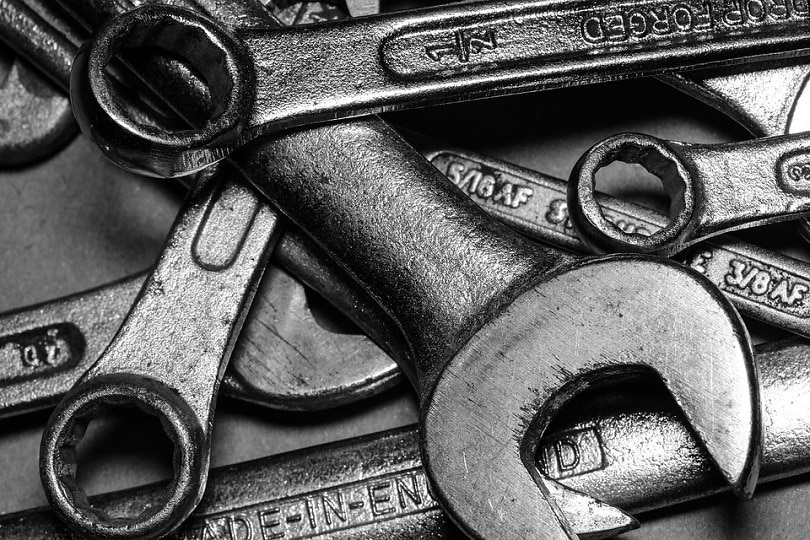 Of course, we realize that most people don't take the time to leave detailed reports about a product unless they were particularly impressed with the product, or they felt there was something significantly wrong with it. Typically it's those that have a problem with it that have the loudest voices. So, it says a lot about both of these products that the vast majority of online user reviews we came across are very complimentary.
Here's a quick breakdown of some of the main points people have been saying about each of them:
PB Blaster
As you'd expect with a product like this, many of the reviewers who've had positive experiences with PB Blaster are quite keen to share information about the circumstances of their experience. It's interesting to see the wide range of applications and situations in which people use this product and how it has performed.
There's a vast array of circumstances in which this product can be useful. With people listing everything from loosening lawn-mower blades to freeing seized hose fittings, breaking down corrosion and rust on all manner of items and even helping people who've broken down in inhospitable environments.
From a negative perspective, two main issues—both of which we've already covered above—keep coming up in the user comments. The first relates to offensive odor; a lot of people have provided cautionary tales about not using this product inside your house, with a few saying it was so bad they had to air their whole house for hours due to the overpowering smell.
The second thing that comes up is the fact that cans of PB Blaster have a habit of running out of propellant gas before the can is empty.
Liquid Wrench
As with user reviews of PB Blaster, users of Liquid Wrench have shared details about a wide range of circumstances during which it has saved the day. With a lot of people saying they're grateful that they had a can of Liquid Wrench in their car, boat, caravan, work truck, house or garage when they needed it.
The negative reviews about this product tend to focus on its ineffectiveness, at unlocking nuts, bolts and other items that have quite extensive rusting. The consensus of many users is that if you when you have a really tough job, Liquid Wrench just won't get the job done.
There are also a few negative reviews about cans of Liquid Wrench losing their charge before being empty. However, this appears to be less of a concern than with users of PB Blaster, and users have also made a few comments about Liquid Wrench being quite messy.
---
Conclusion
Picking a clear winner was quite difficult in this review as both products have been around for a long time, they are both tried and tested over many years, and they both work well.
The main points of difference between the two products being:
PB Blaster is more effective when it comes to those tough jobs where nuts and bolts are heavily rusted, and
Liquid Wrench smells much less offensive than PB Blaster and is the better choice if you're working indoors or in an area with poor ventilation.
All things considered, though, despite its smell, PB Blaster is the more reliable of the two products when it comes to getting the job done. It performs best in the toughest of situations. On that basis, our winning product is PB Blaster.
---
Featured Image Credit: Car wax protection by HutchRock, Pixabay