17 Basement Home Theater Ideas You Can Try Today (With Pictures)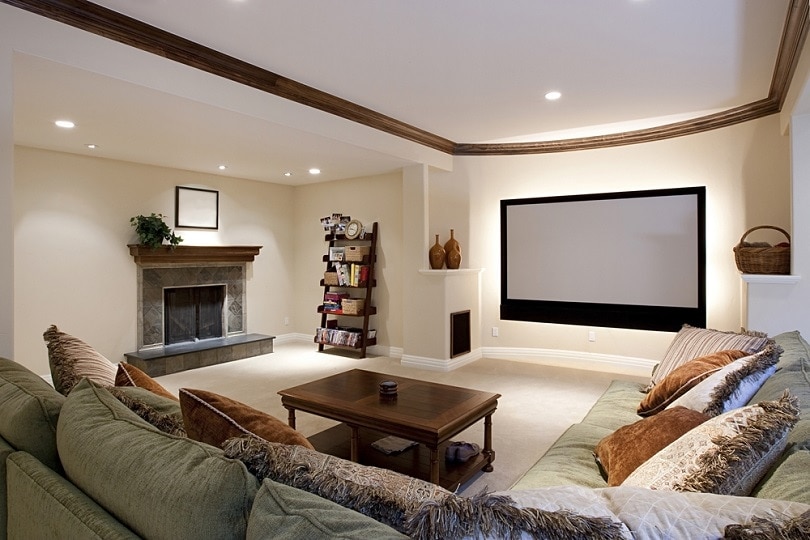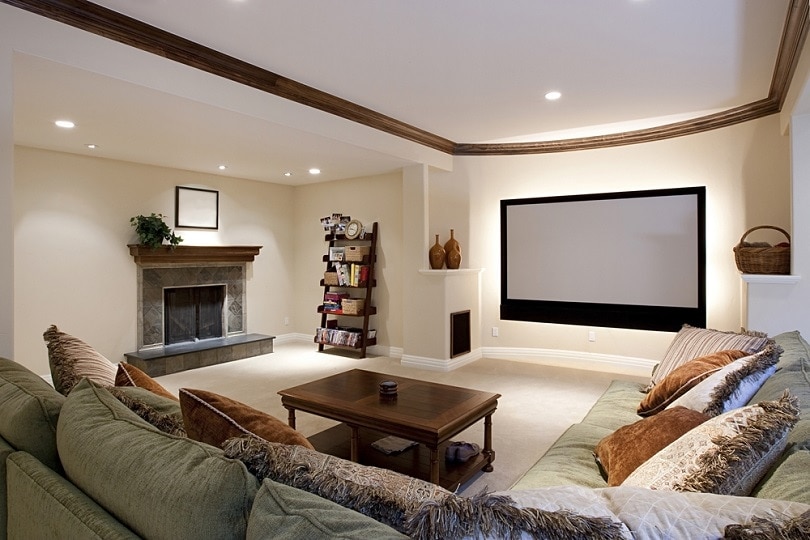 A home theater setup transforms movie night from simple TV viewing to an immersive experience. When you create a fitting atmosphere, you and your family can kindle excitement for every flick and forge new household traditions.
Designing the ultimate home theater doesn't necessarily demand the roominess of a cinema. You can realize your goals in almost any space with a little imagination and motivation. If you're wondering how to plan your downstairs remodel, find inspiration with these 17 basement home theater ideas you'll love.

The 17 Basement Home Theater Ideas
1.

   Opt for Dark Walls and Ceiling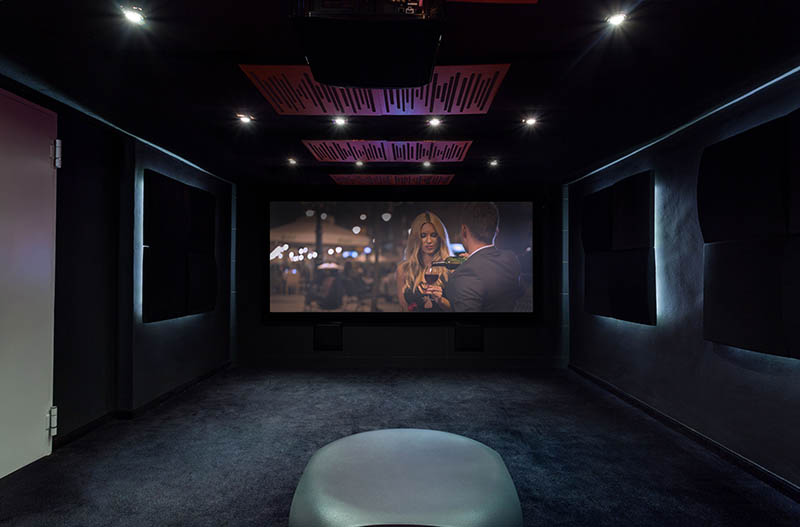 Light colors are often the safest options when painting the home. They anchor uplifting designs and open spaces for more comfortable living. But if ever there was a place to buck the trend, it's the home cinema.
Movie theaters stay as dark as possible to draw all attention to the screen and pull you into the action. Recreate the sensation with simplicity by opting for darker paints on the walls, ceiling, and floor. Blacks, dark purples, and other subtle shades create the cozy, atmospheric quality that makes every movie more enjoyable.
---
2.

Hang Dark, Heavy Curtains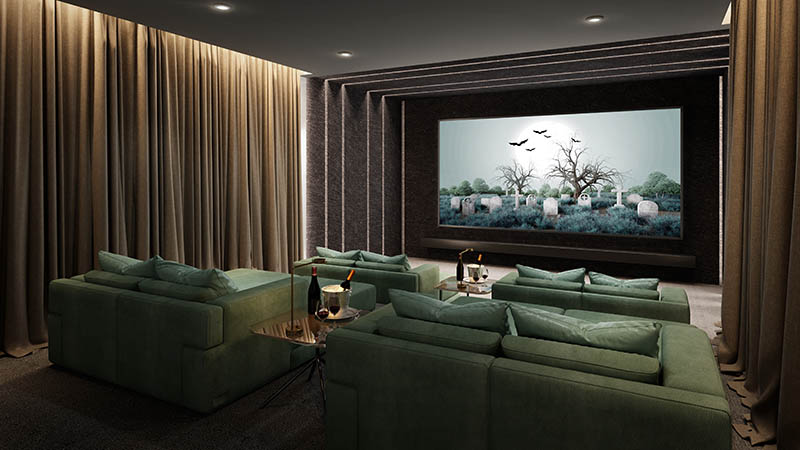 From the red carpet to the roped barrier to the curtains lining the theater walls, rich velvet is a quintessential cinema element. While there are several ways to add luxurious fabric touches, a heavy blackout curtain is one of the most practical and dramatic.
Thick, light-blocking drapes are an effective solution to a windowed wall in a daylight basement. You can use simple colors free of distracting designs that might take away from the film. With a high-quality curtain, drawing it will add ritual and suspense to a mundane activity, making every movie a special experience.
---
3.

Utilize Two-Toned Contrast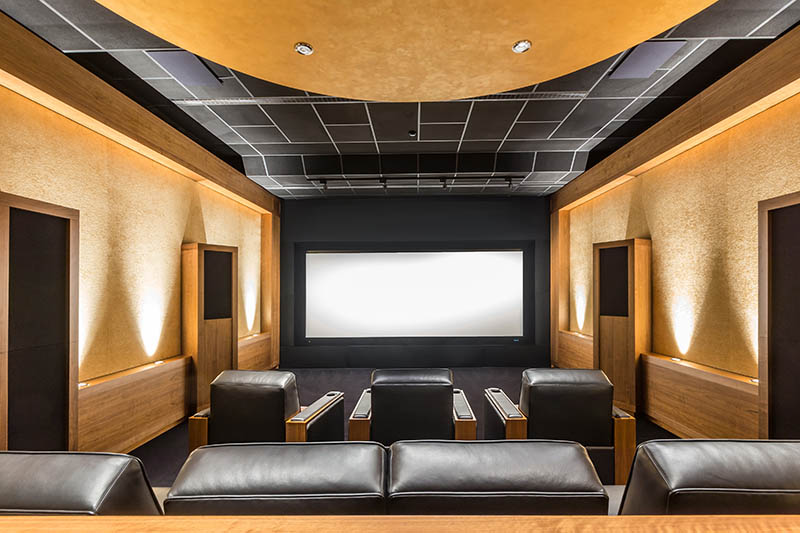 Uncomplicated color schemes add elegance and definition to your basement theater, separating it from the rest of the home and giving it a unique personality. Complementing and contrasting colors can merge to balance the room, pull the elements together, and draw the eye as you see fit.
---
4.

Make a Movie Poster Wall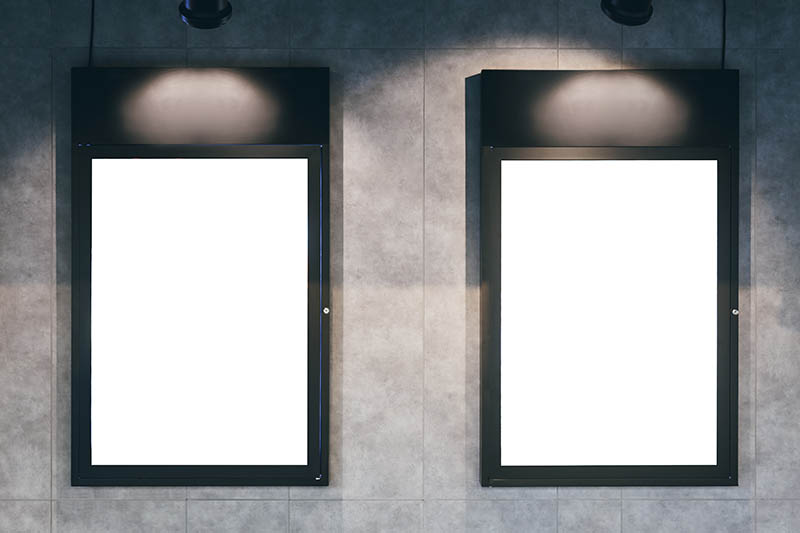 Part of the movie-going experience is discovering new upcoming films from the posters guiding you through the lobby. Bring the same ambiance to your basement with select movie posters lining your theater's walls.
Keep it simple by using your favorite movie posters behind a basic frame, or add some style with an LED-illuminated frame. Movie posters are a perfect way to line the walls of the basement staircase. Although they can decorate the theater, you'll want to avoid reflective glass frames that might distract you.
---
5.

Raise the Seating
Basements don't always have the proper shape to make a home theater setup easy. However, you can almost always find a solution when you show a little creativity. If your basement is longer than wide, rows of seats will give most of your guests an obstructed view.
You can solve the issue by creating a simple riser with a couple of steps. The tiered seating adds a familiar movie theater element, and it's relatively easy to pull off for a seasoned DIYer. Cover it in a matching carpet to seamlessly integrate it into the rest of the room.
---
6.

Use Layered Seating Options
If building a riser is too tall of an order, you can maintain unobstructed views in a receding seating scheme by rearranging your furniture. You can space the home theater recliners strategically or layer in different seating styles.
Bean bags could rest in front of a stationary sofa, while a couple of counter-height dinette sets can sit behind the couch. Each seat sits above the one in front to keep sightlines clear for everyone.
---
7.

Toss in Throw Pillows and Blankets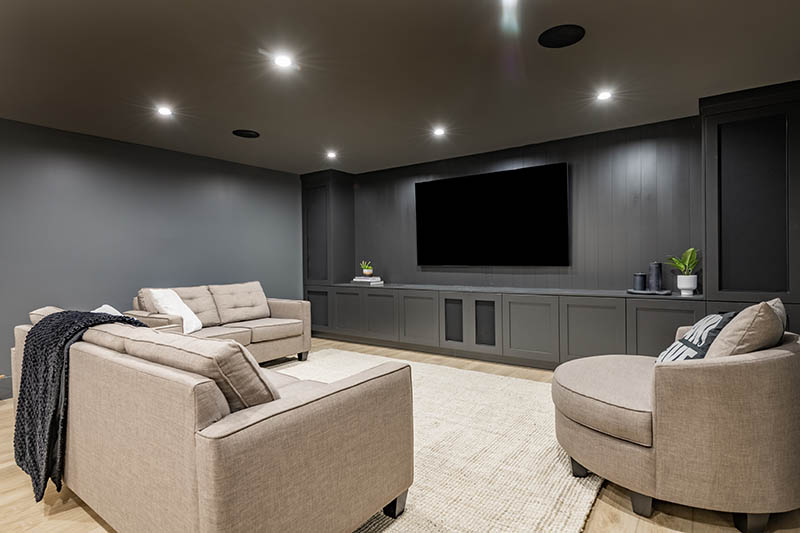 As with any other room, the minor touches complete the look. With throw pillows and blankets, you can add pops of flair, cohesive style, and utility. Match them to your color scheme, or get fun theater-themed prints.
While they elevate the room's look, they also make the perfect accessories to have handy when you want to cuddle up for a rom-com or feel comfy and safe while watching your favorite horror movie.
---
8.

Configure a Wraparound Couch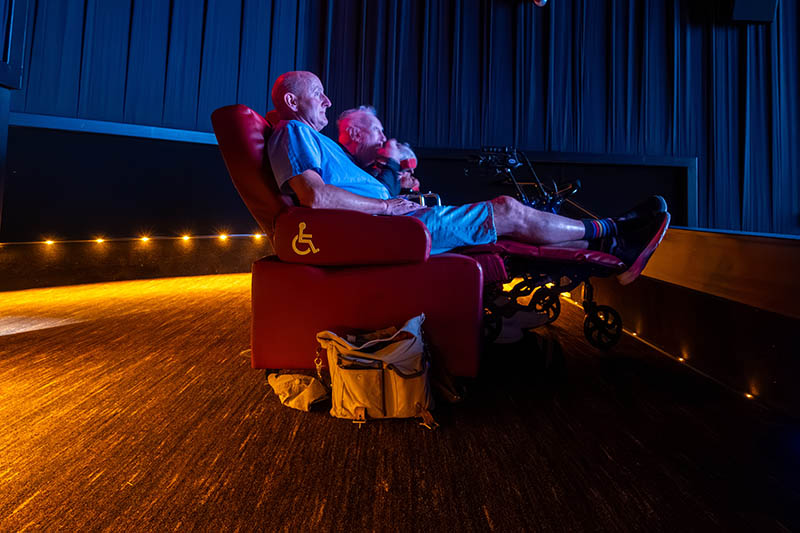 Maximizing your seating can often mean ditching the home theater recliners for a sectional. A wraparound couch is adaptable and usable in several ways; it's a perfect solution for a large family wanting to get comfortable in a limited space.
Sectional sofas are often easy to configure in any shape and length to suit your basement area. Many are versatile enough for you to make them extra-long, turn either side into a chaise, or create a horseshoe shape focused toward the big screen.
Add some sofa tables behind each side of the couch, and you'll have all the storage space needed to keep snacks and drinks nearby but out of the way.
---
9.

Include Oversized Ottomans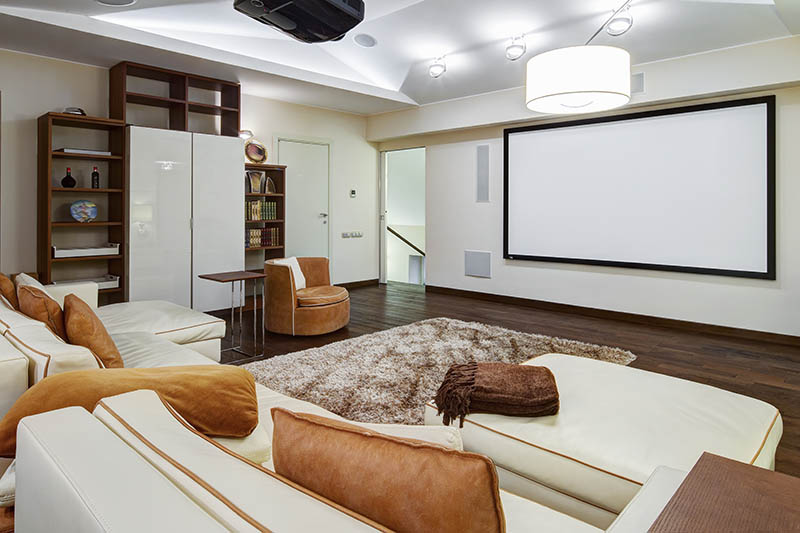 Once you have a wraparound couch, the obvious next step might be the oversized ottoman. As a departure from the cup holders and recliners of the movie theater chair, an oversized ottoman provides a similar function. Pull it close to the couch to create a stretched-out chaise, or push it out and add a tray to hold snacks and drinks.
The ottoman is a classy and stylish touch, especially when you curate contrasting yet apt textures and colors to pair with the seating. Get the most function for your basement home theater by looking for a storage ottoman with a dual-sided top.
You can store your throws, pillows, and other essentials as needed, while the top offers a soft side for your feet and a hard side to act as a sturdy cocktail table.
---
10.

Get Creative with Carpeting
While the rest of the house may benefit from toned-down and flexible flooring options, the home theater is one area where you can explore your creative side. Carpeting is an essential element in a basement home theater.
It insulates sound and captures light, enhancing the way you watch movies. By using classic and elaborate patterns, your home theater will take on a genuine cinema look and feel.
---
11.

Install LED Strip Lighting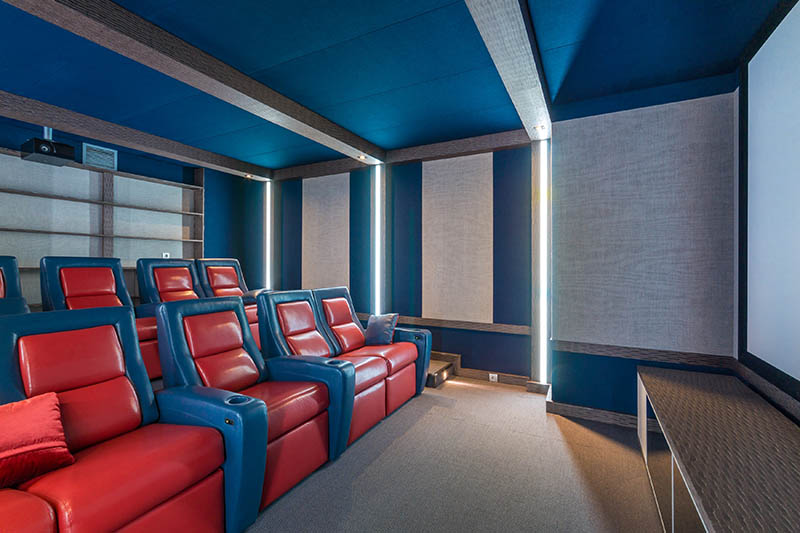 LED strip lighting is an easy-to-use integration that adds a dynamic, exciting accent to the basement theater. Dimming and color-changing effects let you adjust the room's vibe in any direction.
You can place LED strips along baseboards and stairways leading to the room to usher you through the space, position them around the ceiling for a moody glow, or use them to highlight various features around the room.
---
12.

Light Up the Walls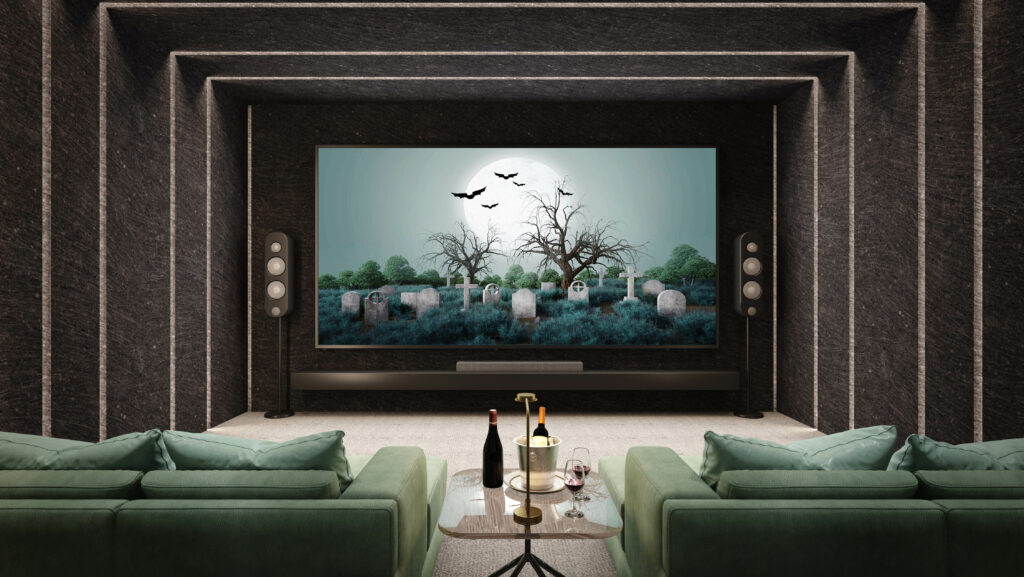 Wall-mounted lighting is a thoughtful touch in any home theater. And you don't have to rely on the traditional sconce bookending each seating row to make it effective. Strip lights are easy to set up and rearrange into captivating new patterns.
With a few runs of tape lighting, you can add all kinds of texture, gradients, and depth to a simple painted wall.
---
13.

Include Smart Home Elements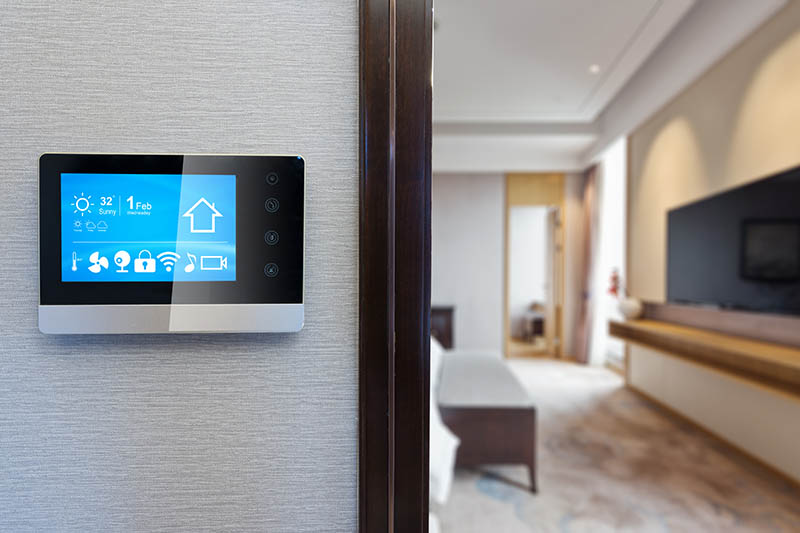 Imagine walking into your theater and treating yourself to a show before the movie begins. You flick a switch, and in a coordinated flurry of activity, the lights turn up, the shades lower, and your media center illuminates.
The receiver powers on to make the lights dim, and the curtain pulls back to reveal the screen. It's movie theater automation, creating an authentic experience through smart home integrations.
Smart switches, plugs, lights, and devices can seamlessly work together in a connected home theater. Using controls via Amazon Alexa and other voice services or inputs from your smartphone, you can make the electronics in your home theater operate in a seamless series of customized steps, adding to the magic and excitement of movie night.
---
14.

Frame the Screen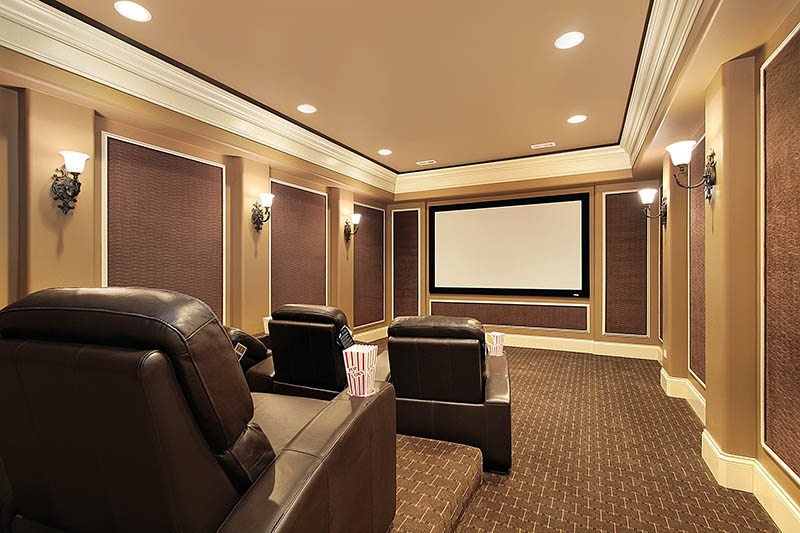 A wall-spanning screen is ideal but not always possible in every basement home theater. If you have leftover blank space on either side of the wall, turn it to your advantage by framing the TV with decorative elements. Eye-catching sconces, wooden frames, or LED strips can integrate the screen into the design and further pull everyone's attention to it.
---
15.

Set Up a Snack Bar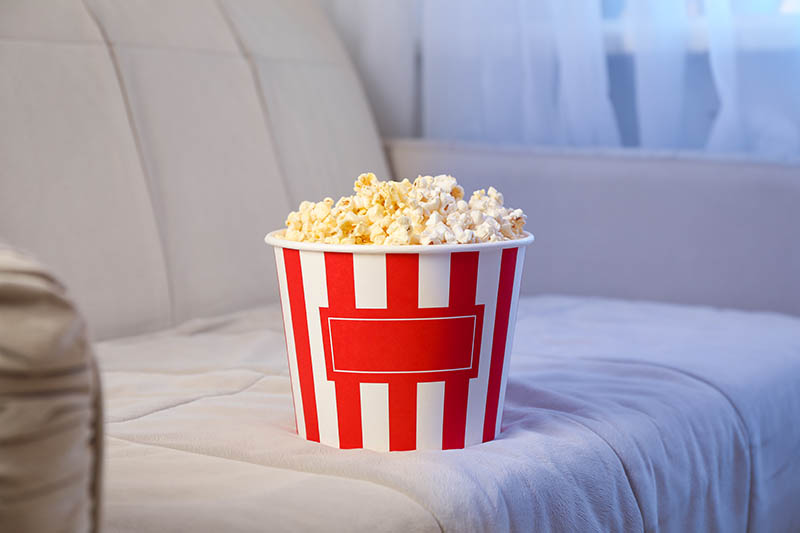 Don't make anyone miss a second of the action in your basement cinema. A snack bar can complete the ultimate home theater arrangement when you need a refill on your drink or another bowl of popcorn midway through the movie.
Add a mini-fridge, popcorn machine, candy case, microwave, or even a hot plate to ensure you have all your favorite foods on hand.
---
16.

Add Intrigue to the Ceiling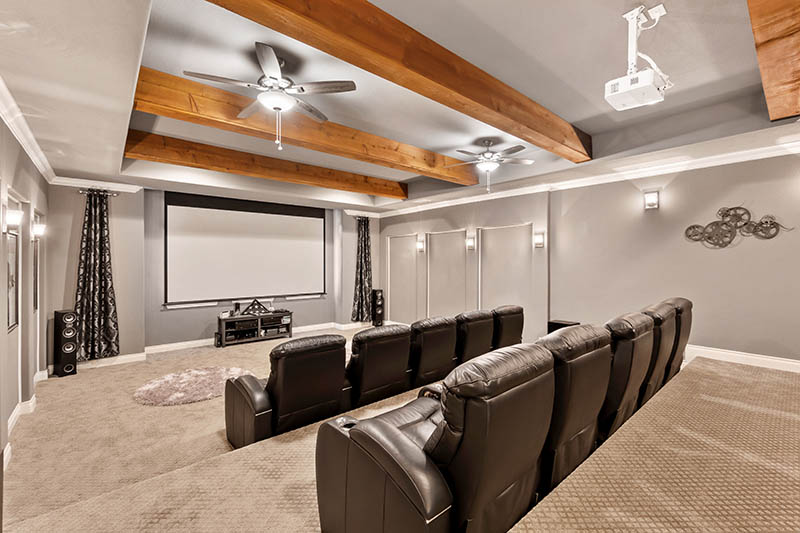 As the carpet creates a permanent point of interest at your feet, the ceiling can feature clever design aspects over your head. Horizontal beams add a rustic quality to a raised basement ceiling. But you can go the more straightforward route with a bold paint color, wallpaper, or tile to liven the space from top to bottom.
Lighting can further emphasize your novel take on the ceiling. Cove lighting is a timeless touch, or you can start simple with LED strips to create a warm aura and supply general lighting to help you move around the room.
---
17.

Use Big, Bold Furnishings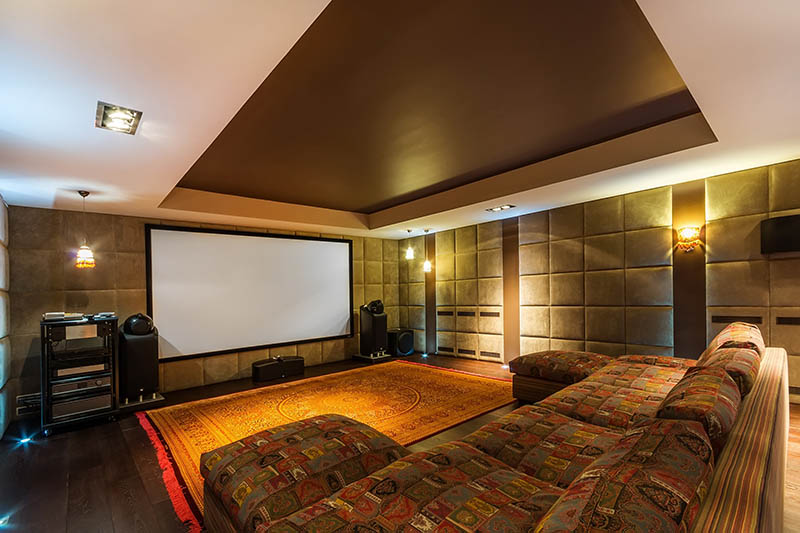 The TV room is an appropriate spot for the comfiest seat in the house and one of the best places to go wild with your furniture choice. Deep chaises, chunky sectionals, and tech-heavy recliners are perfect for the basement, and any funky mix of styles is often welcome.

Final Thoughts
The thought of a complete basement remodel to create a home theater can seem daunting and expensive, but any move in the right direction is significant. You don't have to spend substantial time or money to make meaningful upgrades in your lighting, seating, or decor. Take inspiration from these basement home theater ideas and start building the personal cinema of your dreams today!
---
Featured Image Credit: Ambient Ideas, Shutterstock