17 Basement Home Theater Ideas You Will Love (with Pictures)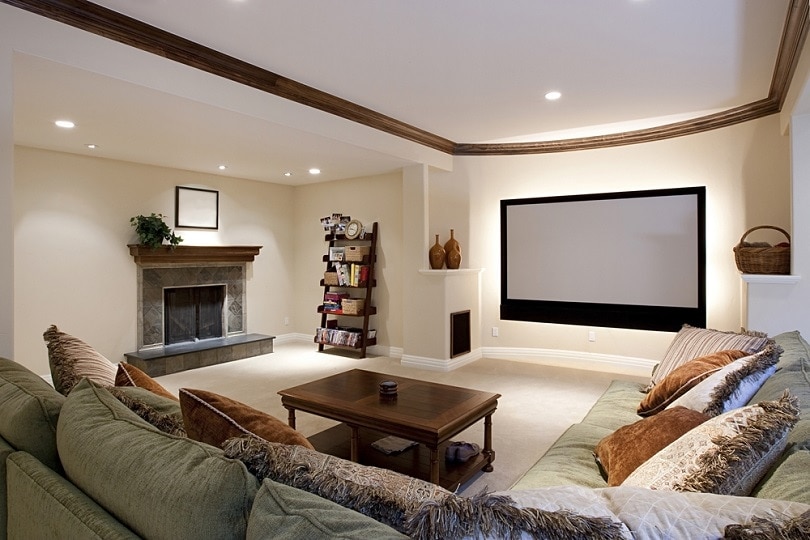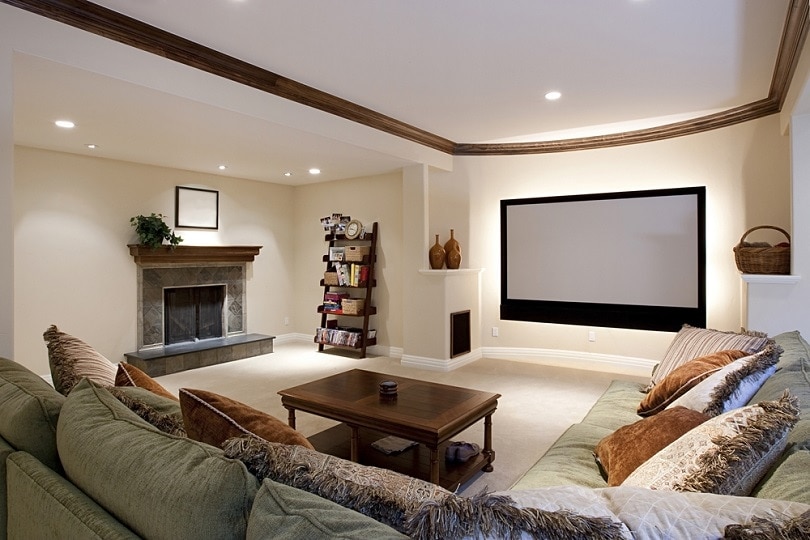 Because of the pandemic, many movies are starting to release on streaming services to view at home. As you probably would suspect, home theaters are rising in popularity for this very reason. Design your home theater to let your streaming premieres feel like a night at the actual theater. Here are 17 home theater ideas you will love:

1.

Old Hollywood
For a more affordable design choice, decorate your home theater with pictures of vintage Hollywood. Marlon Brando, Marilyn Monroe, and Audrey Hepburn are just a few of the more popular old Hollywood stars that can upgrade a home theater. Pair these pictures with vintage snacks and you have a home theater that takes you to the past.
---
2.

Dark Hues
What makes a theater different from any other TV room is that it is designed to transform you into the world of the movie. One of the most crucial ways that a room is designed to do this is through the color scheme. Use dark hues, such as black, dark gray, or dark purple to create a room that captures the essence of the movie.
As in the example above, make sure that the room is free of any windows and harsh lights. This ensures that the TV is the center of the room.
---
3.

Add a Bed
One way that a home theater beats a regular theater is that you can get as comfortable as you want. Make the most of this fact by adding a bed to your home theater. This will allow you to get maximally comfy and cozy while watching your movie. It can also serve as additional bed space for overnight guests.
---
4.

Movie Reels
Decorate your home theater with movie reels. Nothing says movie theater quite like these decorations. Movie theaters and old movie rental sites, like blockbuster, used to utilize this image all the time in their decorations. You can place pictures of movie reels on your wall. If you have a little extra dough, you can also place a mock movie real projector over the electronic projector on the ceiling.
---
5.

Curtains
Movie theaters almost always have curtains on their walls. Do the same in your home theater. Simply place dark and velvety curtains on the wall to give the illusion of an actual theater. This is a great idea if you have windows in your home theater room. Invest in blackout curtains to both block out light and create a movie theater experience.
Like in the home theater above, it is best to go with curtains that are dark and match the rest of the room. Choosing brightly colored or patterned curtains will distract from the movie that is playing.
---
6.

Red and Gray Color Scheme
If you are someone who likes a cohesive and contemporary look, opt for a red and gray color scheme in your movie theater. These colors will look very regal and modern, but they are also dark enough that they will create a theater-like atmosphere when the lights are turned off.
Another great benefit of this color scheme is that it often doesn't look too dark when the lights are on. This will help you to move around the room and get everything organized without straining your eyes.
---
7.

White Recliners
Instead of using a couch or bed in your home theater, supply it with several white recliners. Recliners create an atmosphere more similar to an actual theater. It also looks much more expensive and classier, creating the ultimate room for the stars.
Also, get recliners that are white and comfy. White will only enhance the luxury look of these recliners. Obviously, they also need to be comfortable so that you can relax while enjoying your movie.
---
8.

Snack Bar
Just about any child will tell you that the best part of going to the movie theater is picking out popcorn and snacks before the movie. Bring that experience to your home theater as well for a complete night at the theater in the comfort of your own home.
Your snack bar can include your favorite types of candies, a refrigerator with drinks, and a popcorn machine. This will give you something yummy to snack on during the movie, as well as something to look forward to before the movie even starts.
---
9.

Pillows and Cushions
If you don't have a lot of money or space for your home theater, don't worry. All you need for a home theater is a projector, some way to block out the light, and cushions. As you can see in the theater above, layer cushions and pillows to create a comfy seating arrangement that doesn't cost a fortune.
To get the riser effect, all you need to do is build a riser made from wood. Though this will take a little bit of work, it will not be very expensive. From there, simply layer your cushions and pillows up for comfortable arrangement. For a cohesive look, get pillow covers that match.
---
10.

Starry Night
Sleeping under the stars and going to the theater are both fun and relaxing. Combine these two pastimes by decorating your home theater with fairy lights on the ceiling. Fairy lights mimic the look of stars in the sky. At the same time, they will add just enough lighting so that you can see when you move, but it isn't so bright that it distracts from the movie.
---
11.

DVD Wall
If you are willing to build a home theater, then you obviously love movies. After all, who doesn't? If you are someone with a lot of DVD's or CDs, add a DVD wall to your home theater. This can be a great way to organize all of your DVD's while adding an interesting and relevant decor to the home theater. This option is also much cheaper than other decorations.
---
12.

LED Lights on Ceiling
Many movie theaters place long LED lights on the ceiling. These lights provide enough lighting that you can see, but they create a dim and relaxed atmosphere too. Add long LED lights on the ceiling of your home theater for this effect.
For the best results, place them so that the lights are more so pointed at the ceiling than at the ground. The movie theater above perfectly demonstrates how you can utilize LED lights to provide lighting without overpowering the atmosphere.
---
13.

Add a Bar
Some people plan to use their media room for more than just movies. If you are one of these people, consider adding a bar to the back of the room. You don't even need to drink for it to be beneficial. This bar will help transform the media room into the ultimate party location.
With a bar area, you can easily host birthday, Super Bowl, or any other parties, complete with snacks and drinks. All the while, you can throw up the game or any other entertainment on the screen while people mingle.
---
14.

Classic Red Velvet
There is something special in the classic velvety red look of old Hollywood. Though this imagery of red velvet covering the walls and chairs in old theaters loom heavily in our culture's mind, very few theaters today actually used this design.
Keep the image alive by using classic red velvet all throughout your home theater. It will make your theater look fun and classy, yet it evokes strong images of classic Hollywood.
---
15.

Simple Projector and Screen
Some people go overboard on their home theater. If you are someone who likes to keep things simple, all you need is a screen and projector. As you can see in the theater above, not much decoration is needed to watch a movie. Simply add a few lights so you can see and paint the walls a dark color. That is all you need to have a great movie environment for you and your family.
---
16.

Theater Stairway
The basement is an ideal location for a home theater since light is blocked out. If you were thinking about putting your home theater in the basement, consider decorating the staircase leading to it. Adding popcorn containers, movie posters, and lights on the floor of the staircase can make you feel like you are entering an actual theater.
At the bottom of the staircase, consider putting a sign, such as the one seen above, or a pretend theater number label.
---
17.

Total Blackout
Create a brooding and dark environment for your home theater with a total blackout design. Paint the walls and ceiling black so that you are completely entranced in the movie at the front of the room. This is a great design choice for people who like horror or drama since it brings the eerie feel to you.
Of course, make sure that you add lights to a room that has a total blackout design. You don't want to accidentally trip and fall just because you can't see. Turn on lights when moving around and simply flip them off while the movie is playing.
---
Featured image credit: Ambient Ideas, Shutterstock