20 Basement Pole Cover Ideas & Design Tips (with Pictures)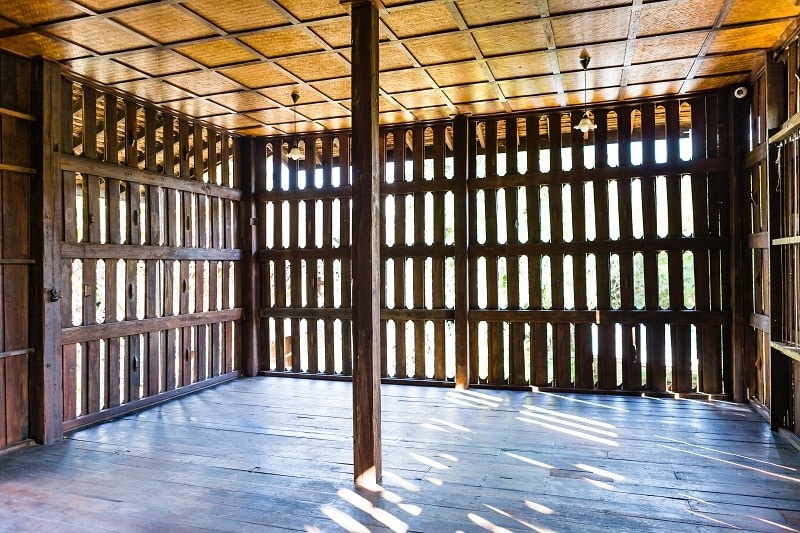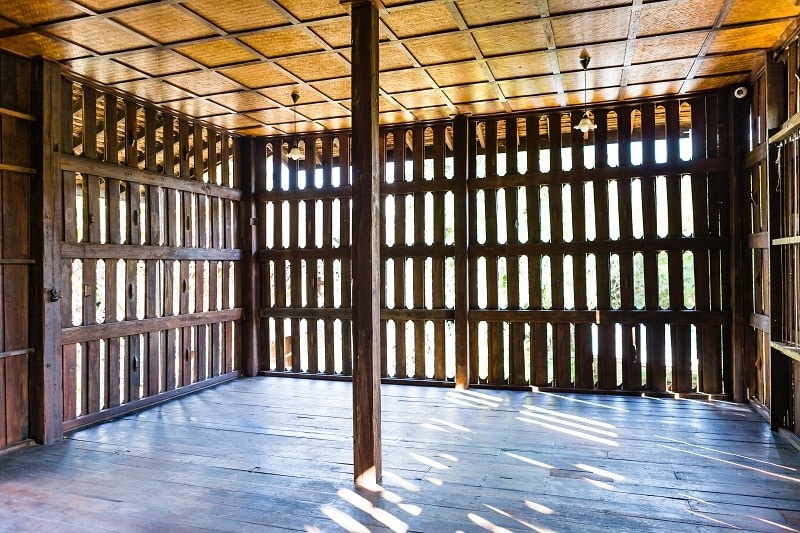 If you are decorating your basement, you may have basement poles in the room. Though these polls serve an important foundational function, they usually are very unattractive, and most homeowners want to find a way to dress them up without sacrificing integrity.
Like anyone else renovating their basement, you likely want to cover your basement poles. If this sounds like you, you're in the right place. We have gathered 20 of the best basements pole cover ideas so you can find the best design for your style.

The 20 Basement Pole Cover Ideas & Design Tips
1.

Pre-Made Covers
Support poles have been an eyesore for many years. As a result, many companies have taken advantage of the issue and designed premade covers to put around the poles. These covers may be slightly more expensive than other options, but they are incredibly easy to install and safe to use. Not to mention, they are stunning.
You should be able to find premade covers online that match any style.  You can choose something more traditional, such as in our example above, or something more modern.
---
2.

Palm Trees
If you have children and the basement is their play area, this design is for you. You can turn your basement poles into cute palm trees. This option is affordable, yet it will transform your basement into a fun beachy play area for your kids.
All you need is heavy string and items to replicate the palm leaves. The palm leaves can either be made from a kite material or paper. Simply wrap the string around the pole to look like bark. Then, place the leaves into the string at the top. One of the best parts about this option is that it doesn't damage the pole. Whenever you want a change, all you do is undo the string, and you are good to go.
---
3.

Storage
Basements often become the catchall for the house, and you can create more room in your basement by adding storage around the poles. As you can see in the example above, your poles make an excellent foundation for hefty shelves.
If you are on a tight budget, you can make the shelves using wood, paint, and a hammer and nails. There are also several premade storage pole options for those not as crafty. The premade kits are much more expensive but easier to install.
---
4.

Tule, Fairy Lights, and Ivy
If you are looking for a temporary cover for your basement to host a party or gathering, all you need is tulle, fairy lights, and ivy. This look is whimsical and simple, yet it is attractive and costs little.
You'll wrap the fairy lights around the pole and wrap the tule around the lights, using string to secure it in place. The tule should be sheer enough that the light shines through without looking cheap or misplaced. You can finish it off by adding fake ivy on the outside.
---
5.

Mirrors
If your basement poles are wide enough, place a mirror on one side. Mirrors can look neat in a basement and open up the space. They can also be helpful for a girly sleepover or any other time you would need to look in the mirror.
Based on the room's design, you can get a modern, classic, or wacky mirror. Like our example, you can add a wacky mirror on the basement pole to add a fun shape to a kiddy basement. Match the mirror to whatever style you prefer.
---
6.

Christmas Tree
For the Christmas season, you can decorate your basement poles to look like a Christmas tree. All you need is fake leaves, ribbons, and candy canes. Simply wrap the fake leaves around the pole, securing them with zip ties. Decorate just as you usually would, such as with candy canes or ornaments.
The great part about this is that you can reuse the decorations every year. Instead of buying a whole new tree to put in multiple rooms, just add these decorations to your basement to get in the Christmas spirit.
---
7.

Hemp Rope
For a more minimalistic design, you can cover your basement pole with hemp rope. This design is inexpensive and doesn't go out of style. It should be your go-to if you want a simple yet affordable basement design.
Hemp rope will add warmth to your basement, especially if it is painted white or another neutral color. Just ensure that the rope is wrapped tightly around the pole so that no surface area is exposed underneath.
---
8.

Craft Station
Basements are often used as a workstation or craft area. If you like filling your basement with all your crafts and hobbies, consider turning your basement pole into a makeshift craft station. This will help organize all of your tools while maximizing space.
All you need is a shoe organizer. Simply connect the shoe organizer to the pole and fasten it securely. You may need to cut some of the excess off so that it fits properly. This design is best for square or rectangle-shaped polls.
---
9.

Pole Wrap
Skinny, round basement poles can be difficult to decorate in a classy and refined way. However, you can purchase pole wraps to do the job easily. The wraps are simple to install and affordable, yet they look elegant and refined in any basement.
You should be able to find pole wraps at most home improvement stores, such as Lowe's or Home Depot. They come in many colors and styles to match your design preferences.
---
10.

Small Table
If your basement pole is next to the couch or chair, consider adding a small table around it. This will help maximize space while giving you an area to put your cups or remote control. They also look very refined and elegant.
Many pole wraps, as shown above, come with small tables. You can either purchase products that come with a small table, or you can build your own. They are relatively simple to make as long as you get the correct measurements and cuts.
---
11.

Book Shelf
After many years, your book collection can take up a lot of space, but you can turn your square basement poles into bookshelves. This saves space, aids organization, and makes your basement look more refined.
It's probably easiest to purchase a premade bookshelf-style basement pole cover, but you could build your bookshelf, too.
---
12.

Tree Bark
This design may not be everyone's cup of tea, but it is unique, especially if you want a woodsy feel in your basement. This basement pole design creates an indoor forest that is attractive and sanitary (i.e., no bugs!).
Unfortunately, this design is a bit more expensive than other projects. You will likely need to look online for custom-made pole cover wraps. Still, this could tie together a rustic and fun basement if you can afford it.
---
13.

Create an Island
If your basement poles are close to one another, you can create an island between the two. Like the example above, you can use a stone top and base that matches the poles. This creates a uniform yet functional look.
This is a great idea for those who like to entertain in their basement. It creates a perfect seating area for snacks and drinks. It could be the perfect location for a Super Bowl party!
---
14.

Sitting Area
You can also use your basement pole as the base for a table. First, you can construct a large enough table around the pole. Then, add some chairs. Of course, the pole can get in the way of conversation if the chairs aren't strategically placed. So, make sure the pole does not separate the chairs.
If you look at the example above, you'll see that the blue chairs match the decor in the basement and are close enough together to where everyone can talk to one another face to face. This is an excellent option for basements that are not large enough for a couch.
---
15.

Horizontal Shelves
Earlier, we mentioned using basement poles for shelving. Here is another, more modern way to create shelves using your basement poles. If the poles are close enough together, you can create horizontal shelves that are open and unique.
You need to create open framed shelves where the pole goes through one end. You can either have one long shelf that goes through both poles or two separate shelves connected in the middle.
---
16.

Paint
Fixing up your basement poles does not have to cost a lot. You can invest in a fresh coat of paint to upgrade the look. Like in the example above, you can use a bright color to make the pole look like a decoration.
You can also choose a more subdued color. White, gray, or black can make your basement pole look chic and clean. However, be careful if you're painting it white because that will quickly get dirty, showing fingerprints and smudges.
---
17.

Stone
Stone is one of the most classic materials to use to upgrade and decorate a home. If you decorate your attic poles using stone, you'll create a regal and antique design that never goes out of style.
If you have a large budget, you can stack stones together to create a classic pillar look. If you have a tight budget, you can use realistic stickers that look like stone. They are attractive and affordable, and you can easily change out the designs with stickers.
---
18.

Open Center
You can purchase a basement pole cover with an open center, like the example above. Even if you only have one pole, the cover can give the illusion of two because of the open center. You can place anything in the open center, such as flowers, sculptures, or pictures of your loved ones.
You can also add shelving beneath the open aspect. The shelving will be attractive and functional, helping you kill two birds with one stone.
---
19.

Seating Area
Get inspiration from fancy hotels and businesses by turning your basement pole into a sitting area. As you can see in this example, you can surround the base of the pole with a cushioned couch and provide extravagant seating. This design maximizes space and makes the room look much more upscale.
---
20.

Lighting
Finally, you can use your basement pole as an opportunity to add more lighting. In the above example, you can get a premade cover with an indention for lighting. This makes the lighting also look like a sculpture in your basement.
You don't have to get a fancy premade cover to decorate with lights. Instead, you can use fairy lights or other lightweight lighting to wrap around the pole to make your room look brighter and more festive for a fraction of the cost.
Conclusion
Your basement's support poles may be one of your least favorite features, but you don't have to spend much to transform them into functional or ornamental designs. Several of the plans we discussed don't require many materials or tools and are ideal for casual crafters, but we also included projects that require construction experience to complete. You can buy premade materials that are easy to install if you don't want to build a table, seat, or bookshelf from scratch, but you spend much more. However, you'll make your basement more attractive for guests and potential buyers if you plan to sell your home.
---
Featured Image Credit: sirirak kaewgorn, Shutterstock