9 Beach House Interior Design Ideas (With Pictures)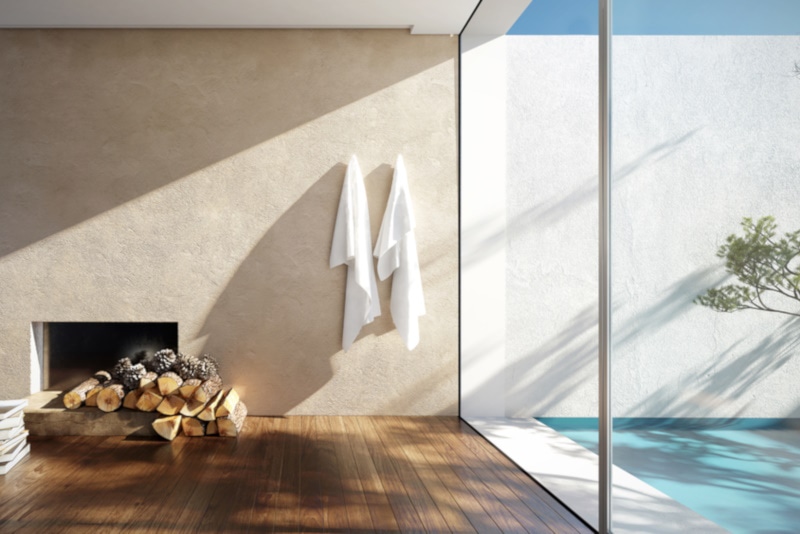 Who wouldn't want the feeling of relaxed beach life to be a daily experience? Bringing vacation vibes into the home with a beach house style is a delightful way to decorate in a sunny coastal setting. Get started on your breezy, beautiful decor scheme with these nine beach house interior design ideas.

Top 9 Beach House Interior Design Ideas
1.

Incorporate Shells in Different Art Pieces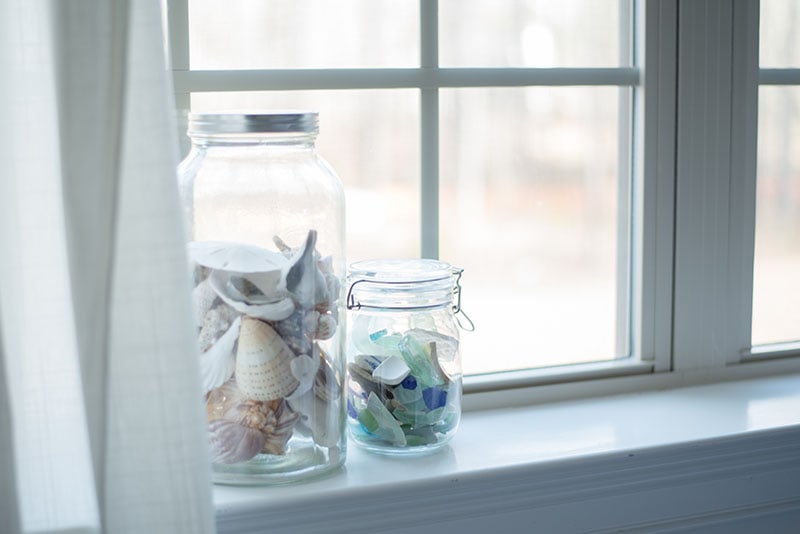 Seashells are obvious coastal components, but their complementing colors and unique textures are stylish enough to avoid being kitschy. You can arrange seashell jars with your best beach finds for an inexpensive decorating opportunity. Wall art works equally well, with seashells behind glass frames adding a minimalist hint of class and fun.
---
2.

Beachy Accent Colors
Beach house interior designs distance themselves from other seaside styles with their fun yet not over-the-top blend of colors against the layered neutrals. A bright pale yellow recalls the sunny outdoors, while coral, turquoise, and seafoam evoke the cooling waters just beyond the sand.
Colors can appear in wall art, rugs, and shelf accessories, but you can also expand them into more focal, functional furnishings. Alongside accent chairs, your dining room seating can take on subdued ocean colors. Subtle teal shades are a versatile option that can suit numerous surrounding color schemes.
---
3.

Coarse Textures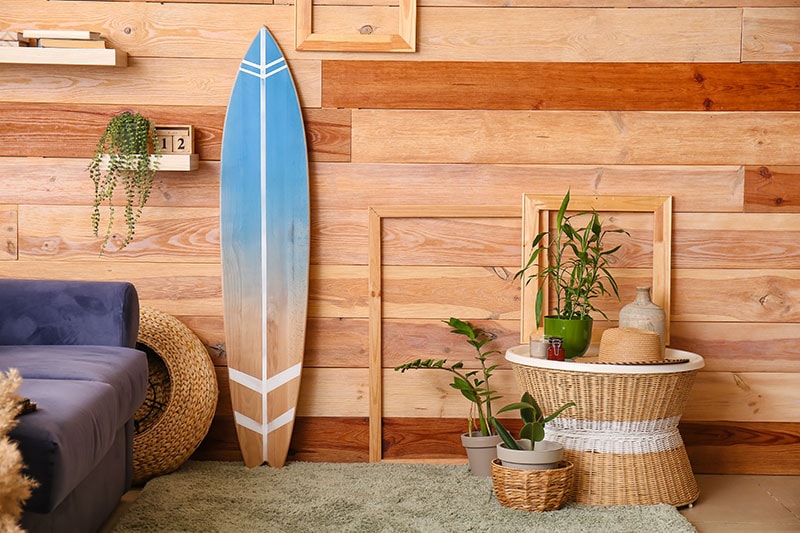 Weathered wood and gritty surfaces bring coastal textures indoors, which breaks the barriers between your indoor space and outdoor beach escape. Raw stone flooring and unfinished wood wall panels create a tactile experience. Rough elements can then contrast with polished, natural patterns like granite counters.
Accessories can handle much of the heavy lifting if you're not ready for a remodel. Alongside your shells, a simple piece of driftwood highlighted by a candle can please the senses.
---
4.

White Case Furniture
Plain white keeps the room bright and open while working with a broad array of surrounding colors. Although you can't change up your upholstered items easily, white case goods are fitting features that are easy to DIY. Give your existing end tables, dressers, and servers a fresh coat of paint to transform your home with minimal cost or effort.
---
5.

Glass Features
Glass is elegant and unobtrusive. In airy settings like a beach house, it allows light to move and reflect, keeping the room bright and uplifting.
Repurposed Mason jars turn glass features like candle holders into simple DIY projects that can fill out your interior. Contemporary elements like glass-top table sets or clear lamp bases supply classy upgrades to match the decor without blowing out a budget.
---
6.

Rope-y Natural Fibers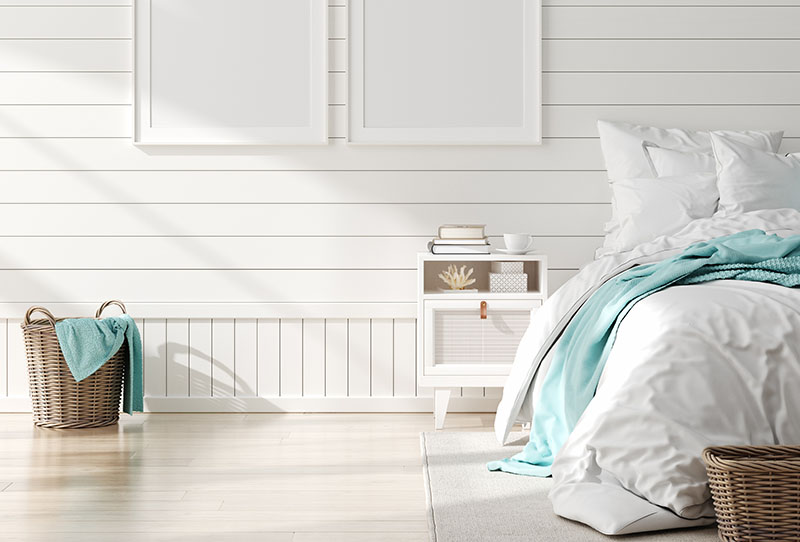 Jute, hemp, and other fibrous twines mingle fashionably with lights and glass items around the beach house interior. Like jute basket accessories, jars and lamps with fishnet wraps are easy to arrange. As you fill out the space, natural seagrass area rugs or woven chandeliers can become central fixtures in the decor.
---
7.

Wicker Furniture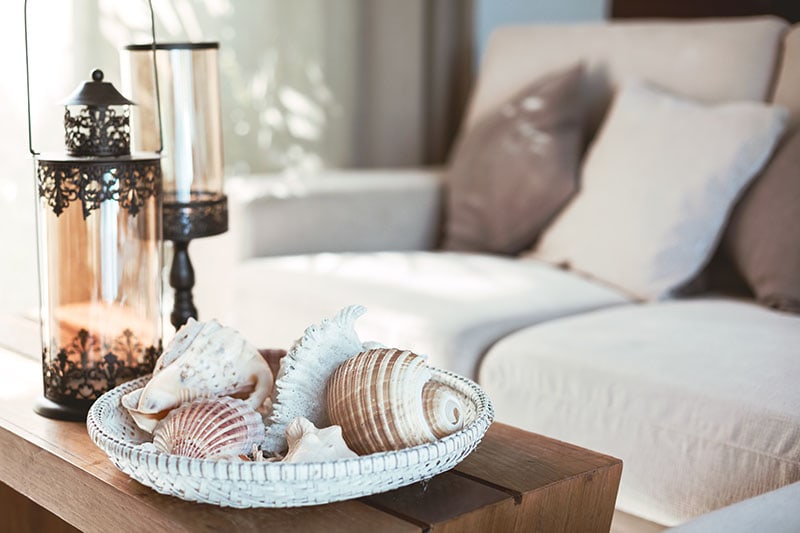 Chairs are the perfect place to incorporate a full-blown wicker design. Whether natural or whitewashed, wicker dining arrangements and accent chairs have an outdoor-ready beach style. The natural textures contrast beautifully with upholstered cushions while complementing wooden tables, jute baskets, and natural fiber lamp shades.
---
8.

Light Fabric Treatments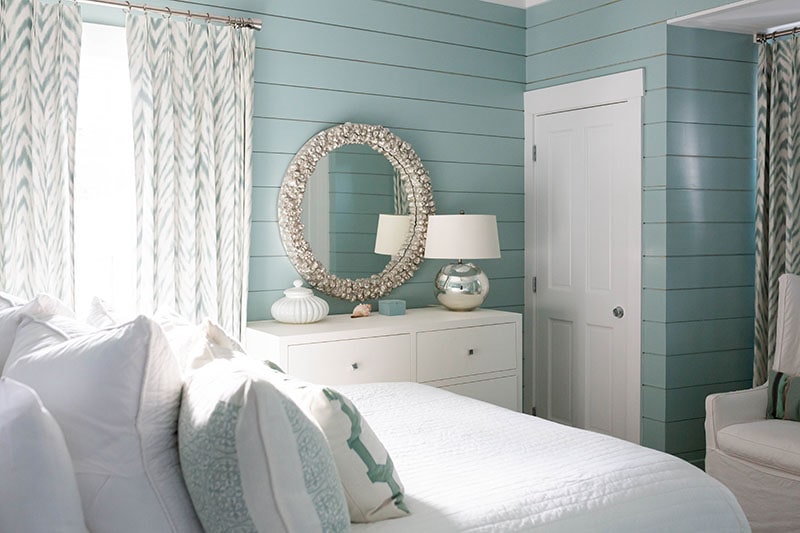 Window treatments and bedding should continue the light and air-enhancing effect of the other beach house interior features. Sheer fabric diffuses harsh incoming sunlight to keep the room evenly lit without being abrasive.
On a windy day, opening the windows to let them dance will give form to the breeze. Look for breathable fabrics. Touchable textures in layers of cotton and linen are a delight for the fingers and eyes.
---
9.

Shiplap Wall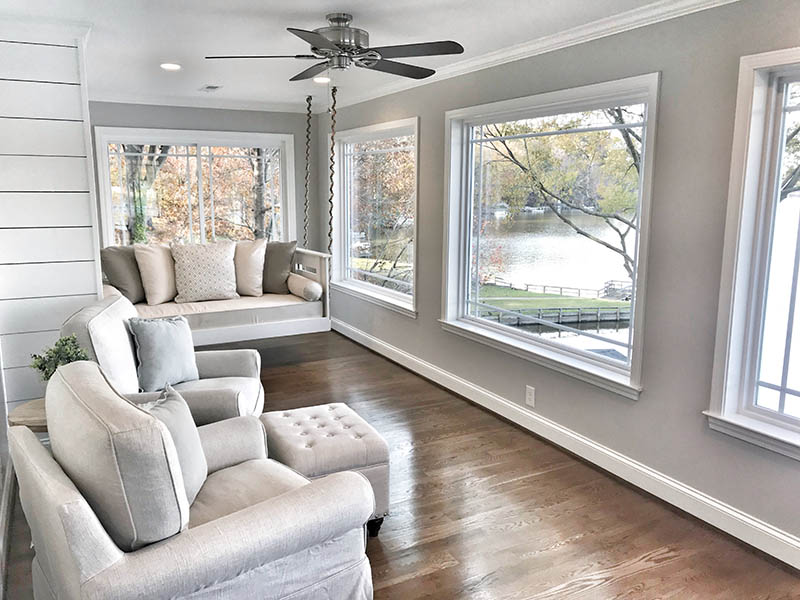 Whites work their way into several aspects of the beach house interior, and finding ways to keep each one fresh can feel a little exhausting. A shiplap accent wall adds valuable texture to cut up the monotony. However, don't feel stuck with white. You can also pair shiplap with your favorite beachy color.

Conclusion
Decorating a beachy home should be as fun and relaxing as living in one. Grandeur and detail are less of a concern than free-flowing spaces wrapped in cool palettes and full of fresh air and light. The decor stays coastal without becoming tastelessly thematic.
You don't have to spend much money to pull off the look or fret over getting every detail right. With these beach house interior design ideas offering inspiration, you'll quickly create a tranquil escape in your home.
---
Featured Image Credit: L_Interiors, Shutterstock