8 Best Fluoride Water Filters of 2021 – Reviews & Top Picks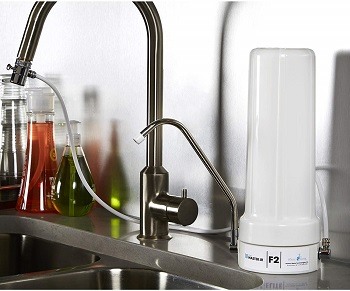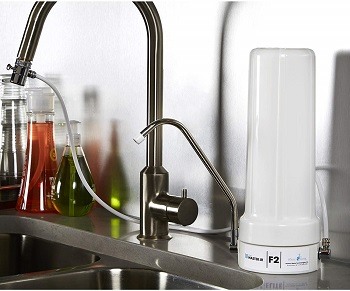 Even though we have rigorous standards that our tap water must adhere to, it's still common to find water that's full of contaminants but still safe to drink. The worst-case scenario is that it's not safe and you're slowly poisoning yourself.
Meanwhile, chemicals are deliberately added to the water such as fluoride. If you're uncomfortable ingesting such chemicals with your drinking water, you're not alone.
Luckily, many manufacturers have stepped up to solve this problem with water filtration systems that remove fluoride, chemicals, heavy metals, and more. We've tried all types of these systems to see which ones are the most suitable for our homes.
Now, we'd like to share our results with you in the following ten reviews. Hopefully, it will make the decision easier for you.
---
A Quick Comparison of Our Favorites
Rating
Image
Product
Details

Best Overall

Home Master RO Fluoride Water Filter System

Filters are good for 2
000 gallons
Restores natural calcium and magnesium minerals
Removes chemicals
heavy metals
contaminants
and more
CHECK PRICE

Best Value

Aquagear Fluoride Water Filter Pitcher

Each filter is good for 150 gallons
Removes lead
chromium
mercury
and more
Lifetime guarantee
CHECK PRICE

Premium Choice

Big Berkey Fluoride Water Filter

Holds 2.25 gallons of water
Filters good for 3
000 gallons each
Removes everything but beneficial minerals
CHECK PRICE

Home Master Fluoride Water Filtration System

Easy to install
The multi-stage filter removes a variety of contaminants
Doesn't take up much space
CHECK PRICE

iSpring Water Filtration System

Removes over 1
000 contaminants
Easy self-installation
CHECK PRICE
The 8 Best Fluoride Water Filters
1.

Home Master RO Fluoride Water Filter System – Best Overall
If the quality of water from your tap isn't satisfactory, the Home Master TMAFC Artesian Under-sink RO water filter system is the permanent solution to purify your water without removing the important minerals. Thanks to its impressive flow rate, you'll have as much water on tap as you need. It filters out 99% of all chloramines, chemicals, heavy metals, dissolved solids, and other contaminants. The water that comes out of this system is pure and crisp and was our favorite to drink.
Each filter is good for 2,000 gallons, so you won't be replacing them more than once a year. The filters are easy to change with no tools, but they take up a lot of under-sink space. It's also a bit of an investment, but can you put a price on health? We think this is the best filter system for your home and it's the one we liked drinking from the best.
Pros
Filters are good for 2,000 gallons
Removes chemicals, heavy metals, contaminants, and more
Restores natural calcium and magnesium minerals
High-flow system
Cons
Takes up a lot of space under your sink
---
2.

Aquagear Fluoride Water Filter Pitcher – Best Value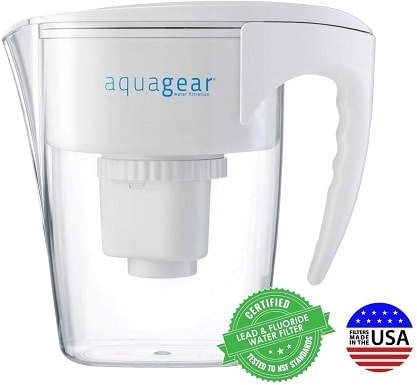 We all need clean water to drink, but getting a filtration system can get pretty expensive, especially if you want it to filter out fluoride. Thanks to the Aquagear Water Filter Pitcher, you can get pure water that's free of contaminants for a very small investment. However, you'll only be able to prepare six liters at a time. The water is delicious and free of fluoride, lead, chlorine, mercury, and more. Despite removing so many contaminants, the filter only needs to be changed every 150 gallons.
Though you can only prepare a small amount of water at once, it's a very quick process and you can have clean water in just a short time, even if you're filling an empty pitcher. The water tastes crisp and natural since the Aquagear filter leaves in healthy trace minerals like calcium and magnesium. With great performance and a low price, we think it's the best fluoride water filter for the money.
Pros
Affordable way to filter fluoride
Each filter is good for 150 gallons
Removes lead, chromium, mercury, and more
Lifetime guarantee
Cons
Can only prepare 6 liters at a time
---
3.

Big Berkey Fluoride Water Filter – Premium Choice
When you need more than just a pitcher's worth of clean water but you don't want to install an under-sink system, you need a countertop filter with a large capacity. The Big Berkey BK4X2 answers the call with a stainless-steel countertop water filter system that holds 2.25 gallons of purified water. For maximum fluoride removal, two fluoride specific filters are included which reduce the total fluoride in your water by up to 95%.
The main filters for the system last for 3,000 gallons each, impressive by any standard. They remove cysts, parasites, bacteria, herbicides, pesticides, VOCs, radon 222, nitrates, pretty much any type of contaminant you can think of, but it leaves behind the beneficial minerals that you want. The result is pure and refreshing water that was unmatched in our taste test. The system also collapses in a nesting design for transport or storage. With the incredible filtration abilities of the Big Berkey, it's got a price tag to match, which is why it's our premium pick and won't climb to the number one spot.
Pros
Holds 2.25 gallons of water
Filters good for 3,000 gallons each
Removes everything but beneficial minerals
Nesting design makes it smaller when not in use
Cons
Very expensive filter system
See our top picks of salt-free water softeners – Here!
---
4.

Home Master Fluoride Water Filtration System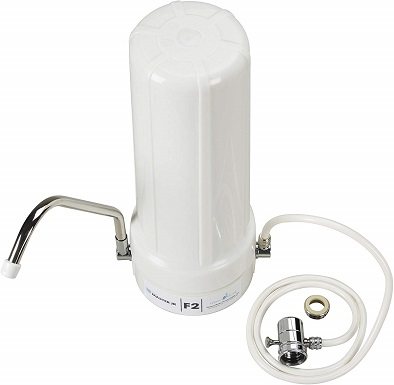 Water filtration systems that hook into the existing water supply at your home tend to be rather expensive. The Home Master TMJRF2 Jr F2 countertop system makes it much more affordable. It's very small and compact so it doesn't take up much space on your counter and can probably fit behind your sink right beside your faucet. It was surprisingly easy to install and took about 15 minutes, even for an inexperienced person.
It features a multi-stage filter that removes a variety of contaminants such as fluoride, chlorine, arsenic, pesticides, and more. While that's pretty impressive, it only filters down to 5 microns, which is much less impressive. The filter inside will also need to be replaced after just 500 gallons, which is far less than other countertop systems we've used. While it's an affordable way to get filtered water on tap, we don't think it's the best way.
Pros
Easy to install
Doesn't take up much space
The multi-stage filter removes a variety of contaminants
Cons
Only filters down to 5 microns
Filter only lasts 500 gallons
---
5.

iSpring Water Filtration System
Not everyone will have the luxury of being able to install a reverse osmosis system under the kitchen sink. It's very easy to install and can be done by the average homeowner without much difficulty. Once it's in, don't expect to have too much space left under your sink for storage! It's also a pretty hefty investment to get started with, but it will provide purified water on tap.
The iSpring filters are great and remove up to 98% of lead and 99% of more than 1,000 contaminants. Chlorine, fluoride, arsenic, hormones, asbestos, and many more will all be stripped from your water, leaving you with a safe and pleasant drinking experience, in theory. In reality, ours developed a strong plastic taste that made the water undrinkable. If you're going the permanent route with a reverse osmosis system, we suggest getting one that's got a longer proven lifespan and won't begin to show any problems down the line since it is a sizable investment.
Pros
Removes over 1,000 contaminants
Easy self-installation
Cons
Takes up a lot of space
Considerable investment
Plastic taste in the water
---
6.

Megahome Countertop Fluoride Water Distiller
Even more expensive than some of the under-sink reverse osmosis systems we tested, the Megahome Countertop system purifies and distills your water. This may be overkill, but if you want distilled water, then this system provides it for a very steep cost. And, it does so very slowly, taking over five hours to distill a single gallon of water. While working, you're going to be listening to a very loud humming noise the entire time as the distiller works its magic. Just think of how much electricity you're wasting using this for five hours or more each day! For us, that's just too much to add to the already steep price. The water is pure and excellent to drink, but it's just too expensive to justify in our eyes, and it takes far too long to get pure water with this device.
Cons
Very expensive for a tabletop model
Takes over 5 hours to distill one gallon
Makes a loud humming noise
---
7.

Epic Pure Fluoride Water Filter Pitchers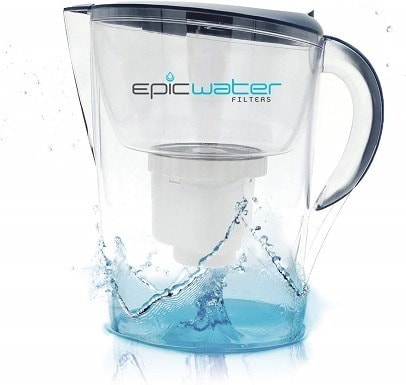 A water filter pitcher is one of the most cost-effective ways of getting fluoride and contaminant-free water in your home. The Epic Pure filter pitcher is one we had high hopes for that just didn't pan out. We were excited to see that it removes fluoride, lead, chromium 6, heavy metals, microorganisms, and many other things we'd rather not be drinking. However, it's not intended for purifying well water since it doesn't remove parasitic cysts. For a filter to remove so many contaminants, but leave in something so important that all the competitors remove, is unacceptable in our eyes. This was the major flaw that held this product back.
The filter lifespan is one redeeming quality of the Epic Pure filter pitcher since they last for 200 gallons each. That's excellent, but it's not enough to save this device from its other flaws. Because of the design, unfiltered water from the top can leak into the main portion of the pitcher, contaminating the filtered water. This is bad enough, but the lid also tends to fall off. After a few falls, it broke, leaving our pitcher lidless.
Pros
Filter is good for 200 gallons
Cons
Doesn't remove parasitic cysts from well water
Unfiltered water leaks into the filtered container
Lid falls off and doesn't work properly
---
8.

Frizzlife Under Sink Water Filter
In-line filtration systems designed to fit under the sink tend to be very expensive. At a fraction of the cost, the Frizzlife system grabbed our attention. It filters out heavy metals, VOCs, lead, and all sorts of other things we never want to think about being in our drinking water. Even better, each filter lasts 1,600 gallons, which is great for those of us who want low-maintenance systems that rarely require our input.
Once hooked up, we had problems immediately with the filter cartridge failing to seal correctly. The problem persisted and we had to deal with a leaky mess under the sink. Also, the water flow was dismal and took forever to fill a single bottle. That might be forgivable, except the water doesn't seem to be improved at all! The poor taste of the city water was still noticeable after being filtered through the Frizzlife filter. This was disappointing, and with several failures under its belt, this filter earned its spot at the bottom of our list.
Pros
Removes heavy metals, VOCs, and more
Filter lasts 1,600 gallons
Cons
Cartridge didn't seal correctly
Drastically reduced water flow
Didn't remove the bad taste from water

Buyer's Guide
Not all water filters are capable of removing chemicals like fluoride. Of the ones that are, there are three main types that you'll have to choose from. We've reviewed some of each type of system, but which one is the best choice for you? Before you go purchase one and realize it's not a great fit for your needs, we're going to take a minute to discuss each type and what situation it's the right choice for.
Under-Sink RO System
RO stands for reverse osmosis and it's a multi-filter system that results in very clean and pure water. These systems remove each type of contaminant in stages as the water passes from one filter to the next. Each filter will need to be changed regularly, but they usually have a lifespan of 1,000 to 3,000 gallons per filter. An RO system will generally be installed under the kitchen sink, and often will have a reservoir that keeps enough clean water ready to provide you with your drinking needs when you turn on the tap.
Since an RO system is connected to your home's existing water and installed under the sink, it's a more permanent method of filtering your water. It's not the best bet for those living in apartments or rented homes since it'll be more of a hassle when you need to move. They're also one of the more expensive methods to get started with, so expect it to be a bit of an investment. That said, RO systems provide some of the purest and best tasting water of any system, and they do so at the flick of a handle.
Water Filter Pitcher
This is generally the cheapest way to start getting fluoride and chemical-free water in your home. The downside is that a pitcher can generally hold about a gallon or less. If you need more, you'll have to wait for the filter to purify another pitcher's worth of water.
The filters on a pitcher will need to be replaced regularly, but some will last as many as 150 gallons between changes. Usually, a meter will be on your pitcher that will allow you to see exactly how much lifespan your current filter has remaining, a very nifty feature. There are many water filter pitchers on the market, but most of them do not filter out chemicals like fluoride. Popular pitcher filtration systems such as Brita do not have filters that can remove fluoride, so make sure the one you choose can.
Countertop Filtration System
Countertop filtration systems can be standalone or they can hook into your existing water supply. The standalone units tend to have much larger capacities than a water filter pitcher, though they work in pretty much the same way. These are too big to fit in your fridge though, so the water won't be cold, one drawback to the countertop system.
For a countertop filtration system that hooks into your home's water supply, you'll have purified water available on tap. These install quickly with no permanent changes to your home, so they're still usable for renters. When you move, you'll be able to easily bring it along with you to your next dwelling. These systems tend to have slower flow rates than an under-sink reverse osmosis system, but they're also much less of an investment. The filters will need very regular changing, usually under 500 gallons.

Conclusion
With so many options to choose from, it can be difficult to decide which fluoride water filter you will rely on to provide you with clean and safe water. We've tested a lot of them to figure out which ones work best, and our reviews should have helped you compare them. Our favorite was the Home Master TMAFC Artesian Full Contact Undersink RO system. It's got plenty of flow to provide all of your drinking needs and the filters are each good for purifying 2,000 gallons. This system removes all of the harmful chemicals, heavy metals, and more without removing the natural minerals you need.
For a more budget-conscious way of getting pure, delicious drinking water, we suggest the Aquagear water filter pitcher. It removes all of the harmful things you don't want in your drinking water for a very low price. The filters each last for 150 gallons and the pitcher is protected by a lifetime guarantee. For a premium but non-permanent solution, the Big Berkey BK4X2 was able to hold 2.25 gallons of purified water with filters that last for 3,000 gallons each. Moreover, specialty fluoride filters are included so your water is devoid of fluoride.