20 Best Accessories For Your Hot Tub in 2023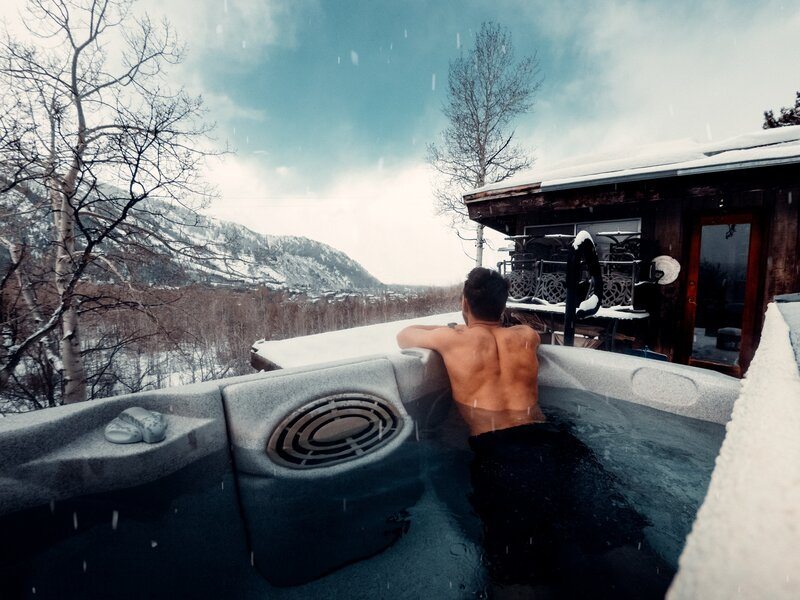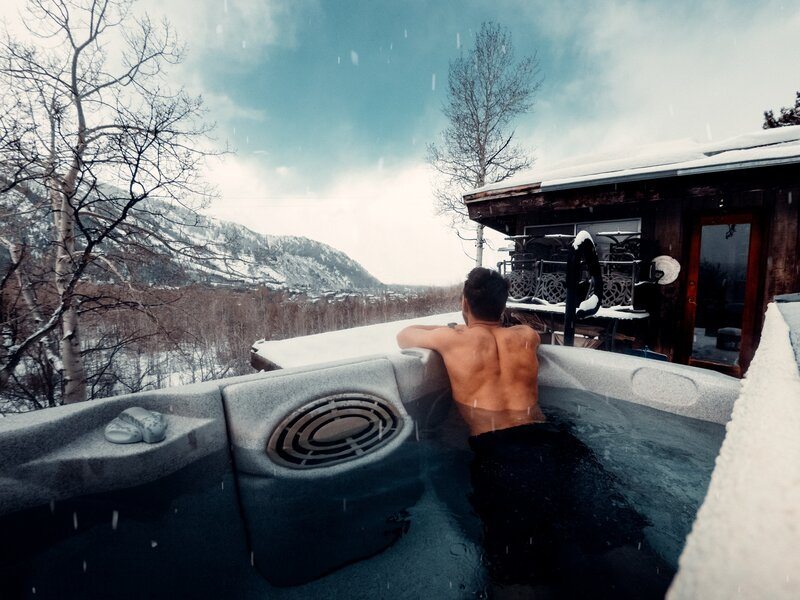 If you are considering purchasing a hot tub, you might also be wondering what kind of accessories go with it. In this post, we're going to go over 20 of the most popular accessories that will help increase the amount of enjoyment you get out of your hot tub. We'll give you as much detail as we can about each one so you can see what kind of accessories you want and which ones you need.
The 20 Best Accessories for Hot Tubs in 2023
Here is our list of the 20 best accessories for your hot tub.
1.

Floating Drink Holders
Floating drink holders are an extremely popular hot tub accessory that serves a useful purpose. Often, drinks lined up along the side of the hot tub can spill and cause accidents inside and outside the hot tub. The floating drink holder removes a lot of this worry and provides a safe hands-free way to store your drink.
GoFloats Inflatable Pool Drink Holders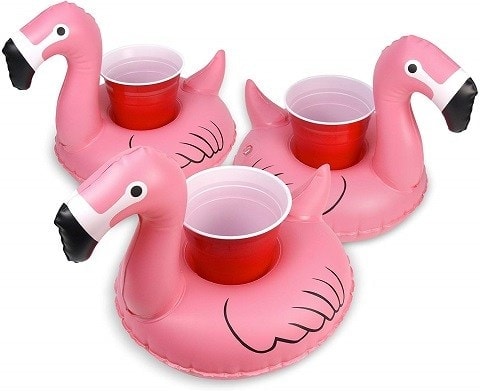 ---
2.

Hot Tub Bar/Caddy
The hot tub bar or caddy is another excellent way to store your drink. These devices fit over the rim of your hot tub and remain stable. They come in several sizes and range from small to very large, capable of holding several bottles of liquor or other snacks and goodies.
DiveBlast: Premium Floating Drink Holder for Pools & Spa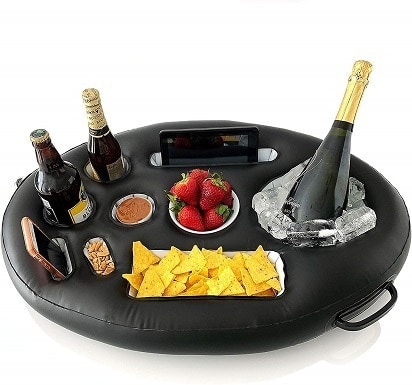 In many ways, the hot tub caddy is better than the floating drink holder, but not all hot tubs have the lip required to hold the caddy. Some caddies can also get very expensive.
---
3.

Games
If you spend time in your hot tub with friends or loved ones, or even if you spend a lot of time in there alone, you might find that games can help pass the time and improve your experience. There are many brands of waterproof cards and also magnetic board games that can be quite fun, like chess and checkers.
Hoyle Playing Cards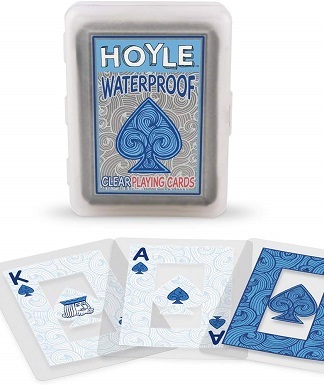 We recommend avoiding splash-type games because there's not enough room to move around, and children could get banged up.
---
4.

Lighting
Lighting can be a great way to set the mood and ambiance, as well as increase the safety level around your hot tub. There are three main types of lighting: submerged, floating, and safety.
Submerged Lights
Submerged lights lie on the bottom of your hot tub and illuminate the water from there. Usually, these lights change the color of the water, and they can be attached to an app to allow full control over the color
GAME Underwater Light Show
Floating Lights
Floating lights rest on top of the water and resemble candles, flowers, or some other decoration. These lights put out much less light than the submerged type, but they can still be useful and illuminate the area quite nicely.
Upgrade Floating Pool Light Ball with Remote
Safety Lights
Safety lights are essential to prevent injuries from occurring around the hot tub. These lights can be any type and usually include track lighting and spotlights. We recommend lighting any areas you consider dark immediately.
AMIR Upgraded Solar Powered String Lights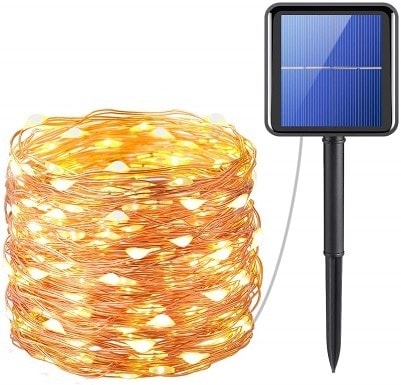 ---
5.

Sound System
The sound system is an excellent addition to any hot tub environment, whether you use it alone or are entertaining your friends. There are many brands of sound systems available that would be suitable for use with a hot tub, and there are also models available that float and use Bluetooth to play music from an application on your smartphone.
Xiaoa Bluetooth Speaker Portable Waterproof Outdoor Wireless Speaker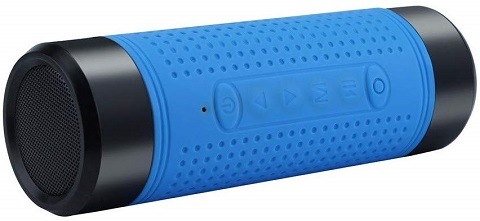 ---
6.

Bath Salts
Using bath crystals in your hot tub can be a very satisfying experience. Bath salts are said to decrease stress, help with insomnia, and help moisturize the skin and improve the skin barrier. They also give the water a smooth, silky feeling.
Dr Teal's Epsom Salt Bath Soaking Solution
---
7.

Fragrance
Similar to bath salts, fragrance can provide a soothing atmosphere. Often called aromatherapy, there are several different perfumes and types of incense that you can use. The most common ways to create a pleasing aroma in your hot tub area is to burn incense sticks and cones, use scented candles, or the type of air fresheners that plug into the wall. Each of these will do a fantastic job of providing you with a relaxing atmosphere while you enjoy your hot tub. You'll need to use a little more care with candles or incense sticks, but there may not be any outlets close by to plug in an air freshener.
Aromatherapy Essential Oil Diffuser Gift Set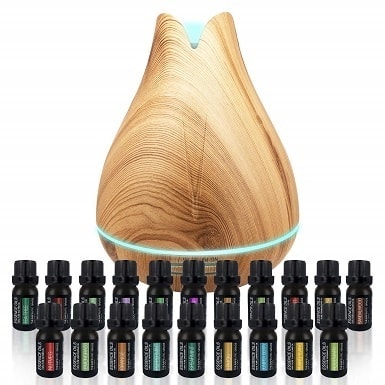 ---
8.

Cushions
Cushions are submergible pads that you can sit on to make your stay in the hot tub more comfortable. There are several brands available, but they all do pretty much the same thing. You want to pick a cushion that uses durable material and is machine washable.
Euone Bathtub Cushion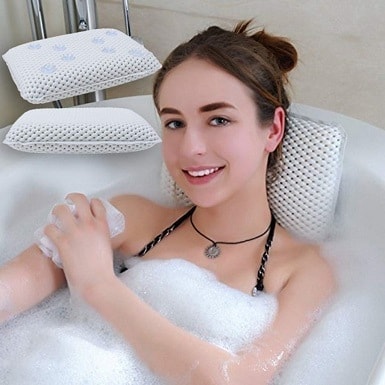 ---
9.

Pillows
Pillows are similar to the cushions we just talked about, but these don't go under the water, though some parts of it may touch the water. These pillows are slip-resistant and are soft to rest your head. Similarly to cushions, we recommend that you search for a brand that uses durable material and is machine washable.
Epica 2X-Thick Luxury Spa Bath Pillow, SuperGrip Suction Cups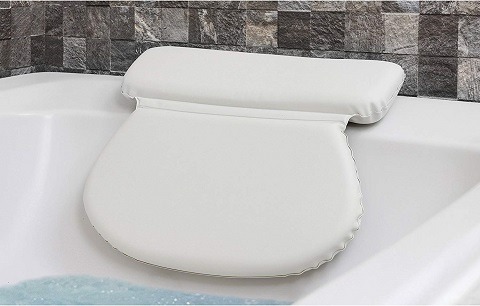 ---
10.

Thermometer
Thermometers are essential to help you maintain a constant, comfortable temperature. Thermometers can be attached to the side of the hot tub, or they can be in a floating device. You might also find some expensive digital thermometers that work in unique ways.
XY-WQ

Floating Pool Thermometer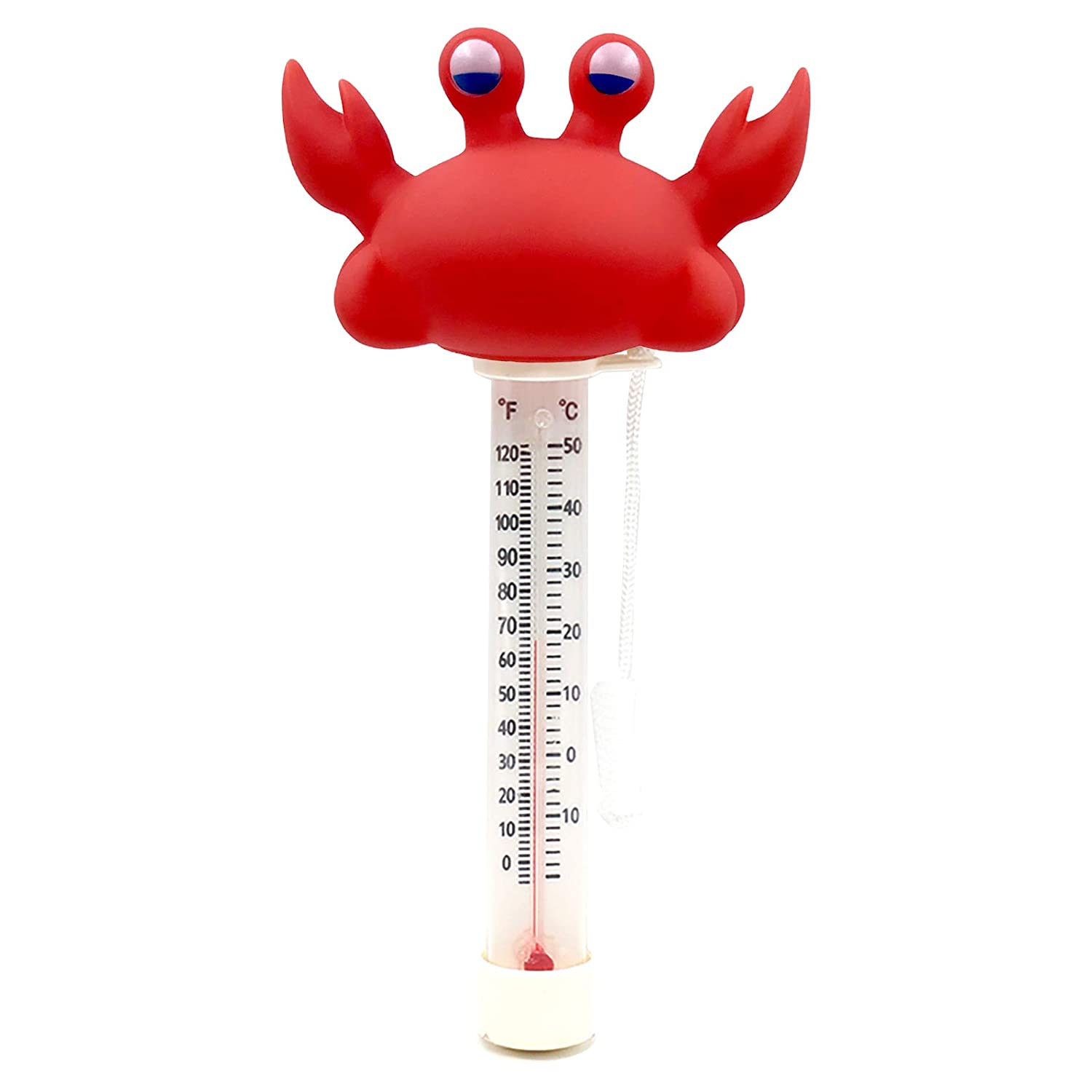 ---
11.

Steps
Your hot tub may or may not have come with steps, and it may not need them, but there are all kinds of steps available. Some steps have extras, like planting containers, or storage chests built-it. Stairs can get quite pricey, but there are also plenty of inexpensive brands available.
Essential Hot Tubs HS2-BLK Black Handi Step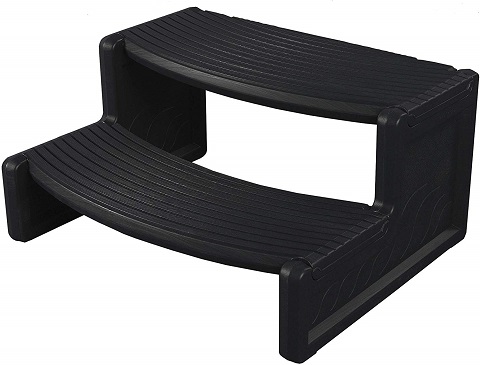 ---
12.

Vacuum
No matter how hard you try, you're going to get some dirt into your hot tub. The best way to remove the contaminants is to use a vacuum. Unlike swimming pool vacuums, these vacuums do not use a water inlet or outlet. Many don't require any power at all, and work in a similar way to a turkey baster to suck out the debris. Some use a garden hose, and can even be battery powered. We recommend trying out the suction type first, before moving on to the others because these require fewer steps and less external components.
Aura 6250 Paradise Power Spa Vacuum

Pool & Spa Jet Vacuum
---
13.

Umbrella
A large umbrella can be a very fashionable way to keep the sun out of your hot tub while you're using it. Umbrellas can also help deflect falling leaves or other debris from entering the water. There are several brands of umbrella available made, especially for the hot tub.
Giantex 10ft Solar Patio Umbrella Outdoor with Lights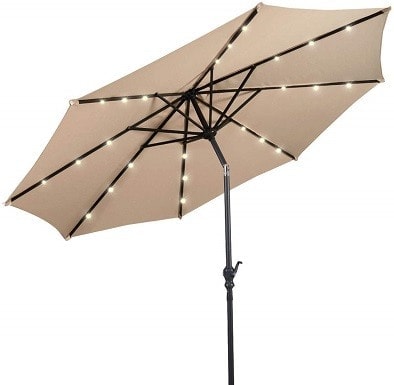 ---
14.

Towel Warmer
One often-overlooked hot tub accessory is a towel warmer. If you use your hot tub on colder days, you may appreciate a warm towel. These units are not very expensive, and there are several brands available that will work great. You may also be surprised to find you have many other uses for it around the home. It's great for heating bath towels and for warming a blanket before you go to bed.
Pollenex Towel Warmer
---
15.

Waterfall Fountain
Some hot tubs come with the waterfall built-in, but if you weren't so lucky, hope is not lost. Several manufacturers make waterfalls you can attach to your existing hot tub without damaging the tub in any way. Many also come with additional lighting that helps create impressive displays.
Poolmaster Swimming Pool and Spa Waterfall Fountain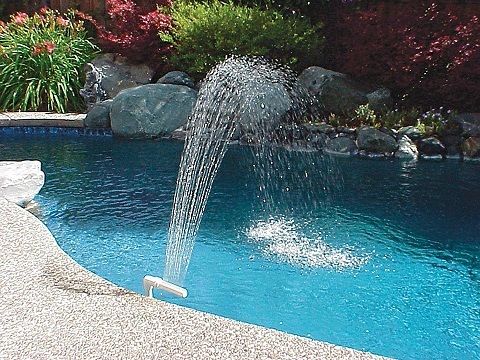 ---
16.

Handrail
A handrail is an important safety feature that we highly recommend. It's not just about being old or out of shape; you can slip at any time getting into or out of the hot tub, and a handrail will make it exponentially safer. There are dozens of brands available, some attached directly to the body of the tub, and some are freestanding and don't require any installation at all. Most of them are very inexpensive and well worth the cost.
CoverMate 7930 Spa Side Handrail with Base
---
17.

Oil-Absorbing Sponges
Oil-absorbing sponges trap the oil until you wring it out, and you can use them again and again. These sponges are especially handy in the hot tub because they can capture oils from your body, from your makeup, and from other things that may enter your hot tub water. Reducing the oils in the water can also reduce the frequency at which you need to change the water in your hot tub.
2 pack Scumbug ™ Oil-Absorbing Sponge
---
18.

Extra Filters
You won't need to change the filters in your hot tub very often, but it'll still be helpful to have several extras on hand. Depending on your model, it may be hard to find the filters, and you may need to order them online or travel a long distance to find one. It's also easy to forget what kind you need, and often, you receive savings buying in bulk.
Guardian Filtration Products, Replacement Pool Spa Filter
---
19.

Bromine Tabs
If you're coming from this swimming pool world into the hot tub world, you may be familiar with chlorine as a sanitizer. The water in hot tubs is much warmer than in a swimming pool, and it quickly uses up the chlorine, so many people use bromine tablets instead. Bromine is a chemical similar to chlorine that holds up better in warm water. Some people may react negatively to this chemical, however, and need to resort to chlorine or another sanitation method.
SpaGuard Brominating Tablets
Whichever method you use to sanitize your hot tub, we recommend having an ample supply of tabs on hand and checking the water often with test strips. Maintaining the chemicals at the correct level will go a long way towards keeping the water clean without causing harmful physical reactions.
---
20.

Descaler and Preventer
If you have hard water, you will notice that a hard mineral buildup can begin to form around metal regions of your hot tub, and in your pipes. You don't want to let this buildup get out of hand, because it could reduce the flow of water and damage your pump, it also looks terrible.
You can often remove the hard mineral buildup by draining the pool and using vinegar to scrub it away. There are also several chemicals that you can add to the water before draining to help make the process a lot easier. You do need to be careful while using these chemicals, though, because some of them can be quite dangerous and harmful to your health.
There are also several non-toxic chemicals that you can add to the water to prevent the mineral buildup. These are usually water softeners that can also improve the feel of the water on your body, but they can also include chemicals that prevent the minerals from adhering to the metal.
Bluewater Chemgroup Spa & Hot Tub Scale Remover

---
Conclusion
That concludes our extensive list of the best accessories for your hot tub. Not all of these accessories are for everyone but this list should give you plenty of ideas about ways you can improve your hot tub experience and environment. If purchasing fragrances or bath salts, we recommend starting small until you find something you like. There's also no need to do major construction to add a sound system, lighting, or handrail, each of these accessories have brands that don' require any installation.
If you have enjoyed reading over this article and it's helped you get some new ideas, please share these 20 best accessories for your hot tub on Facebook and Twitter.