10 Best Rotary Tools in 2023 – Top Picks, Reviews, & Comparisons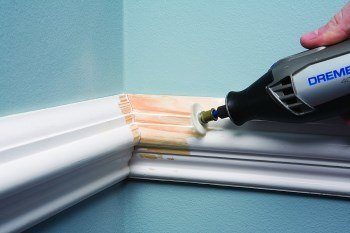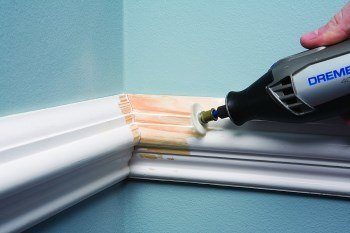 If you've ever needed to carve, cut, grind, drill, or sand for a special project, you know exactly what a rotary tool is. This device is one of the most versatile additions you can purchase for your home tool kit. The rotary tool is equally at home to assist with special projects as it is for everyday maintenance repairs. It gets a lot done in a very small package, so there are many factors to consider before buying one.
You probably want something durable and quick — a compact and affordable option that doesn't compromise power. Do you wish you had a fairy godmother who could make all of these purchasing decisions for you so you could carry on with your life? Well, we can't provide any magical interventions, but our in-depth reviews below will make the buying process just as simple. With these reviews, you can filter out what works for you and find the perfect fit, without the headache.
Comparison Table (updated in 2023):
Rating
Image
Product
Details

Best Overall

DEWALT DW660 Rotary Saw

Keyless chuck
Bump-off switch
Dust-seal switch
CHECK PRICE

Best Value

WEN 2305 Rotary Tool Kit

Variable speed settings
Best value for your money
100 accessories for any project
CHECK PRICE

Premium Choice

Dremel 4000-6/50 High Performance Rotary Tool Kit

Premium attachments and accessories
Durable
Variable speeds
CHECK PRICE

TACKLIFE RTD35ACL Rotary Tool Kit

Lightweight
Variable speeds
Over 80 accessories and attachments
CHECK PRICE

Avid Power Cordless Rotary Tool

Lightweight & Cordless
Variable speeds
Quiet
CHECK PRICE
The 10 Best Rotary Tools:
1.

DEWALT DW660 Rotary Saw – Best Overall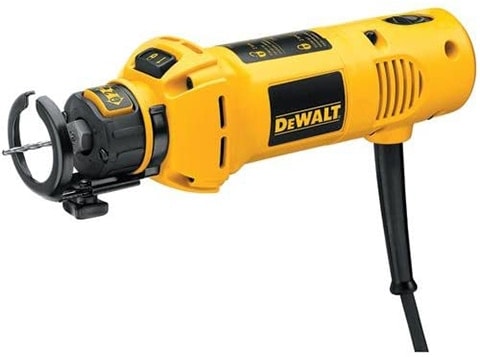 The DeWALT DW660 is our choice for the best overall rotary tool, and it's easy to see why. It operates with a stunning 5 amperage at 30,000 RPM. It's lightweight design, coming in at just over 3 pounds, makes it extremely portable. Bring it with you for virtually any job. This power tool is especially well-equipped to handle drywall cutting and comes equipped with a drywall bit, plus 1/4 inch and 1/8 inch collets.
What we really love about this one is that it's a keyless chuck, meaning it's quick to change bits without needing a special key to do it. This means you won't have to fuss and disrupt your flow when you're knee-deep in a project. The bump-off switch is another feature that makes it effortless to use. And the dust-seal switch means less dust in the product, making it last longer. Overall, we are impressed with the power of this rotary tool, especially for the price, and think it's. the best rotary tool you'll find this year.
Pros
Powerful 5 amps
Lightweight
Keyless chuck
Bump-off switch
Dust-seal switch
Cons
Bits may need occasional tightening when changing
No variable speed
---
2.

WEN 2305 Rotary Tool Kit – Best Value
Who says you have to spend an arm and a leg to get something that does the job? The Wen 2305 is the exception to that old saying. Its rave reviews prove it to be one of the best rotary tools for the money. For under $50, the tool kit includes over 80 accessories: stones, discs, wheels, sanders, and everything in between. With everything a rotary tool can do, you are going to want all of these gadgets in your kit.
The basic rotary tool has variable speed settings and can go anywhere from 8,000 to 30,000 RPM. What makes this different from the DeWALT is the power. It has a 1 amp motor compared to the DeWALT's 5 amps. If you are cutting drywall or doing projects on a professional level, it may not be the tool for you. That doesn't mean it's not worth it, though. It's a durable, lightweight product that can handle a lot of tough projects for not that much money.
Pros
Variable speed settings
Best value for your money
100 accessories for any project
Compatible with Dremel accessories
Cons
Not as powerful as DeWALT
Some accessories might need to be replaced
---
3.

Dremel High Performance Rotary Tool Kit –  Premium Choice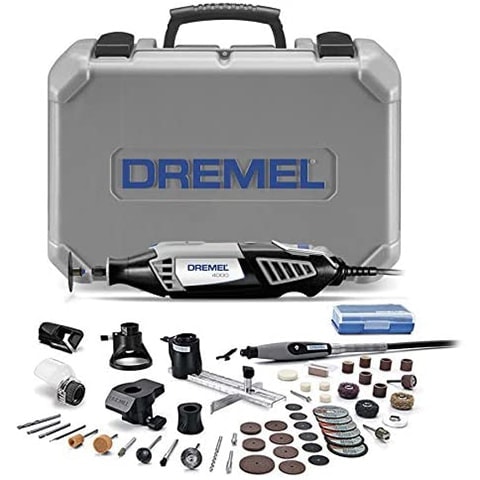 Maybe you're one of those people who like to spend a little more to get the very best in performance and quality. If that's the case, Dremel 4000 might be the pick for you. Dremel is well-known in the world of rotary tools, and for good reason. They are known for creating hard-working devices and this one follows in that lineage.
The 50 accessories included in this tool kit allow for a variety of projects. It has variable speeds from 5,000 to 35,000 RPM to give you more control. It also comes with 6 attachments, including the flex shaft attachment for when you need to do more delicate work. The 1.6-amp motor is respectable. Make no mistake, though: as the best Dremel on the market today, this kit is an investment. It would make the most sense for someone who plans to test its limits, rather than the occasional DIYer.
Pros
Premium attachments and accessories
Durable
Variable speeds
Cons
Premium cost
Average motor amperage for the price
---
4.

TACKLIFE RTD35ACL Rotary Tool Kit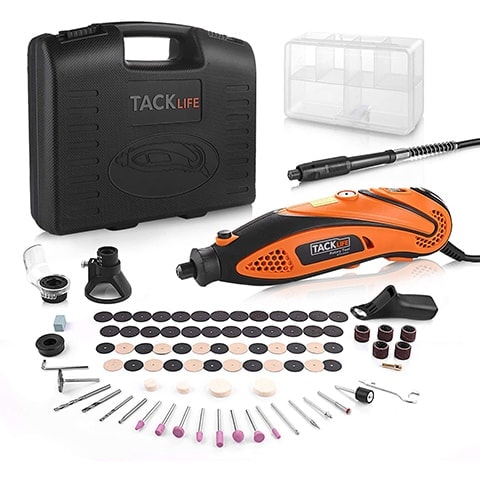 The TACKLIFE RTD35ACL is a quality rotary tool kit for a good price. It has 80 accessories and 4 attachments to handle a range of projects. The variable speed gives you the capacity to choose from 10,000 to 32,000 RPM with 6 settings. It weighs nearly 4 pounds, making it fairly lightweight, with a 1 amp motor.
The kit comes with a cutting guide attachment to help you make precision cuts. The transparent shield protects the tool from allowing destructive debris to get inside if your project involves a lot of fine dust. With all of the accessories included, you can get a lot done – but the quality might be lacking for some of the bits in the kit. Even so, this is another durable option at an exceptional price point.
Pros
Lightweight
Variable speeds
Over 80 accessories and attachments
Great budget option
Cons
Some cheaper quality attachments
Motor not very powerful
---
5.

Avid Power Cordless Rotary Tool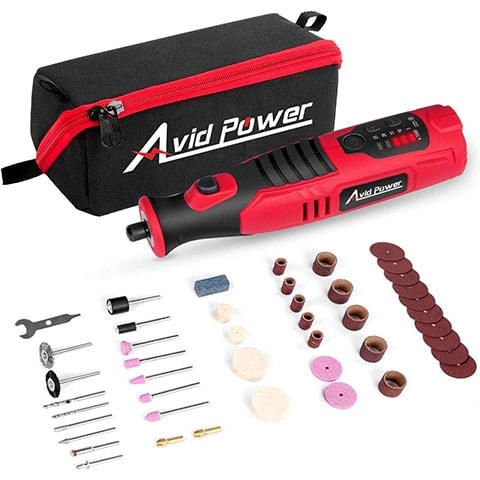 If you're on the hunt for something at a budget, the Avid Power Rotary Tool Kit is another great option. This kit comes with 60 accessories for all of the projects you might need it for – you already know the drill. Bad puns aside, this tool is the most lightweight we've come across so far at a feathery 10 ounces. It's variable speeds of up to 25,000 RPM come in 5 settings. Its fastest speed is not at the level of some of the other options, but it's a steady choice.
This is not the most powerful tool you are going to use on this list, but maybe that doesn't matter to you. You probably won't be cutting into drywall, but you can get a lot done with this little guy. It's a quiet workhorse and its size makes it extremely portable. Combined with the fact that it's cordless, this is an excellent option for a DIYer who needs a functional on-the-go tool.
Pros
Lightweight
Variable speeds
Cordless
Quiet
---
6.

BLACK+DECKER 3 Speed RTX Rotary Tool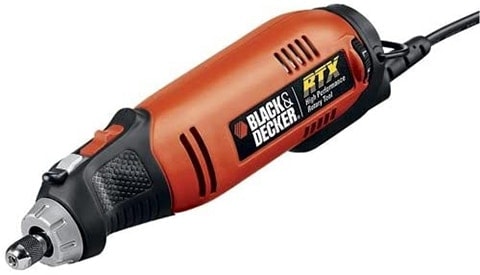 The Black+Decker RTX-B 3 is another great selection for those looking for a very portable rotary tool. It weighs in at just over a pound. While not a full kit, the rotary tool comes with 5 accessories and has a universal collet system so that you can change out to some of your other rotary accessories. It's all surprisingly powerful as well for the price, with a 2 amp motor.
If you like some control with your speed, you'll get variable speeds of up to 30,000 RPM, but with only 3 settings it is not quite as flexible as some of its competitors. Still, its highest speed is pretty powerful. The Flip-Lock spindle lock allows you to change out your accessories without having to hold down a button, making the whole process a little bit easier. This could be a great option for someone who is in between the occasional user and the professional rotary wielder.
Pros
Powerful budget option
Flip-Lock spindle lock
Lightweight
Universal collet system
Cons
Only 3 variable settings
Full range of accessories sold separately
---
7.

Milwaukee 2460-20 M12 Rotary Tool
The Milwaukee 2460-20 is the choice for people who want the flexibility of a cordless tool without lacking power. In fact, the Milwaukee is very powerful. It's an exceptional choice for people who need to use it for more professional or heavy-duty endeavors. It weighs less than 1.5 pounds, making it portable like the Avid Power but without its lack of power.
The trade-off here is the price. It is not a budget option and does not come with a kit full of accessories. If you're still with me, though, there are a lot of positives to consider. It is compatible with all of the basic rotary accessories, so if you're coming into this relationship with a kit you love already, that may not even matter to you. The variable speeds can hit 32,000 RPM, which is one of the faster rotations on this list. If you're looking for high voltage in a portable package, this tool shines.
Pros
Cordless
Lightweight
Powerful
High variable speeds
Cons
Not a budget option
No accessories
---
8.

VonHaus Variable Speed Rotary Tool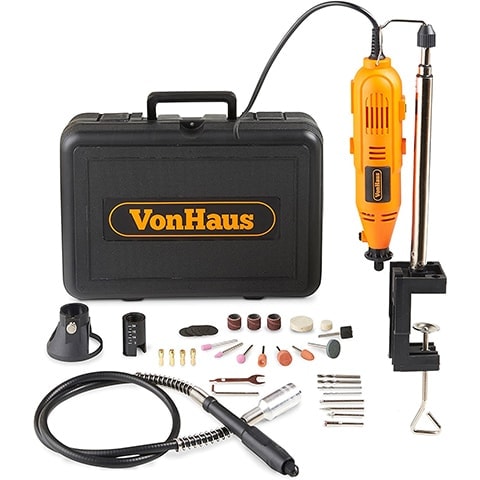 The VonHaus Variable Speed Rotary Tool is another option that comes with a kit. There are 34 accessories for different projects and a flex-shaft attachment for your projects needing more precision. The accessories here allow for variation, but the quality is not at the level of some of the other options out there. It's compatible with most Dremel accessories, but the accessories can be cumbersome to change out despite its built-in chuck.
This device also has variable speed settings, with a very fast high setting of 32,000 RPM. You can switch between 5 settings, giving you some control over how fast you go. At just over 4 pounds, it is one of the heavier rotary tools. While 4 pounds won't break your back, it is not quite as portable as others. This is not a bad option, but at the price point there are alternatives that pack more offerings in.
Pros
Variable speed settings
Over 30 accessories
Cons
Heavier option
Accessories hard to change
Lower quality accessories
---
9.

GOXAWEE Rotary Tool Set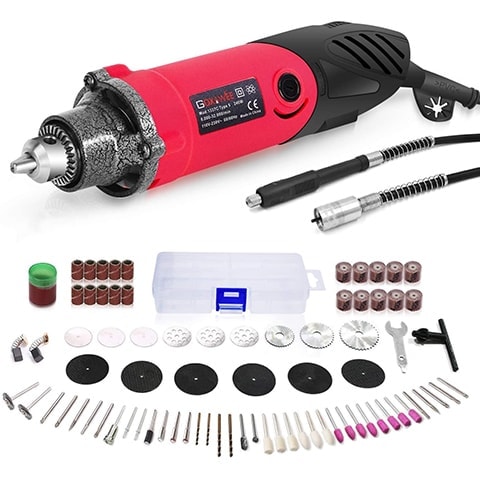 The Goxawee Rotary Tool Set has some positives and an equal number of drawbacks. The price for this tool is mid-range: not a budget option and not the most expensive either. Even so, the performance is not necessarily on par with some of the budget options. It comes with over 80 accessories for a variety of projects. The 3.5-pound weight is decent but not excessive.
Its variable speeds reach up to 32,000 RPM with 5 settings to choose from. It also comes with a flex shaft attachment for more intricate work. But the flex shaft performs poorly and won't stay tightly on the device. It is not an incredibly durable option for the money. This is a situation where there are some good specs but, at this price, we expect better quality and performance.
Pros
Variable speeds
Comes with 80 accessories
Cons
Poor flex shaft
Not very durable
Not a great value
---
10.

Bosch Professional Cordless Rotary Tool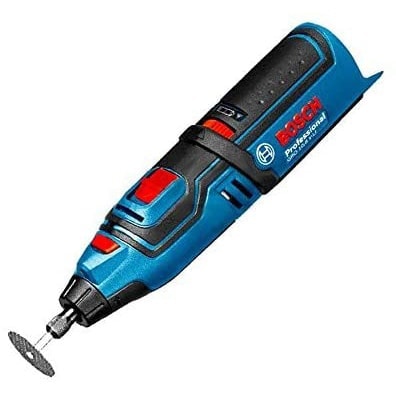 If you like to spend more to get more, the Bosch Gro10.8v-li might be on your list. At over $100, it gives you speeds up to 35,000 RPM. There are some interesting bells and whistles like the added LED light to help you see your project better, and a spindle lock to change out your accessories more easily. It's cordless and compact, making it very portable.
This is an option for someone who is doing more professional work, since its impressive power might not be necessary for the average user. This is also very expensive with no attachments. We aren't sure that this offers so much more than its competitors that it is worth paying double, or in some cases triple, the price.
Cons
No attachments
For the price point, there are cheaper options that do just as well, or more

Buyer's Guide: Selecting the Best Rotary Tool
When you are making decisions about what makes the most sense for you in a rotary tool, there are a lot of things to consider. A list like the one above can be helpful in narrowing things down, but this a highly individual process. You need to understand all of the specifications in order to get a handle on what works for you. This buyer's guide will try to round out all of the granular details to help you make a better pick.
Rotary Tool Options
There are two major types of rotary tools available, and they both have positives and negatives depending on the projects you are using them for.
Corded rotary tool: This is your standard electric tool. When you have to plug your rotary tool in, these devices tend to be more powerful. You also aren't paying for the convenience of being cord-free.
You never have to worry about the power running out for your device because it has a steady source with your electrical outlet. This is helpful when you are working on a project that might take you longer. Because it doesn't work on a battery, they also typically weigh less.
The drawback is that these devices are not as convenient and portable. You have to be near an outlet to use it, and going back and forth between spaces can just be more cumbersome. And keep in mind, the best Dremels tend to be corded models.
Cordless rotary tool: The cordless tool benefits from its portability. You can take it anywhere, making it the most convenient option. Your workspace doesn't have to be dictated by where the closest outlet is – it can be literally anywhere!
These are usually speedy little devices. Although some cordless options might not be as powerful as the corded rotary tools, on the whole, there are some exceptions to that. The main drawback is having to go through the process of charging the battery. If you have a longer project to work on, it is unrealistic to have to constantly stop to charge the battery.
Defining Terms
Every rotary tool is unique. What really sets one apart from the other is the details of how it operates. If you take a close at the specifications, it can make whittling down your options much easier. These details were brought up quite a bit in our reviews above.
Amperage: This detail will tell you how much electric charge your device's motor has. The higher the number, the more powerful. Some of the more basic options will start at 1  and move up from there.
Voltage: The volts work in harmony with the amps to help the electrical current flow and give you a better idea of how powerful your device is.
Rotations per minute: This is the speed at which your rotary tool operates. The best devices will give you variable speed settings so that you can adjust based on your project. The higher the number, the more power you can potentially get out of it.
Flex shaft: This attachment allows you to have more control when you need to do delicate work, like an engraving.
Cord length: If you go for the corded device, you need to be able to reach your project from the outlet. That's why it is so important to look into this small detail. For most major rotary tools, this is not a problem as some of the cords have a long length to reach far distances. But if your selection skimps on this area, you'll be very limited in what you can do.
Dust collection: One of the killers of a good rotary tool is the dust that can and will inevitably get inside the device. Make sure you pick a tool that can combat this with a shield or dust collection. This will save you countless energy later on trying to clear out all of that dust!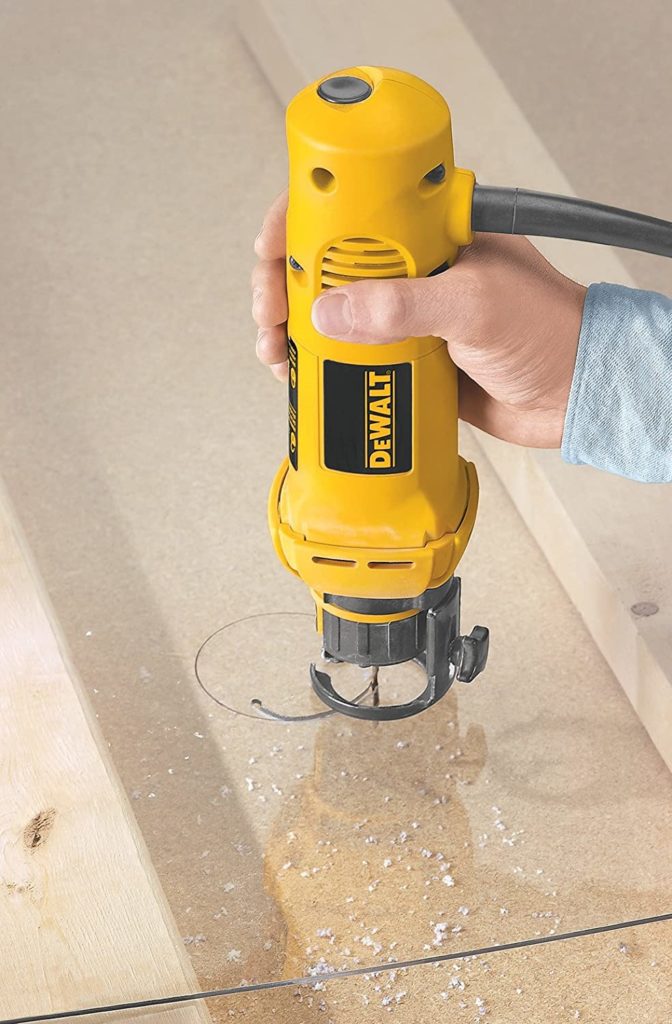 Project Types
The most beloved aspect of a rotary tool is that this little device can do so much. Depending on your project, some rotary tools will be a better choice than others. Here are a few of the things it can do and what to look for.
If you have some projects to complete around the house, the rotary tool can be a great device. You can use it to remove rust or grout, get rid of old paint, and cut into drywall. Its versatility really stands out here.
These are your craft and DIY projects that don't require as much power, and maybe need more finesse to complete it correctly. You want a tool with precision. For this category, think of jewelry making, etching in glass, and engraving or cutting designs in softer surfaces.
Maybe you are making furniture, upcycling antiques, or creating your own fixtures. You probably want a rotary tool with a lot of power and attachments like sanders to get the possible results. If you choose something too weak, your rotary tool might end us a paperweight.
---
Things to Consider
Now that we have established the two main types of rotary tools you'll be deciding between, let's go a bit deeper and establish some of the major differences between them.
Planned Use
Are you a professional looking for a powerful tool that can handle any material? Or are you a jeweler creating delicate pieces that require a light touch? Maybe you are a beginner and have never touched a rotary tool in your life. The type of rotary tool you choose can affect how you are able to do your work. If you choose something with lower motor output and lower speeds, you might not be able to cut through drywall or tougher, thicker materials.
But someone with more delicate aspirations might not want to pay for such a powerful tool – and it also could cause issues if its power comes at the expense of precision. This person also might want the attachments, like a flex shaft, to make intricate designs easier to carve out. And a beginner will look for something that is simple to use. What you decide is really about what you are using it for.
Attachments
Some rotary tools come with kits with a plethora of attachments. This can be fun to have, especially if you are someone who plans on tackling a variety of projects. From sanding to drilling, these bits can offer a lot of options. But maybe you are someone who is doing something very specific and you don't care about having 800 attachments. You might not want to spend the extra money to get a subpar tool with attachments you won't use.
It's also important to consider how easy it is to change out the bits. Some rotary tools come with a keyless chuck, where you don't need a special tool to change the accessories. This can be extremely convenient. But it's also true that a lot of the accessories don't stay on as well for these tools, so you need to research whether other people had this experience or if it performed just as well as a keyed chuck.
Convenience
This consideration can mean different things to different people. For instance, you might see a cordless tool with a lightweight body as the most convenient option. It's extremely portable and easy to hold. But someone else might define it as a tool that doesn't need to be charged constantly or one that isn't able to handle big projects. In the end, such a small device would wind up being more inconvenient for this person. This is another subjective point that really comes down to your needs.
Price
Ultimately, it all comes down to price. One option could have every checkmark you are looking for – convenience, power, speed. But if the price is absurdly high, none of that will matter. Some tools ask too much for their performance level compared to their competitors. And some are at a very low point, with the poor specifications to show for it. You need to go into the buying process with a ceiling price and compare several options within that range to see what will offer you everything you need with a price you are comfortable paying.

Conclusion
This list of rotary tools had some close calls in a lot of areas. So many brought different things to the table that could be game-changers depending on the work you are doing. We felt the DEWALT DW660 had the best specifications overall for everyone from the average person to the more professional user, and brought a lot to the table.
When it comes to affordability, the WEN 2305 stood out for all of the features and accessories it crammed in for under $50. It's durability and variable speeds made it an incredible option for the price.
And if you're interested in the best Dremel money can buy, you ought to check out the Dremel 4000.
But in the end, what you decide really comes down to your own individual needs. We hope these reviews and guides made things a bit easier and less daunting for your selection process.
More buying guides like this: