9 Best American Standard Toilets of 2021 – Reviews and Top Picks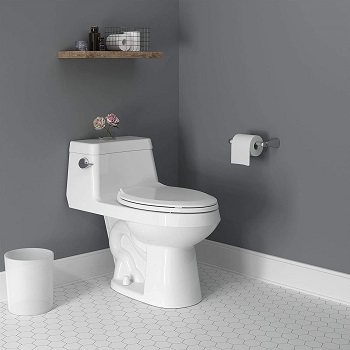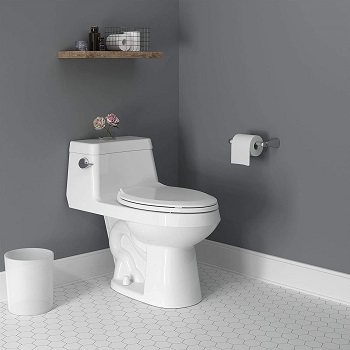 American Standard makes bathroom fixtures with an elegant look and features that are on the cutting edge of toilet technology. They produce toilets that offer conservative water-saving flushes while still managing powerful cleaning with each pull of the handle.
We've always had good luck with American Standard products, so when it was time to replace the toilet in a spare bathroom recently, we decided to take the opportunity to test some American Standard toilets and see which of these porcelain thrones is most fit for our bathrooms.
In the following reviews, we're going to share what that we learned while testing these toilets, from installation to their ability to handle their daily workload. Hopefully, we can help you buy the right throne, so you only have to install it once!
---
A Quick Comparison of Our Favorites
Rating
Image
Product
Details

Best Overall

American Standard Compact Cadet

Water-conserving
Space-saving compact bowl
Slow-close seat
CHECK PRICE

Best Value

American Standard H2Option

Affordably priced
Dual-flushing
PowerWash
CHECK PRICE

Premium Choice

American Standard Cadet 3

Soft-closing seat included
Economical flush
Fast and powerful flush
CHECK PRICE

American Standard Champion 4

Slow closing toilet seat
Powerful flush
One-piece design lasts longer
CHECK PRICE

American Standard Town Square S

Power Wash
Everclean surface
Great warranties
CHECK PRICE
The 9 Best American Standard Toilets – Reviews 2021
1.

American Standard Compact Cadet Toilet – Best Overall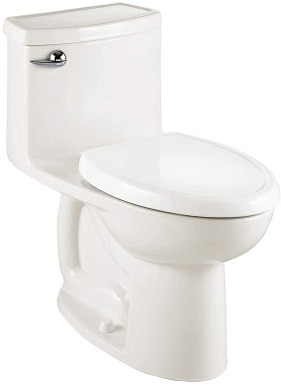 It was difficult to pick a single toilet out of the American Standard lineup, but if we have to pick just one, it's the Compact Cadet Toilet. It's loaded with great features that we love at a reasonable price that seems cheap compared to some of the pricier models we tested.
One of our favorite features of this toilet is the EverClean surface. This is a special surface on some American Standard toilets that helps to prevent bacteria, mold, and mildew. Since these are usually the culprits for most offensive bathroom odors, the end result is a fresher smelling bathroom. Also helping to prevent odors and messes is the one-piece design of this toilet, eliminating the seam between tank and bowl that easily holds onto nasty, smelly messes.
This is a compact toilet because of the space-saving design of the bowl. It's elongated, but it fits into the same space that a round toilet does. You get a slow-closing seat with this toilet, avoiding slams and pinched fingers. It's also a very economical toilet, using just 1.28 gallons per flush, or GPF. Unfortunately, this does mean that you occasionally have to flush twice.
Pros
Water-conserving 1.28-gallon flush
Space-saving compact bowl
Prevents bacteria, mold, and mildew
Slow-close seat
One-piece design reduces dirt and grime
Cons
Sometimes you have to flush twice
Five-year warranty
---
2.

American Standard H2Option Toilet – Best Value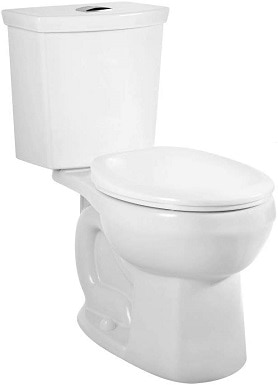 When deciding on the best value pick, we're looking for the best American Standard toilet for the money. With the H2Option toilet, we think we've found it. It's one of the most affordable American Standard toilets, but it's still loaded with great features found on more expensive toilets, like the Everclean surface that keeps the toilet and bowl clean.
This is a dual-flush toilet with two extremely economical flushes. The lighter flush uses just 0.92 gallons and the heavier flush uses 1.28 gallons. To make the best of the limited water, this toilet uses a PowerWash rim that does a good job of evacuating your waste.
While this is one of the cheapest American Standard toilets, you'll have to add on the cost of a seat since it doesn't come with one. Thankfully, it's still going to be much cheaper than other options, but your backside will never know.
Pros
Affordably priced
Dual-flushing toilet with ultra-low water usage
Everclean surface keeps the toilet and bowl clean
PowerWash rim makes great use of limited water
---
3.

American Standard Cadet 3 Toilet – Premium Choice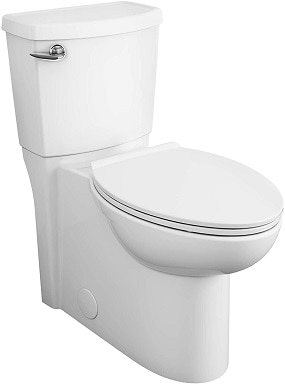 Loaded with premium features and priced higher than many other toilets in the American Standard lineup, the Cadet 3 Toilet is our premium choice pick. This toilet features an extra-tall height of 16.5 inches and it's ADA compliant for handicap use. Anyone who struggles to reach the seat on a standard-sized toilet will be thankful for this feature.
This is an economical toilet that uses just 1.28 GPF. To make sure that small amount of water can do its job, a three-inch flush valve creates extra flushing power, quickly evacuating any waste in the bowl.
The Cadet 3 is a two-piece toilet, but the seam between tank and bowl is a breeding ground for nasty messes. However, the trap is hidden, which removes one problem area that's usually a catching point for bacteria and odor-producing messes. You even get a soft-closing seat included with the toilet, which helps to cement its value as our favorite premium option.
Pros
Everclean surface prevents mildew, mold, and bacteria
Soft-closing seat included
Economical flush
Tall height is ADA compliant for handicap use
3" flush valve for a fast, powerful flush
Hidden trap makes it easy to clean
Cons
The crevice between tank and bowl holds grime and nastiness
---
4.

American Standard Champion 4 Toilet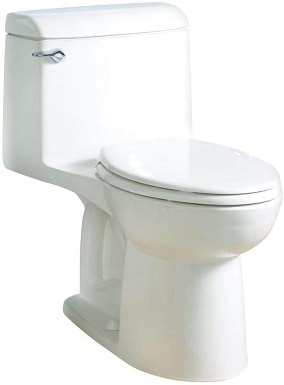 With a hygienic one-piece design and Everclean surface, the Champion 4 Toilet is built to last a long time without accumulating messes. There's no seam between the tank and toilet, which means that filth and grime can't collect, and you won't ever need to replace the seal since there is no seal.
Using 1.6 GPF, this toilet isn't as efficient as other American Standard models. Despite this, it's quite a bit more expensive than many of the other options. On the bright side, the extra water makes for a powerful flush that doesn't leave a mess in the bowl. You'll also get a slow-closing lid included with this toilet; a nice touch, but not enough to earn this toilet a top-three placing on this list.
Pros
Includes a slow closing toilet seat
Powerful flush evacuates big loads easily
One-piece design lasts longer and accumulates less mess
Cons
Not as efficient as other American Standard toilets
It's more expensive than other options
---
5.

American Standard Town Square S Toilet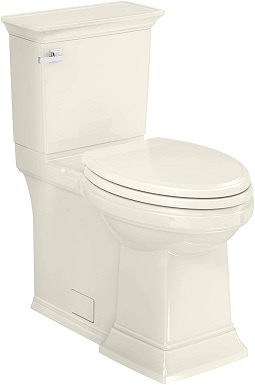 The Town Square S Toilet is an elegant toilet with a very unique appearance. It's also one of the most expensive American Standard toilets we've seen, though we don't think it offers enough to warrant the high price.
This toilet has hidden traps that make the base easier to clean since there aren't as many nooks and crannies to hold onto grime and mess. The whole toilet features the Everclean surface so messes and bacteria don't stick. To keep the bowl clean, this toilet is equipped with the Power Wash rim that helps keep skid marks at bay. It's rated to move up to 1,000 grams of waste at a time, though we've never weighed our waste to see how much that adds up to in the real world.
We're surprised at the two-piece design of this toilet that leaves a space between the tank and bowl where filth can get trapped. Considering the hidden traps, we would have expected a hygienic one-piece design. But we really loved the warranties. The mechanical parts get a 10-year warranty and the chinaware is warrantied for life.
Pros
Hidden traps make the base easier to clean
Power Wash rim helps prevent skid marks
Everclean surface
Great warranties
Cons
Vastly overpriced
Two-piece design isn't as hygienic
---
6.

American Standard Colony Toilet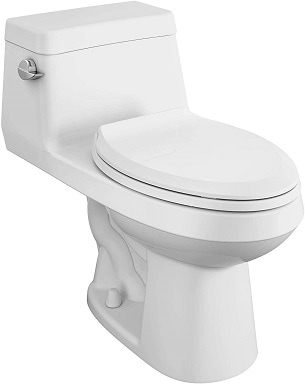 One-piece toilets like the American Standard Colony Toilet are more hygienic and longer-lasting than two-piece toilets. This particular model is also a low-profile toilet that's just over 26 inches from the floor to the top of the tank. If you have shelves or a counter in the bathroom that you need the toilet to fit beneath, then this toilet might be an option to explore.
Several toilets we used while performing research for this list failed to include the seat, which then becomes an extra expense. Luckily, this model includes a slow-closing lid. That's nice, but the warranty it comes with leaves something to be desired since it's warrantied for just two years. We also weren't thrilled about the finish. It's supposed to be white, but it's really more of an almond color, which doesn't give the same effect against white décor.
Pros
Hygienic one-piece design
Comes with a slow-closing lid
Low-profile design fits in tight spaces
Cons
The white isn't white
Two-year warranty
---
7.

American Standard Colony Right Height Toilet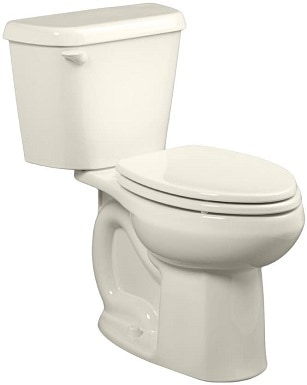 With a 10-inch rough-in measurement, the American Standard Colony Right Height Toilet is a bit different than most toilets. It's just about the only option for certain smaller bathrooms designed with a 10-inch rough-in. But if you have a standard-sized bathroom with a common 12-inch rough-in, then you'll probably want to skip this toilet.
Like many American Standard toilets, this one features a conservative flush that only uses 1.28 gallons of water. But it's got a smaller two-inch flush valve that doesn't do as well with that small amount of water as other models we tested. Unfortunately, there are areas of the bowl that were missed entirely, meaning you'll be doing a lot more cleaning with this toilet.
We prefer models that include everything you need so you can make a single purchase and move on. But this toilet doesn't include a seat or the installation hardware, so expect to make an additional trip to the hardware store to get everything you need to install this toilet.
Pros
Uses a conservative 1.28 GPF
10" rough-in is great for smaller bathrooms
Cons
The flush misses some areas of the bowl
Doesn't include a seat or hardware for installation
---
8.

American Standard Fairfield Toilet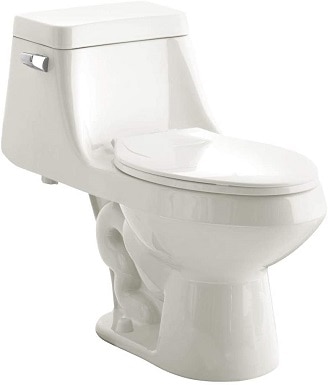 The Fairfield toilet has a unique look that some of our testers were fond of. It's a low-profile toilet with a maximum height that's just under 27 inches, allowing it to fit into some tighter spaces that not all toilets will fit in.
Compared to some of the super-economical toilets on this list, the 1.6-gallon flush of the Fairfield model isn't that impressive. With the extra water, we expected a clean bowl all of the time. But that's not what we got. The standing water level is too low, which resulted in far more skid marks than other toilets we tested.
The flapper on this toilet is another point of contention. After only a few weeks it started leaking non-stop, which wastes water and makes an annoying sound that never stops. It's a cheap replacement, but we don't expect to repair such a new toilet. We also don't like the flush mechanism since you have to hold the handle for several seconds to get a full flush.
Pros
The low-profile tank is great for fitting under counters or shelves
High-volume 3" flush valve
Cons
Standing water level is very low
Poor-quality flapper started leaking quickly
You have to hold the flush lever for several seconds
---
9.

American Standard Yorkville Toilet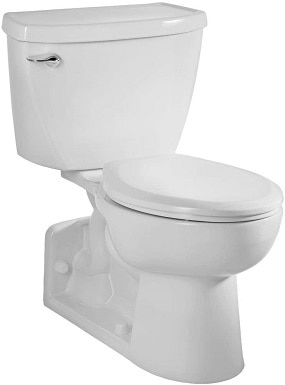 We were taken aback when we noticed the ridiculously high price of the Yorkville toilet. For this price, we expected some top-notch features and functions, but this was a disappointing device in most regards. However, this is also a specialty toilet with a pressure-assisted flush, so it might be a good fit for some very particular situations. For the average household, it's not something we'd ever recommend.
This is a two-piece toilet with a large gap between the bowl and tank that holds onto messes and lets them fester and create odors. Because of the pressure-assisted flush, this toilet sounds like a jet engine. If you have kids, they may not even want to use this toilet because of how loud the flush is!
Considering the high price of this toilet, we were hoping to see a great warranty. But the one-year warranty covering this toilet is laughable and can't live up to the extended warranties offered on some of the other American Standard toilets.
Pros
Everclean surface to prevent odor-causing messes
Pressure-assisted flush
Cons
Way overpriced
The large gap between bowl and tank holds onto mess
Laughable one-year warranty
Very loud flush
---
Buyer's Guide
The fact is, you're going to spend a decent amount of time getting acquainted with your new toilet, so it pays to get one that checks off all the boxes. If you don't what boxes you need your toilet to check, then this short buyer's guide is for you. In it, we're going to briefly cover the most important traits that you should be prioritizing to ensure you purchase the right porcelain.
Warranty
Even though all of these toilets are from the same manufacturer, they come with drastically different warranties. Moreover, each toilet usually has two or three separate warranties. There's usually one warranty to cover the chinaware, which is the toilet itself. The mechanical parts, which constitutes all of the internals, are generally covered by a separate, shorter warranty.
Our favorite toilets included lifetime warranties on the chinaware and five or ten-year warranties on the internals. But some models offered much weaker warranties of just one or two years, and we'd shy away from these toilets in favor of the ones that offer better warranty periods.
Overall Design
Browsing through the American Standard catalog, you'll notice that there are two-piece and one-piece toilets. But the differences are more than just aesthetic.
One-Piece Toilets
With these toilets, the bowl and tank are all one piece, with no seals or gaps between the two. This means that no mess can build-up in the seam between the tank and bowl. Likewise, the seal that prevents water from leaking out between the two never needs to be replaced since there is no seal in a one-piece toilet.
On the downside, these can be a bit harder to install because you have to lift the whole toilet at once, rather than installing the base first, followed by the tank.
Pros
More hygienic
No seal to replace
Two-Piece Toilets
This is the standard type of toilet that most people are likely used to. With a two-piece toilet, the tank and the bowl are separate. This makes installation easier since you can install just the bowl, which is much lighter than a fully assembled toilet or a one-piece toilet.
But that crevice between the tank and bowl is a breeding ground for bacteria. It holds dirt, grime, and filth, and can be a difficult place to reach, so it's never completely clean. Also, there's a seal between the tank and bowl that ensure water doesn't leak when it's transferred between them. Eventually, that seal will go bad and you'll need to replace it. But those are very specific seals, unlike toilet internals that are generally universal.
Cons
The space between tank and bowl holds filth
Harder to clean
Additional seals to replace
What's Included?
It can be really frustrating to start a project, only to realize you don't have everything you need to complete it. Some toilets include all of the necessary components, like hardware, a wax ring, and a seat. But these are conspicuously absent from other toilets. Make sure you know whether your toilet includes these or not so you can be prepared ahead of time and save yourself this frustration.
Flushing Efficiency
This refers to how much water your toilet uses with each flush, which is measured in gallons per flush, or GPF.  Years ago, toilets used five GPF, and prior to that, many of them used seven GPF or even more! Our toilets today are far more efficient. The average toilet now uses 1.6 GPF. But economical toilets often use 1.28 GPF or even less. You can even get dual-flush toilets that offer different flushes for solid and liquid waste.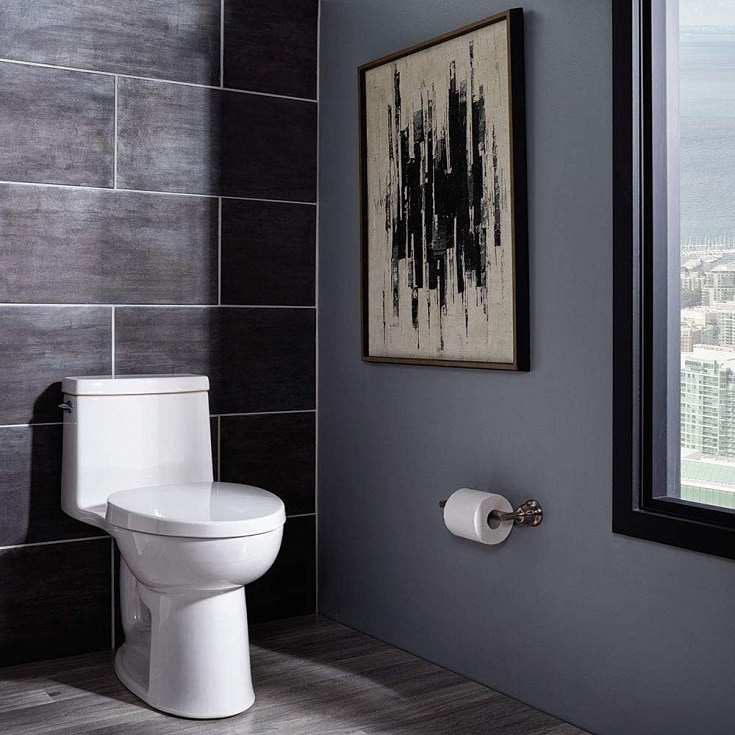 Flushing Power
You can't mention flushing efficiency without mentioning flushing power. The downside of an economical flush is that it doesn't have the same power that a flush with twice as much water has.
But manufacturers have found ways to get more out of less by using larger flush valves and specifically designed jets. If you're going to get an economical toilet, make sure it has enough flushing power to do away with your waste. Otherwise, you might need to flush twice, negating the whole point of the economical flush!
---
Conclusion
After spending a lot of time with and on these American Standard toilets, we've narrowed down the list to three of our favorites. We already covered each of them extensively in our reviews, but we're going to quickly summarize them again so they're fresh in your mind.
Our favorite American Standard toilet was the Compact Cadet. It features a hygienic one-piece design, a space-saving compact bowl, and Everclean coating to prevent odor-causing messes. The flush uses just 1.28 gallons of water and you even get a slow-closing seat with it.
One of the most affordably priced American Standard toilets we've seen, the H2Option toilet is our pick for the best value. It's a dual-flushing toilet that uses less than a gallon when flushing liquids but makes the best of the limited water with the PowerWash rim.
If you don't mind shelling out a bit more for your porcelain throne, then you might consider the Cadet 3. It's got a 16.5-inch height that's ADA compliant for handicap use, an Everclean surface to prevent messes, and a three-inch flush valve to make the most of its economical 1.28-gallon flushes.