5 Best Automotive Paint Guns of 2023 – Reviews & Top Picks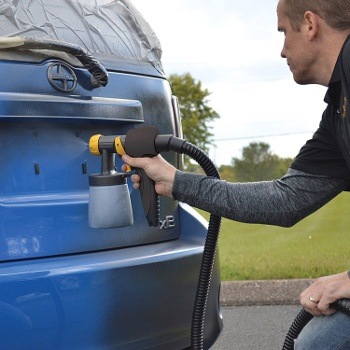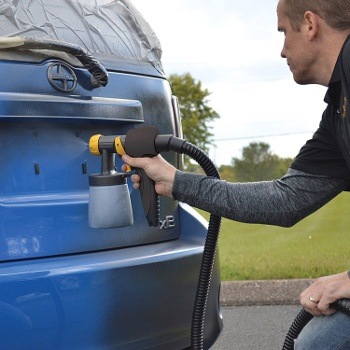 The right automotive spray gun can mean a big difference for your business, or for your DIY home projects.
Emphasis on the word right. When it comes to paint jobs, success and failure are both always very obvious. The simple truth of the matter is that finding a spray gun that is right for your situation can be a real challenge. Where to start?
Here.
We know that you don't necessarily have the time to do all of the research you would like to do before purchasing an automotive spray gun. That is why we make it our business to do the research for you.
In order to write this article, we took time to study the market, do the tests, and discover everything that is necessary to ensure you have a pleasant buying experience.
Everything that we learned has been included in this buying guide. Your job now is simple: all that is left for you to do is to sit back, relax and enjoy these car paint sprayer reviews.
---
Comparison of the 5 Winners (updated in 2023):
Rating
Image
Product
Details

Best Overall

Fuji 2203G Semi-PRO 2

Powerful
Very versatile
Optimized for high quality results
CHECK PRICE

Graco Magnum X7

Easy to clean
Resistant to clogging
Adjustable pressure levels
CHECK PRICE

Best Value

REXBETI REX006

Fine finish nozzle
Best for the money
Delivers quality results
CHECK PRICE

Wagner MotoCoat

Decent finish
39 feet of access
Adjustable settings
CHECK PRICE

Titan ControlMax 1900

All-metal gun
Quality features
Portable cart design
CHECK PRICE
The 5 Best Automotive Paint Guns:
1.

Fuji Semi-PRO 2 Automotive Paint Gun – Best Overall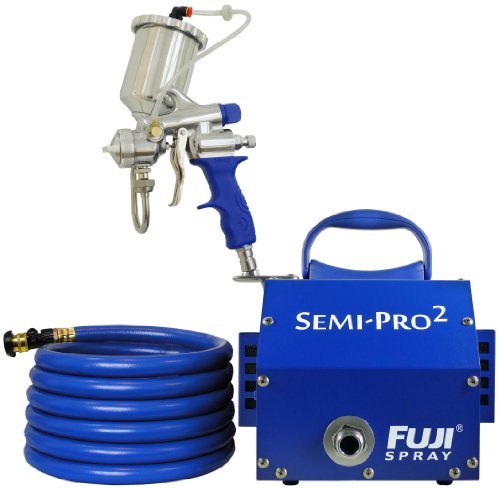 In first and in our best automotive paint gun slot, we have the Fuji 2203G Semi-Pro 2. This option is going to be what shoppers looking for the very best of the best are going to want to go with.
Why? For one thing, versatility. The design of this tool has been optimized to produce a refined finish on everything from floors, ceilings, walls, and exterior objects like fences, benches and more.
The benefit of this versatility is, of course, obvious. The more you can do with the spray system, the more value it will have.
It also just performs well. The included spray gun features a nonbleed component that is optimized for quality of work, while the fan control system is designed to adjust spray patterns for a more refined touch to your work.
Last but not least, it is also easy to assemble and disassemble, which means that you shouldn't have any trouble ensuring that it continues to perform the way that you want it to.
Essentially, it is a personal use spray system that delivers professional-level quality.
Note, that this is not an inexpensive sprayer, which may eliminate it as a choice for some users.
Pros
Powerful
Very Versatile
Easy to Clean
Optimized for High Quality Results
---
2.

Graco Magnum X7 Car Paint Sprayer
In second we have the Graco Magnum 262805 X7—a slightly more affordable high-quality alternative for shoppers who were not entirely captivated by the Fuji.
One of the first things that we noticed about this option is how adjustable it is. Users can alter the pressure levels of the system at will to deliver a much more personalized approach to their work.
It also benefits from being versatile, featuring an extension capability that can run a hose up to one hundred feet high to provide users access to the second or even third stories of homes.
It also just makes using it as easy as possible. The unit features a RAC IV SwitchTip that can be reversed to prevent the clogging of the system, so that your spraying sessions are not interrupted.
Last but not least it features a flush adapter that allows you to hook up your garden hose to clean out the system quickly and easily.
This all sounds great, right? So why didn't the Graco Magnum seize our top slot?
The biggest issue that we were able to detect here is that, unfortunately, the Graco seems to struggle a little bit on long days on the job, with the spray patterns growing more inconsistent the longer you go.
This won't be a problem for personal use, but it will be a big issue for contractors.
This aside, it is a quality choice that will benefit most general users.
Pros
Easy to Clean
Access to Second and Third Story Windows
Resistant to Clogging
Adjustable Pressure Levels
Cons
Performance diminishes over long hours on the job
---
3.

REXBETI REX006 Automotive Paint Gun – Best Value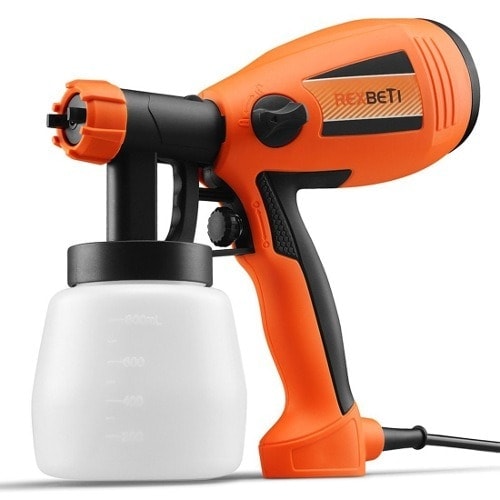 In third, and in our best for the money slot, we have the REXBETI REX006. The first thing that most shoppers are going to notice about this option is that it is tremendously more affordable than the last couple of units that we looked at.
You'll also probably notice that it is a lot more basic. Hey, you make concessions when you shop for budget sometimes, right?
The good news is that, in spite of its simplicity, the REXBETI nevertheless delivers quality results that the basic user will appreciate.
The fine finish nozzle is able to deliver results that surpass that of rollers and other manual options, while the power ensures that you are also going to get the time-saving results that you look for in a spray system.
The biggest con that we were able to detect besides simplicity, is that its flow rate of 700mls per minute is going to produce much slower results than some of the other spray systems on today's list.
This aside it is a great, affordable buy that will suit the needs of most casual users.
Pros
Best for the Money
Fine Finish Nozzle
Cons
Very basic
Slow Flow Rate
---
4.

Wagner MotoCoat Automotive Paint-Gun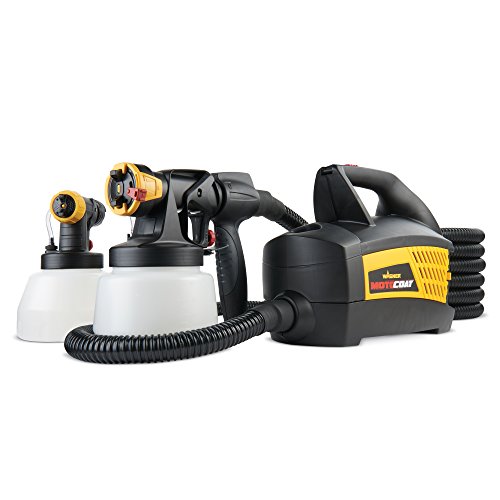 In fourth, we have the Wagner, another spray system that trends on the more basic side. This is going to be another option that may save you money, though thanks to a few issues we do think that most shoppers will probably be better served by our best for the money pick.
First, the good. The finish itself is going to be satisfying for personal use, and the hose is going to give you access to heights and distances of up to thirty-nine feet, which will serve you well if you are painting a one-story house.
The problem is that the Wagner just doesn't deliver the level of quality or ease of use that we have seen in the other options.
It is hard to clean, it clogs often, and the spray patterns tend to be a little bit sporadic.
If you are looking for an affordable spray system, this unit may be something to consider, though its issues may ultimately make you want to look elsewhere.
Pros
Decent Finish
39 Feet of Access
Cons
Hard to clean
Clogs often
Sporadic spray patterns
---
5.

Titan ControlMax 1900 Automotive Paint Gun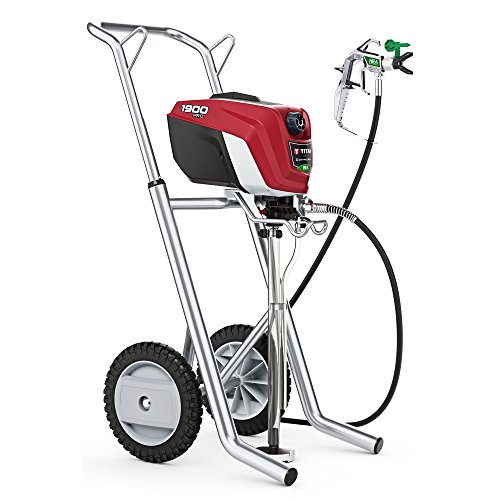 Last, we have the Titan ControlMax. We will just put it on front street that this isn't the best option on the list.
There are a lot of issues that we will talk about in a minute, but first, let's start with something nice. The Titan has many more features than the last two options that we looked at, all of which are designed to make the painting process a little bit easier.
The problem? The features don't work very well. The Titan is priced like a top tier option but performs at a much lower level.
The motor is low powered, which makes using the unit frustrating, while the frame is fragile and not very suitable for the frequent transportation that many spray systems experience.
We have even seen some users report that hose leaks, or even bursts, dispensing paint everywhere.
It's a shame to see these defects on the Titan because on the surface it actually looks like there is a lot of promise with this unit.
If Titan is able to improve upon some of the defects that unfortunately plague the 1900 pro it may be worth taking another look at. Until then, shoppers are probably going to be better off looking at our first or second choices.
Pros
Potential or Quality Features
Cons
Not Durable
Leaks
Hose burst potential
Low power levels
---
Buyer's Guide – Choosing the Best Automotive Paint Gun
If you have seen what's out there and still have questions, we empathize with you. Buying the right spray system can be a difficult process, and there are clearly lots of things to consider before you choose which option is going to be right for you.
If you still feel like you aren't equipped to buy the best spray system for your situation, then we can help. Read on for a list of buyer considerations that will help to make this process a little bit easier for you.
Price
As you can see, there is a pretty wide range of price options out there, and for the most part, it is dictated mostly by what you are hoping to accomplish with your spray system.
The good news is that most shoppers really don't have to spend a lot of money to get a good product. If you saw the price tags associated with our first or second pick and were overwhelmed, there still might be an option out there that is suitable for your budget.
More expensive spray systems are generally meant for people that are doing high volume work. If you are painting the inside or outside of a house, you are almost definitely going to find it worthwhile to invest in something with a good motor, and plenty of features that make the process a little bit simpler.
On the other hand, if the painting is more limited to basic functions, such as painting furniture, you can absolutely get something that suits your budget.
Access
More good news: most users are going to be just fine with a standardly sized hose. If you are just trying to paint ground level surfaces like walls, ceilings, etc. there is really no need to spend extra money on something that has a longer reach.
On the other hand, if you are trying to get something that is going to be able to paint second and third stories of a home, then there is really no way around getting something with a longer hose.
On today's list, we saw options that had hoses that lengthen up to one hundred feet. A feature of this nature certainly costs more, but it also adds a tremendous amount of versatility to the tool that should not be undervalued.
Making sure that the spray system can access what you are trying to paint is going to save you a lot of frustration in the long run.
Flow Rate
The flow rate is what will ultimately determine the speed of the unit, as well as the quality of the finish. With more advanced options, flow rate will rarely if ever be an issue, but budget buyers may encounter selections that aren't quite up to snuff.
For example, our best for the money selection did feature a slightly disappointing flow rate of 700 ML per minute.
While a level similar to this will get the job done, you will want to consider 700ML per minute and up a good range to look for when selecting a system.
Ease Of Cleaning
Unless equipped to ensure otherwise, spray systems can be a real drag to clean. There are lots of components to them, and given the nature of what these tools do, they are very prone to getting messy or even clogged.
And naturally, cleaning your spray system is also extremely important. The bottom line is that if you don't maintain a paint gun the way that you should, its performance levels are going to diminish pretty rapidly.
The good news is that there are plenty of options out there with built-in features to make cleaning up after yourself a breeze.
Our favorite example was embodied in our runner-up selection, the Graco, which features a hose connector that you can use to expediently clean the ins and outs of your spray gun.
The easier a system is to clean, the more time you will save, and the less you will have to worry about the performance dwindling or halting over time.
Transportation
While you may or may not have to transport the system long distances, you will, at the very least have to move it at least a little bit.
This doesn't have to be a drag. While some heavier duty options are going to be little bulkier and harder to move, the majority of options should come equipped with wheels and other components that make them easy to transport.
Pay attention to how easy a spray gun system is to transport before you buy it, and you will save yourself lots of frustration down the line.
Warranty
Last but not least, never discount the value of a good warranty. This seems like a fairly obvious consideration, right? But there are actually components to the warranty system that many shoppers don't consider.
There are a couple of reasons that the warranty for a spray gun might be more important than you think. The obvious reason is that there are many parts to a spray system, which means that there is also a larger potential for things to go wrong.
A good warranty means that you might not have to pay out of pocket for fixes or replacements.
Perhaps less obvious, there is also the just the matter of company confidence to consider. Generally speaking, the better the warranty offered, the more confident in their product you can assume a manufacturer is.
Companies that make good products are generally very comfortable with extending generous warranties for their products because they trust that the tool is built to last.
On the other hand, products that have lots of problems may not come with a great warranty, as the manufacturer knows that including one could wind up being very expensive.
In short, looking for a good warranty ensures both that you are buying for quality, and that you have the support available if and when you need it.
---
Conclusion
And that is that. You have read our reviews of automotive paint guns, and now you have a challenging decision to make.
Which of these best automotive paint guns is suited to fulfill your needs? Well, as you might recall, we actually have a couple of recommendations that might make this decision simpler for you.
The shopper that wants the very best automotive spray gun that they can get is probably going to love the Fuji 2203G Semi-PRO 2 HVLP, a unit that found itself at the top of our list for consistently producing quality results.
On the other hand, if your financial situation mandates that you put budget above all other considerations, then we strongly recommend our best automotive paint gun for the money, the REXBETI REX006, an option that we feel offers up the perfect blend of quality and value.
Of course, these are just our preferences. Our job isn't what to tell you what to do—simply to make the decision process a little bit easier for you.
Related buyer's guides:
Sources used to write this article: