8 Best Bow Saws – Reviews & Top Picks 2023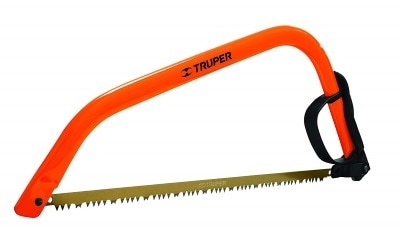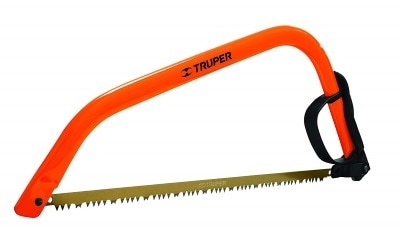 Bow saws have come a long way since their first use. New models are stronger, more durable, and some are even collapsible, meaning there are more features on what used to be a fairly simple tool. Advertisers don't help with this issue, as they're generally happy to overload their product descriptions with jargon and information that doesn't help you know how good the bow saw really is.
It's not always easy to shop online, but that doesn't have to be the case. We believe that there are a lot of good bow saws on the market today and that a well-informed customer can figure out which model is right for them. So, we created these reviews of some of the best bow saws, as well as a buyer's guide to walk you through some of the things that you should pay special attention to while you browse.
---
A Quick Glance at our Favorite Picks in 2023
Rating
Image
Product
Details

Best Overall

Bahco 10-24-23 Bow Saw

Knuckle guard
Lightweight frame
Great tensioner
CHECK PRICE

Filzer Buckster Bow Saw

Collapsible
Aluminum frame
18" blade
CHECK PRICE

Best Value

Truper 30255 Bow Saw

Knuckle guard
Quality tension systems
Inexpensive
CHECK PRICE

Premium Choice

Agawa Canyon Folding Bow Saw

Compact and portable folding design
Strong and dependable
CHECK PRICE

GreatNeck BB24 Bow Saw

Inexpensive
Strong
CHECK PRICE
The 8 Best Bow Saws:
1.

Bahco 10-24-23 Bow Saw – Best Overall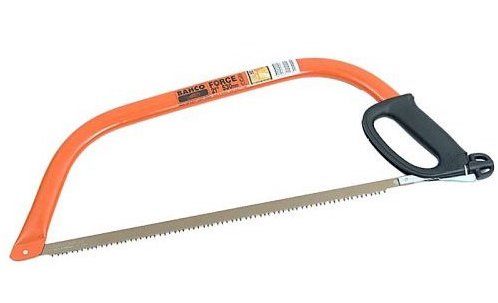 The Bahco 10-24-23 is our pick for best bow saw. While the frame remains the same, you can choose between a dry wood or green wood blade. If you already know you're going to need the ability to do one of these tasks but not the other, then you're in luck. Even if you need both, you can order the other blade that you need separately, which makes this a versatile tool. The frame itself is lightweight and sturdy and should last you a long time.
This model comes with a knuckle guard, which is a surprisingly rare feature on a bow saw. It also comes with a great tensioner which allows you to easily adjust the blade tension to exactly what you want it to be. The one knock on the Bahco is that it comes with a subpar blade cover that's hard to easily and safely put on the blade for storage. However, that's a relatively minor complaint, and this model is easily one of the best you can find on the market.
Pros
Comes in dry or green wood models
Knuckle guard
Lightweight frame
Great tensioner
---
2.

Filzer Buckster Bow Saw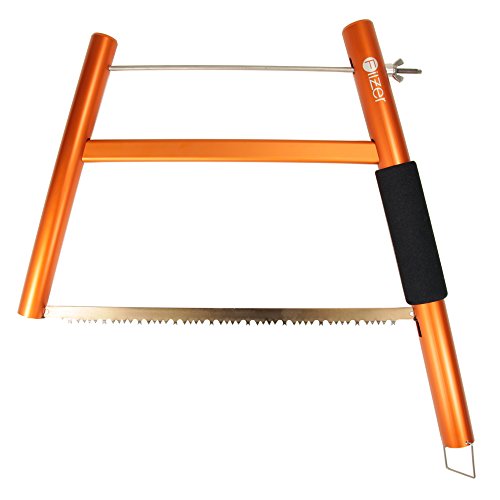 The Filzer Buckster BB-1 is the runner-up on our list of best bow saws. It's a bright-orange model, which means it will be harder to misplace when you fold it down from its full working configuration to a much smaller travel form. When in its travel configuration, it's the rough shape and size of a large baton, which makes it great for adventures out into the woods where you don't want to be lugging a large saw along.
It's made from a lightweight aluminum frame, which means you'll want to take it on the road with you, and has an 18-inch blade, which is just the right size for cutting logs for campfires. This model is one of those tools that you'll love using. What ultimately keeps this model out of first place is that it comes with a proprietary blade that you can't get replacements for from a third party. And, the manufacturer's replacements are expensive. If they were to lower their prices or allow competition on replacement blades, this model would easily shoot the top of the list.
Pros
Collapsible
Aluminum frame
18" blade
Cons
Expensive replacement blades
---
3.

Truper 30255 Bow Saw – Best Value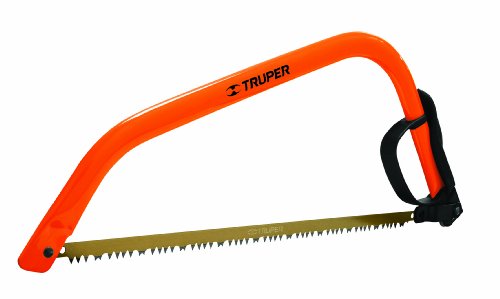 The Truper 30255 is our choice for best value. It comes with a sturdy frame that manages to be strong without being super heavy. It also comes with a knuckle guard, which is something that should come with any modern bow saw, but sometimes isn't. This model also comes with a quality tensioning system, which enables you to make sure that you're always getting a high-quality cut while you work.
Something to note about the Truper: the blade for cutting green wood only, and it doesn't come with a blade meant for dry wood. Even if you wish to purchase a dry wood replacement blade for this saw, you cant. They don't offer a compatible option, so make sure that you're going to be working with green wood before you buy. This model is also inexpensive relative to the others on our list, so given all of its upside, it makes for a high-value buy that should keep you happily cutting away for a long time.
Pros
Knuckle guard
Quality tension systems
Inexpensive
Cons
Meant for green wood only
---
4.

Agawa Canyon Folding Bow Saw – Premium Choice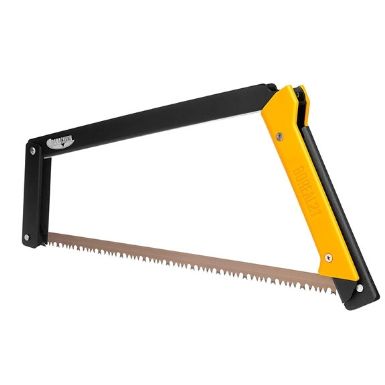 The BOREAL21 from Agawa Canyon is a lightweight and compact bow saw that folds down into a small and easy-to-carry package. When you need to be able to trust your saw not to let you down on backcountry trips or during work around the home, this saw is a reliable and easily portable tool that you can count on. With an auto-tensioning blade and the ability to unfold and be ready for use in seconds, this saw provides simple use and storage in a high-quality package. It has earned our pick as favorite high-end bow saw, though it's accompanied by a price tag that's also high-end.
Pros
Compact and portable folding design
Strong and dependable
---
5.

GreatNeck BB24 Bow Saw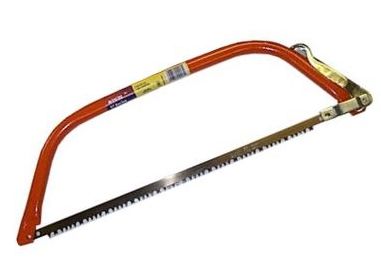 This simple saw from GreatNeck is a basic, no-frills bow saw. It's a 24-inch model, giving you ample stroke length. Made from S-2 steel, it provides strength and durability. Combined with the simple two-piece design, this is a stout and sturdy saw. It's also inexpensive, since it has none of the extra features that have become somewhat "standard" on saws in a slightly higher price bracket. A few of these features are rather important, however, to keep you comfortable and safe while making cuts. No knuckle guard means you'll need to be careful of your stroke depth. If you go too far, you'll end up busting your knuckles — at least you'll only need to learn that lesson once!
Another great feature missing from the BB24 is the lack of an ergonomic handle. If you only use your saw rarely and for short periods, then this may not be a deal-breaker. If your saw sees a great deal of use, though, you may want to look for one that will have these key features instead.
Cons
No knuckle guard
No ergonomic handle
---
6.

The Sven Bow Saw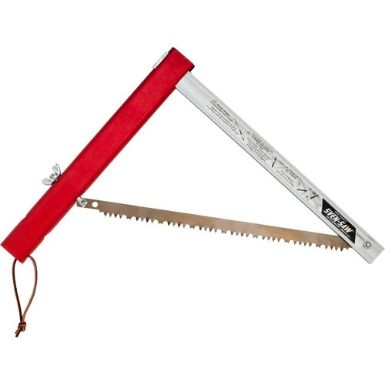 The Sven saw features a unique folding design. This saw is designed specifically for backpackers to take out into the backcountry. Available in 21-inch and 15-inch models, this saw is lightweight and small, so it will fit in a crowded backpack. The frame is crafted from aluminum, and the blade is made from tempered Swedish steel. The higher quality materials also mean that it's a rather expensive saw.
Unfortunately, this saw's unique concept does not seem to always play out in reality. It doesn't hold together well enough to depend on. To make matters worse, folding it down requires taking apart the entire thing. For a saw designed for backpackers, this seems like a terrible oversight. Loose pieces getting lost in your backpack will make it difficult to use the saw when it's needed most. A single piece lost on the forest floor, and your tool becomes useless.
Cons
Must disassemble to fold
Does not hold together well for use
---
7.

Thrive Tools 21-inch Bow Saw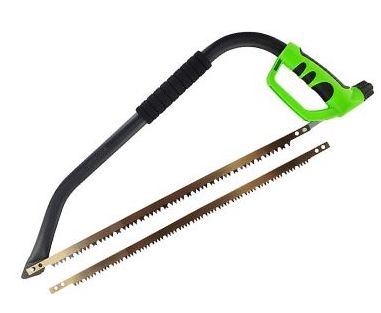 This saw is advertised as both a tree saw and a limb pruning saw. It is equipped with two 21" blades. One is for cutting green wood and the other is for dry wood. It includes an ergonomic handle design to make it more comfortable for your hands, though the plastic seems a bit cheap. A handguard protects your knuckles while in use. This saw features a twisting blade tensioner system to help get the blades tight. For what you get, it does seem a bit overpriced. It also doesn't include a sheath that can help protect your blade and lengthen its lifespan.
Cons
No protective sheath
Overpriced
---
8.

Black+DeckerBD1704 21-Inch Bow Saw
This 21" bow saw from Black+Decker sits at a low price point. Unfortunately, it is built with a craftsmanship that equals its low-end price tag. It does have certain features that you'd like to see in a saw, including an ergonomic grip and a knuckle guard. The soft grip is said to absorb shock and vibration, though it doesn't really seem to make a difference.
The major drawback to this saw is that it simply doesn't cut wood. The blade that comes installed on this saw is too thin and flimsy and just does not work well for its intended purpose. If you upgrade to a better blade, this saw will work just fine. But that's an added expense that takes this saw into a completely different price bracket. Despite the well-known name of Black+Decker, this tool doesn't live up to the reputation.
Pros
Knuckle guard and ergonomic grip
Cons
Cheap, flimsy blade
It doesn't cut wood!
No blade sheath
---
Buyer's Guide: Choosing the Best Bow Saw
Blades
Bow saws can come with two different kinds of blades. Some models come with raker tooth blades which are designed to cut through wet, green woods. Others come with more standard peg tooth blades that are designed to work with dry woods. It's important to figure out which kind comes with each bow saw model and make sure that you get one that will suit your needs.
Tension Adjuster
Many local factors, like heat and humidity, can affect the tension in your blade. Most modern bow saws come with a tension adjuster which allows for you to compensate for this effect by adjusting the blade's tension. This feature allows you always to have the right tension for the job at hand so that you get the most straight and precise cuts possible. Bow saws also weaken over time, so the tension adjuster will help keep your bow saw tight long into the future.
Type Of Cut
There are two basic types of cuts you would need to make with a bow saw, a dry wood cut and a green wood cut. The green woodcutting is mostly considered pruning, and unfortunately, the blades do not transfer from greenwood to dry wood; you will need to have both blades if you are planning on using the saw for multiple purposes. The blades for green woodcutting are called peg tooth blades, and the blades for dry wood are called raker tooth blades.
Portability
A bow saw is not a substantial piece of equipment; however, it can be a bit awkward to move around. If you are hiking, camping, or backpacking and need something to clear brush out of the way, you should look for a foldable bow saw. The foldable options will keep the blade concealed so that you don't risk injury or tearing up any other equipment in your bag.
Safety/Comfort
Most of the modern bow saws will come with a knuckle protector and an ergo handle. These two features will keep your fingers comfortable and safe while using your bow saw. If you only plan to use your bow saw a few times a year, this may not matter to you, but for everyday use, choose something easy on your body. Most bow saws will come with a protective sheath to keep you protected from the sharp blade when the saw is in storage.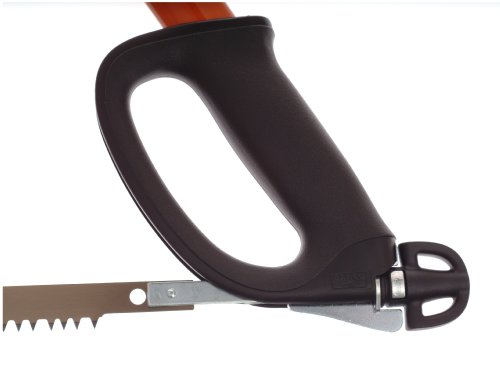 Size
As you could see from our review, the bow saws come in several sizes. Most of them are right around 21 inches. For routine jobs of taking care of a bit of firewood or clearing some branches in your yard, this size is fine. If you are planning on some serious tree work, you will likely want a blade closer to 30 inches in length.
---
Conclusion
The Bahco 10-24-23 is our pick for best bow saw, due to its great knuckle guard, lightweight frame, and excellent tensioning system. The Filzer Buckster BB-1 is the runner-up, and comes with an excellent collapsible, lightweight frame, and is only kept out of first by its replacement blades. The Truper 30255 is our choice for best value, with its excellent knuckle guard and great price. All of these bow saws would make an excellent choice. Armed with that information, you should be able to find the model that is right for you.
We really hope that our guide helps you find the best bow saw on the market. Good luck in your search!