5 Best Pocket Chainsaws 2023 – Reviews & Buying Guide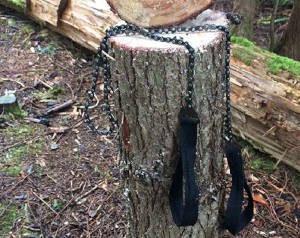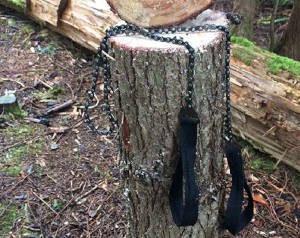 There's no question; chainsaws are the best tools for cutting down trees and limbs. But they're big, expensive, heavy, and difficult to take with you when you're going somewhere. Can you imagine carrying that cumbersome saw along every time you go camping?
Luckily, you don't have to lug that big behemoth around to make quick work of limbs and small trees. Instead, you can pack a pocket chainsaw into your pocket or pack, adding only a few ounces of weight to your total load.
But if you do a search for pocket chainsaws, you'll quickly be inundated with results. It can be overwhelming, which is why we set out to do the hard work of testing them all and comparing them in the following five reviews. We hope that they will streamline the decision-making process for you, allowing you to pick a tool and get back to your favorite backwoods activities.
---
A Quick Glance at the Winners of 2023:
Rating
Image
Product
Details

Best Overall

Sportsman Pocket Hand Chainsaw

36-inch chain
Resharpenable
Fast cuts
CHECK PRICE

Skyocean Pocket Chainsaw with Paracord Handle

Paracord handle
Bi-directional teeth
Includes belt pouch
CHECK PRICE

Best Value

SUMPRI Pocket Chainsaw

Self-cleaning teeth reduce binding
Chain can be sharpened
Weighs just 5 ounces
CHECK PRICE

Paracord 36-Inch Pocket Chainsaw

Paracord handles are very versatile
Tested to withstand 550 pounds
Fishing line in the paracord
CHECK PRICE

Homyall Limb Rope Hand Chainsaw

48″ length cuts
Double-sided blades
CHECK PRICE
The 5 Best Pocket Chainsaws:
1.

Sportsman Pocket Hand Chain Saw – Best Overall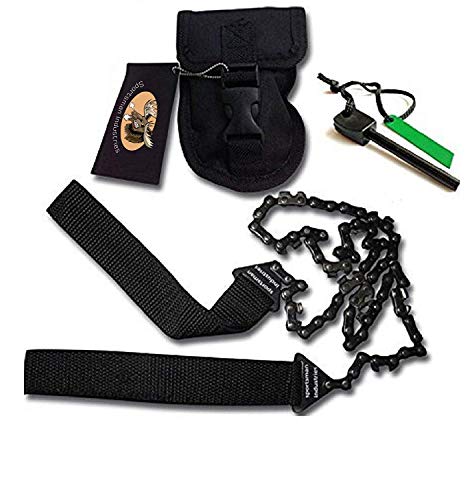 Most of the pocket chainsaws we tested had short chains of about 24 inches. This makes for a more time-consuming cut using very short strokes. But the Sportsman Pocket Hand Chainsaw has an extended 36-inch chain, not including the handles. This made for far more efficient cutting since you could pull much farther with each stroke.
Thankfully, this chain cuts in both directions. You'll be making progress with each pull left and right, helping to speed up the process even more. When the blade starts to dull out and slow down, you can sharpen it with a regular chainsaw file to return it to peak performance. Since it's protected by a lifetime guarantee, you can be sure that it will continue to function like new or you can get it replaced.
This package includes a small fire starter; unnecessary, but a nice touch nonetheless. Our only real complaint was that the webbing on the straps can cause blisters, so you might want to wear some gloves or replace them with something more comfortable.
In short, we think that this is the best pocket chainsaw of this year.
Pros
36-inch chain
Resharpenable
Lifetime guarantee
Fast cuts
Cons
Better on green than dry wood
The webbing can cause blisters, you might want gloves
---
2.

Skyocean Pocket Chainsaw with Paracord Handle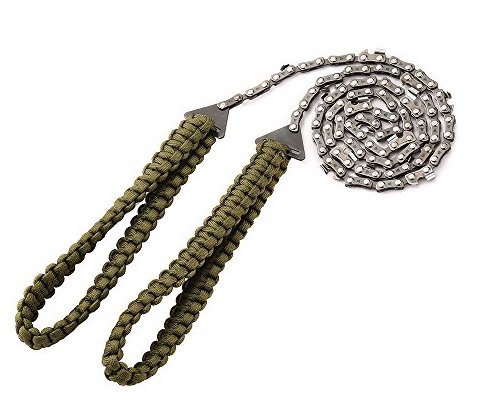 Rather than using straps that can't serve any other purpose, the Skyocean Pocket Chainsaw utilizes paracord handles instead. This makes them infinitely more useful. If you get in a bind, you can unravel the paracord and use it for all sorts of things.
This chain is made from industrial-grade heat-treated steel so it will hold up to repeated abuse. It's so small that you can take it anywhere with you; just four inches when folded. And since it weighs less than half a pound, you're unlikely to notice the extra weight in your bag.
But this tool isn't perfect, and we have two minor gripes. The 24-inch chain is perfectly adequate, but it didn't cut as fast as the longer 36-inch hand chain saws. We also weren't very impressed with the lackluster one-year warranty. But it's more reasonably priced than other models we've seen, so we can forgive the mediocre warranty period.
Pros
Paracord handle
One-year warranty
Bi-directional teeth
Includes belt pouch
---
3.

SUMPRI Manual Chain Saw – Best Value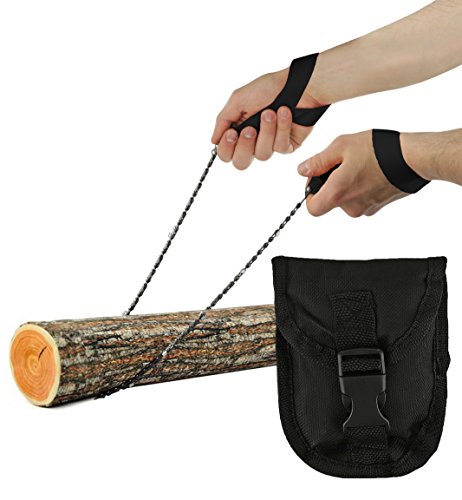 While none of these pocket chainsaws are exactly expensive, the SUMPRI Pocket Chainsaw is still far more affordable than the rest, which is why we think it's the best pocket chainsaw for the money. It's less than half the price of some other models we tested, though it performs just as well.
This chain features self-cleaning teeth that help reduce instances of binding. But they'll still get dull over time. Thankfully, they can be sharpened again very simply using a regular ⅛-inch round chainsaw sharpener.
One of the biggest draws of a hand chain saw is the portability. At just 5 ounces in weight, this one is definitely portable and easy to pack. It's only five inches by four inches when folded into the pouch, so you can stuff it just about anywhere.
We did notice that some of the links occasionally jam together. It only happened to us once, but they were quite difficult to get separated again. Still, for the price, we think the SUMPRI Pocket Chainsaw is the best value.
Pros
Very affordably priced
Self-cleaning teeth reduce binding
The chain can be sharpened with a chainsaw sharpener
Weighs just 5 ounces
Cons
Links may occasionally get jammed together
---
4.

Paracord 36-Inch Pocket Chainsaw

We're always partial to tools that have expandable usability. That's why we liked the Paracord Pocket Chainsaw. The paracord handles work well as intended, but if you end up in a situation, you can always pull them apart to make use of the paracord. And this paracord is tested to withstand 550 pounds, so you can rely on it in hard times. It even has fishing line inside!
To make for more efficient cutting, this chainsaw has an extended chain of 36 inches. Combined with the comfortable paracord handles, it makes for a nice cutting experience. But you'll want to keep an eye on those handles because they do tend to unravel. Once unraveled, it's difficult to get them tied up tight again, so it's good to be preemptive.
This pocket chainsaw is quite a bit more expensive than some of the others we tested. We like the paracord handles, but they don't justify the price, especially since they come apart. If it were more reasonably priced, this tool might have broken into our top three.
Pros
Paracord handles are very versatile
Tested to withstand 550 pounds
Fishing line in the paracord
36″ chain makes cutting easier and quicker
Cons
More expensive than other options
Paracord not trustworthy
---
5.

Homyall Limb Rope 48-Inch Hand Chain Saw
We like the extended chains that allow for more efficient cutting, so we were excited to give the Homyall 48-Inch Limb Rope Saw a try. It's twice as long as many competitors, and we expected it to make short work of limbs. It did, but the extra length created extra problems, making it more difficult to trim smaller branches.
One thing we really liked about this chain was the double-sided blades. Most chains have blades on just one side. But this chain can cut either way. It doesn't matter how it lands on the branch, just start tugging and it will start cutting.
But the included wrist straps are tiny and far from comfortable. The holes on the chains are too small to fit ropes through though. You'll need to add some D-rings if you want to add ropes to make for a better cutting experience. If these had been included, then the Homyall Limb Saw Rope might have been a top contender.
Pros
48″ length cuts very quickly with less effort
Double-sided blades
Cons
Uncomfortable T-handles
Underwhelming rope quality
Struggles with hard woods
Can't run a rope through the chains without D-rings
---
Buyer's Guide – Choosing the Best Pocket Chainsaw
Still unsure of which manual chain saw to buy? Don't worry, that's why we wrote this short buyer's guide. Hopefully, it will help you to narrow down the choices and focus on the traits that matter the most.
Choosing a Pocket Chainsaw
So, what traits should you prioritize when looking for a hand chain saw? After using quite a few of them, we've figured out which things make a big difference, and we think those are the places you should focus your attention.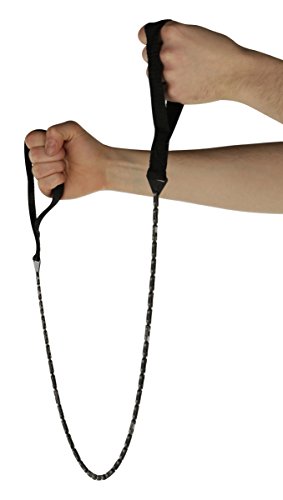 Length
Pocket chainsaws come in various lengths. The average size is about 24 inches, but you can find them as long as 48 inches. Why would you choose one over the other?
A shorter chain will be less efficient at cutting. It takes longer because each stroke is shorter, so you'll get less from each pull. On the other hand, the shorter throw makes for an easier time when cutting smaller branches.
Longer chains make for quicker, more efficient cutting, especially on larger limbs. You get a lot more distance with each pull, so more blades are passing through the cut. But the flip side is that you'll have a more difficult time pulling all of that length across smaller branches.
Warranty
Pocket chainsaws are asked to perform a pretty difficult task. Over time, they can get dull, links can get jammed, and they can even break. To make sure this doesn't leave you toolless, some of the better saws include warranties.
We've seen short warranty periods of one-year or even six months. That's better than nothing, but it's not great. On the other side of the spectrum, some companies offer a lifetime guarantee on their products. We'd recommend looking for the saw with the best warranty so you can be sure that your investment is protected.
Blades
Each chain has a different number of blades and may use different types of blades entirely. Some of our favorites used bi-directional blades that cut when being pulled from either direction. This makes for much more efficient cutting since each stroke will be removing wood.
Most of these chains only feature blades on one side. While this isn't a dealbreaker by any means, it's a bit of an inconvenience. Alternatively, you could opt for a pocket chainsaw that has double-sided blades. That means that both sides of the chain have blades so it doesn't matter which side lands on the branch. Just keep an eye on your fingers!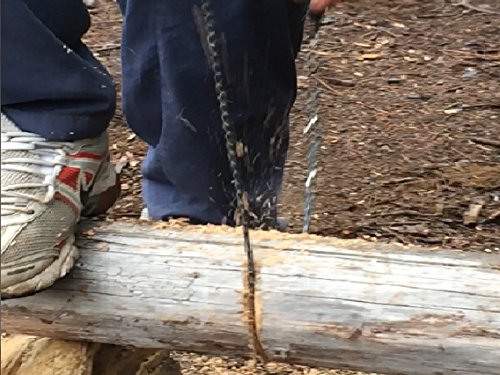 ---
Conclusion:
Pocket chainsaws are incredible tools that can make short work of limbs and trees in places where a full-sized chainsaw would be difficult to bring. After reading our reviews, you've seen how some of the best pocket chainsaws compare to each other. But we actually tried them, so we're going to leave you with our final recommendations.
The Sportsman Pocket Hand Chainsaw was our best pocket chainsaw overall. The elongated 36-inch chain makes for quicker cutting, aided by the bi-directional blades. If it gets dull, you can sharpen it with a regular chainsaw file and the tool is protected by a lifetime guarantee.
Our runner-up was the Skyocean Pocket Chainsaw. This one has a paracord handle that can be repurposed for many different uses if needed. It's made from heat-treated industrial-grade steel, folds down to just four inches, and weighs less than half a pound.
Finally, for the best value pocket chainsaw, we recommend the SUMPRI Pocket Chainsaw. It performs admirably, though it's considerably cheaper-priced than the others we tested. Plus, the self-cleaning teeth reduce binding and the chain can be sharpened with a regular chainsaw sharpener.