10 Best RV Water Filters of 2023 – Reviews & Top Picks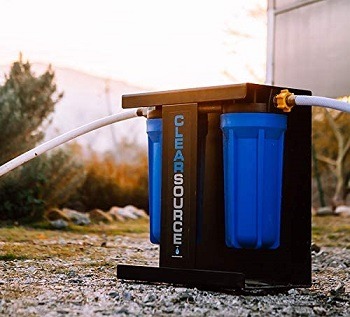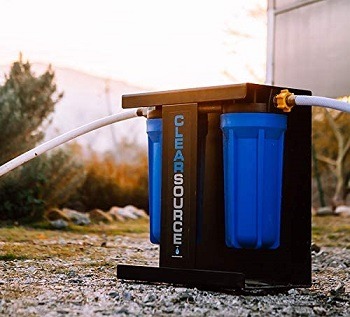 Most of us don't jump for joy when it comes time to replace the water filter in our RV. But even though the task is fairly dull, it is certainly important. The right water filter will keep you and your family hydrated and healthy as you enjoy your next adventure on the road.
But if any piece of RV equipment breaks down, it can be a very big problem. That's why you want to make sure you get it right the first time. The objective of this guide is to help you do exactly that. We have researched dozens of different products, including only the top ten on our list.
---
A Quick Comparison of Our Favorites (updated in 2023):
Rating
Image
Product
Details

Best Overall

Camco EVO Premium RV Water Filter

5-micron barrier
Versatile
Rated to last for a full season
CHECK PRICE

Best Value

Waterdrop RV Inline Water Filter

Advanced cleaning technology
Very affordable
Anti-snag hose
CHECK PRICE

Premium Choice

Clearsource Premium RV Water Filter System

3-cycle filtration system
Extremely durable
2000 gallon rating
CHECK PRICE

Culligan External Water Filter

Durable for outdoor use
Removes unpleasant tastes and odors
CHECK PRICE

Camco TastePure RV Water Filter

Able to remove sediments up to 20 microns
Can hook up to garden hoses
Low lead certified
CHECK PRICE
The 10 Best RV Water Filters:
1.

Camco 4063 EVO Premium RV Water Filter – Best Overall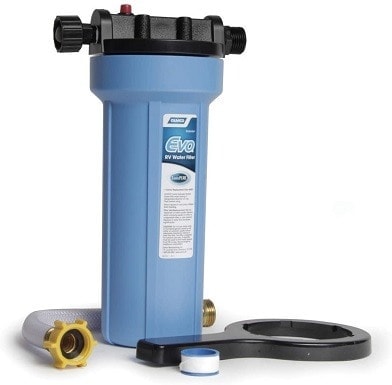 The Camco features a 5-micron barrier that can eliminate bad tastes, bacteria, chlorine, and sediment. It is also in full compliance with low lead laws to ensure a safe drinking experience.
Versatility won't be a problem, either. In addition to hooking up to your RV, it can also attach effortlessly to most hoses. That way, you can use it for cleaning the car or for gardening. The filter does an excellent job of eliminating calcium deposits and excessive chlorine.
The package comes with the filter housing, an attachment hose, Teflon tape, and an installation wrench. It is officially approved to last for a full camping season, though actual life expectancy will hinge on how often you use it.
Unfortunately, some users are reporting that the filter leaves a noticeable chlorine taste, though this is a subjective consideration, and may hinge mostly on where you live.
Pros
5-micron barrier
Versatile
Rated to last for a full season
Cons
May leave behind a chlorine taste
---
2.

Waterdrop WD-RVS-1 RV Inline Water Filter – Best Value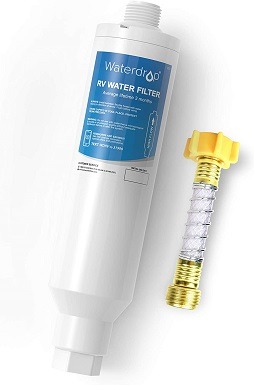 The Waterdrop is our best water filter for the money. If you need something affordable, this will be a good product to consider. The unit is rated to last for three months (approximately one camping season) and uses multi-stage filtration to maximize effectiveness.
It uses Kinetic Degradation Fluxion (KDF) to ensure clean drinking water that tastes and smells great. It also has Advanced Granular Activated Carbon (GAC) that can filter out sediment particles that are larger than 20 microns, and reduces common chemicals, like chlorine, arsenic, and fluoride. The package includes an no-kink hose that is made to avoid crimping and snags.
Buyers will, however, want to note that many users are reporting that the filter reduces water pressure significantly, creating a "low flow" experience. The filter itself works fine, but because RVs often already have low water pressure, this may be problematic.
Pros
Advanced cleaning technology
Very affordable
Anti-snag hose
Cons
May reduce water pressure
---
3.

Clearsource Premium RV Water Filter System – Premium Choice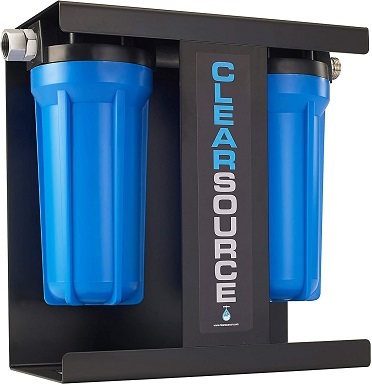 If you have a little bit of money to spend, you'll appreciate our premium choice, the Clearsource. The package comes with two filters that are mounted onto an extremely durable steel stand. The stand then attaches to the water source in your RV, where it uses a three-stage purity system for maximum results.
The first stage of the filter removes particles up to 5 microns in size, while the next stage removes contaminants and chemicals such as chlorine. Finally, the third stage is all about flavor. It utilizes a coconut shell carbon block to ensure an outstanding taste.  The filters are rated to treat approximately 2000 gallons of water.
The main concern is definitely the price. It's substantially more expensive than the average water filter, so bear that in mind.
Pros
3-cycle filtration system
Extremely durable
2000 gallon rating
---
4.

Culligan RVF-10 External Water Filter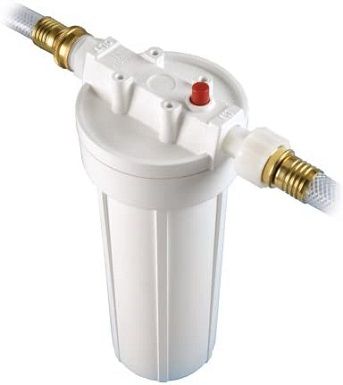 The Culligan is a moderately priced external water filter. It is specifically built to be sturdy enough to last outside, with a hard filter casing and brass fixtures ensuring its durability. It depends on granular activated carbon to improve the taste of your water and remove any unpleasant odors.
The unit claims a life expectancy of three months, but upon closer examination, you will find that it is only certified to clean 250 gallons—which may not last nearly that long. In addition to a potentially abbreviated life expectancy, many users also report that it leaks significantly, which is also problematic.
Pros
Durable for outdoor use
Removes unpleasant tastes and odors
Cons
Short life expectancy
Leaks
---
5.

Camco 40043 TastePure RV Water Filter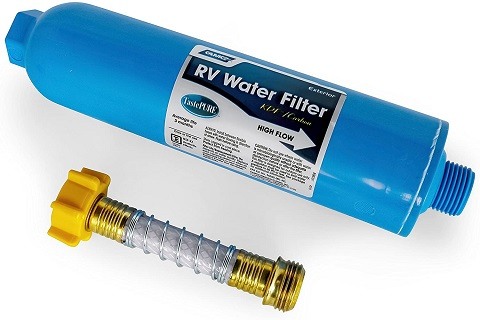 The Camco TastePure is a moderately priced, granular activated carbon filtration system. It's a versatile piece of equipment that can work on RV water systems and even garden hoses. It can remove sediments that are over 20 microns in size which should produce an enjoyable, very clean drinking experience.
It's also low-lead certified to remain in compliance with even the most stringent national purity laws. Accessories include a flexible hose protector that keeps the unit from getting snagged or tangled up.
We have heard reports that the threading is not outstanding. This means that you may have a really hard time getting it hooked up to your RV. If you do encounter this problem, there is a chance it will be covered by the manufacturer's warranty, but, of course, most don't want to go through all that trouble.
Pros
Able to remove sediments up to 20 microns
Can hook up to garden hoses
Low lead certified
Flexible hose
Cons
Might be some problem with the threading
---
6.

AQUA CREST RV Inline Water Filter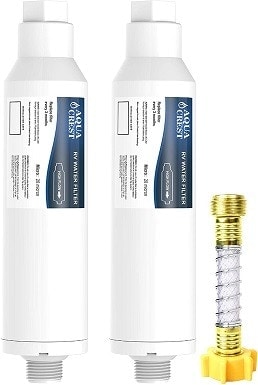 The Aqua Crest is a relatively affordable unit that comes with two different filter cartridges. It utilizes GAC, KDF, and fluoride remover to produce a clean, tasty drinking experience, and benefits from a 20-micron filtration rating. With this setup, you won't have any trouble removing rust, chloride, fluoride, and other contaminants.
The Aqua Crest is also fairly adaptable. It features versatile threading that allows the unit to hookup to hoses for cleaning your car, watering your plants, etc. The package comes with an anti-kink hose connection point that helps you to avoid snags and has been rated to last for approximately 3 months.
Unfortunately, the fixtures are not very good. The threading connection point is weak, and the flexible hose connection point is highly ineffectual.
It's not a bad filter, but there are certainly options that outperform it.
Pros
Affordable
Comes with two cartridges
Anti-kink hose
Cons
Threading connection is weak
Hose connector is ineffective
---
7.

Beech Lane BL-113 RV Dual Water Filter System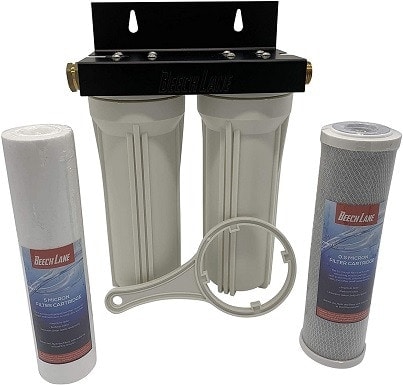 The Beech Lane features two cartridges that benefit from a durable build and reliable brass fixtures that further enhance the durability factor. The unit uses dual micron filtration system rated respectively at 5 microns and 0.5 microns so that larger particles (dirt, sand, etc) and smaller particles, like harmful chemicals, are all taken care of.  In addition to improving the taste, it also improves the smell of the water.
Last, but not least, the cartridges are rated to treat approximately 1900 gallons of water, which can go a really long way in an RV.
Unfortunately, some users are reporting that their unit leaked significantly. Though this is not the experience that everyone has, it is still something to take note of.
Pros
Treats 1900 gallons of water
Good for particles large and small
Durable fixtures
Cons
Some report substantial leaking
---
8.

Culligan RV-800 Exterior Pre-Tank Water Filter
The Culligan is a mid-range, granular activated filtration unit that benefits from a flexible 12-inch connection, designed to avoid snags and knotting. It is certified to treat chlorine, bacteria, and other contaminants.
The cartridges feature a 5-year warranty, and they are rated to treat up to 2000 gallons of water, which may last a substantial amount of time in the RV setting. It can function as intended in temperatures ranging between 40-100 degrees.
We have, however, noticed a couple of things you may want to know before you buy this product. First of all, the water it produces tends to be very cloudy, which may be troubling for some users. It also reduces the water pressure in your RV.
Pros
Moderate price
Flexible hose attachment
Rated to treat 2000 gallons of water
Cons
Cloudy water
Reduces water pressure in your RV
---
9.

Watts 520022 RV Duo Exterior Water Filter
The Watts comes with two filtration cartridges and can effectively treat 2.5 gallons per minute—more than enough for any faucet, and the vast majority of showers. It is certified to remove 99.9% cryptosporidium and giardia cysts, sediment, and chlorine.
Unfortunately, the housing itself may be the best part of this package. While it is extremely durable and made to last, the same cannot be said of the rest of the package. The cartridges tend to leak, while the threading connection points tend to wear out very easily which means it may be difficult, or even impossible to install.
Pros
2 cartridges
Good water flow
Effective
Cons
Cartridges leak
Threading is very subpar
---
10.

Fette Filter FF1007 RV Inline Water Filter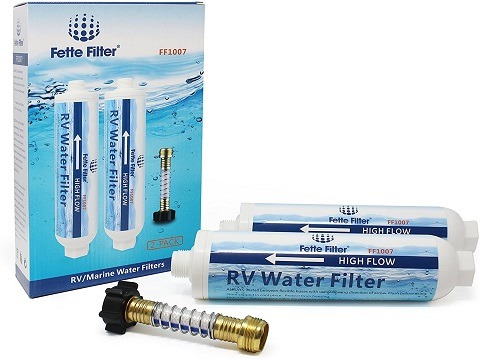 Finally, the Fette Filter. It is a high flow carbon filter that comes with two cartridges, for a fairly reasonable price. A regulator is required to effectively use this filter, to keep the pressure between 30-60 PSI.
Unfortunately, though, there is a wide range of complaints to keep in mind. For one thing, the Fette does not work well with hot water. It also leaks significantly, produces cloudy water, and doesn't attach very well. For the same amount of money, you can definitely find something significantly better and more consistent.
Cons
Doesn't attach very well
Produces cloudy water
Doesn't work well with hot water
Leaks significantly

Buyer's Guide – Choosing the Best RV Water Filter
There is a lot to think about as you consider your next water filter. For a relatively boring piece of equipment, there are plenty of features that determine if it will work well. In this next section, we break down some of those considerations to help simplify your buying decision.
Versatility
Obviously, the purpose of our guide today is to highlight water filters for the RV. However, you can get more bang for your buck by investing in something that can perform double duty. Many water filters can be used outdoors via hose bib adapters.
There are plenty of good reasons to want to filter your garden hose water. For one thing, the same chemicals you are trying to avoid can also be harmful to your plants. Good water filters can eliminate calcium buildups, which can be problematic for washing your car.
Investing in something that is adaptable will increase the utility of your filter, and may prove very useful in the long run.
Water Pressure
Unfortunately, water filters often diminish the water pressure in your RV. However, the extent to which this is the case can vary significantly. Some units actually list how much water they can produce. This number is listed as the "gallons per minute" output.
While you may not actually know how many gallons per minute you need, there are some helpful indicators to keep in mind. For example, the average shower uses something like 2-3 gallons per minute. That being the case, you probably won't need anything that exceeds this output ratio.
In any case, you probably will want to make sure that the output isn't too low. Recreational vehicles often suffer low water pressure as is, which means that most don't have power to spare.
Quantity
You may also have noticed that some of the options on our list actually featured more than one filter. The obvious benefit of this is that it gives you a lot more mileage. Getting a two-pack may be more expensive, but it also extends the life expectancy of your overall purchase, possibly saving you money in the long run.
Life Expectancy
There are several things that determine how long a water filter will last. Obviously, personal use is the main factor. The more you use your filter, the sooner you will need to get a new one. Unfortunately, this typically becomes apparent only after you've noticed some nasty water coming out of your faucet.
Most manufacturers have built-in recommendations for how often you should replace their filter. These ratings are typically anywhere from three months to a full year. But while these estimations might be dead on in the house, they are probably pretty off when it comes to the RV, where you're likely using substantially less water.
This being the case, some companies instead list how many gallons of water the filter can process before being replaced. For example, you use about 17 gallons of water taking a shower. With a little bit of math, you can use stats like this to craft a more accurate timeline, based on your habits. Typically, filters with a higher life expectancy tend to cost more, but they also save you money eventually.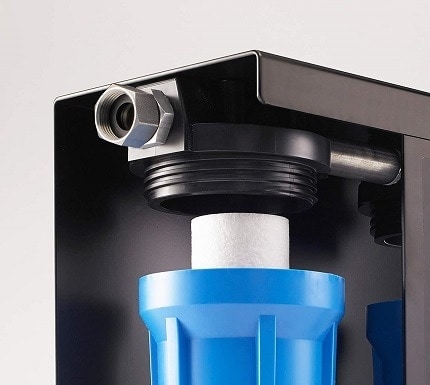 Housing and Hardware
The filtration cartridge isn't the only piece of equipment you will be dealing with. There is also the housing, and the attachment hardware, both of which are components that can have a keen impact on the effectiveness of your product.
To ensure that your filter will be able to survive the duration of its life expectancy, get something with a durable plastic housing. As for the hardware, brass is typically good for preventing leaks and surviving typical wear and tear.
Fortunately, housing materials can often be reused, and may even be compatible with filters from other manufacturers!
Temperature
Some water filters only thrive when used at certain temperatures. This range is typically broad but nevertheless may have limitations. For example, you may find that the filter you are considering works best between 30-100 degrees Fahrenheit.
For most people, this will be perfectly suitable, but if you live in (or intend to visit) areas with a more extreme climate, it may not be appropriate.
Treatments You Want
Not every water filter targes the same things. Therefore, you should determine what the filter you're considering is capable of.
Here is a list of various contaminants that are common everywhere, but perhaps especially on campsites:
Sediment (sand, dirt, etc.)
Chlorine
Rust
Lead
Foul odor
Most filters list out what they can address, and many even describe their efficiency. For example, you might find that a filter advertises the ability to remove 99.9% of impurities. Obviously, the more effective your filter is, the better off you will be.
Water Pressure
Some filters will also list that they require a specific pressure (PSI) rating, in order to be used properly. For example, you may find that the range needs to stay between 30-60 PSI.
Typically, the number the manufacturer lists will more or less correspond with what your plumbing system is already producing. Water pressure is already regulated for safety (too high, or too low, and you start to encounter quality problems).
Just to be safe though, you may want to see if the filter has any special PSI requirements. In the case that it does, you will need to purchase a special regulator.
Warranty
Things do occasionally go wrong with water filters. When they do, you'll be glad to have gotten something with a good warranty.
Many of the products on our list today featured warranties in the 1-3 year range. Fortunately, this should be more than enough for the majority of people. Remember, you really only need the warranty to last for the life expectancy of the filter. If you only expect your filter to last 6 months, then any filter lasting longer than that will be more than plenty.
Price
Unfortunately, the average water filter is typically a little pricey. More money typically buys you a durable housing, a long life expectancy, and, of course, a very effective filtration method. As you try to figure out a reasonable budget for this purchase, keep in mind that you should be able to get an effective unit with all the fixings by spending $40, or more.
There are still good products that cost less than this, but with that baseline, you should be able to find primarily high-quality products.

Conclusion
Now that you've read our RV water filter reviews, it's time to make your final buying decision. Did one of the products on our list really speak to you? Buyers who are on a restrictive budget will probably opt for something like our top choice, the Camco 4063 EVO Premium RV Water Filter.
It's a highly effective piece of equipment that should treat your RV to a good experience.
Fortunately, though, you can also get a really great filter without spending a ton of money. If you're trying to stick to a tight budget, you might opt for our best for the money pick, the Waterdrop WD-RVS-1 RV Inline Water Filter.
Of course, the good news is that this is a pretty low-stakes decision. All of these options are good. Your only job now is to find the one that is good for you!