8 Best Bathroom Vanities in 2023 – Reviews & Top Picks
One of the cheapest and easiest ways to completely revamp the look of your bathroom is to replace your old vanity with a new, elegant one. Since the vanity is essentially the focal point of any bathroom, a change here can have the effect of a minor remodel.
Your vanity will offer storage, good looks, and a sink top. Some even include faucets. But you'll want to decide between these on more than just looks. After testing so many bathroom vanities for our reviews, we've realized that they're not all made equal and we want to make sure that you get the best bathroom vanity for your home.
---
A Quick Comparison of Our Favorites in 2023
Rating
Image
Product
Details

Best Overall

RunFine Bathroom Vanity

Soft closing doors
Durable, long-lasting finish
Grey or white works in many bathrooms
CHECK PRICE

Best Value

eclife Bathroom Vanity

Beautiful glass vessel sink
Elegant looks
Priced affordably
CHECK PRICE

Premium Choice

Tub Connection Bathroom Vanity

Looks very luxurious
Plenty of storage space
Six drawers and two doors
CHECK PRICE

Fresca Manchester Traditional Bathroom Vanity

Soft closing doors
Cabinet space plus open bottom shelf
Gray and white work with most color schemes
CHECK PRICE

BATHJOY 24" Bathroom Vanity

Soft closing doors
All white with glass top
CHECK PRICE
The 8 Best Bathroom Vanities
1.

RunFine RFVA0069W Vanity– Best Overall

This RunFine Vanity is an attractive item that's available in either grey or white, both of which work with most color schemes and should look right at place in most bathrooms. It'll be fully assembled when it arrives, saving you the headache of putting it together yourself and simplifying the installation process.
One nice thing about this vanity is the durable, long-lasting finish. But it's not just durable, it's also very attractive. Plus, the glossy finish of the cabinet is easy to keep clean. So is the china sink. Unfortunately, the first one we ordered arrived with the sink broken!
This vanity provides two doors that open into a large storage cabinet and a pull-out drawer on the bottom for additional storage space. The doors on the cabinet are soft-closing so you'll never hear them slam and they won't get worn out.
Pros
Grey or white works in many bathrooms
Comes fully assembled for easy installation
Durable, long-lasting finish
Soft closing doors
China sink is easy to clean and maintain
Cons
The first one arrived with a broken sink
---
2.

eclife A10B02 Bathroom Vanity– Best Value

Who says you have to spend a fortune for attractive bathroom furniture? If you thought that, prepare for the eclife A10B02 Bathroom Vanity to flip that idea on its head. This vanity features elegant looks that appear to be very expensive, though, in reality, it's one of the most affordable vanities we've seen.
The vanity itself is black with frosted glass inserts in the doors. The two doors open into a spacious cabinet and beneath is a large double drawer for storing towels and more. A beautiful glass vessel sink adorns the top. The faucet is an economical low-flow faucet that uses just 1.5 gallons of water per minute, saving you money on your water bill and reducing your overall eco-footprint.
Of course, there's going to be a tradeoff at this price. You'll have to assemble this vanity yourself as it arrives in pieces. No biggie, except that the instructions are so small you can't actually read them! We had to take a picture and zoom in to make them out. Still, at this price with such an elegant appearance, we think this is one of the best bathroom vanities for the money.
Pros
Beautiful glass vessel sink
Elegant looks
Priced affordably
5 GPM faucet is economical and eco-friendly
Cons
Tiny instructions are difficult to make out
---
3.

Tub Connection Espresso Bathroom Vanity– Premium Choice

We're going to go from one extreme to the other. The last vanity was super-affordable, but the Tub Connection Wood & Porcelain Bathroom Vanity is far on the other side of the spectrum at one of the highest prices on this list. It's also pretty big at just under four feet wide.
Since it's so large, you'll get ample space for storage. There is a total of six drawers, three on each side. In the middle, there are two doors that swing open into a large under-sink cabinet.
One of the biggest draws of this vanity is its luxurious appearance. It's black with a white countertop and a large, square, white sink adorning the top. Since it's in such classic colors, this vanity should work well in just about any color scheme.
Pros
Six drawers and two doors
Plenty of storage space
Looks very luxurious
Black and white go with any colors
---
4.

Fresca Manchester 30″ Gray Traditional Bathroom Vanity

Gray and white are very traditional, neutral colors that will work in just about any bathroom with any color schemes. Since the Fresca Manchester 30-Inch Gray Traditional Bathroom Vanity is gray and white, it should be right at home in any setting.
This vanity features soft-closing doors that won't slam. They open into a large cabinet where you can store a wide range of bathroom essentials. Below the cabinet is an open shelf that's perfect for storing towels and other small items.
There were a few issues we had with this vanity though. First, the overflow hole is at the back of the sink. It doesn't seem like a big deal, but the hole is facing you and it's not that attractive. We prefer the traditional look with the overflow hole on the side of the sink you're standing at. Also, one leg was too short on ours, so the vanity wouldn't stand level! We were able to easily remedy it with a small furniture pad under that leg, but we don't think that should be necessary with a brand-new vanity.
Pros
Gray and white work with most color schemes
Soft closing doors
Cabinet space plus open bottom shelf
Cons
The overflow hole is facing you
One leg was too short and wouldn't sit level
---
5.

BATHJOY 24" White Bathroom Wood Vanity

The BATHJOY 24" White Bathroom Wood Vanity is a beautiful vanity that even comes with a mirror and sink. The sink is an all-white vessel sink sitting atop the glass counter. Beneath, two doors inset with frosted glass open into a large cabinet for under-sink storage. Since they feature soft-closing hinges, they'll never slam. Under that, two small drawers pull-out for additional storage space.
Our first issue with this vanity was the height. It's supposed to be just under 30 inches tall. Well, turns out, that measurement includes the sink. As a result, this vanity is considerably shorter than other options and you may have to bend down to wash your hands.
The other complaint we have is regarding the fittings. Because this comes from a Chinese manufacturer, the fittings aren't the same sizes we use. You'll need to replace them if you want everything to hook up to your existing plumbing the way it should.
Pros
All white with glass top
Soft closing doors
Cons
Will have to replace the pipe fittings
Shorter than expected
---
6.

Modway Render Mid-Century Bathroom Vanity

If you're looking for a unique bathroom vanity that looks modern and stylish with a hint of natural aesthetics, you might consider the Modway Render Mid-Century Bathroom Vanity. It's got clean lines and elegant looks, but since it's made from walnut, it's also got a warm and welcoming appearance. Moreover, it offers excellent storage with two large doors opening into a spacious cabinet.
We like the looks of this vanity, but we still had a few complaints. First, it arrives in pieces that you must assemble. We don't mind assembling products we've purchased, except this one didn't include any instructions! With so many little pieces, it can be quite confusing attempting to figure out what goes where without any guidance.
Our second complaint is the lack of fixtures. There's no faucet included with this vanity, so that will be an extra expense. To be fair, this vanity is priced pretty affordably, but including a fixture greatly simplifies everything for the end-user.
Pros
Unique, elegant looks
Offers ample storage
Cons
Doesn't include fixtures
No instructions included for assembly
---
7.

Dorel Living Otum Bathroom Vanity

Available in 24, 30, and 36-inch sizes, the Dorel Living Otum Bathroom Vanity is built to work in almost any bathroom. To suit that purpose, it needs to be a neutral color, and this one is available in white, grey, and black. The countertops are white on all three versions, creating a beautiful contrast between the dark and white, except for the all-white cabinet, which still looks elegant as it is.
Luckily, this vanity arrives fully assembled, making it simple and easy to install. However, it did arrive damaged, which was quite disappointing. The sink and countertop had two small chips in them that were very noticeable. Unfortunately, that wasn't all. The cabinet also had several chips and mars that ruined the overall look.
The sink-top also isn't flat. Because of this, water tends to pool up in various areas, so you'll end up wiping down the counter a lot.
Pros
Grey, white, and black colors work in most bathrooms
Arrives fully assembled
Cons
Arrived chipped in sink and cabinet
The sink top is cheap and brittle
Water collects on the sink top
---
8.

LUCA LC24DBP Austin Bathroom Vanity

The Austin Bathroom Vanity from LUCA is a smaller vanity that's just 24 inches wide, making it perfect for smaller-sized bathrooms. It's available in white, grey, and midnight blue, so you can get the look that best fits with your bathroom's décor.
We didn't really like this vanity though. It's riddled with problems. First, the sink-top is supposed to be white, though it's actually grey. When ours arrived, the molding on the front corner was broken, ruining the look of the vanity.
The front of this vanity looks like it has three drawers, but only the bottom two work. The top is a dummy drawer. You get a one-year warranty with this vanity, but when it arrives broken, that's not doing much to instill confidence. And we're not sure that a one-year warranty is worth anything on a bathroom vanity; it feels more like an advertising gimmick.
Pros
Perfect size for smaller bathrooms
Cons
A one-year warranty isn't much help
Only two of three drawers function
The sink is actually grey
Came with broken molding
---
Buyer's Guide – Choosing the Best Bathroom Vanities
There's no shortage of bathroom vanities for you to pick from. And truthfully, all of the vanities on this list are quite attractive, so how do you decide between models?
The easiest way is to read this buyer's guide, where we're going to go into more detail about the different features separating these seemingly similar vanities.
Picking the Perfect Vanity
Looking at two vanities side by side, it's easy to think that the big differences between them are looks-based. Appearance definitely is a major part of choosing any vanity, but that's not the only thing you should be accounting for.
Storage Space
A bathroom vanity isn't just a place to set a sink. It's also a great storage unit. Most of them feature doors that open into a cabinet, pull-out drawers, or both. Some even offer open shelves on the bottom that are perfect for storing towels, washcloths, or anything else.
How important is under-sink storage to you? Large items do best in a cabinet with double doors where there's ample space for taller items to fit. But many folded items will do better in a drawer.
Only you know what types of items and how many you have to store in your bathroom vanity. So, make sure you choose a vanity with sufficient storage space for your needs.
Appearances
Looks aren't everything, but with a bathroom vanity, they account for quite a bit of your decision. But there are several categories of appearance to be aware of.
Design
What's the overall shape and style of the vanity you've picked out? Is it modern, or more rustic? Would you rather have a more elegant molding adorning the corners or a simpler aesthetic?
Color
The color you pick for your vanity is going to be of supreme importance. You don't want to pick a color that clashes with the existing color scheme in your bathroom. Since bathrooms can be a variety of colors with many stylistic choices, you'll have to figure out what will complement your existing décor best.
Generally, we lean towards neutral colors. These seem to work well in any color scheme. White, grey, and black are our go-to colors because it's hard to go wrong with any of them.
Size
If you have a small, half-bathroom you're adding a vanity to, you don't want to get an oversized 48-inch wide vanity. It will take up your whole bathroom and likely wouldn't even fit anyway. Similarly, if you have a large, open bathroom, a tiny vanity would look strangely out of place. Make sure you choose a vanity that's properly sized for your bathroom.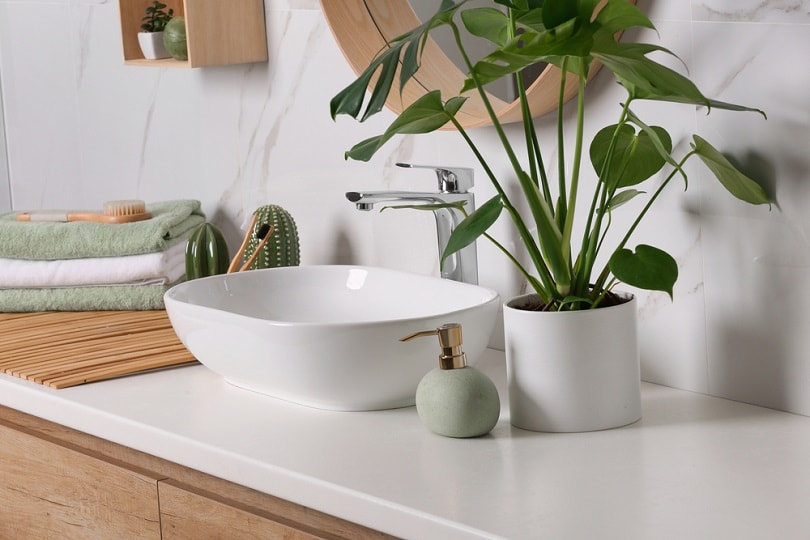 Sink and Faucet
All of the vanities we tested during the making of this list included a sink. Most even included a faucet, though not all did. Of course, there were some major differences between sinks.
Sinks come in all varieties today. Some of these vanities had one-piece sink and countertops. Others had vessel sinks sitting on top of the counter, in various shapes, sizes, and colors.
Faucets also differ substantially between models. You'll want to consider the finish of the faucet you choose. And if your vanity doesn't include a faucet, that's something you'll need to be aware of, as getting a faucet will be an additional expense.
Also, consider the flow rate of your faucet. Some vanities even include an eco-friendly low-flow faucet that uses less water than standard faucets, saving you money on your water bill each month. Of course, if your vanity doesn't come with a faucet, you can choose any type of faucet that will fit the hole pattern of your countertop.
Price
One of the biggest discrepancies between models was the price. We've seen some very affordable vanities that included everything you need. On the other hand, there were some vanities we tested with astronomical price tags several times as expensive.
A more expensive vanity might offer a few extra features; perhaps more spacious storage or a nicer finish. But only you can decide if the tradeoff is worth it for you.
---
Conclusion
A beautiful bathroom vanity can really change the looks of your bathroom, transforming it from an ordinary place into an elegant one. We've seen lots of vanities and even used quite a few while making these reviews, so we think we've got a great idea of what makes a vanity worthwhile.
Our pick for the best bathroom vanity overall was the RunFine RFVA0069W Vanity. It comes in grey and white finishes that look excellent in almost any setting. The finish is also durable and long-lasting, plus, easy to clean. When it arrives, it will be fully assembled for easy installation.
If you're looking for the best bang for your buck, we suggest the eclife bathroom vanity and sink combo. It's priced affordably, yet it still looks like an elegant, expensive piece. On top is a beautiful glass vessel sink with a 1.5 gallon per minute eco-friendly faucet.
On the more expensive side of the spectrum, the Tub Connection wood and porcelain vanity set is our premium recommendation. It's oversized for use in large, spacious bathrooms, offering plenty of storage with six drawers and a two-door cabinet. It also looks luxurious in any setting with classic white and black coloration.
You may also be interested in: 8 Best Bathroom Trash Cans — Reviews & Top Picks
---
Featured Image Credit: Jodie Johnson, Shutterstock