5 Best Blenders Under $50 of 2023 – Reviews & Buyer's Guide
All you want for breakfast is a smoothie, but they cost as much as a tricked-out coffee!  The time has come to make your own at home, but a cursory internet search has you worried you're going to need a bank loan to afford a blender.  Rest assured this is not the case.  Although you can spend several hundred dollars on a blender, it's unlikely the smoothie that comes out of it will taste any better.  That's why we're giving you these reviews of blenders that cost less than $50.
And if the smoothie craze peters out, you'll still have money left over to buy the parts you need to turn your inexpensive blender into a lamp.  (Yes, that's a thing!)
Comparison Table (updated in 2023):
Rating
Image
Product
Details

Best Overall

Hamilton Beach Wave Crusher

3-in-1 big blender
Small footprint
Mini food processor
CHECK PRICE

Magic Bullet MBR-1101

Fast blending
Easy cleanup
3 to-go cups and lids
CHECK PRICE

Best Value

Hamilton Beach 51103

Blend it clean
Handles nut butters
Bargain price
CHECK PRICE

Oster 6831

Glass jar
Dishwasher safe
40-ounce capacity
CHECK PRICE

BELLA BLA13330

3 personal cups
Several lid pieces
Extra grinding blade
CHECK PRICE
The 5 Best Blenders Under $50
1.

Hamilton Beach Wave Crusher Blender – Best Overall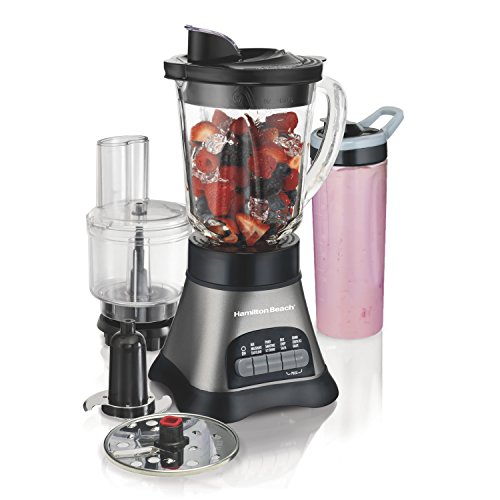 The Hamilton Beach Wave Crusher 58163 is the rare appliance that tries to do multiple jobs and succeeds.  This 3-in-1 appliance is a regular size blender with a 40-ounce jar, plus a personal blender with its to-go cup, plus a mini food processor.  The blender does a good job handling smoothies with both size jars and the processor, though small, is surprisingly effective and useful with blades for chopping, shredding, and slicing.  Everything is easy to clean and dishwasher-safe.  It might struggle to turn your regular sized ice cubes into a neat and orderly pile of snow, but otherwise, when properly loaded, it blends a wide array of food with no struggle.  Users love having all three options in one small footprint of a device, making this our choice for the best blender under $50.
Pros
3-in-1 big blender, personal blender, and mini food processor with two blades
Easy to clean
Small footprint
---
2.

Magic Bullet MBR-1101 Blender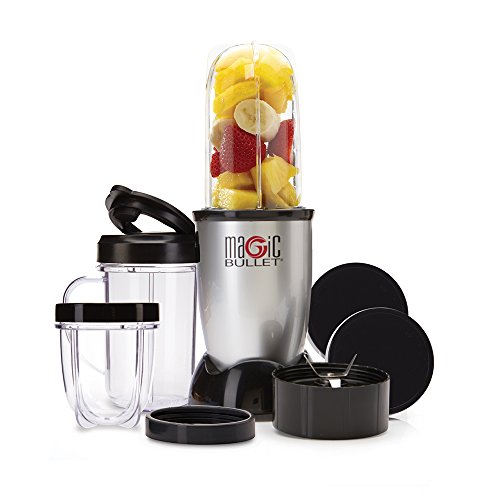 The Magic Bullet MBR-1101 is a handy little kitchen helper.  For a reasonable price and with three to-go cups and lids, you get a small footprint blender capable of making a customized morning smoothie for a handful of people every day.  As the name implies, it provides fast blending and fast clean up.  This Magic Bullet doesn't excel at leafy greens or ice, but if loaded with care it can process small amounts of them.  It also bills itself as a mini food processor, although some complain that it doesn't handle these tasks as well as our Top Pick does.
Pros
Fast blending
Easy cleanup
Includes 3 to-go cups and lids
Cons
Only marginally effective as a food processor
---
3.

Hamilton Beach 51103 Blender – Best Value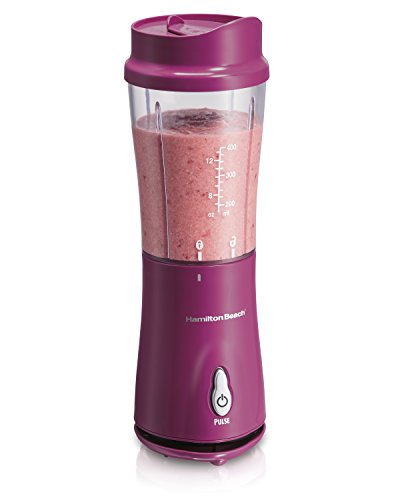 If you want to make fruit smoothies for one person, the Hamilton Beach 51103 is an excellent choice.  At a fraction of the price of our Top Pick, it will deliver well-blended daily smoothies for many months.  It has a tiny footprint, making it great for a cramped kitchen or the office, and it's fast and easy to clean in the dishwasher or by blending a drop of dish soap with some water.  Does it have limitations?  Yes.  You are advised to pulse your drink, not just turn it on and let it run, and you cannot put hot liquids in here, so don't buy this for your bulletproof coffee.  But when used as described in the instruction manual, it will tackle frozen fruit, nut butters, and even some ice.  Poor and starving college students – you now have no excuse not to have your daily serving of fruit.
Pros
Bargain price with surprisingly good blending
Tiny footprint – use at home or at work
Handles nut butters
Easy to clean – blend it clean or dishwasher
Cons
Not for hot ingredients
Improper use will lead to motor burnout
---
4.

Oster 6831 Blender Machines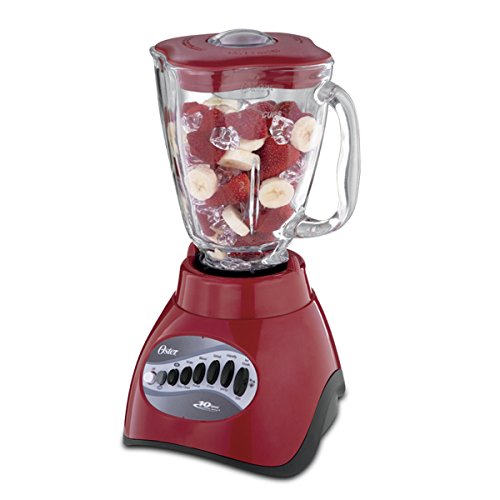 The Oster 6831 is our only glass jar blender under $50, so if you have your heart set on glass, this might be a good choice.  It is also a decent size for this price point, offering a 40-ounce jar.  But its 450-watt motor lacks any serious oomph and as a result, it often struggles to entirely blend ingredients without help from you.  In addition, when it exerts more than moderate effort to blend, many people report a burning smell, making it seem like the motor is about to die.  And on top of all that, it's loud, even for a blender.  Although there's no one thing alarmingly wrong with this blender, it didn't impress us much either.
Pros
5-cup/40-ounce capacity
Glass jar
Cons
Weak blending
Loud
Burning smell
---
5.

BELLA BLA13330 Personal Blender
The Bella Personal BLA13330 blender is a clever gimmick that doesn't quite live up to its potential.  It's a personal blender, but it comes with three cups, giving you the choice between smoothies for one and smoothies for a few.  It comes with a fleet of extra pieces – several kinds of lids that you can swap around plus a second blade designed for grinding.  You're not limited to smoothies but can also grind spices, nuts, and coffee beans.  And all of this comes at a very affordable price.  Unfortunately, Bella spent all its time and money on the arsenal of pieces that come with it and not on the blender itself.  From day one, it struggles to process frozen fruit, the primary item people arguably expect to put in a personal blender.  After fairly limited use, the motor is liable to burn out and the base might start leaking black gunk into your smoothies.  If Bella could redesign this model and put some TLC into the mechanics, this might be a terrific device, but as it is we can't really recommend it.
Pros
3 personal cups
Several lid configurations/pieces
Extra grinding blade for spices, nuts, and coffee
Cons
Leaks black stuff into your smoothie
Motor burns out easily
Struggles with frozen fruit
---
Buyer's Guide – Choosing the Best Blenders Under $50
If you're shopping for blenders under $50, you may have to modify your expectations of what this appliance can accomplish.  Many of the blenders at this price point are personal or one-serving models and aren't going to be able to compete with the expensive jar blenders you hear everyone talking about.  Just like you wouldn't compare a Rolls Royce to an electric bike, you can't fairly compare appliances that differ in price by hundreds of dollars.
But that doesn't mean you're relegated to trying to make your smoothies with a whisk and lots of elbow grease.  Particularly if your primary objective is making smoothies, you can definitely find a model that does most of the heavy lifting for you.  So, what should you be looking for from a blender under $50?
Power
Blenders in the under $50 price range aren't going to feature 1,000+ watt motors.  But you can get a respectable 700 watts capable of doing a fair amount of blending work.  It might not do well-turning ice into snow, and it might need a little help from you and a wooden spoon to get it going again if you've overloaded it with frozen fruit right out of the freezer.  But you can trade a little bit of time, flexibility, and patience to avoid the hefty price tag that comes with higher watt, more powerful motors and find a blender that ensures you get your daily serving of fruit in a cup.
Like with any tool or appliance, think about what you're hoping to do with it before you start shopping.  If you want to make smoothies that feature a lot of kale, for instance, you're going to have to pay a little more.  Kale and other leafy greens are hard for a blender to process and at the lower end of the price spectrum, you're going to struggle to find a machine that handles those well.  But if you want a morning fruit smoothie, with a mix of fresh and frozen fruit, some liquid, and a few pieces of ice, our favorite personal blenders will be able to provide that without any problem.
Cleanability
Given that there are so many blenders that are easy to clean, there's no reason to suffer with one that is not, no matter what the price.  The pieces should go in the dishwasher, or at the very least come clean with a quick swish of soap and warm water.  And any blender should come clean if you blend a mix of water and dish soap and follow it with a rinse under the kitchen faucet.  Any accompanying lids and whatnot should also go in the dishwasher.
Ice
Do you want to make daiquiris and margaritas?  If so, you'll need a blender that can crush ice into snow.  Assuming you're not aiming to fill single to-go cups with those, to handle ice you'll want a jar blender, not a personal one.  Personal blenders are unlikely to be able to produce more than a negligible quantity of snowy ice, if they can make any at all – blenders need a lot of power under the hood to process ice.  If you're having a margarita party for your 10 best friends, you'll need to step up to the next price bracket to find a blender that can handle the ice for that.
Durability and lifespan
There are hidden gems out there that offer a decent lifespan without a large price tag – you just have to seek them out.  You won't be handing these models down to your grandkids, but at least a few of our reviewed models will make your smoothie, every day, for months if not years, making them even more cost-effective than you might have originally thought.
One thing many of these smaller blenders have in common is a motor that is more effective and lasts longer if you use the pulse button to pulse instead of holding it down for minutes at a time.  The pulse button and motor function better if used intermittently.  When you run them at length, you can easily burn out the motor.  In fact, many user complaints about burned out motors can often be traced back to this human error.
Warranties and Parts
On bigger, more expensive appliances, you should investigate the warranty – what does it cover, how are claims handled, and is the service honorable.  But on these smaller, less expensive machines, you can mostly ignore warranties.  Usually, to make a claim on the warranty, you have to mail the item back to the manufacturer at your own expense.  Given how much these smaller blenders cost, and how much they weigh, it will often cost less to just buy a new one (with apologies to your local landfill).  Replacement parts are common for sturdier machines but unlikely at this price point for similar reasons – by the time you purchase and ship a replacement part, you'll have met or exceeded the cost of a brand-new unit.
Sound
All blenders are loud, but one of the advantages of a smaller blender and a smaller motor is a smaller sound "footprint."  You still won't be able to make a smoothie in the same room as a slumbering roommate, spouse, or child, but you won't be wishing you had earplugs either.  You might even be able to use one of these in a cubicle at work.
Accessories
Some of the under $50 blenders out there do just one thing – blend.  But others – like our Top Pick, with a food processor – wear additional hats as well.  Other models offer a variety of pieces, like extra travel cups, different kinds of lids, and even extra blades.  And still other blenders come in a choice of colors.  Be sure you don't get caught up in the frills.  Don't let the variety pack of lids or the inclusion of colored straws distract you from evaluating the appliance as a blender.  Many appliances that try to do multiple jobs wind up doing none of them well.  Evaluate the blender first and then let yourself get excited about what else it can do or can offer.
Glass or plastic
The personal blenders are going to be plastic, but at least you can expect to see BPA-free plastic.  If you absolutely must have glass, you can do that, too – in general, there isn't much price difference between glass and plastic blenders.
Hot or cold liquids
The personal blenders are pretty much designed for fruit smoothies and of course, those will be cold.  If you have any ideas about making something hot in your blender, be forewarned that may not end well.  Many people expect to make bulletproof coffee in their little blenders – and they wind up dismayed when that doesn't work.  If you want to process hot liquids, you'll need a glass jar, not plastic, and so not personal-sized.
---
Conclusion
The Hamilton Beach Wave Crusher 58163 is our top pick blender, made even more fabulous by the addition of a food processor.  Whether you're blending for a small crowd or just you, this model won't let you down, plus it can chop garlic, slice carrots, and shred cheese.  Most multi-appliances are disappointing, but this HB model delivers on its promise.
Hamilton Beach scores the Best Blender for the Money award with model 51103.  If you take good care of it, it will take good care of you, providing you with a daily smoothie for months for the same cost as one or two at the local juice bar.
Being on a budget doesn't mean you're stuck with sub-par appliances.  Do some careful shopping, read our reviews, and you'll be able to use all the money you saved on a blender to buy the ingredients to put into it.
Our other blender buyer's guides: