5 Best Quiet Blenders of 2023 – Top Picks & Reviews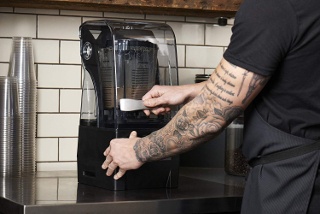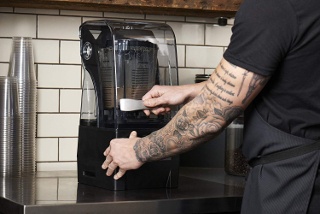 We decided to examine so-called quiet blenders and write reviews about the best models. At the start, we had some ideas about what we'd find and were a little surprised to learn that they come with a range of features, like blenders that can warm food as you process it. We were also surprised to find that their prices weren't bunched up close to each other but spaced across a range that left us a little bit floored.
It should be noted that quiet doesn't mean silent. If you're looking for a model you can use right next to a sleeping person, we must warn you that you're likely to wake them up. They just won't wake up and think they're in the middle of an earthquake measuring 8.6 on the Richter scale.
But we'll get into that shortly. If you get to the end of our reviews and think you need something more than just a suggestion, we've included a handy buyer's guide.
---
A Glance at Our Winners (updated in 2023):
Rating
Image
Product
Details

Best Overall

Blendtec Pro 800

Serious liquefying
Pre-programmed cycles
Can warm food while blending
CHECK PRICE

Vita-Mix Quiet One

Fast
Polycarbonate container
CHECK PRICE

Best Value

Hamilton Beach 58870

Powerful
Great for-dollar value
Shatterproof Jar
CHECK PRICE

Jamba Appliances 58915

Compact design
Decent value
CHECK PRICE

New Age Living Quiet Series

BPA free
Built-in safety breaker
CHECK PRICE
The 5 Best Quiet Blenders:
1.

Blendtec Pro 800 Blender – Best Overall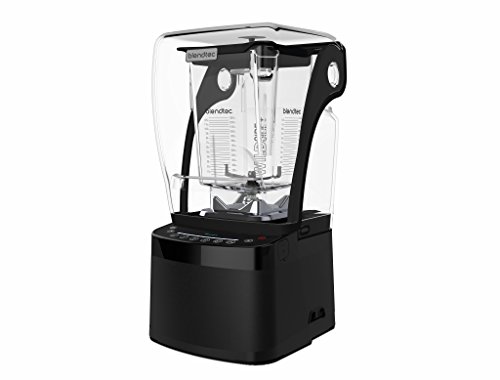 Don't be fooled by the fact that the Blendtec Pro 800 comes loaded with several excellent features. When it comes to chopping up food, this machine is a beast. We're joking when we say it could churn out a smoothie made of diamonds. But, after using it … are we really?
As powerful as it is, it's also one of the quietest blenders we reviewed. The sealed enclosure around the blending space is Blendtec's proprietary design and means you can liquefy your food without having to listen to it scream. On top of that, it'll warm food as you blend it and has a USB port to load it with customized blending recipes.
Be prepared. You might clutch your chest when you see what it'll cost you. Nearly silent industrial food liquefication doesn't come at an affordable price. However, we still think the Blendtec is this year's best quiet blender.
Pros
Can warm food while blending
Very quiet
Serious liquefying
---
2.

Vita-Mix Quiet One Blender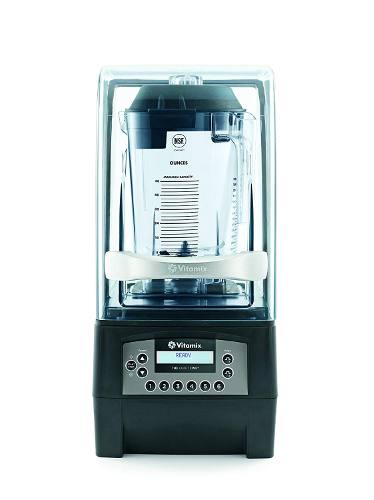 We hesitate to use the phrase "silent as the grave" to describe something used to prepare food, but we just can't think of anything that better describes the Vita-Mix Quiet One. Unlike other quiet blenders, where the quiet is relative to the wall-shaking, window-rattling noise of unquieted blenders, you can have a conversation while using this one.
It's also powerful enough for commercial use, which is really what it is intended for. In the home, it has a wide range of applications, and if yours requires fully liquefied veggies, this one has the muscle to do it.
In fact, it might be too much blender for home use, as evidenced by its price tag. You can buy yourself a car for less money than this costs. It would be a bad car with pieces falling off, but it would probably at least run. And for the price, this one doesn't let you make warm soup. As great as it is, the price and a few missing features warrant it being dropped to the Runner-Up rank.
Cons
Holy cow, is this thing expensive
Can't make soup
---
3.

Hamilton Beach 58870 Quiet Blender – Best Value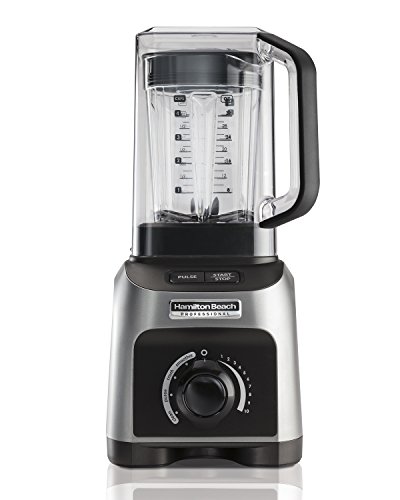 Our top two models might give you the idea that you will have to sell your car to afford a quiet blender for your home. Then along comes the Hamilton Beach 58870 to let you know you don't need to do that. In fact, you might get sticker shock from the price differential.
For its cost, this one has some muscle. It can chop ice cubes into fine shards for smoothies, no problem. It isn't as powerful as the other two, but at the steep dropoff in price, the dropoff in performance isn't nearly as dramatic. That's what makes it our best-for-the-money pick.
However, it isn't very quiet. It's not as loud as a regular household blender, but it's not something you can operate around sleeping people without waking everyone up. The reduced power also means that you'll have to stop occasionally and scrape the food back down into the blade area.
Pros
Great for-dollar value
Powerful
Cons
Dampens sound, doesn't eliminate it
Doesn't operate all that smoothly
---
4.

Jamba Appliances 58915 Quiet Blender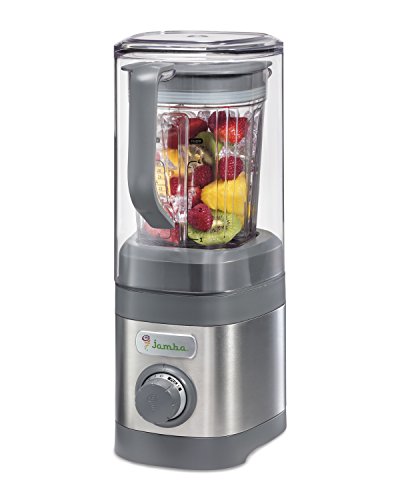 We liked the compact design and overall value of the Jamba Appliances 58915. It's small enough to store in small kitchen spaces and delivers okay power at a decent price. It's not a bad blender. There's just not a whole lot to get excited over.
For instance, most blenders we looked at featured push-button operation. Overall, we found this superior to the kind of knob the Jamba uses, which can get stuck between settings. We also didn't think it was as quiet as it should have been. It didn't induce a headache, but you wouldn't be able to read a book if someone was using it in the same room.
It has decent value and is easily stored, but we felt that it could have been better designed to warrant giving it serious consideration for unranking it.
Pros
Compact design
Decent value
Cons
Knob control instead of buttons
Not as quiet as advertised
---
5.

New Age Living Quiet Blender Series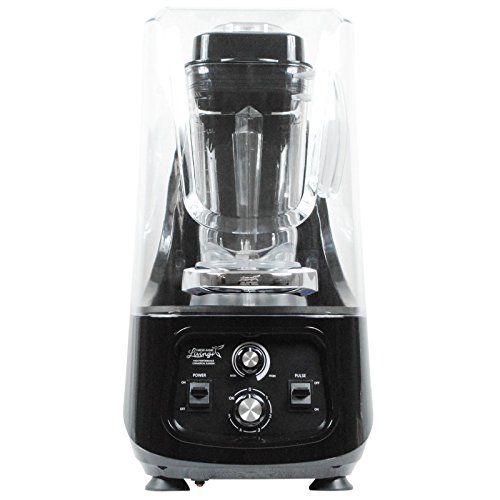 We didn't hate the New Age Living Quiet Series. In fact, we kind of liked it. It does what it's supposed to do. It blends and purees food to a drinkable consistency and can handle tough, fibrous vegetables. It also does it without costing you an arm and a leg. So, you get pretty good value.
We dropped it to the bottom of our rankings because it's not very durable. It breaks too easily for something that has the primary job of pulverizing ice and nuts, mixing nut butter, and converting kale into a liquid. It also doesn't liquefy food all that well. Occasionally, you have to stop using it and mix the food by hand to get it working again.
We didn't hate it. We just didn't love it, and you can get something better for the money.
Pros
Decent value
Does its job
Cons
Not very durable
Fewer features
Food sticks under blade
---
Factors to Consider When Choosing the Best Quiet Blender
No review of a handful of models will ever give you a complete look at an entire product line. We get that, and you likely prefer to get helpful tips as opposed to being told which blender to buy. We put together this handy little buyers' guide so you can truly find the best quiet blender out there.
How quiet is it?
You're buying a blender designed to be quiet for a reason, and that reason also means they are more expensive than traditional blenders. It follows that this is the primary consideration for making a selection. No blender is silent, but some are quieter than others. We designated the Blendtec Pro 800 and the Vita-Mix Quiet One as our top choices because they are the quietest. The Jamba 58915, on the other hand, was more muffled than quiet.
Power
If you're buying a quiet blender for its noise cancellation, it must still pulverize ice and grind up fibrous vegetables. You're going to want one with powerful motor output. This is a bit different than raw motor power. Power generated doesn't always translate well to power in blending. You'll want to keep that distinction in mind when looking for the most powerful blending for the money you're spending.
Ease of cleaning
Something frequently overlooked is that blenders can be a pain in the neck to clean. You have to disassemble them to clean them, and food tends to get stuck in every nook and cranny they have. You won't want to taste the almond butter you blended in the morning when you make a fruit smoothie in the afternoon, so keep an eye on which models are the easiest to take apart and clean.
Price
If money is no concern to you, the Vita-Mix Quiet One has it all. If it is, and you want to buy it, have a couch handy because the price will give you a case of the vapors. That's why we liked the Hamilton Beach 58870. It's good enough for most home users, and the price makes it an attractive value.
---
Conclusion:
The Blendtec Pro 800 is the quiet blender to measure all other quiet blenders by. It's quiet enough that you can talk while making a smoothie and powerful enough to pulverize ice, but it will cost you. It won't cost you as much as the Vita-Mix Quiet One, which is more powerful and a little quieter but is also priced for commercial use. The Hamilton Beach 58870 was the best value of the quiet blenders because its performance didn't decline nearly as steeply as the price. The Jamba 58915 was okay but should have been better, and the New Age Living Quiet Series was just too prone to breakage to get it out of the cellar.
We hope you found our reviews helpful or at least were able to glean something useful from our buyers' guide. We wish you luck finding the best quiet blender for your needs.
More blending articles from our blog: