5 Best Blenders Under $200 – Reviews & Top Picks 2023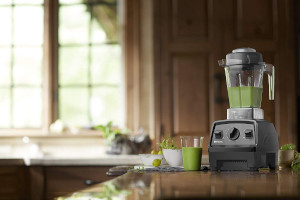 The blender may have been invented to make milkshakes, but it's evolved a great deal in its 96 years. Along the way, it even helped Jonas Salk invent the polio vaccine (and you should only investigate that claim further if you have a strong stomach). Nowadays people use blenders to make everything from smoothies to frozen margaritas to gazpacho to baby food and only coffee makers and toasters are more common in our kitchens. Fortunately, you don't need to spend many hundreds of dollars to get one that does everything you'd want it to do. With today's high-powered affordable blenders, it will take you longer to read our reviews than it will for your new blender to make you a smoothie.
---
A Quick Glance at our Favorites of 2023
Rating
Image
Product
Details

Best Overall

Jamba 58910

Sturdy craftsmanship
Programmable settings
2.4HP pulverizes anything
CHECK PRICE

Nutri Ninja BL642

72 oz. pitcher
3 extra sippy cups
Single serving capacity
CHECK PRICE

Best Value

Ninja Professional BL610

Affordable
Giant 72 oz. pitcher
Easy to clean design
CHECK PRICE

KitchenAid KSB1575CU

20 color options
Reasonably priced
Good customer service
CHECK PRICE

Kenwood BLM800GY

Glass jar!
Ok to blend hot liquids
CHECK PRICE
The 5 Best Blenders under $200
1.

Jamba 58910 Blender – Best Overall
The Jamba 58910 model blender is hugely popular and deservedly so.  Its 2.4HP motor rips through anything you put in it – fruit, vegetables, nuts, soup, and ice.  It has a 64-ounce pitcher but still fits under your upper cabinets.  It's heavy, at just under 11 lbs., giving it a sturdy, dependable feel.  Users claim it works as well as if not better than models that cost two or three times as much.  And with programmed settings, you can put on the lid, walk away, and return to a finished smoothie.  The only consistent complaints are that additional or replacement jars may be unavailable. In our opinion this is the best blender under $200 you can buy.
Pros
2.4HP pulverizes anything
Programmable settings, so you don't have to babysit it
64 oz. but fits under the cabinet
Sturdy craftsmanship
---
2.

Nutri Ninja BL642 Blender
The Nutri Ninja BL642 does a respectable job shredding whatever you put in it, even though it only has a 1.6HP motor.  It's also programmable, allowing you to walk away while it's running.  It comes with not only a giant 72-ounce pitcher, but three additional sippy-style cups, and one of those can be used directly on the base of the machine to make a single-serve smoothie.  It stumbles a bit on two other fronts, though.  It's loud, louder than you'd expect even from a high-powered blender.  And it doesn't have the sturdy, high quality feel, like the Jamba Top Pick does, resulting in a noticeable number of users complaining of early death (of their Ninjas).  If you really want to make single-serve smoothies and you don't care who hears you doing it, you should look at the Nutri Ninja BL642.
Pros
72 oz. pitcher
3 extra sippy cups
Single serving capacity
Cons
Loud
Reports of short lifespan machines
---
3.

Ninja BL610 Blender – Best Value
The Ninja Professional BL610 will not be mistaken for a top-of-the-line blender, but it does a serviceable job at a fraction of the price.  Its 1.3HP motor handles most anything you throw in, although it struggles with heavy doses of leafy greens (don't we all?).  It's easy to clean, with top rack dishwasher-safe pieces.  And it can even do some of the chopping work of your food processor, in a pinch.  Do many users report cracked pitchers?  Yes, but this machine is only designed for cold, so if you want to make your bulletproof coffee in this, don't expect it to last.  But that seems like a fair trade-off for a blender that does such a good job making snowy ice without emptying your wallet. Of all of the best blenders under $200, this is the best value choice.
Pros
Affordable blender doesn't break the bank
Giant 72 oz. pitcher
Easy to clean design with dishwasher-safe pieces
Can moonlight as your food processor
Cons
Struggles with heavy blending, especially green smoothies
Pitchers crack easily
---
4.

KitchenAid KSB1575CU Blender
This inexpensive KitchenAid blender, the KSB5175CU model, might look just like your grandmother's blender, inside and out, with a retro vibe that contrasts with most of today's space-age-looking units.  It is inexpensive and offers an overwhelming 20 color options.  This pitcher is plastic, not glass (where it differs from Grandma's), but has a sturdy feel to it.  It does blend, but with only a 3/4HP motor, no one is over the moon about its blending capabilities.  Be sure to carefully measure your height availability, since this model is on the taller side and might not fit under your upper cabinets.  KitchenAid provides good customer service, and when you call to report the funky burning smell from the motor, or that some of the lightweight plastic parts have broken, you will be pleasantly surprised by their response.  But we would rather KitchenAid designed out those common problems on the front end instead of generously handling them when you call.
Pros
20 (!) colors to choose from
Reasonably priced
Good customer service
Cons
Weak, ¾ HP motor
Might not fit under your cabinets
Burning motor smells and broken plastic parts depressingly common
---
5.

Kenwood BLM800GY Blender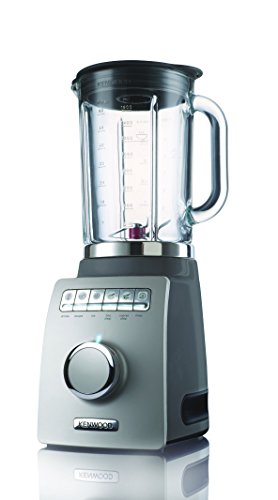 You'll want to love the Kenwood BLM800GY because it's one of the few blenders with a glass carafe, giving a professional heft and healthier feel to your smoothie making.  And a glass jar means you can put hot liquids in it without the risk of cracking or breaking.  But cleaning is a pain because you have to disassemble the blades from the jar and reassembling is tricky.   Anyone who doesn't do so perfectly will be cleaning smoothie off the base and counter from the inevitable leaking.  The 1.3 HP motor coupled with an innovative blade design does blend effectively – too aggressively, you might think, when you find the threads that connect the blades to the motor stripped and therefore useless.  We really wanted to like this one because who wants more plastic in their life?  But this model is a risky proposition that might leave you with a dud of a base and a leaking pitcher.
Pros
Glass jar!
Ok to blend hot liquids in this
Cons
Threads connecting the blades to the motor often wind up stripped
Tough to clean
Prone to leakage
---
Buyer's Guide – Choosing the Best Blenders Under $200
Before you purchase pretty much any appliance or tool, you should first ask yourself what you're going to do with it.  A blender purchase is no exception.
You might think a blender, a food processor, and a juicer are all kind of the same thing.  They are, in the same way football, baseball, and ice hockey are the same.  A blender falls somewhere in-between the other two with abilities that overlap more with the processor.  Few blenders will chop a carrot or onion effectively, a task better left to your processor (or by hand), and don't even think about making dough in a blender.  Pesto might be a gray area – although it is pretty liquidy, making it suitable for your blender, the leafy nature of pesto's ingredients might be too much.  There are even fewer blenders with the power to make nut butter, which is best left to your processor.  And if you want actual juice extracted from fruits and vegetables, only a juicer can do that.
What can you do with a blender?  If you plan to pour the final product, and it's not hot, you can almost certainly make it in your blender.  Smoothies, obviously.  Sauces and soups, as long as they're at room temperature.  Milkshakes and frozen margaritas are best made in a blender.  And although you can't exactly pour ice, your blender should be able to turn ice into small chips, or even snow, and it should be able to make your sorbet, slushies, and granitas as well, even though you probably can't pour those.
You can absolutely buy a super-effective blender to do all these things for less than $200.  What should you be looking for?
Speed – Even a cheap blender will make you a smoothie, eventually.  But you don't have to spend half an hour standing over it, periodically stirring by hand to circulate the chunks, waiting for frozen material to melt enough for the blender to demolish, adding juice or water by the ¼ cup until the blender blades can rotate properly.  You should be able to dump in the ingredients, push the button, and be pouring that smoothie within just a minute or two.
Power – The speed with which your blender can do its job is directly related to its power.  Blender power is sometimes described as watts and sometimes as horsepower, so how are you supposed to compare them?  Which motor is more powerful, 1,000 watts or 1 horsepower?  Convert!  And since this isn't high school science class, you can cheat – the internet will convert one to the other for you.  (1,000 watts equal about 1.34HP.)
Blade design – Power and speed are also intertwined with blade design.  More traditional design has the blender blades at the bottom of the jar where they create a mini vortex that sucks everything down into them.  You can see this whirlpool in action on the top of your finished smoothie if you can see in while it's running.  Some more modern blenders have the blades on a central post so that cutting is done throughout the height of the jar, not just at the bottom.  One is not necessarily better or more powerful than the other.
Effectiveness – Does it pulverize the big chunks?  Unless you want chunks in your food or drink, any blender you buy should make quick work of those big pieces, so that you're not fishing them out of the glass with a spoon (or worse, out of your teeth).
Programmability – Maybe your mother (or grandmother) taught you the cardinal rule of blenders – always hold the lid in place with your hand while blending.  That is no longer the case.  You can put in your ingredients, snap on the lid, choose a pre-programmed setting, and walk out of the room.  The blender will know when it's finished and turn itself off, leaving you free to do other things.  If that's an irresistible feature, be sure to look for it – not every blender can do this.
Clean up – You'll have to clean it every time.  Some blenders tell you to put a drop or two of soap into the dirty jar, fill it partway with water, and then snap it onto the base to blend it clean.  Other blenders let you put the entire thing in the dishwasher.  And some blenders want you to take it entirely apart and wash the pieces separately, either by hand or in the dishwasher, and then reassemble before use.  Know thyself!  How much effort are you willing to put into cleaning?  This information is readily available so you can educate yourself before buying.
Tamping – It's not just for your espresso machine.  Most blenders come with a special tamping tool for you to stick into the jar and manually move the ingredients around if they aren't blending well.  Does this mean a blender with an included tamper doesn't blend well?  No, but it does mean the manufacturer recognizes that we all overstuff the blender sometimes and it needs extra help from us as a result.
Glass or plastic jar? – Depending on your age, you might assume blenders have glass jars (aka pitchers). But nowadays, glass jars are a rarity. Glass is heavy and breaks when you drop it.  On the other hand, you can be certain it's not leaching plastic into your smoothie. Glass also comes out ahead for versatility – you really shouldn't put hot liquids into your blender.  Not only can it cause a build-up of pressure that makes the lid shoot off (now you understand why your mom wanted you to stand at the blender), that same pressure can cause the plastic jar to crack.  Obviously, if you're working with a just-off-the-burner tomato sauce, you need to handle it carefully no matter what. But if you intend to use your blender primarily with hot stuff, you should seek out the glass pitcher. (As an aside, you can put that hot liquid into your food processor, because it will have a large hole or feeding tube through which the heat can escape, unlike a blender.)
Size – Do you need it to fit under your upper kitchen cabinets, or into a cabinet? Check the product measurements and then measure the space you have in mind for your new blender, before you buy it and realize it only fits when disassembled.
---
Conclusion:
The Jamba 58910 model blender is our Top Pick among blenders under $200. Its 2.4HP motor blows away the competition and functions as well as blenders that cost significantly more.  You can't go wrong with this choice.
The Ninja Professional BL610 comes at a bargain-basement price but gives a nearly top-of-the-line performance. Ask it to do what it's designed to do – fruit smoothies, easy on the greens – and you won't be disappointed. That it's easy to clean and might help you chop vegetables are a bonus.
We hope reading these reviews went down "smoothie-ly" and you have a better idea of the right blender for you!
More budget blender buyer's guides: