7 Best Bow Rakes of 2023 — Reviews & Top Picks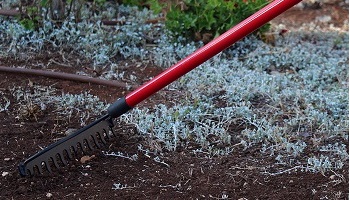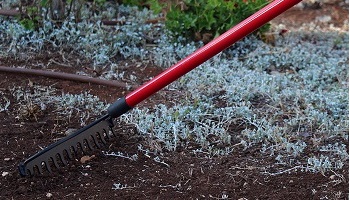 It isn't an easy task to maintain your lawn and garden, though having the right tool for the job will make it easier and more pleasant to complete. But there are such a variety of bow rakes on the market that you may be wondering how you could ever choose one.
We put together this reviews list of the top seven bow racks to help ease your frustration. Each review includes pertinent details, as well as the pros and cons.
Our buyer's guide will let you know what to keep in mind when narrowing down your rake choices.
A Quick Comparison of Our Favorites in 2023:
Rating
Image
Product
Details

Best Overall

Bully Tools 92309

Durable
Fiberglass handle
12-gauge steel head
CHECK PRICE

Best Value

True Temper 1881600

Lightweight
Wood handle
Tempered steel head
CHECK PRICE

Premium Choice

Ames 1886300

Extra-long handle
Tempered-steel head
Steel ferrule connector
CHECK PRICE

ERGIESHOVEL ERG-BWRK16

D-handle
Prevents back strain
Disassemble for storage
CHECK PRICE

Truper 31374

Heavy-duty tines
White ash handle
Professional grade
CHECK PRICE
The 7 Best Bow Rakes:
1.

Bully Tools 92309 Bow Rake — Best Overall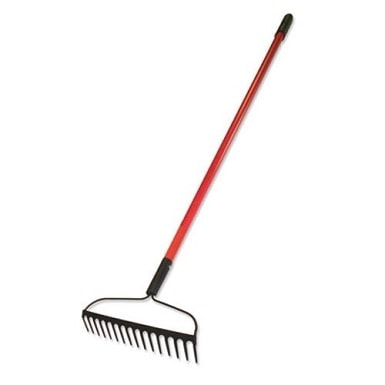 The Bully Tool rake is commercial grade and made in the United States. It has a high-strength fiberglass handle with a 12-gauge steel head and tines. The tool is lightweight overall, making it easy to handle, and the tines are durable enough to withstand raking stones without bending. The handle has a rubber grip and a rubberized piece at the handle/head connection to help absorb shock when using.
We like that the 16-inch-wide head is welded to resist breakage and that the rake comes with a limited lifetime warranty. The company states that if the rake fails during normal use, it will refund or replace the product. Bully Tool was founded in 1994, and its products are 100% American made and assembled by American workers.
This rake is 58 inches in length and weighs 3.45 pounds. Unfortunately, some may find the rake too lengthy if you are short in stature. Otherwise, it is a well-made rake that will last for many years making it the best bow rake we have reviewed this year.
Pros
Durable
Well-made
Fiberglass handle
12-gauge steel head
Lightweight
Limited lifetime warranty
Cons
Too lengthy for short people
---
2.

True Temper 1881600 Bow Rake — Best Value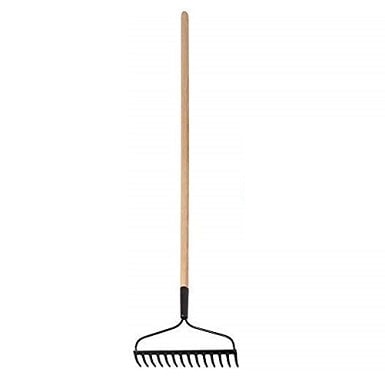 The True Temper is the best bow rake for the money because it offers many quality features at an affordable price. This bow rake has a 48-inch wood handle and a 14-tine head made of tempered steel. It works well to rake leaves or other yard debris.
It is designed for light work, and since the handle is not riveted to the head, this rake is not ideal for heavy-duty outside chores. For this reason, this rake did not make the number-one spot on our list. However, it is a great size for smaller gardens, and it is very lightweight.
Pros
Affordable
Wood handle
Tempered steel head
Lightweight
Cons
Handle not riveted to head
---
3.

Ames 1886300 Jackson Bow Rake — Premium Choice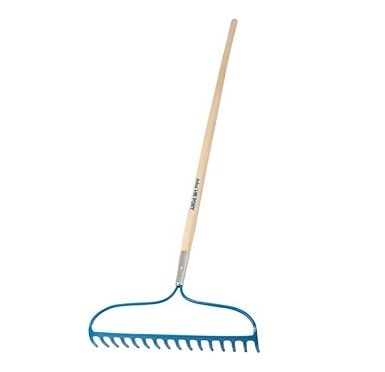 For a professional-grade tool made from premium materials, the Ames Jackson bow rake is a great choice. It has a head forged from tempered steel, with 16 tines. The 60-inch handle is made of wood, and we like the extra-long length that makes it easier for taller folks to use.
A strong steel ferrule is used for the handle and head connection. The rake weighs 3.5 pounds and is sturdy enough for all your heavy-duty outside jobs. Ames Jackson has been making garden tools since the mid-1700s, so it knows how a rake should be made to keep their customers happy. Since this rake is pricey, it did not make the first two spots on our list. Besides the price, it is constructed well, and the length of the handle can reduce back strain.
Pros
Professional grade
Tempered-steel head
Wood handle
Extra-long handle
Steel ferrule connector
---
4.

ERGIESHOVEL Steel Shaft Bow Rake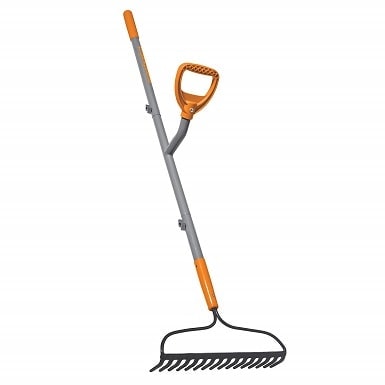 This bow rake has a unique feature that makes it more ergonomic and reduces stress on your back: It has an extra D-shaped handle in the middle of the main handle that will give you more control as you work.
The shaft is 55 inches in length and is made from steel for extra durability, as well as to keep it lightweight. There are 16 steel tines on the head portion, and the rake comes with a two-year product warranty. One popular feature is that the rake can disassemble into three pieces for easy and compact storage.
On the downside, the rake handle doesn't feel as sturdy compared to the others on our list, most likely because the handle is not one piece. But if you have back concerns, this design may work well for you.
Pros
D-handle
Disassemble for storage
Prevents back strain
Steel tines
Two-year warranty
---
5.

Truper 31374 Tru Forged Bow Rake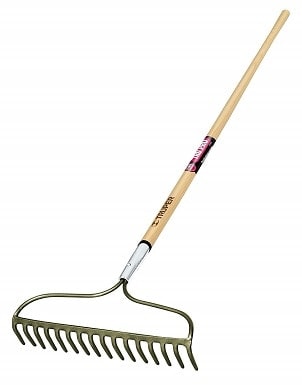 The Truper Tru Pro is an option for those who prefer a professional-grade rake. It has a 47-inch handle made from North American white ash, which gives it a nice balance of resistance and flexibility.
The steel tines are heavy duty and can break up compacted dirt with ease. This rake weighs 3.8 pounds, which many find to be lightweight when using. Truper has been in business for over 40 years and guarantees their products.
One negative aspect of the Tru Pro is that the tines are straight, and some may prefer the action of curved tines for landscaping work. Even if you aren't a professional contractor, you should find this rake to be durable and dependable.
Pros
Professional grade
White ash handle
Heavy-duty tines
Lightweight
Durable
---
6.

TABOR TOOLS J205A Bow Rake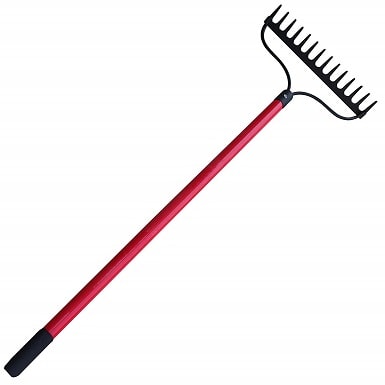 For light garden work, such as raking grass clippings and leaves, the Tabor Tools is a great option. The handle is made from fiberglass, so it is lightweight yet durable. There is an anti-slip vinyl sleeve on the end of the handle that makes it more comfortable to use. The handle is also lacquered to make it more weather-resistant.
The head has 14 steel tines that are forged to inhibit the teeth from breaking. We like the steel ferrule that connects the handle to the head to help prevent them from disconnecting. The handle itself is 54 inches in length, and the rake weighs 2.61 pounds.
Unfortunately, this rake is not ideal for heavy-duty work, such as moving gravel and other stones. But the company stands by its products and offers top-notch customer service.
Pros
Fiberglass handle
Lightweight
Lacquered handle
Forged tines
Steel ferrule
Cons
Not ideal for heavy-duty use
---
7.

WOLF-Garten 1647004 Bow Rake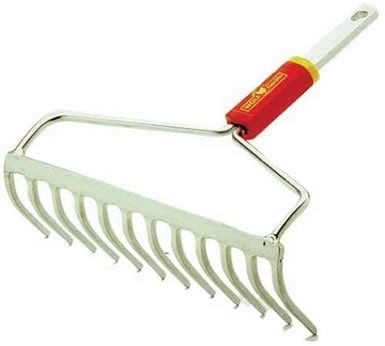 Last on our reviews list is the Wolf-Garten, which has a quality rake head. The downside with this product is that it does not come with a handle, so it is somewhat pricey because you are only purchasing the head. That said, there are many great features that are hard to resist.
It has a 13.8-inch steel head with curved tines that can rip through tough grass and compacted dirt or gravel. Once you purchase a handle, you can detach the pieces from each other for easier storage. The head has a flat top design that makes it useful to level gravel or dirt, and it weighs 1.8 pounds.
Though this does not come with a handle, one nice option is that you can purchase a handle that can potentially be switched out with different heads, which can save you money and space over time.
Pros
Steel head
Curved tines
Flat-top design
Lightweight
Durable
Flexibility to switch

Buyer's Guide – Choosing the Best Bow Rake
In this guide, we will discuss why the bow rake is different from other rakes and go over features to consider when deciding which one is the best for you and your situation.
The Bow Rake
The bow rake is also known as the garden rake because it is useful at pushing around and leveling soil and gravel. Its sharp tines can also pick up debris or dead turf. It is shaped differently than the leaf rake and can be used for heavy-duty projects. It has short, rigid tines that run parallel to each other and are forged from metal, so they are quite strong. The opposite side of the head is flat so you can level out soil or gravel. It is a useful tool for both the home gardener and professionals.
Features of a Bow Rake
Handle
There are a few different types of material to make rake handles. Each has its own advantages and disadvantages. There are some people who will only use one type, while others will try to find one that fits the job that needs to be accomplished.
Wood: This is the original material that rake handles have been made of since their inception. They have evolved over the years, of course. The type of wood used will make a difference in the quality and feel of the handle. Ash and hickory are both hardwoods that make a strong handle. Wood handles are easy to replace, are more flexible, and can absorb some of the shock of repeated raking. However, they will wear down in the elements and can crack and split in dry conditions or rot in damp conditions.
Fiberglass: These handles are made from fiberglass resin and reinforced with interior plugs for added durability. They are durable and not subject to break down in bad weather. But when they break, they are difficult to replace, and they don't absorb shock as well as their wooden counterparts. On the upside, they will be lighter than wood handles.
Aluminum: This is also a common handle material. These handles are lightweight (more so than fiberglass) and can be collapsible or taken apart. Unfortunately, they aren't as strong as wood or fiberglass and can bend easily if used for a job that is overly tough.
Steel: These types of handles will be the most durable but heavier. They can withstand the elements and will resist rusting, making them an ideal choice for people who forget to put their yard tools away.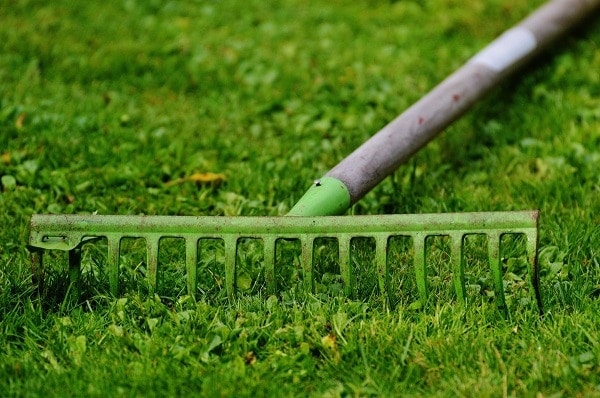 Tines
Most times will be made of steel and need to be strong enough to withstand moving rocks and other hard objects without breaking. A curve design is beneficial if you're moving large amounts of soil or soft debris, while a straight tine is great for rocks and gravel. A typical bow rake with have 16 to 18 tines on the head, which gives you decent coverage.
Head
Forging steel to form a head will provide the strongest option compared to stamped or hardened steel. Look for a head that is welded to the handle if you will be using it for heavy-duty jobs. If you cover it with a thin coat of oil during the winter months, the metal will last longer.
Considerations
Durability
As mentioned, the type of material will affect the durability of the rake. Other factors depend on the job at hand and how well you take care of the rake. It makes sense to buy a product that will last for many years so you don't have to waste money and time buying a new rake each season.
Cost
Not everyone has the same budget, but you can find a decent bow rake at an affordable price. Keep in mind that price is typically tied with quality, but with extra care and attention, you could spend less on a rake and it will last for many years.
Ease of Use
Consider your stature before you purchase a rake. You may want to get a long-handled version if you are tall, so you don't put an undue amount of strain on your back. Likewise, trying to handle a rake that is too long for you makes for a difficult and awkward job.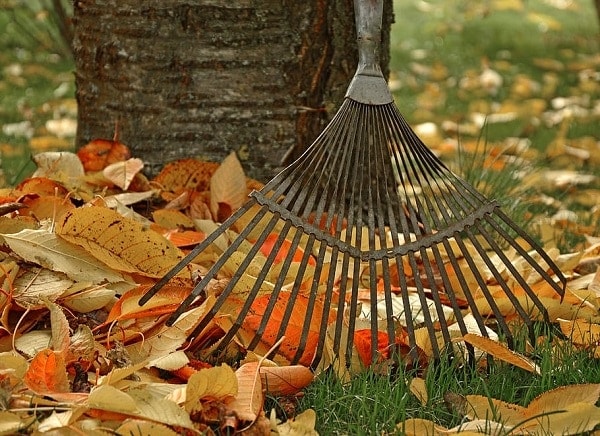 Warranty
If you are unsure whether a certain bow rake is right for you, a company that offers a warranty or satisfaction guarantee is a nice feature that can ease your fears. It's nice to have a warranty to fall back on if something breaks on your rake — just be sure that you know what the warranty covers before you buy, so there are no surprises if you do need to take advantage of it.

Conclusion
As you look for the best bow rake, keep the features that are important to you at the top of your priority list. This way, you can find one that will get the job done efficiently and quickly. Our reviews list highlights the top seven bow rakes to help you narrow your search.
Our top pick is the Bully Tools bow rake, with its fiberglass handle and 12-gauge head, built by an American company with high standards for quality products. The best value on our reviews list is the Ture Temper 14 tine bow rake, which has many great features such as tempered steel and a 48-inch handle for an affordable price. Ames Jackson holds the premium spot on our list because it has a steel ferrule for a strong handle and blade connection and an extra-long hardwood handle to reduce back strain.
We hope that our reviews list helps you find a bow rake that works well and lasts for many years of use. When you choose the right rake, your job will be easier and even fun!