6 Best Cabinet Table Saws in 2023 – Reviews & Buyer's Guide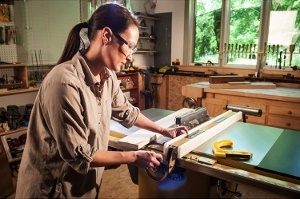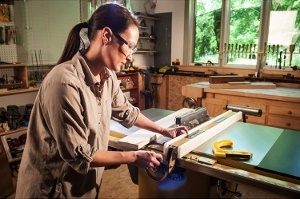 Choosing a cabinet table saw is a big decision. It's not that there are a million options; the problem is that the options are all quite similar. It can be hard to tell if you are getting a good value when comparing the different models. Luckily, we have put together some reviews on the top six cabinet table saws that we could find. We found some that are stronger when it comes to power, others will lead the way as far as pricing is concerned, and some stand out as safety all starts. Whatever it is that you want or need in a cabinet table saw should be on our list.
A Quick Comparison of Our Favorites (2023 Update)
Rating
Image
Product
Details

Best Overall

SawStop Cabinet Table Saw

Great dust collection
Runs smooth
High-end safety features
CHECK PRICE

Powermatic PM1000 Cabinet Table Saw

Good safety features
Hands-free power switch
60-degree miter gauge pivot
CHECK PRICE

Best Value

Grizzly G0690 Cabinet Table Saw

Good value for the power
High speeds
Sturdy table
CHECK PRICE

Jet 708674PK Deluxe Table Saw

Solid
stable construction
Powerful motor
Built-in storage
CHECK PRICE

Delta 5 HP Table Saw (Cabinet version)

Very powerful motor
Easy to adjust
CHECK PRICE
The 6 Best Cabinet Table Saws:
1.

SawStop Cabinet Table Saw – Best Overall
The SawStop Cabinet Table Saw is both our best overall pick and our premium choice, and when we say premium, we mean it. There are features that warrant the price increase; you will just have to decide if your wallet agrees.
The Sawstop comes standard with some very high-quality safety features. A spinning blade will stop on contact with the skin. Although this won't eliminate all injury, when the blade can stop faster than five milliseconds, you will very likely minimize the change of a life-threatening injury.
This saw runs smooth, is easy to adjust, and has an excellent dust collection system. The dust collection claims to be as high as 99 percent, certainly, some good numbers when it comes to both cleanup and visibility while cutting.
The control box on this saw features a reliable computer that runs checks and balances on the saw at all times. We love this feature, and we don't. Sometimes things can get too complicated and end up costing more money when it comes to simple fixes and issues. Overall, the SawStop is an incredible and capable 3 HP saw; it is just costly, and these advanced features have to make sense for you to spend twice the price as you would on another unit.
All in all, we think that this is the best cabinet table saw of the year.
Pros
Great dust collection
Runs smooth
High-end safety features
Cons
Expensive
Computer control board could be the source of long-term issues
---
2.

Powermatic PM1000 Cabinet Table Saw
The Powermatic PM1000 could have been our top choice for several reasons. For starters, this saw only requires 115V of power but is capable of 1.7 HP.
The Powermatic comes with a blade surround and a collection hose. The saw is easy to work with, does not leave a mess, and has excellent visibility. The blade is carefully protected with a sturdy but clear blade surround.
If you want or need to turn the saw off, there is a conveniently located power switch that you can use completely hands-free. As far as range of cuts are concerned, the miter gauge will pivot 60 degrees to either side.
We love that you can plug this saw in and get to work without having to get your shop rewired. Of course, all cabinet table saws are expensive, so we won't say this is a cheap model, but for the accuracy and the capability, this is our favorite cabinet table saw on the market.
Pros
Uses 120V power
Good safety features
Hands-free power switch
60-degree miter gauge pivot
Cons
A little underpowered for thick pieces of wood
---
3.

Grizzly G0690 Cabinet Table Saw – Best Value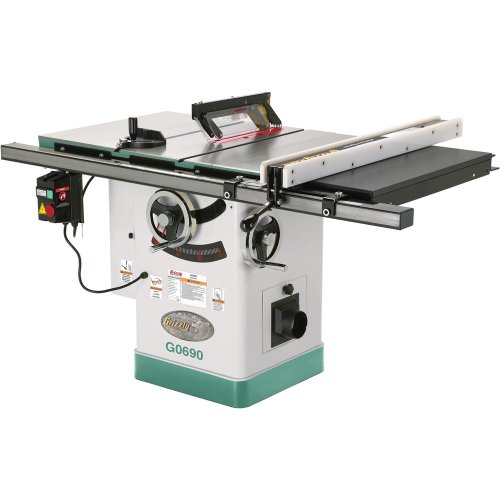 Before you get the wrong idea here, just because something is the best value does not always mean it is the cheapest. The Grizzly G0690 is a bit more expensive than our first option, the Powermatic, but this is a higher power saw. The Grizzly Cabinet Table saw has arbor speeds of up to 4300 RPM. This is a 220V hookup, so get about 3 HP on here as opposed to the 1.7 on the Powermatic.
Now that we know how powerful this saw is, how well does it cut?
We found the Grizzly to be accurate but not as smooth as the Powermatic. The table is large and sturdy, but it is a chore to put together. Indeed, that is not a long-term problem as you will likely not be moving this from room to room. The Grizzly does not have self-leveling feet, and that did create a little more work on our part to get it to level correctly.
For this size unit, with this power, the Grizzly G0690 is the best cabinet table saw for the money.
Pros
Good value for the power
High speeds
Sturdy table
Cons
No self-leveling
Difficult to put together
Not incredibly smooth
---
4.

Jet 708674PK Deluxe Table Saw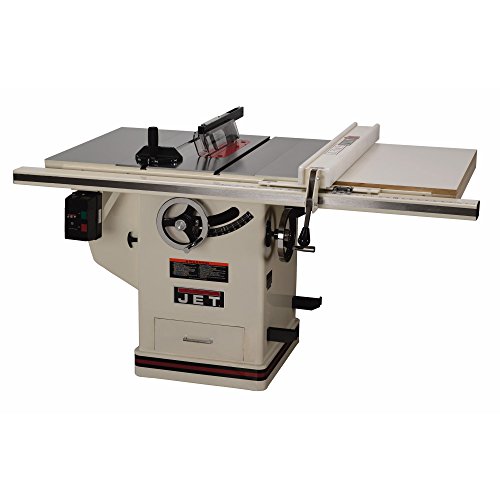 The Jet 708674PK got dropped to our fourth-place ranking, not because of what it does but because of what it doesn't do. What it doesn't do is "wow" its users. This is a heavy-duty, 3-HP stable saw priced a bit higher than the two other models that we have reviewed so far. The enclosed cabinet around this saw also has a built-in sealed storage drawer, and we found that to be a nice feature.
The Jet Deluxe Table Saw is a model that you will have for many years. The Poly-V drive belt system makes this a quiet and efficient table saw. Another feature we love is that by simply pressing a button, you can rapidly change the blade.
With two extension wings that can expand this table by 11 inches on either side, you will not be restricted in what you can accomplish with this saw. The Jet came in as the third saw on our list because we just don't feel as though it cuts better or smoother than the Powermatic.
Pros
Solid, stable construction
Powerful motor
Built-in storage
Cons
Doesn't cut any better than the Powermatic
---
5.

Delta 5 HP Table Saw (Cabinet Saw version)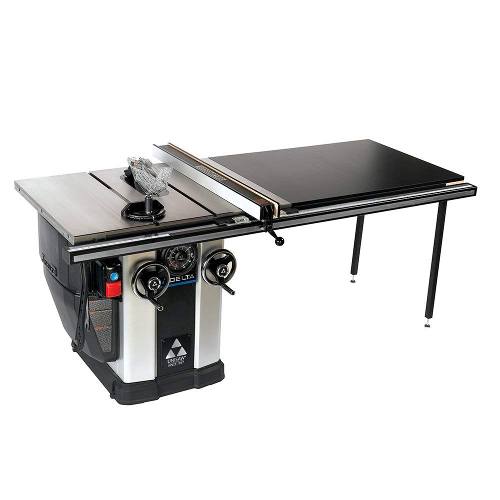 The best thing about the Delta 36-L552 is its motor. With 5 HP, it's the most powerful cabinet saw we looked at. There isn't a wood on this planet that it won't be able to cut through. There is a vast difference in capabilities between a 1.7 and a 5-HP model. The problem with such a powerful machine is that you pay for this power. The Delta is one of the more expensive saws we reviewed.
The adjustability on this saw is excellent, and you can easily change the blade height and blade bevel. The Delta saw has a large, easy to access on and off switch that you can activate from any angle. The safety features are not quite what they are on the Saw Stop, but there are some installed.
The problem that we have with the Delta is the inconsistency. This saw works really well for most people the problem is that there are lots of people that struggle with delivery, setup, and consistent functioning when it comes to this saw. For the initial investment involved, this thing should work well from day one and have some dependable customer service standing behind it; unfortunately, that is just not the case.
Pros
Very powerful motor
Easy to adjust
Cons
Pretty expensive
Poor customer service
---
6.

Baileigh Professional Cabinet-Style Table Saw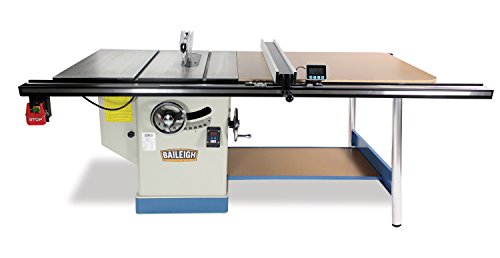 At the bottom of our list is the Baileigh TS-1248P-52 Professional Cabinet Style Table Saw. This is an enormous, hefty unit. The Baileigh is also a 5-HP saw, so you will have no problem cutting anything using this machine.
The Baileight Saw comes with a digital readout for the blade tilt angle, and that is a very nice option to have. Some users have had no issues with this saw and say that it is incredibly smooth. It is priced a little higher than some of our other choices, but for the 5-HP motor, that is understandable.
The problem we have with the Baileigh is lack of user review and time with this unit. It may move up on our list through the years, but currently, we just can't confidently say this saw will hold up over time. On something like a Jet or a Delta, we have a pretty good understanding as to what it will do in the years to come.
Pros
High power
Digital readout display
Cons
Pricey
Long-term durability issues
---
Buyer's Guide: Buy the Best Cabinet Table Saw
If you're buying a cabinet saw, you have some serious woodworking needs. These saws are designed for power and stability, not for the weekend warrior.
Based on that alone, they are not an investment to take lightly. These saws are expensive, with costs running to thousands of dollars. They are also built to last. Long after your cordless drill winds down and stops working, your cabinet saw will still work. Your cabinet saw could very well figure in prominently into your last will and testament. That's what kind of purchase you're embarking on.
We don't blame you for not wanting to make this decision lightly. We also don't blame you if you're more interested in learning how to make the right purchase decision than which model you should buy. So, we've put together some handy tips to help guide your purchase. We used them as a guide to review the models we looked at, and hope you find them useful, too.
Power
The primary job of a cabinet saw is to cut through thick, dense wood. You need two things to do this: a sharp blade and a powerful motor. The blades are bought separately, so your first consideration in buying a cabinet saw is how powerful it is. What's going to shape your needs is the kind of cutting you're going to do.
The general rule of thumb is that if your wood is two inches or less, you can get by with a motor between 1-2 HP. Anything above that will tax even a cabinet saw, and you'll want to get something with more muscle.
All but one of the saws we reviewed had motors of at least 3 HP in power. That's enough to cut really anything you can throw at it. If you want to cut wood three inches or bigger, you're going to want access to 240 volts of power, by the way. That's less a matter of which saw to buy and more one of making sure your workshop is built to support it.
Stability
Cabinet saws are not small tools. They weigh hundreds of pounds, and if you order one from an online retailer, it will arrive on multiple pallets. You should be aware of this going in. If you need a saw that you'll move around frequently, a cabinet saw probably isn't the best choice for you.
That weight is actually an important part of making a cabinet saw work properly. They are designed to stay in place so they can deliver accurate cuts with confidence. You don't necessarily want to look for the heaviest saw possible. You'll want to find one that distributes its weight well. A lighter cabinet saw that has proper footings and is equal weight throughout is going to be better than a super-heavy saw that you just plop down on the floor.
Accuracy
One advantage of such a heavy, stable saw is that it can be precise in how it cuts. Since it has a powerful motor that isn't taxed too badly by dense, thick wood, its cuts should also be predictable. When you go lighter and more portable, you are trading some accuracy for it. Bigger, heavier, and immobile means more accurate.
Beyond that, look for saws with features that reduce vibrations. The Powermatic PM1000 has a poly-v belt that reduces vibrations. Vibrations reduce accuracy and add wear and tear to the tool itself. Reduced vibrations also mean quieter operation, which is always a plus when working with saws.
You are already paying for infrastructure to support accurate cuts. You should definitely look for a saw that's going to deliver it. If it's a matter of a few dollars difference, keep in mind that you're already willing to invest at least $1,000. Going a little deeper for more precise cuts is a good investment.
Safety
Table saws are inherently less safe because operating them means putting your hands close to sharp, spinning blades. There are techniques and little extra tools that users have adopted over the years to reduce accidents, but saw manufacturers have also responded by making safety a primary concern.
Being able to cut power off quickly is the first thing. If something goes haywire in your shop, cutting power is always the first thing you'll want to do. Look for a cabinet saw that has a readily available kill switch. The PM1000 has a conveniently placed no-hands power off switch as an example.
One of the reasons we gave our top pick to the SawStop PCS31230TGP252 is because of its automatic turn-off feature in case of injury. This saw's price is higher than other models, but it's also like buying some additional insurance to help protect you from serious injury.
Dust collection
The more you use your saw, the more waste you create. Cabinet saws are designed to be rugged enough for constant, daily use, so the potential for massive amounts of sawdust is pretty high. That dust can make it harder for you to see what you're working on. It's also a health hazard, especially in an enclosed place like a workshop.
Most saws these days come with dust removal systems. This includes both stable table saws and portable miter saws. The trouble is that for some of these tools, dust collection is almost an afterthought, something added because the manufacturers realized that in marketing their products, they have to make it look like they've done something. This sometimes results in dust collection systems that don't work very well. Bags fill quickly or don't fit very well over collection points.
Dust collection isn't a primary reason to pick one model over another, but it is the sort of extra that separates the merely good from the great. In addition to its safety features, we really liked the SawStop's dust collection. Regardless, if you plan to use your cabinet saw frequently, you'll want a dust collection port at least four inches in size. Also, plan to get an industrial-sized shop vac. That's not a factor in buying a saw, mind you, but if you're looking for tips in buying one, that should also mean accessories you need to purchase to complement it.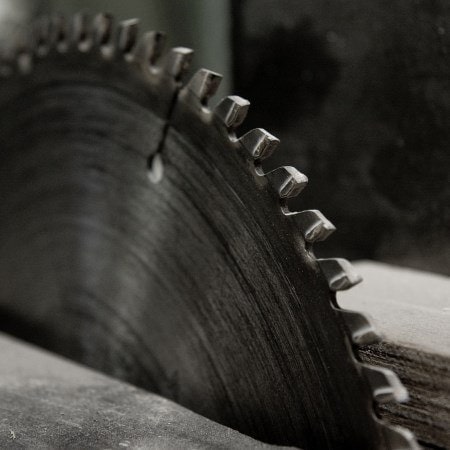 Blades
Unless you buy a cut-rate saw from a shady manufacturer, every saw you purchase will come with its own blade. Most of them, however, are not really the blades you will want to do your work with. They're not very well manufactured, and the intention is that you'll buy your own blades depending on what kind of work you have for your saw.
When it comes to your cabinet saw, look for saws to accommodate the right blades for your work. If you have large pieces of wood, you'll want a saw that can hold the right size of blades. Part of that is how quickly and effortlessly you can swap out blades.
This doesn't necessarily have much direct influence on what saw you buy. It might be a dealbreaker between two comparable saws. Like the shop vac and making sure your workshop has the right access to power, it's part of your buying choice because it's something that you'll want to support such a big investment.
Size
You aren't just buying a saw, you are committing to a saw. That is, the space the saw you buy takes up will be occupied for decades even if you move it around your workshop from time to time. Remember, this thing is going to arrive on pallets, plural. Before you enter into this relationship, you'll want to know how much of your shop it's going to take up. Make sure that the saw you buy doesn't take up more real estate than you can allow it to.
Price
Buying a cabinet saw is kind of like buying an expensive bottle of wine. If you have to ask the price, you can't afford it. It's not a matter of how affordable a cabinet saw you buy, but how to maximize the investment of a whole lot of your dollars. We gave the Grizzly G0690 our best for the dollar not because it's a budget model, but because it delivers optimum performance for the dollars.
That might be fine for you, or you could choose to spend additional money to get additional features.
Conclusion
It was the little extras that put the SawStop over the rest of the competition. It has great safety features and dust collection and is as accurate as you'd want it to be. It wasn't as accurate as the Powermatic, which can operate on wall current but might be a little underpowered for hard, thick wood. The Grizzly is a great value for beginners if you can get it put together. That was also a flaw with the Jet. We hated Delta's customer service, and for what the company asks for this saw, the people who buy it deserve better.
We hope our reviews gave you some good insights into what goes into the best cabinet table saws. They're a big investment in money and space, and you need to move carefully towards the one you want. We wish you the best of luck in buying yours.