Grizzly G1023RL Cabinet Table Saw Review 2023 – Pros, Cons, & Verdict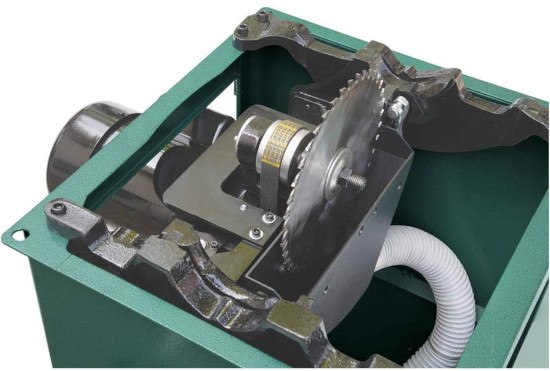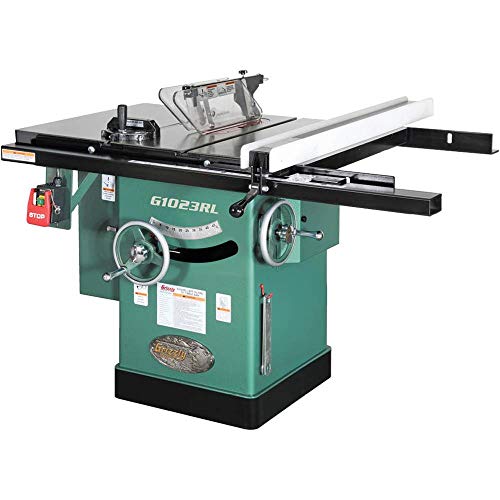 We give the Grizzly G1023RL Cabinet Table Saw a rating of 4.5 out of 5 stars. 
Build Quality: 4.5/5
Power: 4.3/5
Features: 4.5/5
Price: 4.5/5
Review Summary
The Grizzly G1023RL Cabinet Table Saw appeals to anyone operating a small to medium-sized woodshop. It features a 3-HP motor capable of producing 3450 RPMs, a cast-iron table polished to a mirror finish, and two extension wings. It also has T-slots for miter gauges and can accept blades up to 13/16-inch. The table can also tilt, and it has a built-in 4-inch dust port.
The Grizzly brand is a well-known brand among woodworkers. Grizzly creates reliable and durable tools for the professional and serious hobbyist.
Grizzly G1023RL Cabinet Table Saw – A Quick Look
Specifications
Motor: 3HP/240V/14A
Arbor Speed: 3450 RPM
Maximum Table Size: 40″ x 27″
Arbor Size: 5/8″
Maximum Dado width: 13/16″
Maximum depth of cut: 3″
Dust port: 4″
Product Dimensions: 29.5″ x 30″ x 39.5″
Item Weight: 432lbs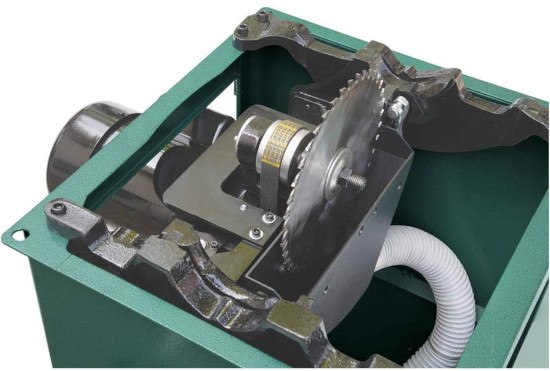 G1023RL Pros
3450 RPM
Cast-iron table
Two extension wings
T-slots
Table tilt
Dust port
G1023RL Cons
Fence isn't the best
Gets hot
High RPMs
The saw on the Grizzly G1023RL Cabinet Table Saw rotates at a speed of 3450 RPM. This high speed enables the blade to cut through most woods as fast as you can feed it in. The high speed also reduces chipping and produces a smoother, cleaner edge.
Cast-Iron Table
The cast-iron table has a mirror finish and is durable enough to last a lifetime. It's sturdy, easy to clean, and can tilt to help you get the perfect angle for your cuts.
Sealed Ball-Bearing Construction
The sealed ball-bearing construction keeps dust and other contaminants away from the vital internal components responsible for the high RPMs. This closed design eliminates the need for lubrication, and it also prevents lubrication from leaking out.
Power
If there is one area where this saw is slightly lacking, it's in the engine. Three horsepower creates very high RPM and can cut most woods easily, but after extended use, it tends to get hot and can overheat.
Price
Cabinet table saws aren't cheap, at least not the ones worth owning. But this saw delivers great bang for the buck. A 3-HP engine is plenty for most hobby projects but moving up from that comes with a big jump in price. Given how universally happy G1023RL users are with their saws, the cost is worth every penny.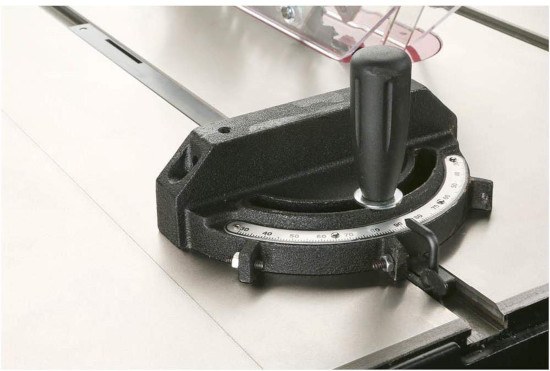 FAQ
How is the dust collection?
You will need to connect the dust port to a dust collector with adequate airflow to reduce dust significantly if you intend to cut large amounts of wood at a time. Some dust is still sent into the air from the blade, even with the guard installed.
What kind of warranty comes with the Grizzly G1023RL Cabinet Table Saw?
The Grizzly G1023RL Cabinet Table Saw comes with a one-year warranty.
Does this saw come with the top to mount the router?
No, but Grizzly does sell a table router extension.
What is the overall length of the machine fully assembled?
With the rails, it's five feet wide, and the rails extend one foot from the saw.
Can you use a Dado blade?
Yes, a Dado plate insert comes with the table.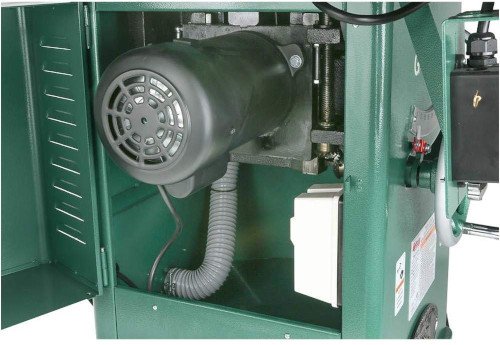 What the Users Say
We searched the internet looking for any reviews we could find concerning the Grizzly G1023RL Cabinet Table Saw, so see what people have to say about it. Here's a list of some of the most common things people say.
Most people highly recommend the Grizzly Industrial G1023RL
Most people are amazed by how well it cuts
Most people say it operates quietly
Most people say it's very sturdy
Most people didn't have any trouble cutting with the three-horsepower motor
Some people felt the dust collection wasn't great
Some people commented that the blade shroud does an excellent job of collecting and removing the dust
Some people complained about missing or warped parts
Some people liked the fencing and thought it lined up nicely, and some did not
Some people warned that if the saw overheats and shuts down, it may restart without warning
A few people complained the extensions did not fit correctly due to warping
A few people wish the switch position was more forward
Conclusion
While users often say contradictory things, almost everyone agrees that the Grizzly Industrial G1023RL is a valuable tool for any workshop. Cutting wood is its primary job, and you won't find any negative reviews about its ability to excel in this area. The high RPMs cut through even hardwoods without the slightest struggle. The table is durable and sturdy, and it features a dust collection port. You can also tilt it for angled cuts.
We hope you have enjoyed reading over this in-depth look at the Grizzly Industrial G1023RL. If you have learned something new about this versatile tool, please share this Grizzly Industrial G1023RL review on Facebook and Twitter.