Grizzly G0690 Cabinet Table Saw Review 2023 – Pros, Cons, & Verdict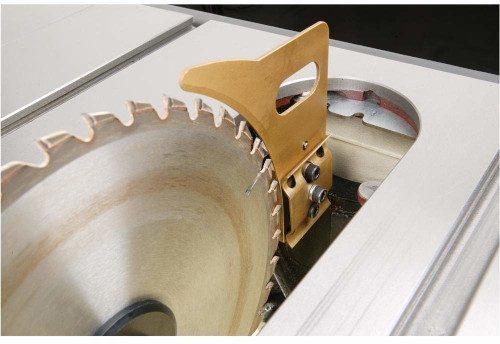 We give the Grizzly G0690 Cabinet Table Saw a rating of 4.6 out of 5 stars. 
Build Quality: 5/5
Power: 5/5
Features: 4.5/5
Price: 3.8/5
Review Summary
The G0690 Cabinet Table Saw from Grizzly is a grizzly of a table saw. It's a powerful monster that can make short work of any piece of wood, delivering perfectly-straight cuts with a smoothness and precision that few instruments ever possess.
This saw is packed with important features and tools to open up possibilities and provide you with the ultimate convenience. For instance, there's a riving knife built-in for your safety and it's equipped with a quick-release for easy removal. You also get an extremely accurate T-square fence system with an elongated table that allows for a 29.5-inch rip capacity from the right.
Equipped with a 3-horsepower motor that turns the blade at 4,300 RPMs, this powerful saw relies on 220V electricity to keep things spinning. There's a 4-inch dust port to keep the mess down, standard and dado table inserts, and a heavy-duty T-slot miter gauge.
The solid build quality is impressive. It's built like a tank – a nearly 500-pound behemoth that you won't be able to move on your own. It also takes an experienced woodworker to set this up properly, too. If you don't know what you're doing, it could be an exercise in futility.
Once properly setup, the G0690 is about as accurate and powerful of a saw as we can imagine.
Grizzly G0690 Cabinet Table Saw – A Quick Look
Specifications
Motor: 3HP
Power supply: 220v
Arbor Speed: 4300 RPM
Arbor Size: 5/8″
Max depth of cut @ 90 degrees: 3⅛"
Max depth of cut @ 45 degrees: 2⅛"
Max rip capacity: 29½" Right, 12" Left
Maximum Dado width: 13/16″
Maximum depth of cut: 3″
Product Dimensions: 40″ x 41″ x 62″
Item Weight: 462lbs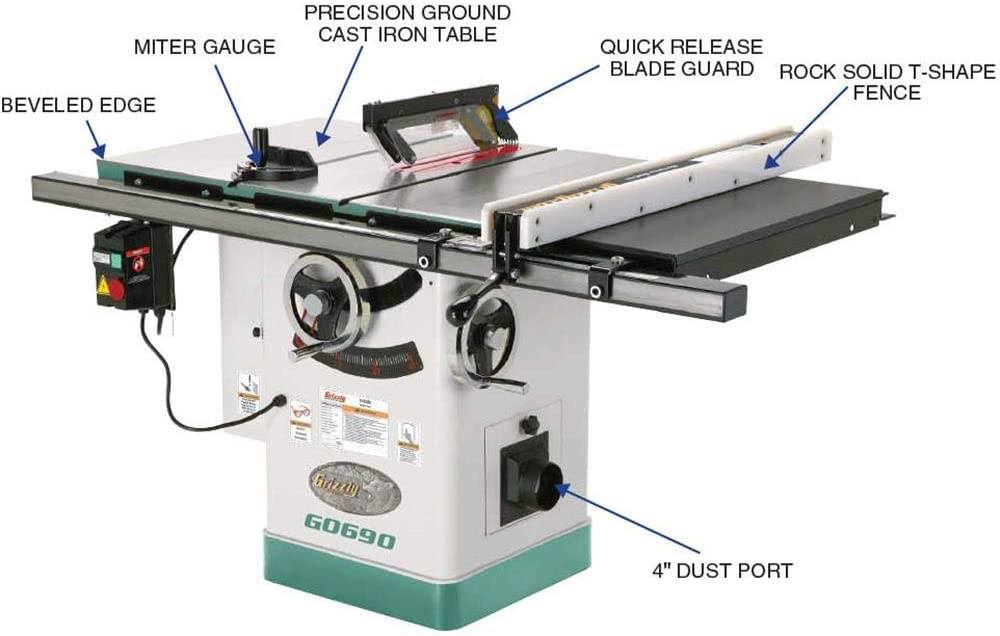 G0690 Pros
Requires very little adjustment once set up
Extremely accurate and reliable
3-HP motor delivers plenty of cutting power
The elongated table allows for an extended rip capacity
Built-in safety features like spreader guard and riving knife
Smooth sliding T-square fence
G0690 Cons
Weighs nearly 500 pounds
Very difficult to set up properly
Expensive
You'll want a better blade than the one it comes with
Unrivaled Build Quality
Good tools just feel solid and robust, and this saw feels that and more. Everything is built to extremely tight tolerances. Every piece lines up perfectly, nothing rattles. When you put your hands on this saw, you can feel that it's practically unshakable. Push if you'd like, but you'll get no flex or movement from this beast.
Many table saws will have some degree of movement when pushing large pieces of wood through them. But the Grizzly G0690 has zero deflection. It doesn't move a millimeter, even when pushing through large sheets of thick, heavy wood.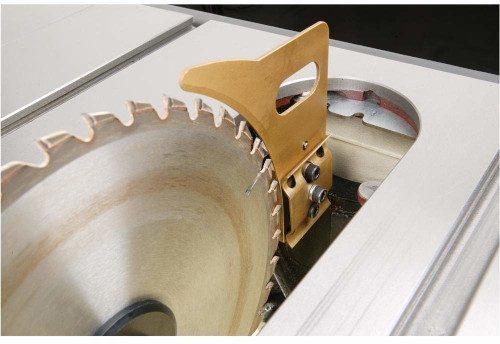 The fence is locked in place tightly by a cam-lever lock. It allows for simple one-handed operation while still being sturdy enough to withstand any pushing forces from your wood. We never had it slip or move on us, and when you lock it in place, the fence never migrates. Where you lock it is where it stays. When running multiple cuts through quickly, you never have to worry about your measurement changing. Each piece will come out precisely the same as the previous cut.
Elongated Cutting Table
The most noticeable limitation of most table saws comes down to their rip capacity. A table saw is only good for making straight cuts, but if you can't make a cut wide enough, then you'll need a different tool.
Luckily, this Grizzly saw has an elongated cutting table that leaves plenty of room for oversized rips. You get a 29.5-inch rip capacity, so you can make very wide rips in seconds with minimal adjustments. This really opens up the doors to many possibilities, expanding what the usefulness of the table saw and allowing you to make cuts that you'd normally need a circular saw for, which can't make the same straight and beautiful cuts that a table saw will.
3 Horsepower, 220V Motor
If you've ever felt a table saw blade starting to bog down as you attempt to push a piece of lumber through, then you know how important it is to have a powerful motor spinning the blade. With a maximum cut depth of over three inches, this saw needs a lot of power to keep that blade turning.
Thankfully, with three-horsepower packed into it, this motor makes short work of even the thickest wood that the saw can fit. When cutting the thickest lumber we had, this saw never even slowed down. We never heard a single noise of complaint no matter what we cut with it.
Of course, all that power requires a lot of electricity, so this saw is powered by a 220V circuit. If you don't already have a 220V circuit in your workshop, this could be a problem. But you'll need the extra power to keep this massive motor turning, ensuring that it cuts through every piece of wood like a hot knife through butter.
Advanced Assembly and Setup
Once you get this saw fully assembled and adjusted, you won't need to think about making any adjustments again. It will stay aligned and continue to give you predictably accurate and precise cuts time and time again. However, getting it to that state is a different story.
If you haven't spent years working with table saws to understand the ins and outs of how they work, you may have a hard time getting this saw functioning at 100%. It's not that it's particularly difficult, it's just very tedious, skilled, and time-consuming. If you don't know what you're doing, it's going to be a major undertaking.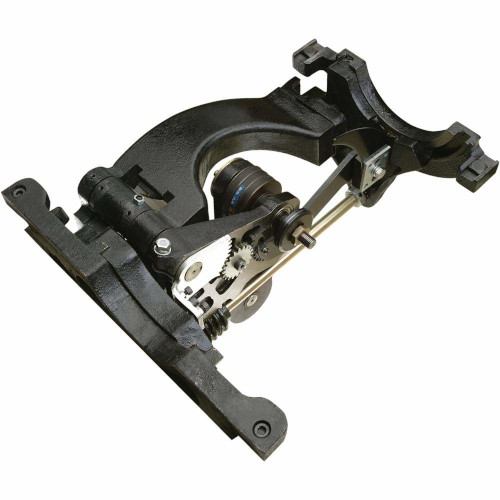 FAQ
What amperage circuit does this saw require?
To power this saw, you'll need a 220V/240V single-phase 20-amp circuit.
What does "cabinet" refer to?
A cabinet table saw has an entirely closed base that's like a cabinet. Standard contractor-grade table saws generally have open bases so they're lighter and more portable but less solid and robust, able to perform a variety of functions. Cabinet table saws are made robust, powerful, and extremely accurate to meet the needs of the professional woodworker.
What are the dimensions of the cabinet base?
20" X 20"
Does the base of the cabinet have levelers to compensate for an uneven floor?
No, but the floor won't affect your cuts if it's not level. The table of the saw is straight and flat, making it level to itself. If the saw is set up properly, it will cut straight and true no matter how level the floor beneath is.
What the Users Say
You've had a chance to see our thoughts on this saw, but we thought it might be helpful to know what other users of it thought as well. To that end, we scoured the internet, searching reviews, forums, FAQs, and more to find other users' opinions of the Grizzly G0690.
Pleased with the Construction
Most users seem very pleased with the robust quality of this saw. Many of them commented that their expectations were exceeded and they were very happy with their purchase. It seems that when upgrading from other reputable table saws, most people noticed an immediate difference in build quality that equated to more precise cuts.
Short Power Cord
One complaint we saw several times was the short power cord. It's just six feet, and since it uses so much power, extension cords aren't a great bet. Some users had replaced the cord on their own with a longer one.
Initial Set-up is Difficult
The common consensus seemed to be that the initial setup and adjustment of this saw takes many hours, several days for most people. However, once set up, most users reported no need for continued adjustments, stating that it made repeatable cuts with excellent precision.
Conclusion
In the end, the Grizzly G0690 is a very robust and solid saw that's built to meet the needs of professional woodworkers. It has useful features like an elongated table that allows for a 29.5-inch rip capacity and a smooth-sliding cam-lock fence. You'll have fun getting it set up, but once it's adjusted, you can count on this saw to make accurate and repeatable cuts for many years.