If you're like us, then you love a clean car. But what's the point of cleaning only part of your car? You'd be surprised by how many people don't properly clean their wheels and tires. It's like getting all dressed up for a black-tie event only to throw on a pair of grimy, old work boots with your tuxedo.
And we get it. Cleaning your tires and wheels seems like a moot point. After all, they're the ones literally putting rubber to the road and flinging up all that dirt and dust. But still, there's just something about shiny wheels and clean black tires that really revs our engines.
Unfortunately, the cost of having your tires cleaned on a regular basis can start to add up fast. That's why we'd just prefer to take care of them at home. It doesn't take too much time, and with the proper cleaning solution, you'll be able to achieve professional results. So, what's the best car wheel cleaner?
Check out our reviews for the 10 best car wheel cleaners you can get today.
A Quick Comparison of Our Favorites
Rating
Image
Product
Details

Best Overall

CarGuys Wheel and Tire Cleaner

Works on any type of wheel
Great for all tires including whitewalls
Environment friendly
CHECK PRICE

Best Value

Mothers Foaming Wheel & Tire Cleaner

Affordable
Works great on factory wheels
Has a melt-away factor
CHECK PRICE

Premium Choice

Sonax Wheel Cleaner

Deep cleaner
Color changing technology
Safe for use on all wheels
CHECK PRICE

Adam's DWC-16 Wheel Cleaner

Extremely powerful solution
Color changing technology
Eco-friendly
CHECK PRICE

TriNova Wheel Cleaner

Acid-free
Decent cleaning power
Great bottle
CHECK PRICE
The 10 Best Car Wheel Cleaners – Reviews 2021
1.

CarGuys Wheel and Tire Cleaner – Best Overall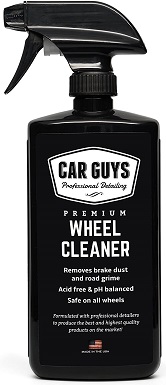 When it comes to keeping our wheels clean, we turn to CarGuys Wheel and Tire Cleaner. This is one of the absolute best car cleaning products we've seen! From its scrubbing power, you'd never guess that this product is completely environmentally friendly. It's non-toxic, acid-free, and pH balanced.
But that's just one advantage this solution has. It's also safe on every single tire and wheel out there. Alloy? Check. Chrome? Check. Plasti Dip? You bet. If you can put it on your vehicle, CarGuys can clean it.
And it works great for your tires as well! It brings out the best in your car's sneakers. But what if you have whitewalls? Then you definitely need to give CarGuys a try. It's gentle on white-walled tires while being tough on stains from brake dust or road grime.
There's only one thing we wish this cleaner did a little better, and that's its melt-away power. You still have to put in a bit of elbow grease to get maximum results. Other than that, this is a top-notch cleaner that every car owner should have in their garage.
Pros
Made in the USA
Works on any type of wheel
Great for all tires including whitewalls
Environment friendly
Non-toxic and acid-free
Cons
Needs more melt-away power
---
2.

Mothers Foaming Wheel & Tire Cleaner – Best Value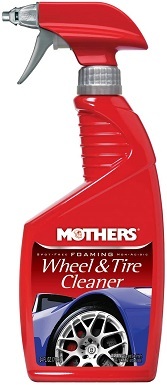 If you're on a budget and looking for the best car wheel cleaner for the money, look no further than Mothers Foaming Wheel and Tire Cleaner. Mothers is a household name among car enthusiasts, and for good reason.
This foaming spray has that melt-away power we love seeing in these types of cleaners. It really cuts through all sorts of grease, dirt, and brake dust to leave your wheels bright and shiny. And it works great on both black and whitewall tires.
However, you do need to be careful when using this product. This is for use on factory or OEM coated hubcaps and wheels only. Don't use this product on billet, polished or roughcast aluminum, or anodized wheels. Another surface you want to avoid is matte-finished rims. Matte finish is normally susceptible to stronger cleaners, and you don't want to risk it. Also, you want to avoid using this on your motorcycle as well.
But for the price, Mothers Foaming Wheel & Tire Cleaner can't be beaten.
Pros
Affordable
Works great on factory wheels
Has a melt-away factor
Cons
Cannot be used on matte finish
Cannot be used on roughcast or polished aluminum
---
3.

Sonax Wheel Cleaner – Premium Choice

If you're looking to treat your car to a special detail, you'll want to try our premium choice wheel cleaner. Sonax Wheel Cleaner is top-notch.
Like our overall pick, Sonax is safe for use on types of wheels. It's acid-free, pH balanced, and won't damage your wheels or finish. However, it isn't non-toxic. But it works great on all stock or aftermarket wheels. Use it on everything from chrome to plastic rim covers.
One of our favorites things about this cleaner is its special color-changing formula. When you first spray the cleaner on your wheels, it will be a bright fluorescent yellow. But after mixing with ferrous materials and other dirt and grime, the spray turns into a deep purple-red. This is how you know it's working to dissolve that unwanted filth. After its color change, let it sit for a couple of minutes and blast it off with a hose. Sonax recommends using a higher pressure water hose for best results.
Sonax truly is the deep-clean option, but it comes at a price. This stuff can become costly for regular cleanings. And it's not a miracle worker. If you haven't cleaned your wheels in a long time, you'll want to get them professionally detailed before starting your own cleaning schedule.
Pros
Deep cleaner
Color changing technology
Safe for use on all wheels
Cons
Expensive
Not a miracle worker
---
4.

Adam's DWC-16 Wheel Cleaner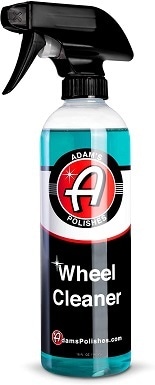 Another great choice to use on your wheels is Adam's DWC-16 Wheel Cleaner. This formula is acid-free and pH neutral, making it eco-friendly. But it's not non-toxic, so keep it out of reach of small children and pets.
Like the Sonax, Adam's utilizes color-changing technology to let you know that it's working. The cleaner sprays on clear, but turns a dark purple when breaking down tough grime and dirt. And this stuff works wonders. There's no doubt about its cleaning power.
However, you might want to be careful when using it. The spray itself can be rather noxious. We recommend wearing a mask when applying it. And while the company says it great for use on all types of wheels, the strength of this stuff can eat through certain finishes. You should always perform a spot test before coating your entire wheel.
Lastly, its immense cleaning power comes at a big price. It's definitely more expensive than most other cleaners. But if you're looking for something truly powerful, Adam's might be the best product for you.
Pros
Extremely powerful solution
Color changing technology
Eco-friendly
Cons
Noxious
Can eat through certain finishes
Expensive
---
5.

TriNova Wheel Cleaner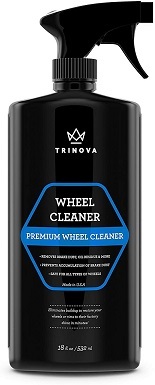 TriNova Wheel Cleaner is another decent choice for spiffing up your wheels. There's actually quite a bit of hype behind this product. And while we aren't buying into it fully, we're not denying that it works.
This solution is another acid-free product, meaning it's safe to use on most wheel and tire types. You can even use it on painted rims as long they've been clear-coated. TriNova works like many other products. It's a spray-and-sit cleaner, meaning you just spray it on and let it work its magic for a few minutes before rinsing it off.
This is where it falls a little flat. There are TriNova fans out there who swear that this is all that's needed. However, in all reality, you're going to need to apply some elbow grease. Again, that's not to say that cleaner doesn't work. It really does, but it's not a miracle solution.
We also want to mention the bottle itself. It's got an extra-long suction tube to make sure you get every last drop — which is very important considering the price.
Pros
Acid-free
Decent cleaning power
Great bottle
Cons
Pricier than some other cleaners
Doesn't live up to the hype
---
6.

Chemical Guys Wheel Cleaner
Chemical Guys Wheel Cleaner is a unique entry on this list. It's a citrus-based cleaner, using the power of citric acid to break down dirt and grime. And although it's not acid-free, it's still safe to use on just about any wheel surface.
Unlike other cleaning solutions, Chemical Guys doesn't advertise itself as a strictly melt-away dirt product. They actually say that you need to scrub and agitate the cleaner. That kind of honesty is nice to see from a company.
The instructions on this cleaner say you can dilute this product with water at an 8:1 ratio for light work. We don't think that this is because the solution is super strong, but more so that you don't waste full strength product on surfaces that don't really need it. Again, great transparency on the part of Chemical Guys.
It's not the most powerful cleaning solution on this list, but it's a good cleaner that'll get the job done if you're willing to put the work in.
Pros
Transparent and honest instructions
Decent cleaning power
Cons
Not as powerful as other cleaners
Not acid-free
---
7.

Carfidant Ultimate Wheel Cleaner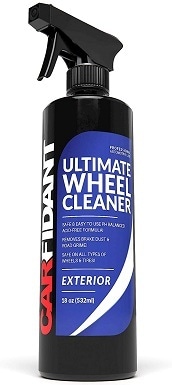 Carfidant is the most environmentally friendly option on our list. It's acid-free and pH neutral without any dyes or scents. As a matter of fact, it's even easier on your skin and hands than other cleaners! However, we still recommend using gloves when handling any cleaning agent.
And it's also 100% safe for all types of wheels and tires, so there's really no need to worry.
This is another solution where you'll need to spray it onto your tires and let it sit for a few minutes. Then after rinsing off, your wheels should be bright and clean. However, as we've seen before, this isn't always the case. In actuality, you're going to need to get down and scrub for the best results. And if your dirt is really caked on, it's going to require more elbow grease than other cleaners.
We could see this premium off-the-shelf option in a big box store. However, it just doesn't have the cleaning power that some of our other options offer.
Pros
Extremely environmentally friendly
Gentle on skin
Cons
Mediocre cleaning abilities
Still needs good scrubbing to work
---
8.

Meguiar's All Wheel Cleaner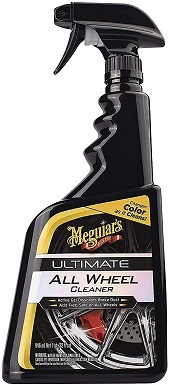 Meguiar's is a household name when it comes to car cleaning and care. It's affordable, easy to find, and it works well. This cleaner is actually a gel solution that clings to wheels better than most, allowing for more contact with the dirt and grime.
This is another color-changing solution that eats through brake dust, although it's not quite as tough as others. The solution seems to be a bit more diluted than brands such as Sonax or Adam's. This is also primarily a wheel cleaner. It will attack some dirt and road grime on tires, but you'll want to invest in something else if you're really trying to bring out the shine on your rubber.
All-in-all, though, this is a very good choice and can be found this at most auto parts or big box stores for a good price.
Pros
Affordable
Easy to find
Good for light work
Cons
Not the best for deep cleaning
Not good for tires
---
9.

Griot's Garage Heavy-Duty Wheel Cleaner

Griot's is another one of those wheel cleaning solutions that has a big hype behind it. And just like the others, this one doesn't really live up to it. Don't get us wrong, the solution does clean — but it's nothing to write home about.
That being said, the solution is caustic-free, non-acidic, and pH balanced. It's a bit more environmentally friendly than some other options and safe for all wheel types. Griot's is also another color-changing solution that turns purple when eating through brake dust. You will need to agitate the cleaner and scrub for best results.
It also primarily designed for wheels. You'll need to pick up another product to get the most out of your tires. The bottle itself also has pros and cons. We love that it's refillable, but the sprayer nozzle seems cheap and flimsy. And for what you've got to pay for this, we recommend choosing something a little higher up on this list.
Pros
Color-changing formula
Environmentally friendly
Cons
Cheap bottle construction
Expensive
Not good on tires
Doesn't live up to its reputation
---
10.

Black Magic No Scrub Wheel Cleaner

Black Magic No Scrub Wheel Cleaner touts itself as a powerful spray and rinse solution for your wheels. However, that's definitely not the case. You're really going to have to get down and scrub hard for this cleaner to make your wheels shine. Granted, it's safe enough to work on any wheel, but that's probably due to its lack of cleaning power.
And if you're thinking about using this on your tires, just keep on moving.
This product is best used as a quick clean and maintenance solution. If you deep clean your wheels semi-regularly, you can use this between cleanings to help maintain their shine. And the cheap price of this solution will allow you to go through bottles of it without breaking the bank.
Cons
Weak cleaning agent
Isn't "no-scrub" as advertised
Requires heavy scrubbing
---
Conclusion
Taking care of your vehicle is a great point of pride for any car enthusiast. That includes making sure that your wheels and tires keep the shine they were meant to have. But that's hard to do without racking up a huge professional detailing bill. So, it's important to find the best affordable option to take care of your car's wheels at home.
Our best overall solution, CarGuys Wheel and Tire Cleaner, gives you just that. It's a great quality solution that not only takes care of your wheels, but your tires too. And if you're looking to get the best bang for your buck, grab our budget-friendly option, Mothers Foaming Wheel and Tire Cleaner.
When it comes to choosing the best wheel cleaning formula for you, be wary of buying into the hype. There's a lot of it to go around, and most of the cleaners don't live up to their reputations.
We hope that this guide has helped you to cut through the griminess of selecting the best car wheel cleaner. These reviews should provide you with a great place to start searching for your particular wheel and tire needs, whether that's deep-cleaning, budget care, or between maintenance jobs.
---
Featured image credit: Black Magic BM41023 No No Scrub Wheel Cleane, Amazon

Pete has been working in the trades since high school, where he first developed a passion for woodworking. Over the years, he has developed a keen interest in a wide variety of DIY projects around the home. Fascinated by all sort of tools, Pete loves reading and writing about all the latest gadgets and accessories that hit the market. His other interests include astronomy, hiking, and fishing.
As the founder of House Grail, David's primary goal is to help consumers make educated decisions about DIY projects at home, in the garage, and in the garden.