10 Best Cheap Water Filters of 2023 – Reviews & Top Picks
Clean drinking water is a human necessity. When disasters happen, safe drinking water can become very difficult to find, demonstrating the importance of alternative water filtration methods. Even when there is no emergency, water filters remove impurities and contaminants from our water that are detrimental to our health.
These days, we have a lot of options when it comes to water filters. From portable filters that fit in your pocket to under-sink systems that are permanent installations, there's a water filter to fit every circumstance. We've spent a lot of time and energy testing several filters of every type to find the best of each. Now, we will share what we learned with you so that you don't have to go through the same hassle.
The following 10 reviews compare the best filters of each type. The first six are all class-leading filters that we highly recommend. You just have to decide which filter fits you best.
---
A Quick Comparison of Our Favorites in 2023
Rating
Image
Product
Details

Best Under-Sink Filter

Frizzlife Under Sink

Filters down to 0.1 microns
2 GPM flow rate
Easy to install
CHECK PRICE

Best Water Filter Pitcher

ZeroWater ZP-010

Five stages of filtration
Removes 99.6% of TDS
Includes TDS meter built-into lid
CHECK PRICE

Best Countertop Filter

APEX MR-1050

Easy to install
Five stages of filtration
Adds healthy minerals to your water
CHECK PRICE

Best for Large Capacity

Aquaboon AB-WH20BB

Durable and resistant to chemicals
Fits standard 20" cartridges
Includes pressure gauges
CHECK PRICE

Best Faucet Attachment

Brita 42201

Very quick and easy to install
Removes lead
Very easy to find replacement
CHECK PRICE
The 10 Best Cheap Water Filters
1.

Frizzlife Under Sink Water Filter System – Best Under-Sink Filter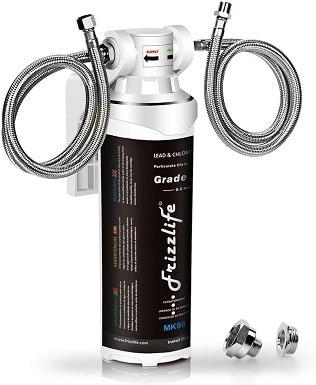 A good under-sink water filter provides you with endless quantities of clean and pure drinking water right from your kitchen tap, and the Frizzlife is one of the best. It's very easy to install but doesn't include the compression fittings that would have made it even easier.
Many filters only remove a few contaminants from your water and focus more on improving the taste than the quality. But the Frizzlife lifter removes over 99% of contaminants to leave you with pure water that's great for you. With filter pores of 0.1 microns, it can remove all kinds of impurities from your water, including heavy metals, chlorine, lead, VOCs, and many more.
Some under-sink filters can reduce the water flow to the faucet, which hinders the normal use of the kitchen sink. Luckily, with a flow rate of 2 gallons per minute, this one won't slow your sink's water flow at all. Also, the filters last for 1,600 gallons; you'll only have to think about replacements every 1-2 years. Overall this is the best cheap water filter available this year.
Pros
Filters down to 0.1 microns
2 GPM flow rate
Cartridges last 1,600 gallons
Removes over 99% of contaminants
Easy to install
Cons
Doesn't include necessary compression fittings for installation
---
2.

ZeroWater ZP-010 Water Filter Pitcher – Best Water Filter Pitcher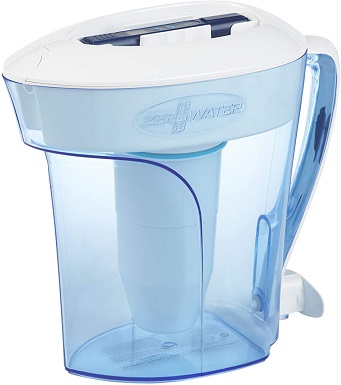 If you're looking for one of the most inexpensive and simple ways to bring filtered water into your home, a water filter pitcher is the perfect solution. Our favorite is the ZeroWater ZP-010, which is an impressive pitcher that removes 99.6% of the total dissolved solids (TDS) from your water. This makes it the most capable water filter pitcher that we've seen.
In order to strip your water of so many impurities, the ZeroWater filter pitcher employs a five-stage filter system. To prove that the water coming through this filter is vastly improved, a TDS meter is built into the lid so that you can regularly test your water. This will also let you know when the filter needs to be replaced. If your TDS levels aren't low enough after filtering, it's time to change the filter.
Since this pitcher removes so much from the water, it takes a while to filter. But no other filter pitcher removes as many contaminants as the ZeroWater, and only this pitcher has a TDS meter included to verify the purity of your water.
Pros
Five stages of filtration
Removes 99.6% of TDS
Includes TDS meter built-into lid
---
3.

APEX MR-1050 Countertop Water Filter – Best Countertop Filter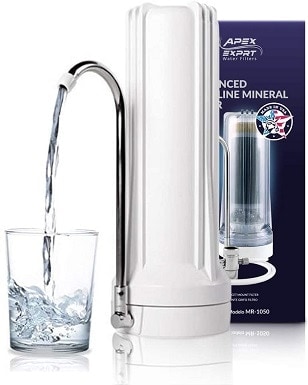 If you like the idea of unlimited filtered water on tap in your kitchen but you don't want to deal with the hassle and expense of installing an under-sink system, a countertop water filter is a great alternative. We love the ease of installation and use of a countertop filter, and our favorite is the Apex MR-1050. This filter features five stages of filtration to ensure that the water you drink from this filter is safe, healthy, and delicious.
To that end, the Apex filter alkalizes your water, infusing it with nourishing minerals that are good for your health, like magnesium, potassium, and calcium. Those same minerals also enhance the taste of your water, which is why we were always pleased with the refreshing water from this filter. Countertop filters have some drawbacks, and the Apex is no exception.
It takes up a bit of sink-side counter space and isn't the most attractive ornament. It also makes your faucet a bit more difficult to use since a hose is attached. However, this filter makes it so easy to get filtered water that we will overlook these minor flaws.
Pros
Adds healthy minerals to your water for alkalinity
Easy to install
Five stages of filtration
All standard 10-inch replacement filters work
Cons
Takes up counter space
The attached hose makes faucet more difficult to use
---
4.

Aquaboon AB-WH20BB Water Filter System – Best for Large Capacity
Many filters deal with smaller volumes of water meant for serving individuals or small families with drinking water, but if you want a solution that provides your entire household with filtered water, we suggest the Aquaboon AB-WH20BB. This large-capacity filter fits standard 20-inch cartridges, making it easy to add any filter you'd like. However, no cartridge is included when you purchase it, so you must get one separately.
This filter housing has pressure gauges built-in, so you can always keep an eye on the system and won't have to install any external gauges. Everything you need for installation is included, so once you purchase a filter cartridge, you'll be ready to have filtered water at every faucet in your home.
Pros
Polypropylene construction is durable and resistant to chemicals
Fits standard 20" cartridges
Includes pressure gauges
Cons
Doesn't include a filter cartridge
---
5.

Brita 42201 Water Faucet Filtration System – Best Faucet Attachment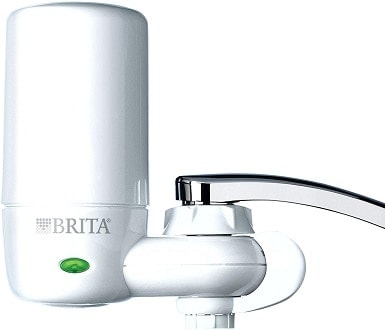 Even if you haven't recognized any other brands on this list, you likely know the name, Brita. They're one of the giants in the water filter world, which makes it very easy to find their filters or cartridge replacements. The Brita faucet filter system is an easy-to-use device that attaches directly to your sink faucet. You can bypass the filter for normal sink operation, or with the turn of a dial, you can re-direct the water through the filter.
Once your water passes through the Brita filter, 60 contaminants will have been removed, including lead, chlorine, and asbestos. Your filter cartridge will keep making your water safe for about four months before it needs to be replaced.
Our biggest complaint with the Brita faucet filter system is its size. It's a bit of a nuisance on your sink. Especially if you do dishes in the sink, you'll find that the filter gets in the way and inhibits normal sink movement. But it's one of the easiest and cheapest ways to get unlimited filtered water in your home.
Pros
Very quick and easy to install
Get unlimited filtered water at your tap
Removes lead
Very easy to find replacement cartridges
Cons
Makes faucet more difficult to use
---
6.

Sawyer Products MINI Water Filtration System – Best for Backpacking
Backpacking filters emphasize portability, packability, and usability. A good filter for backpacking must be small, lightweight, easy to use, and durable enough for the backcountry. The Sawyer MINI ticks off all those boxes with ease, making it our favorite water filter for backpacking.
This filter is tiny. It's under six inches long, an inch in diameter, and weighs a meager 2 ounces. You can fit it in your pocket or any corner of your pack. It's also versatile, offering many filtration methods with a single device. You can use it in line with a gravity system or hydration pack or drink straight from your water source or water bottle.
With a filter capacity of 100,000 gallons, you won't ever need to consider replacing this filter. It's protected by Sawyer's lifetime guarantee, so if anything happens, you'll be covered. Other filters, such as the MINI's big brother, the Squeeze, have higher flow rates, but the MINI is more compact and versatile by a mile. And the MINI is very affordable, which is something we always appreciate!
Pros
Ultra-lightweight – just 2 ounces
Compact and portable
100,000-gallon filter capacity
Very versatile usage
Affordably priced
Cons
Doesn't have the best flow rate
---
7.

LifeStraw Personal Water Filter

The LifeStraw was one of the original personal water filters and is still one of the most popular. And for good reason! This is a great filter that's especially suited for emergencies and disasters. It has no shelf life or expiration date, meaning it can be stored indefinitely. You can throw it in a survival kit, and it will still be waiting in ten years, ready to work.
One great thing about LifeStraw is that it has no moving parts. There's nothing to break on this filter, and it's durable enough to take in unforgiving environments. It's also very affordable, so you could keep a spare life filter and spend less on both than a single filter from many other reputable brands.
Even though the LifeStraw is great in many respects, it's far from perfect. The filter lifespan of just 1,000 gallons can't compete with the 100,000-gallon capacity of the Sawyer filters. Likewise, the LifeStraw is outmatched when it comes to versatility. It can only be used one way, which is to drink directly from your water source using the LifeStraw as a straw.
Pros
Affordable
No shelf life or expiration date
No moving parts
Cons
Filter life of 1,000 gallons
Limited versatility
---
8.

Whirlpool 10383251 Refrigerator Water Filter
If you have a Whirlpool refrigerator at home, you may already have a great source of filtered drinking water. When it's time to replace the built-in filter, the EveryDrop filter is a great choice to swap in. In total, it reduces 28 contaminants, including 99% of lead, leaving you with great-tasting water that's healthier than straight from the tap.
With a six-month filter life, this cartridge shouldn't need to be replaced very often, which is great because they're pricey cartridges. Unfortunately, they don't last for 6months in most households since it depends on how many contaminants are present in your water.
Pros
Removes 99% of lead
Reduces 28 total contaminants
Six-month filter life
Cons
Kind of expensive
Doesn't tend to last the full six months
---
9.

Camco 40043 TastePure RV/Marine Water Filter

Whether you live an alternative lifestyle in your RV full-time or you just use it for weekend excursions, the Camco TastePure filter is a simple way to bring filtered water with you wherever you go. It's even great for boats. We liked how easy it is to install, with the hose protector preventing kinking, which is common with in-line filters.
You'll be replacing this filter every 3  months. Luckily, it's affordably priced, and you won't be going broke keeping filtered water in your RV. But this filter isn't as thorough as other options we've tested. With large filter pores of 20 microns, it's not removing the smallest particles. However, it removes several contaminants, including lead, mercury, mold, chlorine, fungus, heavy metals, and even bacteria.
Pros
Affordably priced
Easy to install
Hose protector minimizes kinking
Cons
Only lasts for 3 months
Filters down to 20 microns
---
10.

PUR FM2500V Classic Faucet Mount Filter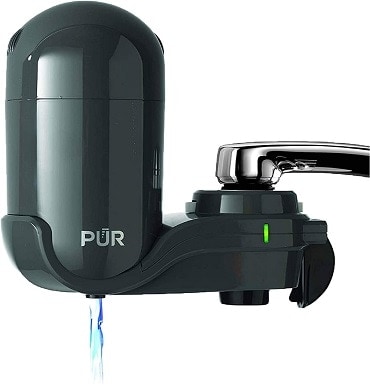 Like the Brita filter, the PUR Classic Faucet Mount Filter attaches right to your kitchen faucet, making filtered water convenient and quick. It filters out 70 total contaminants. Each filter cartridge will last for about 2 to 3 three months. When it's time to replace a cartridge, they're easy to find and inexpensive, though Brita beats PUR in both departments.
This faucet filter is very easy to install. You screw the faucet attachment onto the end of your sink's faucet, then press the filter onto it. Filter replacements are just as easy. However, the bulky filter takes up much of your sink space. If you use your sink for more than just water, you'll likely find that the PUR filter gets in the way of normal activities.
Pros
Easy to install
Removes over 70 contaminants
Cons
Big and bulky
Makes it difficult to use your faucet
Only lasts for 2-3 months

Buyer's Guide – Purchasing the Best Cheap Water Filter
Since the filters are fresh in your mind, let's discuss how you pick one. While they all filter water, they do so in drastically different ways, making each one particularly suited to a certain situation. So, how do you pick which filter is right for you? Once you read our short buyer's guide, you'll know exactly how to make the right choice.
Where Will You Use Your Filter?
One of the first considerations is where you plan to use your filter. For home use, countertop filters, under-sink filters, and faucet filters are great options that provide nearly unlimited clean water on tap.
On the other hand, if you want to take your filter with you to get clean water on the go, you'll want a smaller, more portable filter. In that case, a backpacking filter is a better bet since they are compact and lightweight. Plus, many can be used in multiple ways, giving you options like drinking from a water bottle or hydration bladder.
How Many People Will be Drinking From Your Filter?
Do you live by yourself? If you're the only person drinking from your filter, a product like a pitcher filter is perfect. But with a whole family, maybe a 10-cup capacity isn't enough.
For an entire family, a faucet filter, countertop filter, or under-sink filter can provide a lot more water to meet the demands of a large household.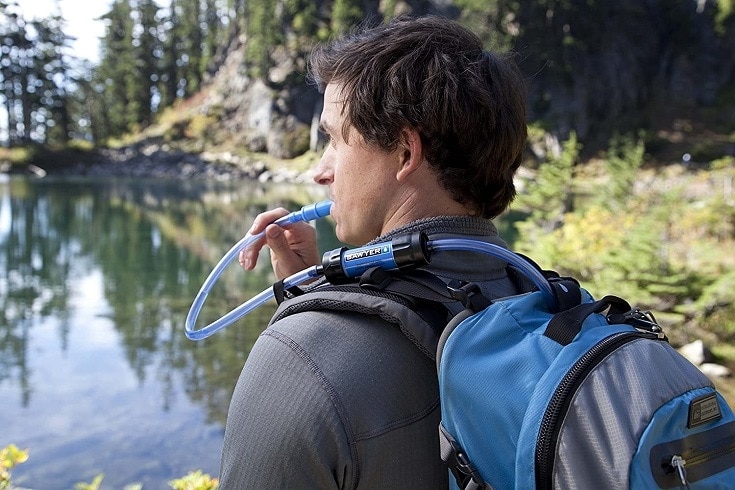 What Does the Filter Remove?
While some contaminants are found in most of our tap water, other impurities will be unique to each location. Because of that, you may not have the same filtration needs as someone else. But filters also differ in what they remove. If you have high levels of lead in your tap water but choose a filter that doesn't remove lead, it won't help with your problem. Your filter needs to be matched to the contaminants present in your water.

Conclusion
With so many filters available, it can be difficult to narrow the choices down to one. Hopefully, after reading our reviews and buyer's guide, you know which water filter system may fit you or your household best. We've covered the best in each category, so you have several options.
The Frizzlife was our favorite under-sink system with a two GPM flow rate and 1,600-gallon filter lifespan. Our favorite faucet filter was the Brita 42201, which installs easily and has cheap replacement filters you can find anywhere. In the backcountry, the filter we trust is the compact Sawyer MINI, which weighs just 2 ounces and has a lifespan of 100,000 gallons.
With a built-in TDS meter and a filter cartridge that removes 99.6% of TDS from your water, the ZeroWater pitcher was our top-pick filter pitcher. If you want to supply your whole home with filtered water, we suggest the Aquaboon AB-WH20-BB, which fits standard 20-inch filter cartridges and has pressure gauges built-in.