10 Best Plunge Routers of 2023 – Top Picks & Reviews
Plunge routing is no easy task. Precision, delicacy, and a skilled hand are needed, along with the right tool for the job. If you are working with a device that is shaky or unreliable, it can put your entire balance off. Plunge routers are of paramount importance in inlay pattern work. Using a plunge router results in faster and safer results.
There are several reasons to own a plunge router; the key is to get the one that is right for the kind of project that you are doing. There are a variety of choices when choosing a plunge router. Several different designs, styles, and features presented can be a bit overwhelming. Price is always crucial without sacrificing the integrity of your work. We have put together a list of what we feel are the best plunge routers on the market.
---
A Quick Comparison of Our Favorites in 2023
Rating
Image
Product
Details

Best Overall

Bosch 1617EVSPK Wood Router Tool Combo Kit

Variable speed
Various cutting applications
Carrying case
CHECK PRICE

Best Value

DEWALT Router Fixed/Plunge Base Kit

LED lights
Variable speeds
Depth control
CHECK PRICE

Premium Choice

Hitachi KM12VC 2-1/4 Peak HP Variable Speed Fixed/Plunge Base Router

Portable
Grips are comfortable
CHECK PRICE

Festool 574692 Plunge Router

Dust extraction ports
Powerful engine
Precise base adjustments
CHECK PRICE

Triton TRA001 3-1/4 HP Dual Mode Precision Plunge Router

Variable speeds
Safety features
3-stage turrets with balance
CHECK PRICE
The 10 Best Plunge Routers
1.

Bosch 1617EVSPK Wood Router Tool Combo Kit — Best Overall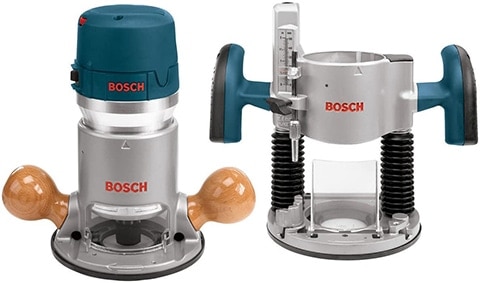 The Bosch 1617EVSPK Wood Router Tool Combo Kit is one of the best plunge routers on the market. For the price, you really couldn't ask for more versatility. The Bosch is able to perform a mass range of applications from precise bit plunging to slot cutting and even laminate trimming and dovetail cutting. You will be hard-pressed to find better durability than aluminum construction. This router is popular due to its ease of use and sense of control you have while using it. There is a built-in circuitry allowing for constant motion, so it doesn't stall in the middle of your project and promotes accuracy with a consistent speed in cutting.
The Bosch kit comes fully stocked with a fixed base, wrenches, and even a carrying case. The main thing that requires some attention is the instructions were tough to decipher.
Pros
Variable speed
Various cutting applications
Carrying case
Precision control
Cons
The instructions are complicated and don't match the product
Additional wrench packs are not part of the package
---
2.

DEWALT Router Fixed/Plunge Base Kit — Best Value
The DEWALT Router Fixed/Plunge Base Kit is a beautiful addition to any woodworking project, in fact, we think it is one of the best plunge routers for the money. The DEWALT has a powerful motor and will cut through anything that you need it to. The variable speed control is excellent for a smooth transition between applications. The addition of LED lights makes it easy to see what you are doing for the most precision possible on delicate jobs. The adjustable base provides ease with different feeds and cutting. The base incorporates optimum control of base depth cutting.
The DEWALT is made of sturdy aluminum, which makes it durable in the most rugged environments. The downfall is that the parts do tend to get hot if they are run for a significant period of time.
Pros
LED lights
Variable speeds
Depth control
Cons
The unit gets hot if it ran for a long time
---
 3. Hitachi KM12VC 2-1/4 Peak HP Variable Speed Fixed/Plunge Base Router Kit
The Hitachi KM12VC is a necessary item for any woodworker. The Hitachi offers a powerful engine for precise cutting that is in your control. It has quick, accurate depth adjustments which are extremely impressive and necessary when working on a precision project. Electric speed control does not fluctuate and offers constant RPM  with minimal noise.
The Hitachi comes with several wrenches and tools and a carrying case for ultimate convenience. The design makes for portability and comfort of use. The thing that needs to be worked on here is the bits tend to stick if they have not been used for a short amount of time.
Pros
Portable
Grips are comfortable
Cons
The bits stick if not used
Requires a lot of adjustments
Bits are not easy to remove
---
4.

Festool 574692 Plunge Router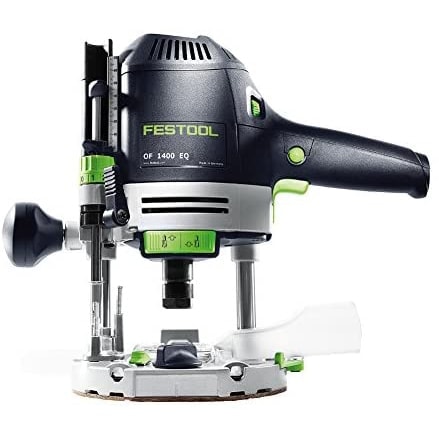 The Festool 574692 offers a swiveling chip deflector that can be utilized with different chips to curve around corners. A special feature on the Festool is that it has integrated dust extraction ports, so your visibility is increased, and there isn't as much clean up after. Anything that saves time is extremely valuable.
The Festool has ergonomic handles to increase control and decrease fatigue. You are able to work the switches using just one hand, which is ideal for those detailed projects. The Festool has a powerful engine that will not stall or wind down mid-job. It's ready for any project that you can dream up. The thing that will require getting used to is the fact that the hand placement is not like traditional routers.      In addition, the handgrips themselves could be better designed. And for the hefty price, we would expect this to be perfect.
Pros
Dust extraction ports
Powerful engine
Precise base adjustments
Cons
Costly
Handles are not like traditional routers
The hand grips themselves could be better designed
The switches all on one side are bulky
The bits are hard to exchange
---
5.

Triton TRA001 3-1/4 HP Dual Mode Precision Plunge Router
The Triton TRA001  offers continuous fine depth adjustments which are ideal for precision projects. Single wrench bit changes through an automatic spindle lock and variable speeds are suitable for smooth transitions in speed and project. Side air vents prevent dust from getting into the router itself, which increases the longevity of your investment. The fully-enclosed guard adds additional safety. The 3-stage turret with direct reading scales means there is no cut that won't be precise. You can expect continuous, smooth cutting with this router that does not shy away from difficult tasks and will not slow down with pressure cutting.
However, it wasn't all good news for this router. It has plastic parts that are easily broken, the guard seems to get in the way of visibility, and applying just a little pressure can end up bogging down the engine. Plus, they don't have great customer service.
Pros
Variable speeds
Safety features
3-stage turrets with balance
Cons
Plastic pieces that break easily
The guard gets in the way of visibility
Applying a little pressure can bog down the engine
Customer service takes too long
The pieces are hard to exchange
---
6.

Makita RT0701CX7 1-1/4 HP Compact Router Kit
The Makita RT0701CX7 is a great router to use for your every day or project needs. The variable speed control dial is great because you can match the exact speed to your project. The rack and pinion fine depth adjustment system allows for more precise settings for the job that you are working on. The design is ergonomic for comfort and control, and the electronic speed allows for consistent speed for detailed jobs. A unique thing about the Makita is that the fixed base accepts industry templates.
But we had our gripes, too. You don't want this thing to fall apart or break a piece because, firstly, it's hard to find replacement parts with the majority being foreign. Secondly, the customer service is seemingly nonexistent. Also, the depth adjustment is very sensitive.
Pros
Variable speeds
Fits industry templates
Rack & pinion adjustment system
Cons
Replacement parts are harder to find
There is no customer service
Parts are foreign
Hard to change parts out
The depth adjustment is super-sensitive
---
7.

WEN RT6033 Plunge Woodworking Router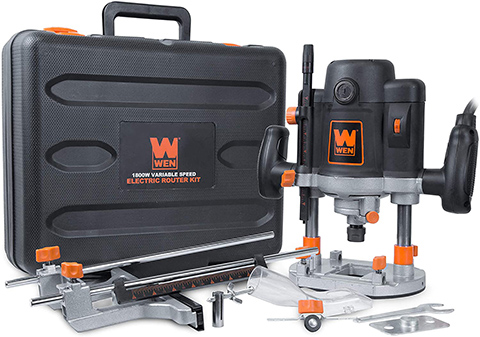 The WEN RT6033 offers a 15-amp variable speed motor and the base locks in downward for good functionality. It also includes a hard-shell carrying case with lots of accessories such as a multi-function straight-edge fence, guide, circle-cutting and can accept both ¼-inch and ½-inch router bits.
Although it comes with a warranty, the customer service department was hard to reach but they did respond eventually. The plunger is stiff at first, but it is something that you get used to. The bits are also hard to take in and out of the router.
Pros
Variable speeds
Carrying Case
Cons
Replacement parts are harder to find
Customer service takes time to respond
Not assembled
Plunger is stiff
Bits are hard to exchange
---
8.

PORTER-CABLE 892 Plunge Router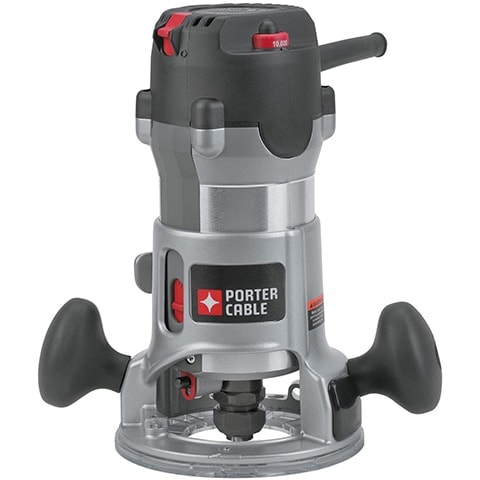 The PORTER-CABLE is a soft-staring 12-amp motor that provides for full-time electronic feedback. The variable speed control promoted optimized use on applications and powers through even when pressure is added. The base can be combined with other kit models which makes it convenient to exchange.
Problems exist in the fact that 10,000 RPM is the lowest speed you can go, so it is not ideal for finer cutting. If you don't use it for a few months, it seems to be slow coming up to speed. The bits are difficult to change out. The safety mechanism tends to get in the way because it has to be switched back every time before powering up the router.
Pros
Variable speeds
Full-time feedback
Cons
The lowest setting is 10,000
Slow coming up to speed
Poor customer service
Bits difficult to exchange
Safety switch gets in the way
---
9.

Lotos ER001 Electric Plunge Wood Router
We liked the Lotos ER001, it offers a powerful motor with variable speeds.  The 7-stop turret combines with macro and micro-adjustment to ensure precise cuttings great for cabinetry work. The base locks down for functionality and the aluminum build proves to be sturdy. The rubber covered handles make for a soft grip as well.
We also didn't like a few features. First off, it doesn't come assembled and the bits are hard to change. The motor tended to bog down under pressure, so the cuts were not as precise. Also, the packaging was not ideal as there were a lot of adjustments that had to be made after and the vibrations are overly excessive.
Pros
Variable speeds
Solid build
Cons
The motor is not reliable under pressure
Bits are not easily exchangeable
The packaging was poor
Several adjustments needed to be made
---
10.

Ryobi RE180PL1G Plunge Router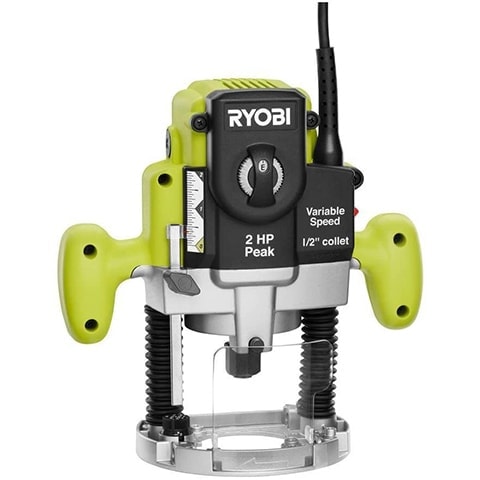 The Ryobi RE180PL1G  is a refurbished product and has been tested for functionality, however, we wouldn't bet on it being a winner. It comes with a 10-amp plunge and is said to ship with all accessories, however, it did not. That's where things started to go wrong for us with this router.
We were a bit disappointed in this model for the following reasons: One, the parts are flimsy and keep falling over or need adjustment. Two, the lever lock is faulty. Next, the build makes it only useful as a fixed router and not a plunge router. Lastly, the parts are impossible to find and there is no customer service. It's probably best to give this one a miss.
Cons
Refurbished
The parts are difficult to find
Poor customer service
All of the accessories did not come with the router
Pieces are flimsy and fall off
---
Buyer's Guide – How to Purchase the Best Plunge Router
There are several things to consider when buying a router. It is an investment, whether you use it infrequently or whether it is the heart and soul of your business, a significant consideration is what you are using it for. There is an almost endless amount of routers to choose from.
What to Consider When Buying a Plunge Router
A vital tool for a  woodworker's tool collection is a router. Especially if you are doing precision cutting that requires a delicate hand and a creative mind. If parts need to fit together, it is even more essential that you purchase the correct router that enables you to do your job well. Some things that you may want to look at when purchasing a router are:
Horsepower
The power that your plunge router has will be an essential factor in what you are able to do with it. Constant power is required for precision cutting of any type of accuracy. The power is necessary to push larger bits through the wood. Routers of this caliber will need to have 2 horsepower (HP) or more in order to perform to this level standard. The last thing that you want is an unreliable router that skips or slows with pressure leading to inaccurate cutting.
Speed
Variable speed is critical if you are changing bits. Single-speed routers are only suitable for small bits. If your work requires more detail and working with larger bits, the cutting speed needs to be slower for a more precise cut. A variable speed router will solve that problem and allow you to use other bits to perform a greater variety of cuts.
Comfortable Grip
You will be working with your router for hours at a time, especially for intricate detail. One thing that you will want to do is make sure that your grip is comfortable on the router, so you don't get fatigued and maintain control. If you get exhausted, it is more than likely that your work will suffer. If you lose control, it is a definite circumstance that your work will not come out as you want it.
Collet Diameter
Wood routers generally use a ¼-inch or ½-inch diameter bit. That being said, ½-inch bits are expensive but are definitely better with stability and produce less chatter. You will want to purchase a router that can utilize a number of routers inclusive of the ½-inch and ¼-inch diameter bits. This will allow you to perform a tremendous amount of work with more detail and precision.
Dust Control
Router work naturally comes with a fair amount of dust creation. If there is a way to eliminate the dust collection in order to see your work, that is a significant bonus. A router with a vacuum port will save you time on cleaning and save your eyesight by increasing your vision. You also don't want to inhale dust, which could lead to health complications. Safety first, get a router with some type of dust control.
Router Accessories
Woodworkers require a variety of accessories in order to complete several different jobs. It is a skilled craft. In order to make sure you can complete every job that you need to, make sure your router comes with the right accessories or that you are able to buy them separately. This relates directly to router performance. The key to any job is having the right tools. Another thing with accessories is you want to make sure that the marketplace has them readily available. If you are purchasing a dated router, parts and accessories may not be there for you. Make sure that the router you look at has plenty of items in the marketplace.
Switch Position
Routers require the use of both of your hands. Are the switches in a position that is convenient and easily reached? Will you be able to make a smooth transition while holding the router? The feel of your router in your hand, the positioning of the grips, and switches are all things that should be taken into consideration.
Warranty
When you purchase a product that will be used for several hours at a time or for your livelihood, you are making an investment. You will want to buy a router from a company that backs their products and your investment. Nothing is more frustrating than having something go wrong and you are unable to get assistance for it. This costs both time and money.

Conclusion
If you are a seasoned veteran or hobbyist to woodworking, the Bosch 1617EVSPK Wood Router makes the perfect addition to any tool chest. The variable speeds, accessories, and powerful engine make it a dream to work with. The solid, durable structure gives you a router with longevity and usefulness. Changing bits is a breeze, which is ideal when working on several woodworking projects.
For the best overall value, we would suggest the DEWALT Router Fixed/Plunge Base Kit. DEWALT has excellent customer service and warranty that ensures they will give your investment the proper attention that it deserves.
There are several routers to choose from in the market with several different features, speeds, accessories, and safety technology. Woodworking is a beautifully skilled and creative industry; don't let your creativity be held back because of the wrong tool for the job. We hope you've enjoyed our plunge router reviews and can now make an informed choice.
See Also: