10 Best Countertop Water Filters of 2023 – Reviews & Top Picks
You already know you need to drink more water, but if the stuff coming out of your tap is full of pollutants, you might be doing more harm than good every time you pour yourself a glass.
A good countertop filter may help solve that problem, as these little devices do an amazing job of purifying water without taking up much room in your kitchen. However, there are quite a few different models to choose from, as well as a ton of acronyms to memorize — how are you supposed to know which ones are the good ones?
Luckily, we've done the research for you, and in the reviews below, we'll show you which models are capable of actually making your water safer to drink.
---
A Quick Comparison of Our Favorites in 2023
Rating
Image
Product
Details

Best Overall

APEX MR-1050

Easy to install
Balances pH levels
Powerful 5-stage filtration
CHECK PRICE

Best Value

Ecosoft

Affordable
Eliminates BPAs
Easy installation
CHECK PRICE

Premium Choice

Brondell H630

Sleek and stylish
Three-step filtration
Filters many viruses
CHECK PRICE

Aquasana AQ-4000W

Filters out chlorine well
Easy installation
Environmentally friendly design
CHECK PRICE

Home Master

Space-saving design
Easily portable
3-year warranty
CHECK PRICE
The 10 Best Countertop Water Filters
1.

APEX MR-1050 Countertop Drinking Water Filter — Best Overall

The APEX MR-1050 doesn't just remove undesirable particles from your water; it actually helps balance the pH levels to better suit your body chemistry.
That's not to say that it won't eliminate any junk floating around, because it certainly will. Chlorine, heavy metals, and microorganisms will all be picked up and filtered out, leaving behind nothing but pure, clean liquid.
It then adds certain minerals back into the water, such as potassium, magnesium, and calcium. These are all essential, and since your body can't produce them on its own, it's important to have a filter that serves them up.
It's easy to set up as well, as it fits any standard tap. You can have it up and running in minutes, even if you're not the handiest individual around. However, it may take trial and error to get it screwed on correctly, because it will leak if it's not threaded perfectly.
That's an easy problem to solve and one that's not sufficient for us to penalize the APEX MR-1050 too harshly. This is the best countertop water filtration system we've found, and it's well-deserving of its spot at the top of this list.
Pros
Removes chlorine, heavy metals, and microorganisms
Helps balance pH levels
Adds important minerals to water
Easy to install
Fits any standard tap
Cons
Will leak if not perfectly threaded
---
2.

Ecosoft Countertop Water Filter System — Best Value

Being on a limited budget doesn't mean you can't enjoy clean, pure water, thanks to the Ecosoft Filter System. This option is both affordable and high-quality, making it our choice for the best countertop water filter for the money.
The filter lasts between three and six months, giving you plenty of value for your money and limiting the number of times that you need to swap it out. It uses a coconut-based activated carbon shell, ensuring that no stray BPAs make it into your liquid.
The unit is easy to install, with no drilling required, so you won't have to deface your countertops to put it in.
That's not to say that it's perfect, however. The line is short and rigid, giving you limited placement options, and while the company boasts that they offer a free filter, actually getting them to send it to you is a hassle.
While those issues are undoubtedly annoying, they're not enough to penalize the Ecosoft Filter System too harshly, which is why it slots in at #2 on this list.
Pros
Good value for the price
Long-lasting filter
Coconut-based filter eliminates BPAs
Easy, drill-free installation
Cons
Line is short and rigid
Difficult to get free filter
---
3.

Brondell H630 Countertop Water Filter System — Premium Choice

The Brondell H630 looks more like a sleek desktop computer than a water filter and may just be as sophisticated as the latest PC.
It uses a three-step Nanotrap filtration system designed to reduce turbidity and eliminate most microorganisms, and it can even screen out certain viruses. Its ability to weed out undesirable particles rivals that of many larger, under-cabinet systems.
Despite its sophisticated components, it's just as easy to set up and use as most other countertop models. All you do is screw it onto the tap and press the button when you want filtered water. Swapping out old filters is a breeze too.
It's one of the more expensive countertop models, though, so all that sophistication comes at a price. Also, the higher cost doesn't guarantee a durable design, as the button breaks easily if handled too roughly.
As long as it keeps working (and you can afford it), the Brondell H630 will provide superior performance in an attractive package, making it well deserving of the number-three spot here.
Pros
Sleek and stylish design
Uses three-step filtration system
Filters out many viruses
Easy to set up and maintain
Cons
On the pricey side
Not the most durable option
---
4.

Aquasana AQ-4000W Countertop Water Filter System

The Aquasana AQ-4000W may not be much to look at, but its high-end performance belies its unassuming package.
It's especially good at taking chlorine out of your water, boasting a 97% success rate. It doesn't just stop there; it also reduces 76 other pollutants, including lead, pesticides, and pharmaceutical drugs.
It's not especially cheap up front, but it has a tremendous capacity, making it a good bargain down the line. You shouldn't need to replace your filters that often with this thing.
Environmentally-conscious types should appreciate the fact that fewer filter replacements means less waste, and the new filters don't have a ton of plastic on them.
It's not without its flaws, though. It tends to leak a little bit, and those replacement filters are fairly expensive. Also, unscrewing a filter can require tremendous strength after it's been on for several months.
Overall, the Aquasana AQ-4000W is a good system that should meet all your needs; it just doesn't quite meet the same standard as our top three options.
Pros
Filters out chlorine extremely well
Also removes pesticides and pharmaceutical drugs
Impressive capacity
Environmentally-friendly design
Cons
Pricey up front
Tends to leak
Filters can be difficult to replace
---
5.

Home Master TMJRF2 Jr F2 Countertop Water Filtration System

If the last thing you need is another gadget cluttering up your kitchen, the Home Master Jr. F2 may be the perfect filter for you.
The system will sit discreetly on your countertop without dominating it. It's small enough that you can easily take it on your travels, giving you an extra bang for your buck.
Despite its diminutive stature, it's capable of knocking out most of the unwanted particles in your H2O, as it can remove up to 93% of chemicals, like chlorine. It also boasts five micron disks to keep sediment from floating in your liquid.
It does next to nothing to improve the flavor, though, so if you have skunky water coming out of your taps, you might want to find a different filter. While installation is simple, it's quite sensitive, so if you don't have it on perfectly, water will spray everywhere.
Pros
Space-saving design
Five micron disks limit sediment
Easily portable
Cons
Does little to improve flavor
Touchy to install
May cause water to spray everywhere
---
6.

iSpring CKC1C Countertop Water Filter

The iSpring CKC1C is a basic model that comes in at a competitive price, making it a good choice for the user that values basic function over flash.
It's certainly not much to look at, with its simple blue housing over a white base and a stainless-steel spigot. That blue housing, however, covers a five-micron carbon block cartridge capable of taking out 95% of problematic ingredients, with a special emphasis on volatile organic compounds. It can also support other brands' filters, making it a versatile option.
It's quite small, making it a good choice for cramped kitchens. That means it can only treat a limited amount of water at a time, however.
It's prone to leaking, and even if you can put an end to that, expect it to drip, which is annoying and wasteful. It allows air bubbles inside the housing as well, which can cause the water to sputter as it comes out.
The iSpring CKC1C is a good bare-bones option, but if you're looking for a serious water filtration system, you'll need to keep looking.
Pros
Good value for the price
Supports other brands' filters
Ideal for cramped kitchens
Cons
Prone to leaks and drips
Can only filter a limited amount of water at a time
Water often sputters coming out
---
7.

AmazonBasics AMZB-G30CW Countertop Water Filter

In keeping with the brand's ethos, the AmazonBasics AMZB-G30CW is quite basic. It's a plain white canister with a stainless-steel spout coming out the top.
It has an impressive 30,000-gallon capacity, giving you plenty of value for the reasonable price. It also has a diverter valve, so you can save the filtered water for drinking and use the regular stuff for other stuff.
There's no filter to replace, which is convenient, but that means you have to replace the whole unit when the filter runs out. That adds both extra expense and more hassle.
If you live in an area with especially hard water, the system will struggle to keep up, and the flow rate will suffer as a result. The water also leaves residue inside containers when used for cooking.
The AmazonBasics AMZB-G30CW is a good choice if your only concern is overall capacity, but if you want more from your filter, this likely won't provide it.
Pros
Impressive 30k gallon capacity
No filter to replace
Cons
Have to replace entire unit when filter runs out
Not ideal for hard water
Struggles to maintain flow rate
Leaves residue when used for cooking
---
8.

Lake Industries Countertop Water Filter

This model from Lake Industries will certainly dress up any countertop you put it on, but its performance can't quite match its appearance.
It's difficult to install, and the manufacturer doesn't offer much in the way of assistance. The instructions are next to impossible to understand. It does come with a filter wrench, for what that's worth.
It can filter about 1,000 gallons per filter, which is good but not great. The water lines are long, which gives you slack during installation, but that cuts down on your flow rate.
You'll have to deal with drips as well, as it keeps letting water escape for about a minute after shutting it off.
Worst of all, though, is that it leaves a plastic aftertaste. The water may be clean, but it tastes like eating a soda bottle.
Lake Industries makes a pretty filter, but they need to keep working if they want their product to be considered as useful as it is attractive.
Pros
Attractive appearance
Includes filter wrench
Cons
Long water lines limit flow rate
Instructions are worthless
Tricky to install
Leaves plastic aftertaste
---
9.

iFilters Countertop Water Filter

The iFilters Countertop seems to be intended to be as much a discussion piece as anything else, given its bright purple hue. It certainly stands out on your sinktop, but unfortunately, it won't do much more than attract stares.
The faucet adapter is extremely flimsy and may not survive the installation process. Replacing it with something more durable isn't much of an issue, but it's a problem that you shouldn't have to solve.
It only has a 750-gallon capacity, so you'll have to change the filter more often than for other models. That drives up the overall cost to operate it, and it's not exactly cheap to begin with.
The taste of the water is the real deal breaker, though. It tastes of plastic, which obviously isn't what you want out of your water supply.
The good news is that it has a powerful .5 micron filter, so there shouldn't be much nastiness floating in your water — but that still doesn't mean that you'll want to drink it.
Cons
Faucet adapter is flimsy
Limited capacity
Strong plastic taste
Fairly expensive
---
10.

SimPure C1 Countertop Water Filter

The SimPure C1 has a double-outlet design that makes it extremely easy to switch between filtered and unfiltered water, cutting down on the amount of clean water you waste.
However, the threads on the faucet adapter are extremely rough, making it difficult to attach to your faucet. If you do manage to get it on, taking it off will be an even bigger pain down the line.
The filter works slowly, so you have to be judicious with the amount of filtered water you use. This limits its utility for applications like cooking, which require using large quantities of H2O.
It seems to leave quite a bit of chlorine in the water unless you thoroughly flush the unit before using it. However, as noted above, there's only so much water that it will give you at a time, and you may be loath to waste some of it by flushing.
The SimPure C1 has an innovative design, but its myriad flaws make it impossible for us to recommend it.
Pros
Innovative double-outlet design
Cons
Difficult to thread onto faucet
Filter works slowly
Requires extensive flushing to eliminate chlorine
Not ideal for cooking
Hard to remove

Buyer's Guide – Finding the Best Countertop Water Filter
Deciding which countertop water filter to buy can be surprisingly difficult. There are questions you need to answer in order to make an informed decision, such as:
Which contaminants should I be worried about?
What are the pros and cons of using a countertop filter?
What is a micron?
In this guide, we'll walk you through all the pertinent information so you can find the best option for you and your family.
Why Use a Countertop Filter?
A countertop filter represents a compromise between a small pitcher filter and a larger, under-sink model. It attaches to your faucet to clean the liquid as it comes out, giving you a nearly unlimited supply of filtered water.
They're quite small, so you won't have to sacrifice a bunch of counter space to use one. Also, they're generally easy to install. You won't need to drill into your cabinets or anything like that; it's usually a matter of connecting an adapter to your faucet.
This makes them a good choice for families that need a large amount of clean water but aren't yet ready to commit to a larger filtration system. The filters' price point reflects this as well, as they're generally quite affordable.
What Are the Downsides to a Countertop Filter?
These units can only filter so much water at a time, and they can only filter from a single faucet. Many start to slow down if used for too long, and they have filters that need to be replaced regularly. This drives up their cost somewhat, but filter replacement is a fact of life with any filtration system.
However, it's difficult to tell when your countertop model will need its filter replaced, as most units don't have any sort of marker to indicate that change is necessary. You'll have to judge by either the taste of the water or the rate of its flow.
Also, while these units are small, they'll still take up counter space. If you have a small kitchen, every bit of real estate is valuable, and you may not want to sacrifice any to a water filter.
Not all filters are equally good at getting rid of contaminants, so it's important to do your research before buying one. However, some are too effective at stripping away additives, and they may remove important minerals from your water as well.
What Should I Look For in a Countertop Filter?
The answer to this question will depend in large part on your specific situation. Ask yourself how much space you're willing to sacrifice, how much water you really need, how much you're willing to spend, and how often you're willing to replace filters.
Another good thing to know is the makeup of your tap water. Once you know which contaminants are likely to be in your water, you'll have a better idea of what kind of filter to buy. You can get this information by buying a water test kit or contacting your local water provider.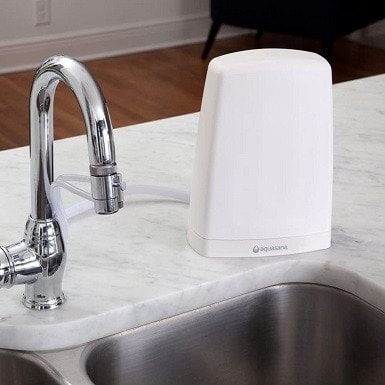 Some filters are designed to only remove a single type of contaminant from your water; while these aren't that common, they may be worthwhile if there's only one thing you're worried about. However, most will remove a wide range of pollutants (albeit with varying degrees of success).
What Do the Different Certifications Mean?
While there are different certifications from different organizations out there, there are only two that you need to worry about: NSF/ANSI 42 and NSF/ANSI 53. These certifications come from guidelines published by the National Sanitation Federation and American National Standards Institute.
Filters with an NSF/ANSI 42 certification will remove compounds like chlorine and iron from the water. These are two of the most common contaminants, so this certification may be all you need, though it's not nearly as thorough as its counterpart.
To earn an NSF/ANSI 53 rating, a filter has to remove the same contaminants as an NSF/ANSI 42 filter, as well as other compounds like arsenic, lead, mercury, and certain chemical compounds and bacteria.
Obviously, an NSF/ANSI 53 rating is vastly preferable to an NSF/ANSI 42 rating, but filters that have the former are more expensive. This is why you should test your water before buying, as you don't want to pay for more filtration power than you need.
So, What Is a Micron?
If you read the labels on most filters, you'll notice that they each boast a certain micron rating. However, unless you have an advanced chemistry degree, you may not have any idea what that means.
A micron is a unit of measurement that's one-millionth of a meter. The average human red blood cell is about five microns across, for example.
The reason water filters use this unit of measurement is because many of the compounds that get filtered out are extremely small, but they're obviously not all the same size. Most heavy metal compounds are quite large, so a five-micron filter should be sufficient to keep them out of your water.
Many organic compounds, like bacteria, are much smaller; for them, you'd need a filter whose pores are no bigger than a single micron.

Conclusion
The APEX MR-1050 is our pick for the best countertop water filter, as it improves the pH balance of the water and adds healthy minerals to it in addition to stripping away pollutants.
While it's not quite as effective as the overall best countertop water filter, the Ecosoft Filter System still does an amazing job at a fraction of the price. Even better, it's easy to set up and so small that you might not even notice it's there.
Finding a quality countertop water filter can be harder than you'd think, so we hope these reviews have made it easier for you to find one that will work for your family. Remember, there's nothing more important than clean water — it's the primary ingredient in coffee, after all.
---
Featured Image Credit: VVVproduct, Shutterstock