8 Best Chrome Spray Paints of 2023 – Reviews, Top Picks & Guide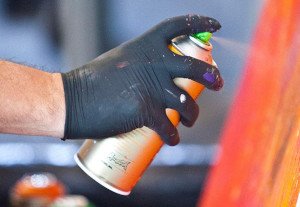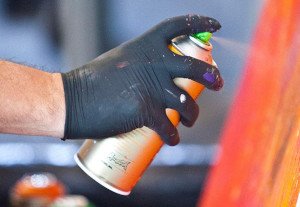 To find the products listed in our chrome spray paint reviews, we experimented with hundreds of different paints. We evaluated them based on qualities that we know are important to consumers.
These factors include the paint's appearance, its durability, its value offering, and the overall user experience it provides. Below you will find eight of the best chrome spray paints for metal, rims, and more. Whether you're looking for something affordable or just something that will look amazing, there's an option on this list for you.
---
Summary of the Winners (updated in 2023)
Rating
Image
Product
Details

Best Overall

Krylon Metallic Chrome

Moderate price
Glossy finish
Acid-free
CHECK PRICE

Rust-Oleum Bright Coat Chrome

Affordable
Great quality
Chip-resistant
CHECK PRICE

Best for Car Rims

Dupli-Color Chrome

Durable
Great for car rims
Bring out darker notes in chrome
CHECK PRICE

Montana Cans Silverchrome

Versatile
High-quality reflective finish
Works on many types of surfaces
CHECK PRICE

Design Master Modern Metals

Moderate price
Simple but effective
Quick-drying
CHECK PRICE
Top 8 Best Chrome Spray Paints
1.

Krylon Metallic Chrome Spray Paint – Best Overall
The Krylon Premium Metallic Original Chrome is one of the best chrome spray paints for metal, wood, plastic, and other materials. One of the best aspects of this paint is how quickly it dries. Within ten minutes of spraying, it will be dry to the touch. Two hours after that, it will be dry enough for you to handle the workpiece safely.
We're also just big fans of the overall quality of the paint. The glossy element gives it a nice sheen that drives home the chrome look. It's also acid-free, so it won't erode or damage the workpiece.
Some users have reported that the spray nozzle broke after light use, resulting in plenty of frustration, and a big mess. Most spray nozzles will hold up fine, but the small batch manufacturing error is still something to look out for. Otherwise, it's a reasonably priced paint that more than gets the job done.
Pros
Moderate price
Glossy finish
Acid-free
Fast-drying
Cons
Some users report spray nozzle breaking easily
---
2.

Rust-Oleum Bright Coat Chrome Spray-Paint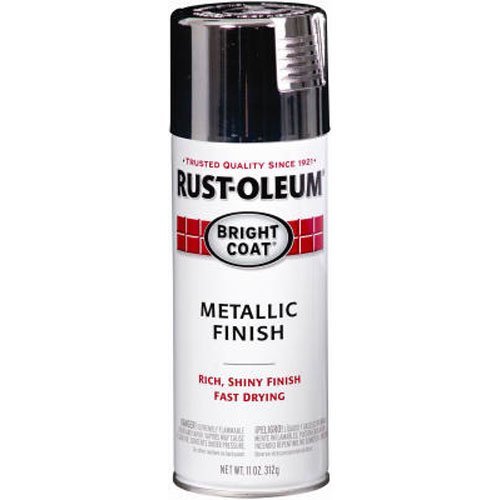 The Rust-Oleum Metallic Chrome paint does a great job of combining quality and value as this is one of the most affordable and best chrome spray paints on our list.
The spray produces a high-quality, glossy finish on just about any material. It's also designed to be chip-resistant, so the paint should stay on the workpiece for a long time.
Unfortunately, the paint does lose a few points in the department of drying time. Whereas the last paint that we looked at was dry to the touch in ten minutes, this one takes a full hour to reach that point.
This isn't necessarily a huge deal, but it does increase the odds of something going wrong. The longer wet paint remains on a workpiece, the bigger the chance there is that something will disturb the finish. However, it's still a high-quality paint that most will be happy with.
Pros
Affordable
Glossy finish
Chip-resistant
---
3.

Dupli-Color Chrome Spray Paint – Best for Car Rims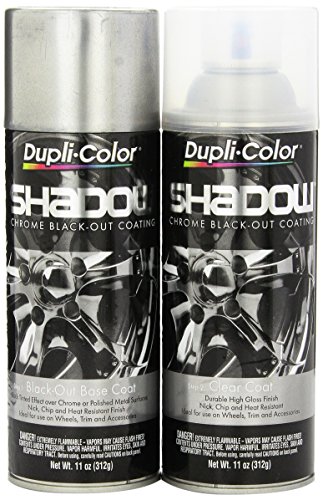 Those looking for automotive paint may like what they find here. We've deemed the Dupli-Color Coating Chrome Spray Paint Kit to be the best option for people looking to paint their car rims.
Buyers should be aware that this isn't chrome-colored in the same way that some of the other paints on our list are. It's a tinting paint that's designed specifically to bring out darker notes in chrome.
Regardless, the paint jobs turn out very nice with this unit. The glossy finish is durable and will stand up well to the test of time.
This is the priciest paint we've seen so far by a considerable margin. If you're on a tighter budget, this one might not be for you.
Pros
Durable
Glossy finish
Great for car rims
---
4.

Montana Cans Chrome Spray Paint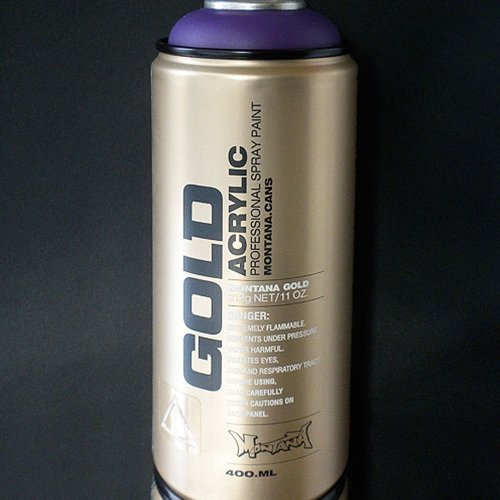 The Montana Cans Silverchrome Spray Paint produces a reflective, glossy finish that mimics the visuals of real chrome. It's durable, with chip-resistant materials that will ensure a long life on whatever surface you put it on.
You'll have lots of options too, as the Silverchrome spray is also very versatile. You'll be able to use it on anything from wood, to glass, to metal.
The only shortcoming is that it's another pricey can of paint. If you want the quality, you have to be willing to pay for it. To make matters worse, the paint does its best work with several layers, which means you burn through cans faster than you would with other brands on our list.
Pros
High-quality reflective finish
Chip-resistant
Works on many types of surfaces
Cons
Pricey
Requires lots of paint
---
5.

Design Master Modern Metals Chrome Spray-Paint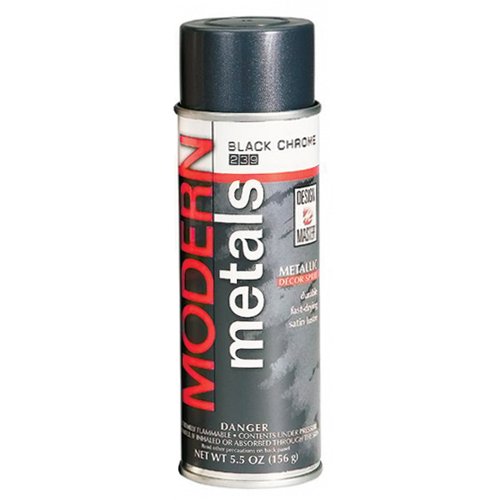 The Design Master Modern Metals, Black Chrome is simple but effective. Buyers will like the fact that, for a modest amount, they can get paint that's durable, glossy, and realistic in appearance. It even dries pretty quickly, allowing you to handle your workpiece again after about an hour.
Unfortunately, the paint does seem to fade a little faster than the other options on our list. The lack of longevity means that you'll probably find yourself touching it up often.
It also seems to suffer durability problems. If you want to make sure you get full use out of the can, you'll need to be very delicate with the spray nozzle.
Pros
Moderate price
Glossy finish
Quick-drying
Cons
Delicate spray nozzle
Fades quickly
---
6.

VHT Quick Coat Chrome Spray Paint

The VHT SP525 Quick Coat Silver Chrome is another moderately priced paint that's made to be weather-resistant. It works well with wood, metal, and glass.
This is a great paint for touch-up work. If you already have something with a chrome finish and you just want to do a few improvements, this is an affordable way to facilitate that. The problem is that it doesn't work so well in its own right.
It's good for a coat or two at the most, but the finish begins to darken and distort if you put any more on than that. This makes it hard to do a full paint job. Still, if you're looking for a can of chrome paint to keep on hand for the odd small job, this is a good option.
Pros
Moderate price
Weather-resistant
Cons
Doesn't work well for full paint jobs
---
7.

Spaz Stix Chrome Spray-Paint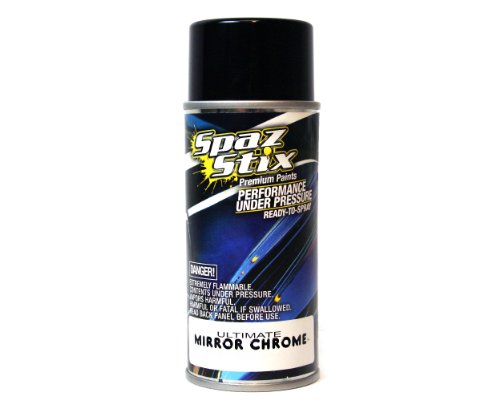 The Spaz Stix Ultimate Mirror Chrome paint is a good option for buyers on a budget. It's one of the lower-priced options, but that's about all that it has going for it.
The paint is more silver than it is chrome. It lacks the critical reflective element that most people look for in chrome paint.
It also fades quickly and is prone to chipping. It will work if it's all you can get your hands on, but otherwise, you'll probably be better off spending a couple more dollars to get something else.
Cons
No reflective quality
Chips easily
---
8.

Premiumdecor Metallic Chrome Spray Paints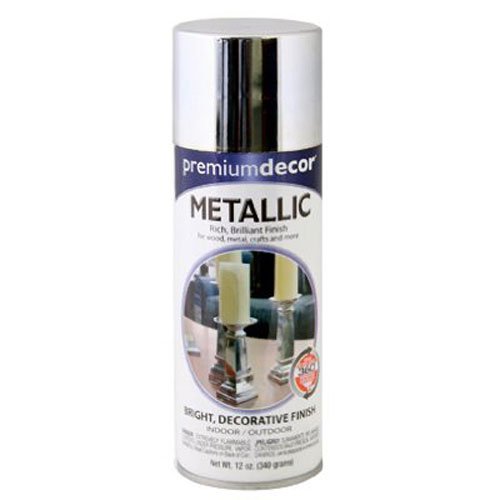 The General Paint & Manufacturing PDS-94 chrome spray paint is an all-purpose option that works on wicker, wood, glass, and metal.
The versatility is probably this paint's strongest suit. It's one of the pricier options on the list but doesn't do much of anything to outperform the others. The finish tends to fade easily and will chip under extreme weather conditions. It also isn't as glossy as some of the other paints on our list.
It's not bad, all things considered. It just doesn't compare well to our other selections.
Cons
Pricey
Doesn't last long
Chips
Not very glossy
---
Buyer's Guide – Choosing the Best Chrome Spray Paint
Here are a few simple buying considerations that should make your decision easier.
Drying Time
Spray paint usually dries faster than your average bucket paint. Even so, there is some variation among different products. Generally speaking, the faster a paint dries, the better off you'll be. Quick-drying paints give you a bigger margin for error, making it less likely that you'll undermine all your hard work with an ill-placed thumbprint.
Acid
The acid in paint isn't extremely common anymore, but it is still something to be on the lookout for. The reason is that it can erode the material you're painting. Chances are fairly decent that whatever you buy will wind up not having any acid in it. Still, it's not a bad idea to take a peek at the label anyway, just to be sure.
Price
One of the nice things about paint is that for the most part, it's never particularly expensive. You can get high-quality stuff without breaking the bank.
That doesn't necessarily mean you need the most expensive option on the market. It does, however, make it easier to justify buying a top-shelf product.
Keep in mind that this paint job will (hopefully) last a long time. You might as well get something high-quality, right?
Gloss
Most buyers will probably want something with a glossy finish. It's that quality that makes the paint resemble actual chrome. The gloss doesn't happen by accident, though. Make sure the manufacturer advertises that the paint has this quality. Otherwise, there's no guarantee you'll get it.
What Can It Be Used On?
This is always a good question to ask when buying paint. It does matter. Manufacturers design their paint mixes to work with specific materials. For instance, something that pops on wood might not work so well with metal.
There are all-purpose paints that will work with pretty much anything you put them on, but you should make sure that's what you've got before you start spraying.
A Word of Warning:
Generally, painting is a pretty safe, non-risky do-it-yourself activity. However, there are a couple of hazards exclusive to spray paint that you should look out for.
Spray paint is extremely flammable. The atomization that occurs when the paint is ejected through the nozzle makes it highly conducive to fire.
There is also a toxicity problem to be mindful of. All paints are toxic, but exposure occurs more easily with spray paint. This is largely because you don't have as much control over where it gets dispersed.
With any luck, the majority of your atomized paint particles will wind up on your workpiece. However, if you're painting outside (as you should be), the paint will drift with the breeze.
Have a carefully thought-out work zone. Be sure no one is standing downwind of you as you use the spray paint.
Experienced painters also find it useful to protect areas they don't want to paint with tarps, because of how much the particles can drift.
Some other spray paint colors we've reviewed:
---
Conclusion:
Now you've read our chrome spray paint reviews, and it is time to make a decision. With eight great products, it can be tough to decide on the right option. While we would never tell you what to buy, there are a couple of options that stand out as good picks for the two main types of buyers.
If you're the kind of person who buys the best thing you can get regardless of cost, you'll probably find Krylon's K01010A07 Premium Metallic Original Chrome to be a good option. It's fast-drying, and it looks great.
Of course, if you choose from this list, you'll get something great regardless of what you pick.