5 Best Juicers for Ginger in 2023 – Reviews & Buyer's Guide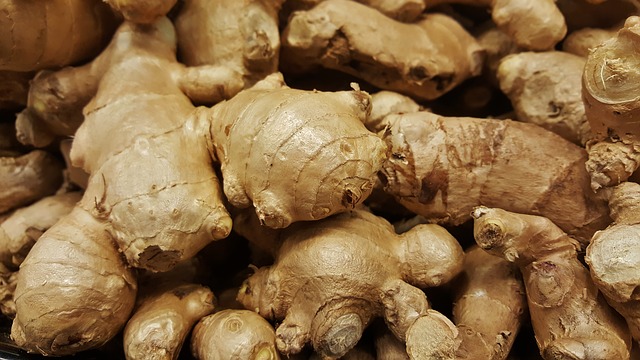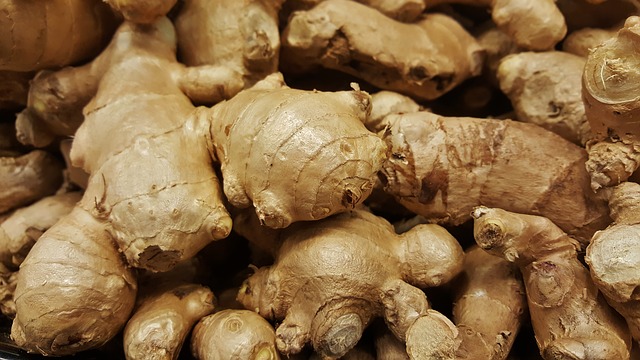 Looking for a juicer that will work magic with ginger? It can be hard finding the right one. Not all juicers are excellent at working with all ingredients.
Investing in a juicer is one of the first steps that you can take towards a healthier lifestyle, but if you are new to juicing, or just new to owning your own personal juicer, it can be a little bit daunting.
That is exactly where we come in. It is our business to know all that there is to know about juicing. We have studied the market, looked for the personal use models that are the best equipped ginger juicers, and assembled this guide explaining what we found.
---
A Quick Glance at the Winners (Updated in 2023)
Rating
Image
Product
Details

Best Overall

Breville BJE430SIL

Low Heat Transfer
70 Ounce Capacity
Variable Speed Settings
CHECK PRICE

Breville JE98XL

Very Fast
Powerful
40% More Vitamins
CHECK PRICE

Best Value

Hamilton Beach 67601A

Simple to use
Best for the Money
Accepts Whole Fruits and Vegetables
CHECK PRICE

KitchenIQ Ginger Grater Tool

Dual-sided container
Non-stick stainless steel
Perfect for Making Ginger Paste
CHECK PRICE

Oster JusSimple

Easy to Clean
Multiple Speed Settings
Large Feed Chute
CHECK PRICE
The 5 Best Juicers for Ginger
1.

Breville BJE430SIL Juicer Fountain – Best Overall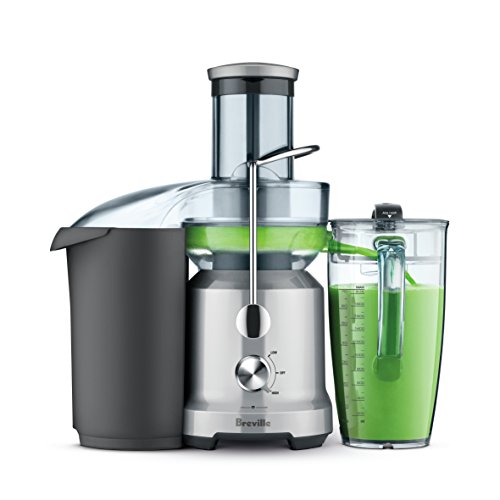 There is a lot to like about our first pick, the Breville Juice Fountain. Breville makes a lot of good juicing products, and this unit is certainly no exception. It features a "cold spin technology" component that minimizes the amount of temperature gained during the juicing process, a 70-ounce storage capacity, and an easy to clean interface.
The Juice Fountain also features a variable speed component that will allow users the chance to have maximum control over their juicing for the most precise concoctions possible.
The one thing that we did notice is that it does leave a little bit of juice on the table. We found that the leftover pulp was a little bit more hydrated than we like to see out of a high-end juicer, which means that you aren't getting all of the juice that you can out of your ingredients.
This issue aside, it is a great juicer that most buyers will love, which is why we think it is the overall best juicer for ginger.
Pros
Low Heat Transfer
70 Ounce Storage Capacity
Variable Speed Settings
Cons
Pulp is a little more hydrated than we like to see
---
2.

Breville JE98XL Juicer Fountain Plus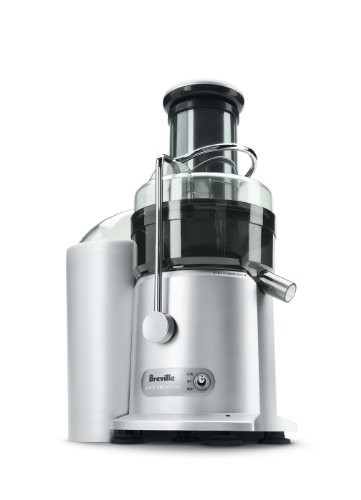 In second place, we have another Breville juicer. Like we said, they make good stuff.
This unit is quick, able to make juice in as little as five seconds, it is powerful, featuring an 850-watt dual-speed motor that extracts up to 40% more vitamins than comparable units, and it is even easy to use.
So, why does the JE98XL come in second place? We noticed a few issues in this model that we did not see in the last Breville.
For one thing, we noticed that some of the components are a little bit more vulnerable than rust than we like to see, which can lead to longevity problems.
We also noticed that it doesn't have an incredible life span—roughly two years—which will, of course, lead to the expense of replacing it sooner than you would probably hope for.
It's a good juicer, but because of these issues, many potential buyers may gravitate towards our number one pick.
Pros
Very Fast
Powerful
40% More Vitamins Than Comparable Units
Cons
Short Life Span
Vulnerable to Rust
Pricey
---
3.

Hamilton Beach 67601A Juicer – Best Value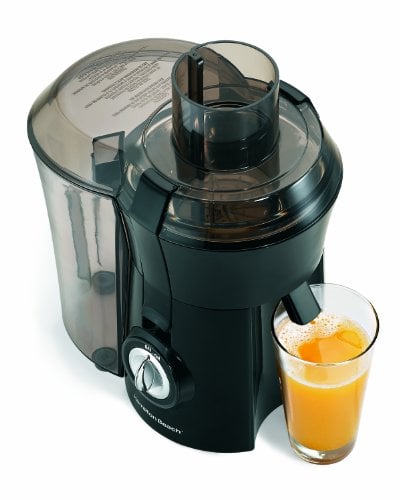 Our best for the money pick, the Hamilton Beach juicer, is here to prove that juicing does not have to be expensive.
This affordable, 800-watt juicer features a large chute that will be able to accept whole fruits and vegetables, it is easy to clean, and it even has a nice, simple to use interface.
In other words, it's quite similar to the last couple of juicers that we looked at.
We did, however, notice a couple of issues that unfortunately kept it out of our top two. For one thing, this juicer leaves behind a lot of wet pulp when dealing with bulk quantities, which means that you aren't getting the most out of your sessions.
We also noticed that it struggled to skillfully extract juice from wetter ingredients, like cucumbers, without integrating lots of pulp into the juice.
Both of these issues are very common to juicers of this price range, but of course, that does not make them any less frustrating.
Other than that, this is a good juicer, available at a good price. All in all, we think this is the best juicer for ginger for the money.
Pros
Can Accept Whole Fruits and Vegetables
Best for the Money
Simple to use
Cons
Struggles with wet ingredients
Not as thorough as some of the other options
---
4.

KitchenIQ Ginger Juicer Grater Tool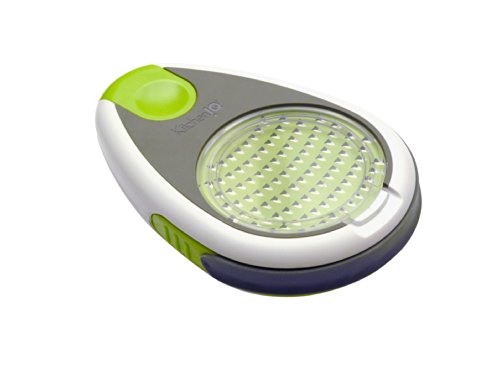 Since juicing ginger is the name of the game for today's article, this next unit sounds very appropriate, right? In some ways, it certainly is, but unfortunately, if you are looking for something with the rich list of features we saw in the last three picks, you will be disappointed.
Why? Because it is not a juicer.
While the other options that we have looked at today are going to allow you to juice just about anything, including ginger, the KitchenIQ 50484 tool has a much narrower focus.
The fine blades featured on this grater are going to be great for creating ginger paste, but not much else.
Ultimately, many users may find that it makes more economic sense to spend a little bit more money on a kitchen tool with a wider range of use.
Pros
Perfect for Making Ginger Paste
Cons
Not good for making anything other than ginger paste
---
5.

Oster JusSimple Ginger Juicer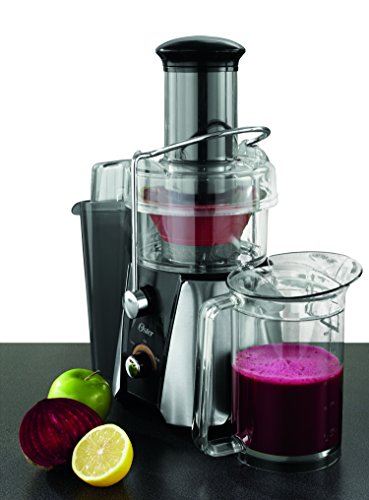 In our last place spot, we go back to looking at more traditional juicers. The Oster JusSimple is a basic juicer that looks pretty good at a glance.
It features 900 watts of power, it is easy to clean, it comes with two-speed settings, and the feed chute is large enough to accommodate full fruits and vegetables.
Ultimately, it is the cons that keep this juicer at the bottom of our list.
This unit struggles with leafy greens, it leaves behind lots of pulp, and it just produces a lot less juice than many comparable options when using the same amount of ingredients.
The bottom line is that, while the Oster does do some things right, there are more affordable juicers out there that get better results.
Pros
Easy to Clean
Multiple Speed Settings
Cons
Pulpy
Struggles with leafy greens
Inefficient compared to other similar units
---
Buying Considerations: How to Choose the Best Juicers for Ginger
It's ok if you are still confused after reading our juicer reviews. These are nuanced appliances, and there is a lot to keep in mind before you buy. If you still feel a little bit unsure which juicer is going to be right for your situation, read on for some buying considerations that will help to clarify what to look for and expect out of a juicer.
Feed Chute:
The feed chute is ultimately going to determine what quantity of ingredients you can juice at once.
Centrifugal juicers are usually known for having larger feed chutes than their masticating alternatives, which allows users to juice entire fruits and vegetables without encountering the need to finely chop them.
Masticating juicers, which cannot accommodate larger ingredient sizes, are often thought to be superior to centrifugal juicers, because, in many instances, they can preserve more nutrients.
The reality is that both centrifugal and masticating juicers can be great. It is all a matter of finding that option best suited to you.
Juicers Don't Blend:
People often get juicers and blenders confused because their finished products bear a striking resemblance, but do keep in mind that juicers do not blend.
The job of a blender is to liquify the pulp of an ingredient by shredding it apart. Juicers sperate the juice from the pulp through extraction methods, leaving only the nutrients.
These kitchen tools are, in many ways, very similar, but they differ in important ways.
For example, you wouldn't want to try and use your juicer to whip up some pesto.
Price:
We have seen several good juicers that are very affordable, and bad juicers that are very expensive. While this is a purchase that could see you dropping a lot of money, that definitely does not need to be the case.
Performance is what counts when it comes to juicing, and, unfortunately, spending lots of money does not guarantee you will get a juicer that can perform well.
Rather than paying attention to price, pay attention to what people who use the juicer are saying.
If the people that use the juicer in question are pleased with what it can do, it is probably a winner regardless of price.
---
Conclusion:
You have read these reviews of ginger juicers, and now it is time to decide which model you are going to add to your home health regiment.
As you probably noticed from our guide already, most of the options are pretty appealing. The model that you ultimately choose is going to be determined by the unique needs of your household.
However, if you are struggling, we do have a couple of general recommendations that might make the buying process a little bit easier.
If you are willing to spend a little bit of money to get a juicer that is capable of really great results, you may favor our top pick, the Breville BJE430SIL Juice Fountain.
On the other hand, if you are trying to stick to a tighter budget, you may find that our best for the money pick, the Hamilton Beach (67601A) gives you all of the quality you could need at a price that won't sting so much.
Of course, the choice is ultimately yours alone to make. Our only hope is that we made it a little bit easier for you. We wish you good luck with finding the best juicer for ginger shots!
Learn more! Here are some of our most popular blog posts: