8 Best Concrete Grinders of 2023 – Top Picks & Reviews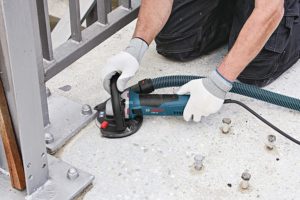 Concrete grinders are used for one thing – grinding concrete. They're mostly used for putting a smooth finish on concrete, which they do quite quickly. Choosing the right concrete grinder for your purpose can make a seemingly difficult job very easy.
Not all hand held concrete grinders are made equal. There are many things to consider when selecting the best model, including speed, dust collection, and various other features. To help you choose the best model for your purpose, we wrote these in-depth guides. We'll also discuss all the features to look out for in our buyer's guide.
---
A Quick Comparison of Our Favorites in 2023
Rating
Image
Product
Details

Best Overall

Bosch CSG15 Concrete Surfacing Grinder

Guard system
Reduces airborne dust
Decreases chance of silicosis
CHECK PRICE

Best Value

Makita GA4530 Angle Grinder

Compact design
Labyrinth construction seals
Lightweight at only 4 pounds
CHECK PRICE

Premium Choice

Metabo 603825750 Concrete Renovation Grinder

1
900 watts
Dust guard
Integrated folding segment
CHECK PRICE

Metabo US606467800 Concrete Renovation Grinder

15 amps
Adjustable guard
Reduced vibrations
CHECK PRICE

Bosch 1773AK 5-Inch Concrete Surfacing Grinder

11
000 RPM
Double-sealed
Wrap-around handle
CHECK PRICE
The 8 Best Concrete Grinders
1.

Bosch CSG15 Concrete Surfacing Grinder – Best Overall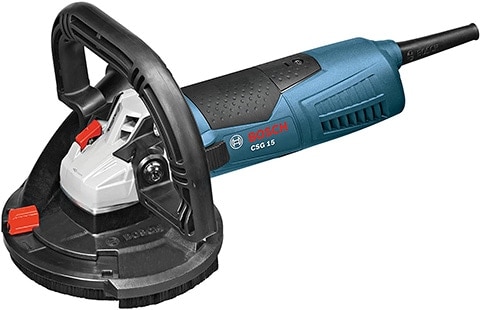 Bosch makes very high-quality tools. Their Bosch CSG15 Concrete Surfacing Grinder is no different. It has 12.5 amps of power, which is more than most other concrete grinders on our list. We also liked this grinder's new guard system. This feature prevents injuries and accidents. You will appreciate the 4-stage dust intrusion seal. You'll have to deal with less concrete dust because of this feature, which can be a pain to clean up. This grinder's high-torque power also allows it to handle higher loads and sustain its speed while grinding.
The best feature of this concrete surface grinder is that it prevents silicosis caused by dust. You should always put your safety first. We rated this grinder so high because it truly is the better option currently on the market in terms of safety. Its dust collection system can remove airborne dust, which creates a safer working environment.
The only problem with this surface grinder is that the wheel cup seems to come off more than usual. This isn't a huge deal. However, it can get a bit annoying over time. Despite this, we still rank it as the best concrete grinder on the market this year.
Pros
5 amps
Guard system
Reduces airborne dust
Decreases chance of silicosis
Cons
The wheel cup comes off occasionally
---
2.

Makita GA4530 Angle Grinder – Best Value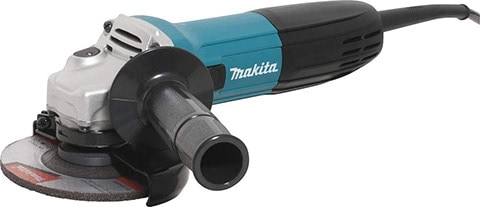 Not everyone has a few hundred dollars to spend on a concrete grinder. The Makita GA4530 Angle Grinder is much cheaper, however. It is the best concrete grinder for the money. If you need to stay on a budget, this may be the best option available. It is a bit lower-powered than other options with only 6 amps. However, the motor delivers 11,000 RPM of power. This should be enough for most homeowners, though professionals probably need something with a bit more oomph.
This is a very compact machine. It weighs only 4 pounds, which allows you to use it for a long time without fatigue. The labyrinth construction protects the motor and bearings from dust that will inevitably be created. This improves the machine's longevity and prevents you from needing to change your angle grinder any time soon.
The slide switch design is very convenient. Plus, it has a lock-on, which is always a nice add-on feature.
Pros
Compact design
Lightweight at only 4 pounds
Labyrinth construction seals
Slide switch design
Affordable
Cons
Less powerful than other options
---
3.

Metabo Concrete Renovation Grinder – Premium Choice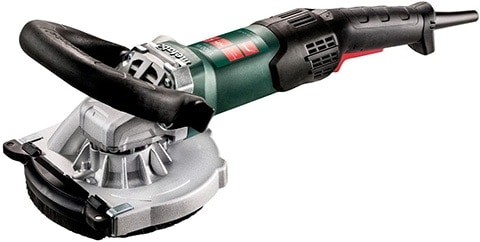 The Metabo 603825750 Concrete Renovation Grinder is quite expensive, making it out of reach for some homeowners. However, professionals may find that this concrete grinder is just what they're looking for. This grinder is designed explicitly for effective spot sanding. It is effective against concrete and coatings. It is 1,900 watts at its max. However, when under load, it will typically decrease. It has a no-load speed of 3,800-8,200 RPM.
The integrated folding segment allows you to work close to edges. It also customizes its speeds to suit certain materials and speeds. These speeds remain constant even under load. We also liked that this machine is very durable, which is excellent considering how much you're going to pay for it. It is pretty easy to operate as well, primarily if you've used these machines before.
The only major negative we've noticed regarding this grinder is that it is costly. It isn't going to be recommended to most users because of this. Most people simply don't need this much grinder.
Pros
1,900 watts
Dust guard
Integrated folding segment
Speed remains constant under load
---
4.

Metabo Concrete Renovation Grinder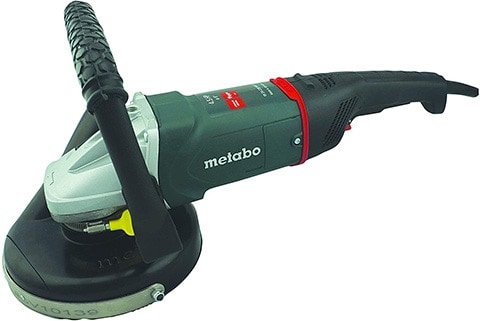 The Metabo US606467800 Concrete Renovation Grinder is a step down from our premium pick, so we rated it very high. However, it does not come with as many features and is not as powerful. It is cheaper, though, so that is something to keep in mind. This isn't a lousy grinder by any means and is a decent, less expensive pick than many of the other options on this list.
It has a tool-free adjustable guard and a safety switch that prevents it from starting unintentionally. These safety features prevent accidents and injuries, making them great features for anyone. The integrated dampening system and innovative side handle prevent vibrations. This protects the user from fatigue and prevents accidental injuries. The side handle can be mounted in three different positions depending on your preferences. This can also be useful for different angles. The main handle can swivel as well. This increases safety and provides better handling.
Our main problem regarding this grinder is that the dust shield doesn't work as well as we would like. It is quite disappointing. Because dust reduction is essential for the user's health and safety, we had to rate this grinder lower than otherwise.
Pros
15 amps
Adjustable guard
Reduced vibrations
Cons
Not a budget-option
Poor dust guard
---
5.

Bosch 1773AK 5-Inch Concrete Surfacing Grinder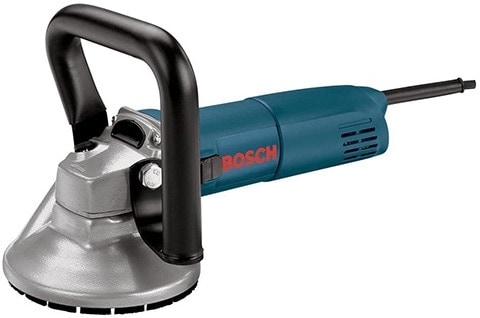 The Bosch 1773AK 5-Inch Concrete Surfacing Grinder is just a sub-par option. It is not as powerful as other options at only 10 amps. It is designed for grinding concrete and can be used for smoothing floor pavement and cleaning concrete surfaces. The ball-bearings are double sealed to prevent dust from messing up the grinder. This improves the life of the machine and is always a nice feature to have.
The wheel is 5 inches in diameter. Despite being lower-powered than other options, it can produce 11,000 RPM when not under load. Of course, when you start using the surface grinder, it will produce less power and slow down. The wrap-around handle does make this machine easy to handle. However, the vibrations are quite alarming.
This concrete grinder is not "almost dustless" despite the advertisement. You will also need to wear hearing protection. It isn't noisy, but it is irritating enough to require hearing protection.
Pros
11,000 RPM
Double-sealed
Wrap-around handle
Cons
Produces a lot of dust
Less powerful than other options
---
6.

DEWALT DWE46253 Concrete Surface Grinder
As a moderately-priced concrete grinder, the DEWALT DWE46253 Concrete Surface Grinder is also only of moderate quality. It isn't terrible, but it isn't excellent either. The brushless motor requires less maintenance than other options. The electronic kickback break turns on when the machine pinches, stalls, or binds-up. This quickly stops the wheel and reduces the movement of the grinder. The motor is shut off instantly as well, preventing kickback and injuries. This is a reliable safety feature and is one reason this grinder is rated number six and not lower.
The on/off switch has a no-volt release function. If the power goes out or the machine shuts down unexpectedly, the trigger can be cycled when restarting the tool. The variable speed functionality lets you control the wheel speed for complete control. The bail handle offers multiple positions, so you can choose which one you like best.
The assembly of this tool is complicated. The instructions are not clear, and getting the guard off is difficult – way more than it should be. The sliding cap is also a bit picky, so much more dust is created than is necessary.
Pros
Brushless motor
Kickback brake
Handle can be put in multiple positions
Cons
Difficult assembly
Guard is hard to remove
Sliding cap doesn't work well
---
7.

Stadea SWP101K Stone Polisher Grinder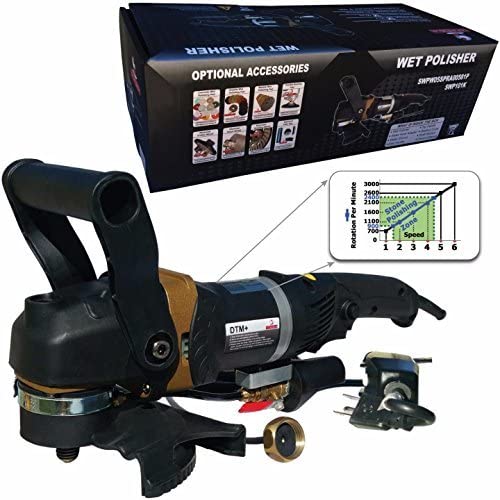 The Stadea SWP101K Stone Polisher Grinder has an innovative design and looks unique compared to other grinders. However, it doesn't work as well as you might expect it to. It does have a 6-month warranty. But this is decently shorter than the warranty on other grinders. Truthfully, 6-months is not a long time in the least.
This is a wet grinder, which means it can be used for a wider variety of tasks. However, it is not very good at being a wet grinder. The guard does an excellent job of deflecting water away from you so that you won't get wet. However, getting the hose to hook onto this machine is a pain. It is very demanding, and you have to line it up just right for it to work. This can be very annoying. Even after tightening, the connections seem to leak a bit.
Furthermore, this machine does not seem to be very durable. There are many reports of it breaking after only a year or so – which might be why the warranty is only 6 months long.
Cons
The hose is difficult to connect
Not durable
Leaks
---
8.

KIMO 7601 Brushless Cordless Angle Grinder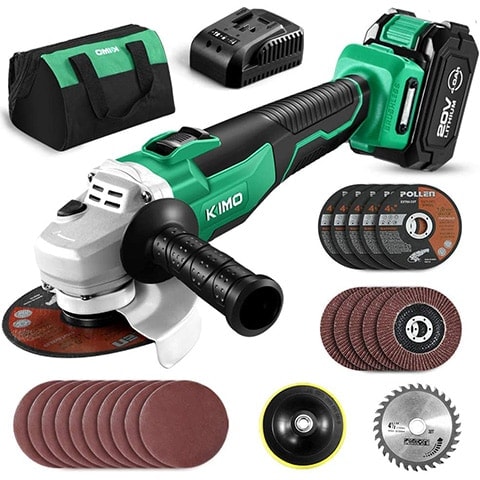 The KIMO 7601 Brushless Cordless Angle Grinder is one of the few cordless grinders available on the market. There is a good reason for this. Cordless grinders just aren't very powerful. Batteries can not provide the same level of power as an outlet can. Because of this, this grinder is much less potent than other options on the market. This may not be terrible, depending on your situation. However, it did cause this machine to get marked down quite a bit.
The guard also requires a screwdriver to adjust. Decades ago, most guards required tools to adjust. However, today, most grinders can be adjusted without the use of any tools. The fact that this one still requires a tool is very disappointing. The battery on this machine only lasts about 15 to 20 minutes. This is not enough for most jobs, so you will likely need to purchase a different battery.
Cons
Not as powerful
Guard requires tools to adjust
The battery only lasts 15 minutes
---
Buyer's Guide – Choosing the Best Concrete Grinder
Investing in a good concrete grinder can pay you in dividends later on. Not only will a quality grinder last longer, but it will also get the project done faster. Both of these aspects save you time and money.
Choosing the best option isn't always obvious, though. In many cases, it can be challenging to figure out which model is best for you.
In this buyer's guide, we'll discuss some of the essential features you should consider when selecting a concrete grinder. Your preferences and situation play a role in what grinder you should get. There is not a one-size-fits-all answer.
Power
Concrete grinders are usually around 15 amps. This is plenty for most uses, even professionals. At this power output, they will be able to grind concrete with very little force on your part. This cuts down on fatigue and makes the grinder more comfortable to use overall.
However, not all concrete grinders are this powerful. In our reviews, we came across a few concrete grinders that were as low as 10 amps. Anything under 10 amps is not going to be able to cut concrete efficiently. This is going to make your project take longer, and you will likely get worse results. Simultaneously, overloading the machine can cause damage, which will wear down the grinder faster over time.
RPM
RPMs are connected to the machine's power, but other factors go into the maximum RPM. Many low-powered machines can produce a lot of RPM- until they're trying to grind concrete. Still, you should look for a machine that can produce many RPMs, as you need quite a bit to grind away concrete efficiently.
Anywhere from 8,000 to 11,000 RPM is typically an acceptable range. Anything below that, and you may notice a significant change in your work efficiency.
Dust
Concrete grinders can produce a lot of dust. After all, when they grind away at the concrete, they're turning it into dust. Concrete dust can be dangerous. It can hurt your lungs and eyes. Furthermore, this sort of dust isn't just dangerous for those who have other health problems. Concrete dust can create deadly lung damage in healthy adults.
When grinding, you should always be wearing a mask. This is your first layer of defense against breathing in tons of dust. However, even if you have a quality mask lying around, you don't want to have to clean up mounds of dust when you get done. This dust can also find its way into machine components and other areas of your home if it gets left unchecked.
The easiest way to avoid this is to choose a machine that has a good dust management system. The size of the machine's connections is going to be important. If you have a shop vac you want to use, you should ensure that you can use it with whatever machine you purchase. You may need a shop vac or an industrial vacuum, depending on the size of the project.
You also need to ensure that the dust gets directed towards the vacuum. Otherwise, it isn't going to do you much good. Different grinders have different ways to accomplish this. No matter how the grinder accomplishes it, you do not want the machine to spit dust out all over the room!
FAQs
How much can a concrete grinder remove?
A concrete grinder can usually just remove minute amounts of concrete, along with paint, glue, and other imperfections. This isn't a tool used to change the slope of a concrete slab or anything like that. Instead, it is going to remove small bumps. Depending on the grinder's size and strength, you may be able to take off about 1/16 of an inch.
Can you grind concrete with an angle grinder?
Yes. You can grind away concrete with an angle grinder. However, you will need a diamond cup wheel attachment and a vacuum cleaner of some sort (whether it is a shop vac or industrial model). Some of the machines on our reviews above are angle grinders that come with the necessary attachments.
Can I use a grinder to cut concrete?
Maybe. Some machines have enough power to cut concrete. However, they will likely perform the job poorly, and you will be there forever. For cutting concrete, you should use a walk-behind concrete saw, preferably. They are designed specifically for this purpose.
More buying guides like this:

Conclusion
Concrete grinders can efficiently remove imperfections from concrete. If you're working with concrete, you'll probably need one to remove glue and imperfections once you're done with the bulk of the work. We hope this article helped you figure out precisely what model you need.
For most professionals and homeowners alike, we recommend the Bosch CSG15 Concrete Surfacing Grinder. This machine is pretty powerful, which allows it to do most jobs efficiently. Furthermore, it is also very good at controlling dust.
We also liked the Makita GA4530 Angle Grinder. It is very inexpensive and compact, making it a great budget option. We also liked that it was designed to withstand dust, which grinding on concrete produces a lot of.
Related Read: Which cement mixer performed best in our tests?