10 Best Water Filter Pitchers of 2023 – Reviews & Top Picks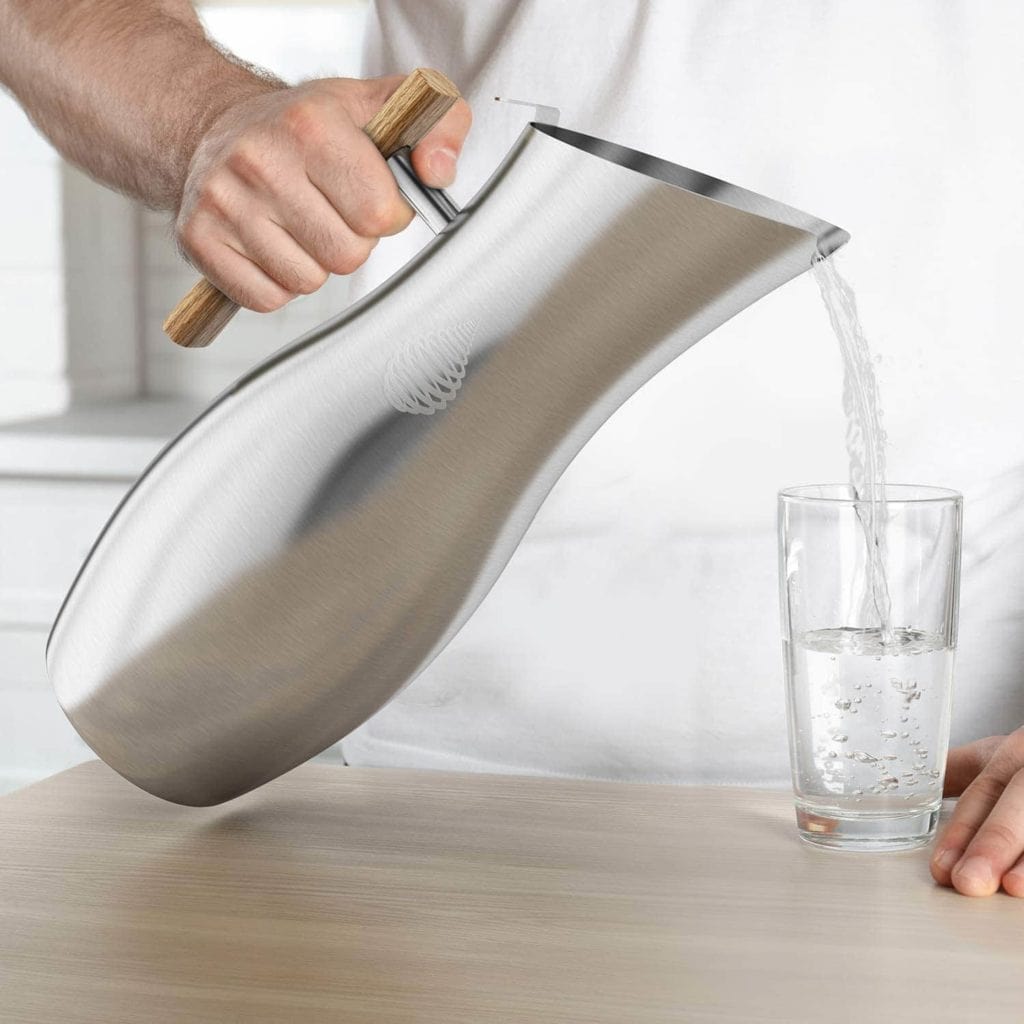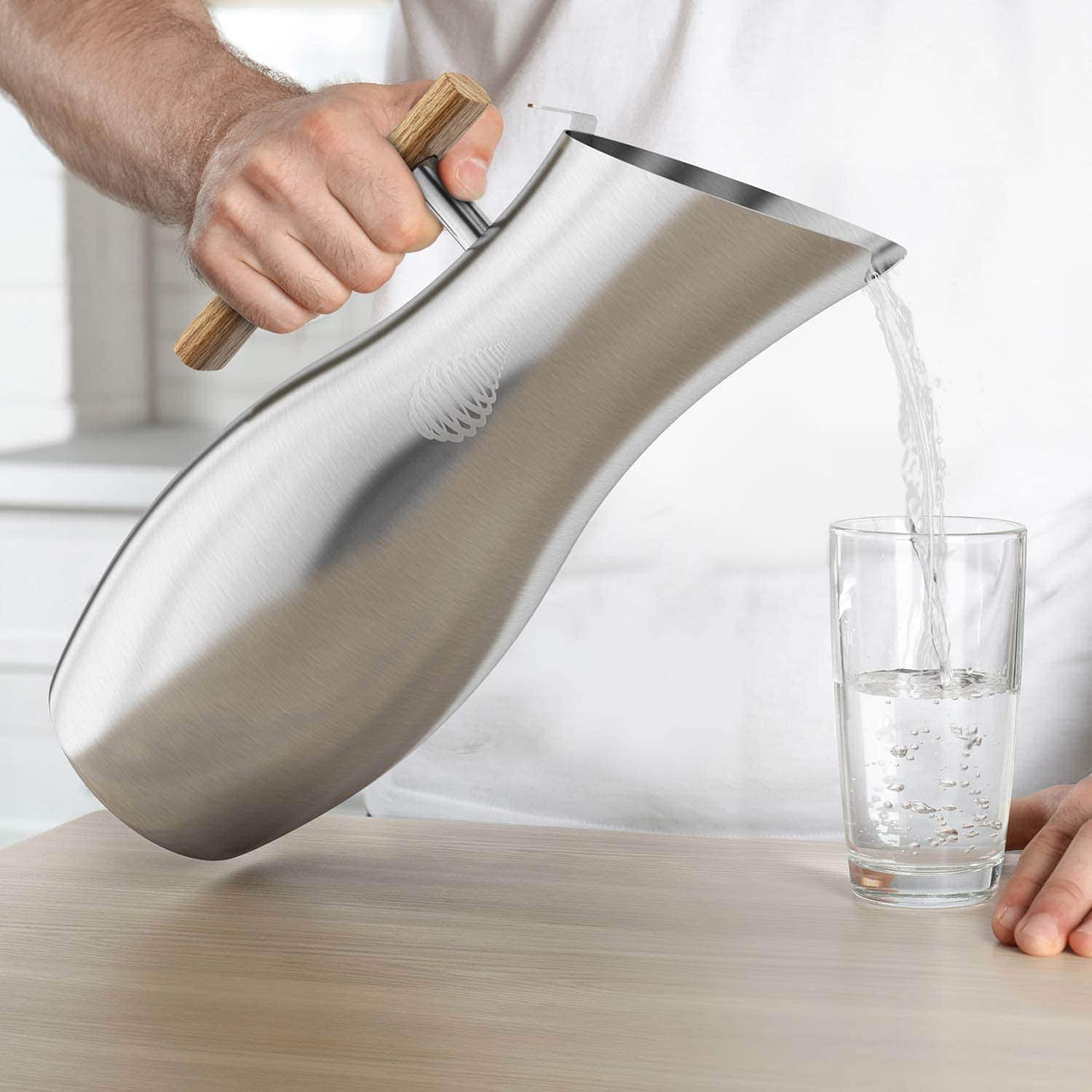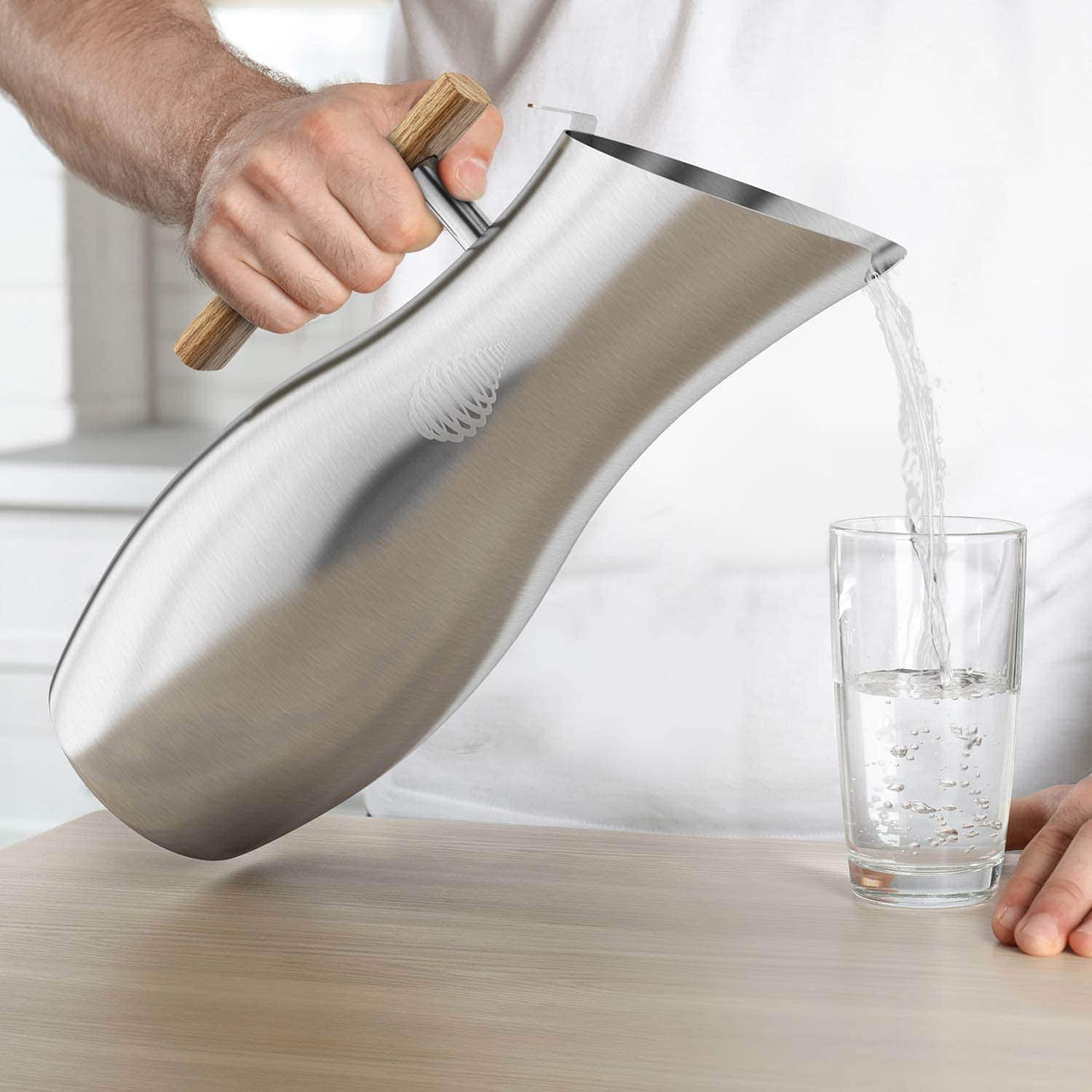 Our drinking water goes through water treatment plants that reduce the number of dangerous contaminants. But after traveling through our old and breaking-down infrastructure, the water can be full of unwanted impurities by the time it reaches your sink faucet. Lead, mercury, chlorine, Giardia, and more can be commonly found in the tap water in our homes.
Luckily, there are many filtration methods available for removing these unwanted substances from our water. One of the most affordable and easiest solutions is a water filter pitcher. We love these devices, so we set out to see which ones were the best. The following reviews will compare 10 of the best and most popular models to help you narrow down the decision when it's purchasing time.
---
A Quick Glance at the Winners of 2023
Rating
Image
Product
Details

Best Overall

Soma Water Filter Pitcher

Large 80-ounce capacity
Lid-door opens automatically
Removes chlorine and heavy metals
CHECK PRICE

Best Value

Brita Everyday Water Filter Pitcher

Filter indicator tells you when to replace
80-ounce water capacity
Brita filters are easy to find
CHECK PRICE

Premium Choice

Aquagear Water Filter-Pitcher

Filters fluoride and lead
Each filter lasts for 150 gallons
Removes 2000% more contaminants than Brita
CHECK PRICE

Invigorated Alkaline Water Filter Pitchers

Raises alkalinity of your water
Each filter lasts for over 100 gallons
Aesthetically pleasing
CHECK PRICE

ZeroWater Water Filter Pitcher

Five-stage filtration
Has push-button spout on the back
TDS tester on top
CHECK PRICE
The 10 Best Water Filter Pitchers
1.

Soma Water Filter Pitcher – Best Overall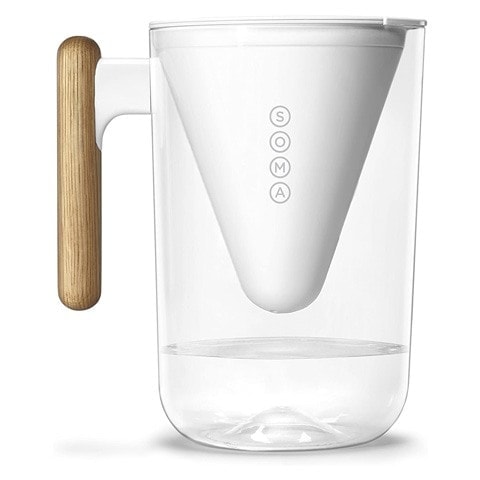 The Soma water filter pitcher provides an attractive way to keep yourself and your family healthy. Its large 80-ounce capacity holds enough water to supply several people. It features an easy-pour lid door that opens automatically. You don't even touch it, just pour the water on the lid and it opens up to allow the water into the reservoir. While it passes through the filter, most contaminants will be removed, such as chlorine, mercury, copper, and more.
Though it looks elegant and expensive, the Soma water filter pitcher is surprisingly affordable. We loved using this pitcher, and the water was so good that we kept wanting to come back for more. Unfortunately, we often had to wait for more since this pitcher is pretty slow to filter. But that's not enough to stop this from being our favorite water filter pitcher overall, so it has earned our top recommendation.
All in all, we think this is the best water filter pitcher on the market.
Pros
Large 80-ounce capacity
Lid-door opens automatically
Removes chlorine and heavy metals
Attractive looks
---
2.

Brita Everyday Water Filter Pitcher – Best Value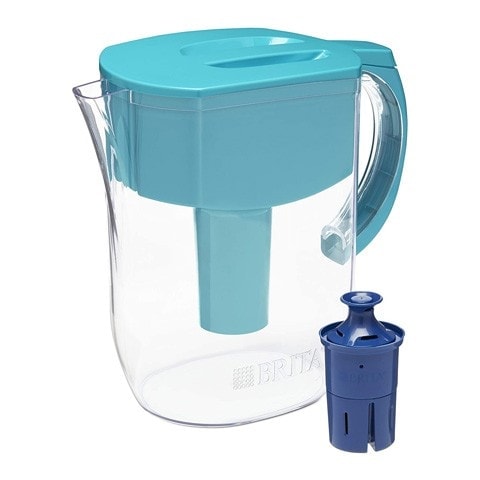 Brita is one of the most well-known names for in-home water filtration, so it shouldn't be much of a shock to find one of their water filter pitchers high up on our list. The Everyday water pitcher is excellent for daily use, as the name implies. With a standard 80-ounce capacity, it holds plenty of water for individuals or families. But the included filter only lasts for 40 gallons, so if you have a large family, you may want to look into the Longlast filters that Brita offers instead.
We loved the taste of the Brita water. It's reliably fresh and crisp, always tasting great until the built-in indicator lets you know that the filter has reached the end of its life. Luckily, Brita filters are the easiest to locate since they're available in so many places. You'll probably even be able to pick them up locally during your normal shopping. Affordability and ease of filter replacement help make this the best water filter pitcher for the money.
Pros
Affordably priced
Filter indicator tells you when to replace
80-ounce water capacity
Brita filters are easy to find
---
3.

Aquagear Water Filter-Pitcher – Premium Choice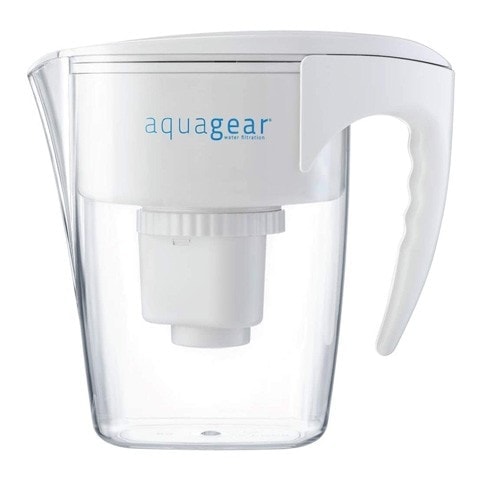 This water filter pitcher from Aquagear has a premium price tag, but it offers some impressive features and quality that we think validate the high price. For instance, it's one of the few water filter pitchers that can remove fluoride and lead from your water. Plus, the filter cartridges this pitcher uses have an extremely long lifespan of 150 gallons, so you won't be replacing them very often. Aquagear claims that their filters remove 2000% more contaminants from water than Brita filters. They're so sure of their product that they even offer a lifetime guarantee. If your pitcher ever breaks, they'll replace it free of charge! That's some excellent customer service.
Though it is one of the most expensive options we tested, we think the Aquagear water filter pitcher is well worth the cost. It was one of our favorite pitchers overall, and one of the only options available for filtering fluoride without breaking the bank.
Pros
Filters fluoride and lead
Each filter lasts for 150 gallons
Removes 2000% more contaminants than Brita
Lifetime guarantee
Cons
One of the most expensive options
---
4.

Invigorated Alkaline Water Filter Pitchers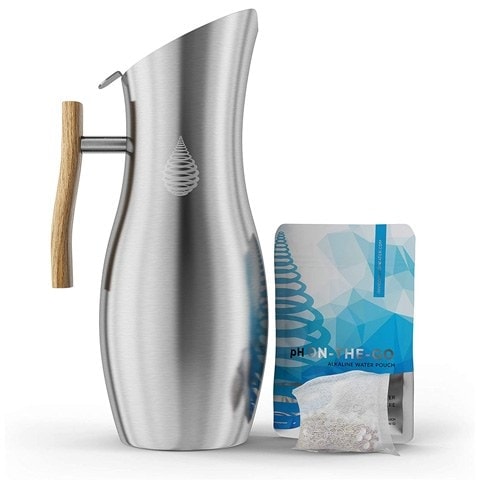 This alkaline water filter pitcher from Invigorated Water can help improve your health by doing more than just removing unwanted impurities. It can also add ionizing minerals that will boost the alkalinity of your water, providing you with the improved benefits of alkaline water. The included filter bag is easy to use, you just drop it in the pitcher of water and it does the rest. Replacement filter bags are easy to find, but they're a bit pricey. That said, each one lasts for over 100 gallons, so it's money well spent.
We love the sleek stainless-steel exterior of this pitcher. It's a bit expensive, but you get what you pay for. Overall, it's one of our favorite water filter pitchers, but it doesn't offer quite as much as the three products that earned our recommendations ahead of it.
Pros
Raises alkalinity of your water
Each filter lasts for over 100 gallons
Aesthetically pleasing
Cons
Pitcher is expensive
Filter bags are expensive
---
5.

ZeroWater ZP-010 Water Filter Pitcher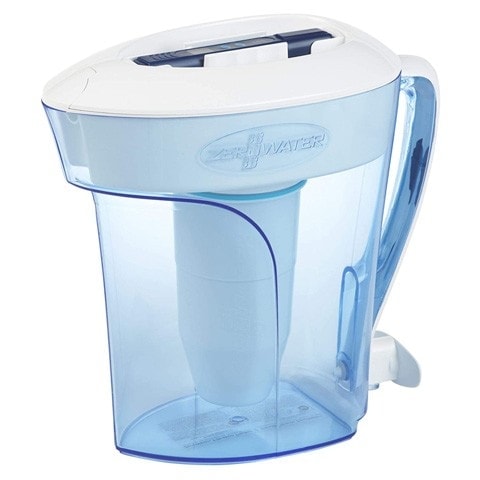 The ZeroWater filter pitcher had great ratings so we had high hopes for it. It's an affordably priced filter pitcher equipped with a 5-stage filter. It's even got a tester on the top for testing total dissolved solids, so you know they mean business. But the overall build quality is cheap and it doesn't feel as good as some of the other pitchers we tested. The filters are also very slow, but they do greatly reduce the TDS levels in the water.
For us, the filters only lasted about two weeks each, so we needed to replace them pretty often. That's a bit annoying, but there was one neat feature that the ZeroWater filter had that we saw nowhere else. This pitcher has a push-button spout on the back so you don't need to remove the pitcher from the fridge to pour a glass. This is a thoughtful little extra that we really appreciated.
Pros
Affordably priced
Five-stage filtration
Has push-button spout on the back
TDS tester on top
Cons
Cheap construction
Very slow filtration
Filters only last two weeks
---
6.

SimPure Water-Filter Pitchers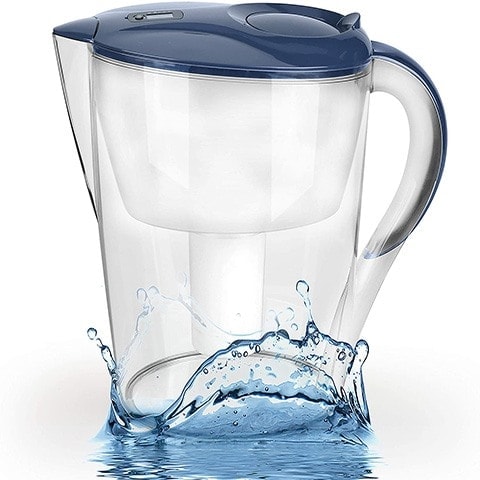 While most of the pitchers we tested for this list had a capacity in the vicinity of two liters, the SimPure pitcher took things to the next level with a massive 3.5-liter capacity. That makes it a perfect choice for large families. Despite the large size, this filter pitcher is one of the more affordable options we've seen. The replacement filter cartridges are also inexpensive, and the pitcher is protected by a lifetime guarantee, making this a pretty sound investment.
It's a good thing the filters are cheap because they only last for 40 gallons. That's as good of a lifespan as the Brita filters offer, but it's nothing compared to some of the impressive 150-gallon lifespans offered by filters like the Aquagear that earned our premium recommendation. This filter also tends to clog very easily. You can shake it up and get it to flow again, but it was still a frustration we'd rather not deal with.
Pros
Extra-large 15-cup capacity
Affordable filter cartridge replacements
Lifetime guarantee
Cons
Each filter only good for 40 gallons
The filter gets clogged easily
---
7.

Waterdrop Chubby Water Filtration Pitcher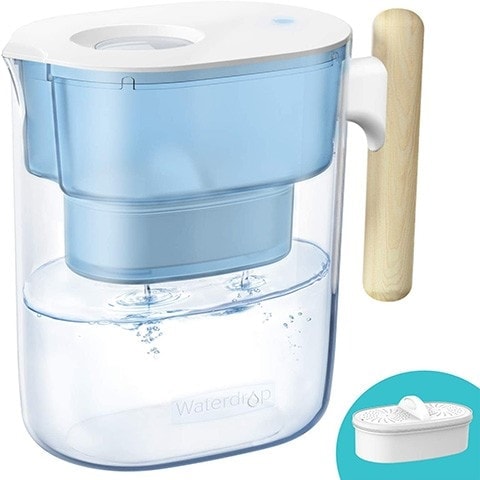 We're impressed by any filter that can remove or reduce fluoride levels. The Waterdrop WD-PT-04B is one such filter, with a seven-stage filter that lasts up to 200 gallons. That's a pretty incredible stat, but then we realized that it doesn't filter bacteria, which is going to hold this pitcher back from earning a higher position on our list.
This pitcher features a no-touch fill that opens automatically when you pour the water on the right spot, but it's too firm, so it doesn't open easily enough, resulting in a big mess every time we tried to fill this pitcher. But we like the thin space-saving design that fits in the fridge door. It's not one of the better filter pitchers we tested, but there were still plenty of worse options that we tried as well.
Pros
The seven-stage filter removes fluoride
Filter cartridge lasts 200 gallons
Fits in the fridge door
Affordably priced
Cons
No-touch fill is messy
Doesn't remove bacteria
---
8.

Nakii NFP-100 Water-Filtration Pitchers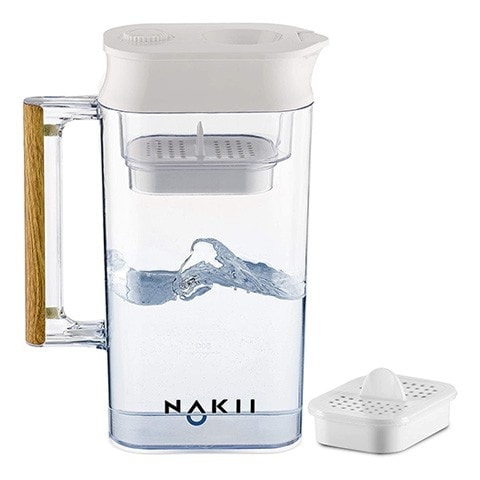 The Nakii NFP-100 water filter pitcher has a very different design from most with a square filter cartridge. Each filter lasts for 150 gallons, giving it one of the best lifespans we've seen. But the filters aren't the most effective. They did almost nothing to reduce total dissolved solids and we still had some chlorine smell in the filtered water. That's likely why the water filters so fast in this pitcher.
You can get this pitcher for a lower initial investment than most of the other pitchers we tested. We like its looks, but it has a large footprint that makes it hard to fit in the fridge. Worse, it's got a smaller capacity than many of the other pitchers at just 1.8 liters. Though we like the long lifespan of the Nakii cartridge filters, we prefer filters that do a better job of removing contaminants from our water.
Pros
Filter lasts for 150 gallons
Affordably priced
Fast filtering
Cons
The filter isn't the most effective
Didn't reduce TDS as much as hoped
Very tall but moderate capacity
---
9.

LifeStraw Home Water Filter Pitcher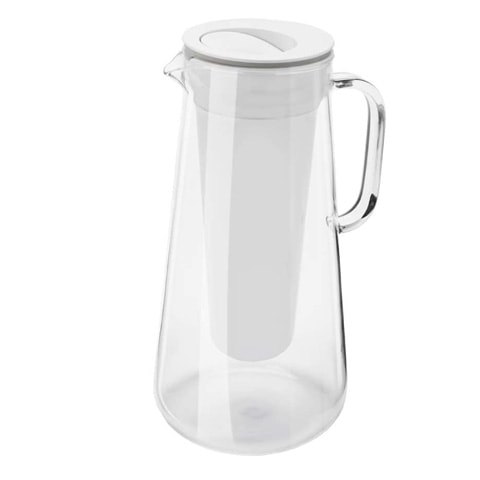 LifeStraw is a well-established brand in personal water filtration, but now they've stepped into the at-home filtration market with the LSH7GLWH07 home water filter pitcher. The pitcher is made from glass for a better taste and no chemicals. The filter is housed in plastic though, so for individuals who are trying to stay away from plastic, this pitcher probably isn't the answer.
Though we like the elegant look of this pitcher, it's too tall to fit under some sink faucets, making it a bit of a nuisance. It's also one of the more expensive water filter pitchers we've tested, though it doesn't remove fluoride. However, it does remove bacteria and heavy metals, so it will provide safe and clean drinking water.
Cons
Expensive
The filter housing is plastic
Too tall to fit under some sink faucets
---
10.

OXA Alkaline Pitchers for Water Filtration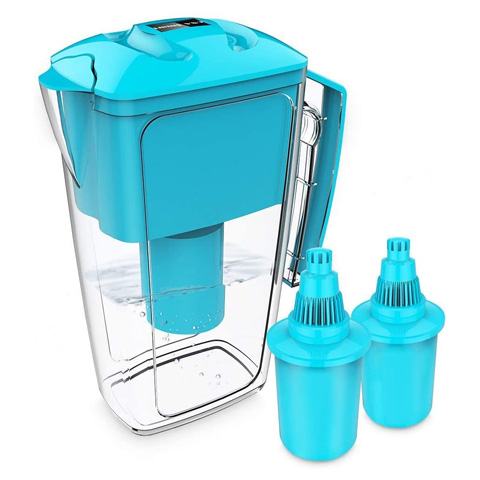 The OXA alkaline water filter pitcher is actually a decent product overall, but it has a fatal flaw that makes it very undesirable in our eyes. First, the good. Since it's an alkaline filter, it not only removes impurities from your water but also raises the pH to provide you with the health benefits of alkaline water. It's got a seven-stage filter system with long-lasting cartridges that are good for over 150 gallons each. That's pretty impressive, but replacing the cartridges can prove to be a bit of an issue since they're not available! You do get an extra cartridge included free, but when it's time to replace them, you'll likely regret purchasing this pitcher since you won't be able to find any replacement cartridges.
No matter how good of a filter pitcher it is, we can't recommend it since you won't be able to use it for very long.
Pros
Raises the pH of your water
Seven stages of filtration
Large capacity
Long filter life
Cons
No replacement cartridges are available
One of the more expensive options

Buyer's Guide: How to Choose the Best Water Filter Pitcher
At this point, you probably have a good grasp of the available features that you might find in a water filter pitcher. But how do you compare water filter pitchers? One of the most important things to consider when choosing a water filter pitcher is what it removes from your water. But before we discuss what it removes, what harmful substances are contaminating our water in the first place?
What's In Our Tap Water?
When you take a drink from the tap in your home, you may think that you're safe to drink it straight from the faucet. While that certainly shouldn't cause you immediate harm, you may be amazed to find out some of the chemicals and contaminants your water contains that are harmful to your health. Ironically, you drink more water to be healthy, but by drinking more tap water, you're filling your body with unhealthy pollutants. We know the solution is a water filter pitcher, but what impurities are there for us to remove?
Lead – Water causes corrosion, and water pipes are made out of metal. As the metal corrodes from years of holding water, the corrosion will contaminate the water. This can happen from pipes between the treatment facility and your home, so even though the water is treated, it can have high levels of lead and other heavy metals.
Copper – Since many of the water pipes in your home are made from copper, it's very common to find trace amounts of copper or worse in your tap water. Especially after many years of constant use, the copper corrodes and small particles will flake off into your water supply.
Mercury – Our water pipes are underground where they're susceptible to contamination from things like sewage leaks, agricultural runoff, factory waste, landfill seepage, and more. Those can all contain mercury, which contributes to the high levels commonly found in tap water.
Chlorine – Chlorine is a powerful disinfectant used in the water treatment process that purifies our tap water and makes it safe for drinking. While it's there to neutralize other, more harmful contaminants, it's still not something you want to consume at high levels. Plus, the smell of chlorine is very off-putting and can make you not want to drink the water if you smell the chlorine in it.
Giardia – Giardia is a parasite that can cause sicknesses such as cramps and vomiting. You may be abhorred to find out that it's not uncommon to find in regular tap water. It can be introduced to the water supply through contact with sewage or animal waste, things we'd like to wish never to infect our water supply.
BPA – BPA is used in the production of plastics, and it has been linked to a myriad of health problems like cancer, obesity, and more. BPA is used in the epoxy coating that's in water pipes, which is how it makes its way into your water at home.
Fluoride – Fluoride is a chemical that's added as part of the water treatment process. It's supposed to help improve dental health, though there is debate about its health benefits. Some even claim that it's detrimental to our health and don't want it in their water, which is why some filters even remove fluoride.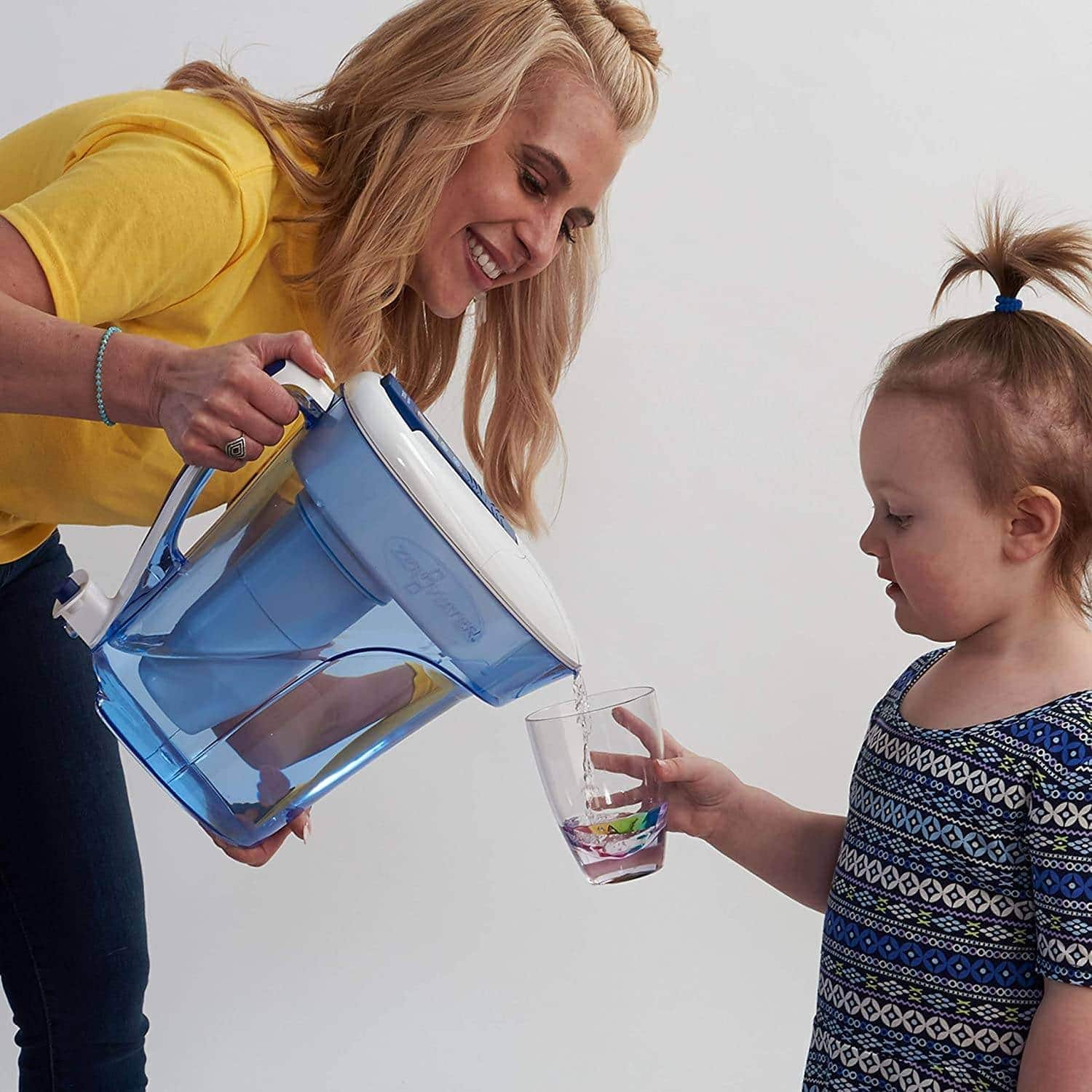 What Does Your Filter Remove?
That's quite a lot of impurities that you'd probably rather not consume. So, let's talk about removing them. While water filter pitchers are meant to remove the contaminants from your water and make it safe to drink, they don't remove everything. In fact, what they remove is specific to each filter. If there's something specific you want to be removed, you'll need to find a filter that's capable of removing that substance.
Fluoride – We've already discussed what fluoride is and why it's in your drinking water. Most filter pitchers won't remove this chemical, but some on the market will. If you're concerned about fluoride consumption, look for a filter that specifically filters fluoride.
Bacteria – Since bacteria are everywhere, most filters remove up to 99.99% of them from the water. However, we noticed in our testing that some filters don't remove them at all, so it's something to keep an eye open for.
Protozoa – These are microorganisms that are living in your water. Most filters will remove them from the water so you shouldn't have to look for this specifically.
Lead – As we mentioned already, lead is often introduced to your tap water by traveling through corroded pipes. Over time, that lead can build up and cause lead poisoning, which can result in awful sicknesses like loss of appetite, fatigue, vomiting, hearing loss, and more. Only a few filters remove this metal, so if you know lead is in your water, make sure to look for a filter that lists lead specifically as one of the substances it removes.
Heavy Metals – Lead isn't the only heavy metal that could be found in your water supply. Most filters will remove some heavy metals but not all.
TDS – TDS stands for total dissolved solids and it's a measure of all the particles present in water, including healthy substances like minerals. TDS isn't necessarily a measure of water quality and not all filters reduce the TDS levels of water substantially. However, if you want water devoid of any excess substances, look for a filter pitcher that will reduce the TDS of your water.

Conclusion:
We wanted to find the water filter pitcher that provided us with the purest, most delicious drinking water possible. We've written up reviews comparing some of our favorites, but only three of them have earned our recommendations. Our favorite overall was the Soma water filter pitcher. It's got attractive looks, a lid that opens automatically for easy filling, a large 80-ounce capacity, and a filter cartridge that can remove chlorine and heavy metals.
For the best value available, we recommend the Brita Everyday water filter pitcher.  It's one of the most affordable filter pitchers on the market, with a large 10-cup water capacity and the easiest to locate replacement filter cartridges of any product on our list. Finally, if you want the most premium filtration experience possible from a pitcher, you want the Aquagear water filter pitcher. It removes 2,000% more contaminants than Brita, filters fluoride and lead, has cartridges that last 150 gallons between replacements, and the whole pitcher is even protected by a lifetime replacement guarantee.
We truly hope that this guide helps you find the best water filter pitcher for your home!