5 Best PUR Water Filters of 2023 – Reviews & Top Picks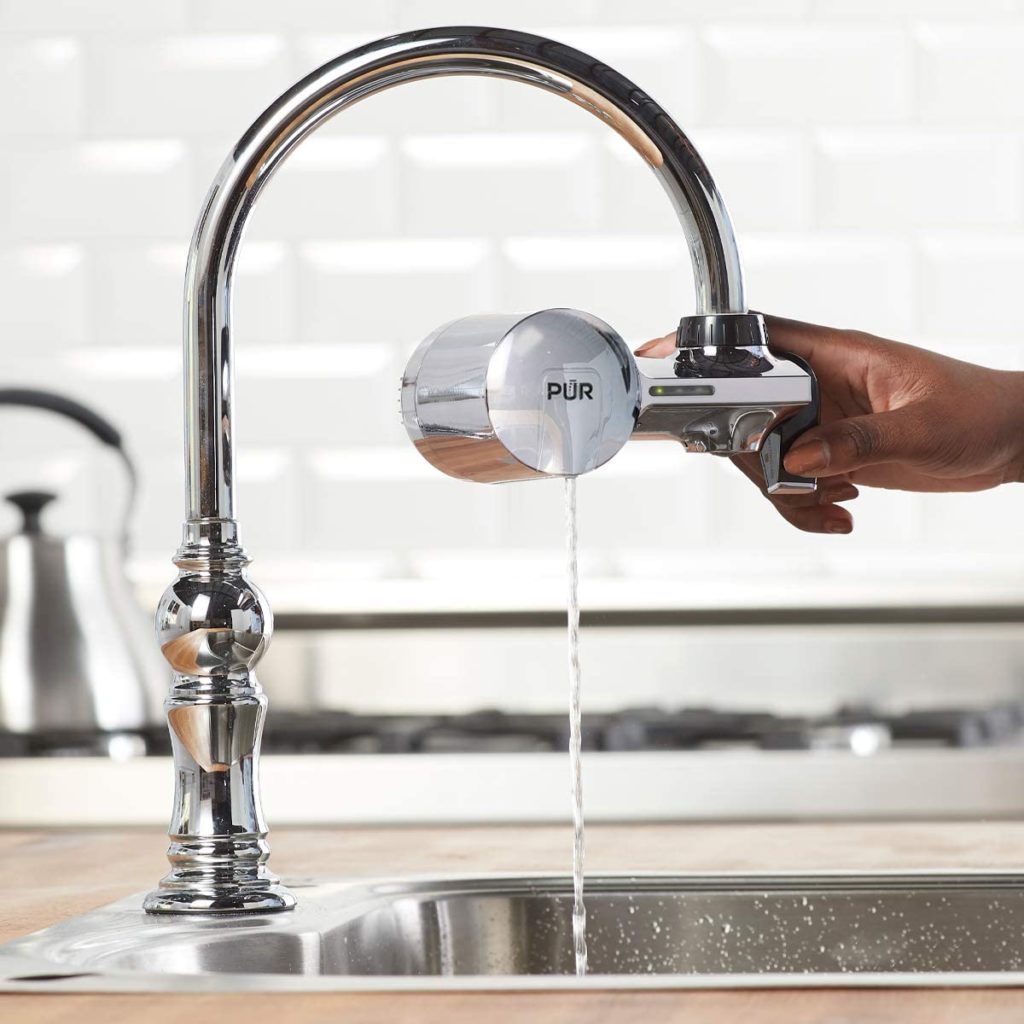 If you do an internet search for water filters or you just browse the selection at your local store, you're very likely to see PUR filters as one of the most prominent brands. They're one of the most popular and longest-lasting brands in water filtration, offering many different types of water filters.
We've been using PUR filters for quite a while, and it was time for a replacement. Of course, we wanted the best replacement possible, which is why we've written up the following five reviews. We've thoroughly tested these filters, comparing their strengths and flaws and compiling our findings so that you can skip all the testing and jump straight to the conclusions. Hopefully, this will help you find the best PUR water filter for your needs without having to spend as much time as we did, trying them all out.
---
A Quick Comparison of Our Favorites in 2023
Rating
Image
Product
Details

Best Overall

Horizontal Faucet Mount Filter

Affordable
Easily accessible
100-gallon filter lifespan
CHECK PRICE

Best Value

Water Filtration Pitcher

No set up required
Can keep in fridge
Very affordable
CHECK PRICE

Premium Choice

Faucet Water Filter

Ergonomic design
1-click easy installation
100-gallon filter lifespan
CHECK PRICE

18-Cup Water Filter Dispenser

Large capacity
Easy-pour spigot
40-gallon filter lifespan
CHECK PRICE

Classic Faucet Mount Filter

1-click easy installation
100-gallon filter lifespan
CHECK PRICE
The 5 Best PUR Water Filters
1.

PUR PFM400H Horizontal Faucet Mount Filter – Best Overall
The PFM400H is PURs basic entry-level faucet mount filter. Instead of standing up vertically like most faucet filters, this one is horizontal. Unfortunately, that makes it take up more space, inhibiting normal sink function more than other faucet mount filters. It's available in black or white at a price that makes it affordable for anyone to have filtered water in their home.
Cartridges for this filter remove over 70 contaminants from your water, including 99% of lead. What's left, is a delicious tasting, safe drinking experience. When it's time to replace your filter cartridge, you'll have no problem finding replacements since PUR filters are sold in many places. You won't have to replace the cartridge often since each one lasts for 100 gallons, which is about two to three months of use.
Pros
Makes filtered water very affordable
Removes over 70 contaminants
No waiting for filtered water
100-gallon filter lifespan
Cons
Inhibits normal sink function
---
2.

PUR PPT700W Water Filtration Pitcher – Best Value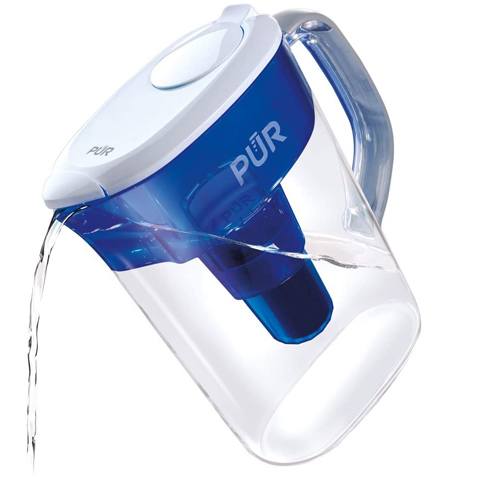 A convenient water filtration system that keeps your water cold, the PUR PPT700W Water Filter Pitcher is our pick for best value. It blends affordability and ease of use with PURs excellent filter cartridges, which is why we think it's the best PUR water filter for the money. There's no setup required and almost no maintenance. With a seven-cup capacity, this pitcher can hold enough water for the whole family. Plus, it's small enough to easily top off whenever you get a drink from it.
We loved how simple this pitcher was. Its slim design fits easily in a crowded fridge to keep your water refreshingly cold. Even kids can easily use this pitcher since it's so simple. But you'll have to keep track of when you replace the cartridge because there's no filter indication light. This pitcher uses standard PUR pitcher filter cartridges, which have a shorter lifespan of just 40 gallons.
Pros
Very affordably priced
Can keep in the fridge for cold water
Very simple to use
Requires no setup or installation
Cons
Filters only last for 40 gallons
No filter indication light
---
3.

PUR FM-3700 Faucet Water Filter – Premium Choice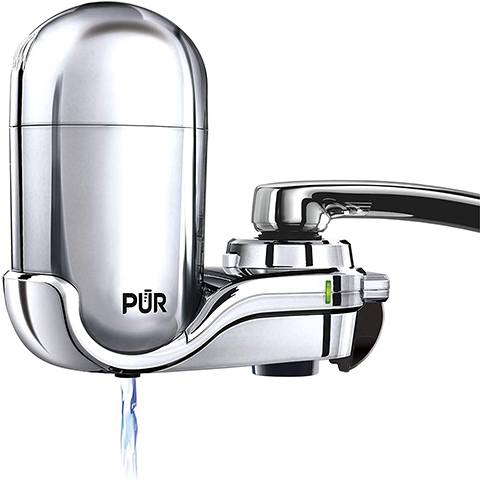 With a sleek chrome appearance and tool-free installation, the FM-3700 is PURs upgraded, advanced faucet water filter. It still uses the standard PUR faucet filter replacement cartridges, so it's got the same filtration abilities. They'll last 100 gallons between changes, removing over 70 contaminants along the way. When it's time for a replacement, the filter indicator light will let you know so there's no guessing.
Unlike the lower-priced basic model, the advanced filter has a vertical design that's a bit more space conscious. It's also got a dead-simple one-click installation that takes just a few seconds to install. But these are the only improvements over the basic model for nearly twice the price. It does look a little more attractive as well, but that's subjective. Still, if you want the simplicity and reputation of PUR filters with the upgraded features, the FM-3700 is your choice.
Pros
The vertical design doesn't encumber the sink as much
Filters last for 100 gallons
Filter indicator light
1-click installation
---
4.

PUR DS1800Z 18-Cup Water Filter Dispenser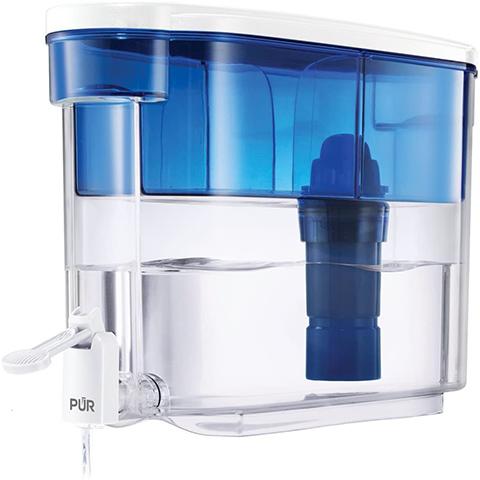 It's not exactly space-conscious, but the PUR 18-Cup Water Filter Dispenser has an extra-large capacity that can hold enough water to supply the whole family. It uses standard PUR pitcher filter cartridges, so you get the trusted PUR filtration and affordability. It's a bit more expensive than other PUR pitcher filters because of the larger capacity.
But the larger capacity of the 18-cup dispenser works against it. With smaller pitchers, it's easy to refill the pitcher a little, each time you take a cup. But with the larger size of the 18-cup filter, it's difficult to refill. And when it's full of water, it's too heavy to make it convenient. So, you'll only end up refilling it when it's empty, which means you'll have to wait for the water to filter before you can drink any. But when it's time to drink, the easy-pour spigot on the front makes it easy to pour your cup without moving the container.
Pros
Large 18-cup capacity
Easy pour spigot
Cons
More expensive than other PUR filters
Filter lasts for just 40 gallons or two months
Large size makes it more difficult to refill
---
5.

PUR FM2500V Classic Faucet Mount Filter
PUR offers several different entry-level faucet mount filters. The FM2500V is one that doesn't quite stack up in our opinion. It does have some benefits though, and some of its features are found on the higher-end filters. One-click installation is quick and easy, and compatibility with standard PUR faucet filter cartridges means you get 100-gallon filter lifespans.
This filter is made entirely from plastic with a vertical design. It looks cheap and doesn't add to the kitchen decor. But our biggest complaint was the water flow. This filter felt much slower than the others we tested, taking quite a while to fill up a glass. It's priced similarly to the PFM400H that earned our top recommendation, and we'd recommend picking that one over the FM2500V.
Pros
1-click installation
Better filter lifespan than the pitchers
Cons
Not very attractive
Made entirely from plastic
Poor water flow

Buyer's Guide – How to Choose the Best Pur Water Filter
If you've read the comparisons of each of our favorite PUR filters and you're still unsure of which to choose, don't worry. They may all seem similar, but we've found a few key differences to focus on that will help you make the right choice. All these filters come with proven PUR performance and reliability, so the rest is just a matter of preference. To help you decide what your preferences are, we've written up this short buyer's guide to cover the most important factors of your decision.
What Type of Water Filter Should You Buy?
The first decision to make is what type of filter you should buy. PUR makes several different types of filters. While they're all excellent products, they have different strengths and drawbacks that make each one better for particular situations. It's important that you get the type of filter that best fits your needs, so let's figure out what each filter does best and what they don't do so well too.
1. PUR Faucet Mount Water Filters
Faucet mount filters attach directly to your existing sink faucet. They have a diverter switch that lets you choose between normal faucet use and the filter. When you select the filter, the flow will divert from the faucet and flow through only the filter, coming out as a small stream of filtered water. If you don't flip the switch, then your sink will function as normal, bypassing the filter entirely.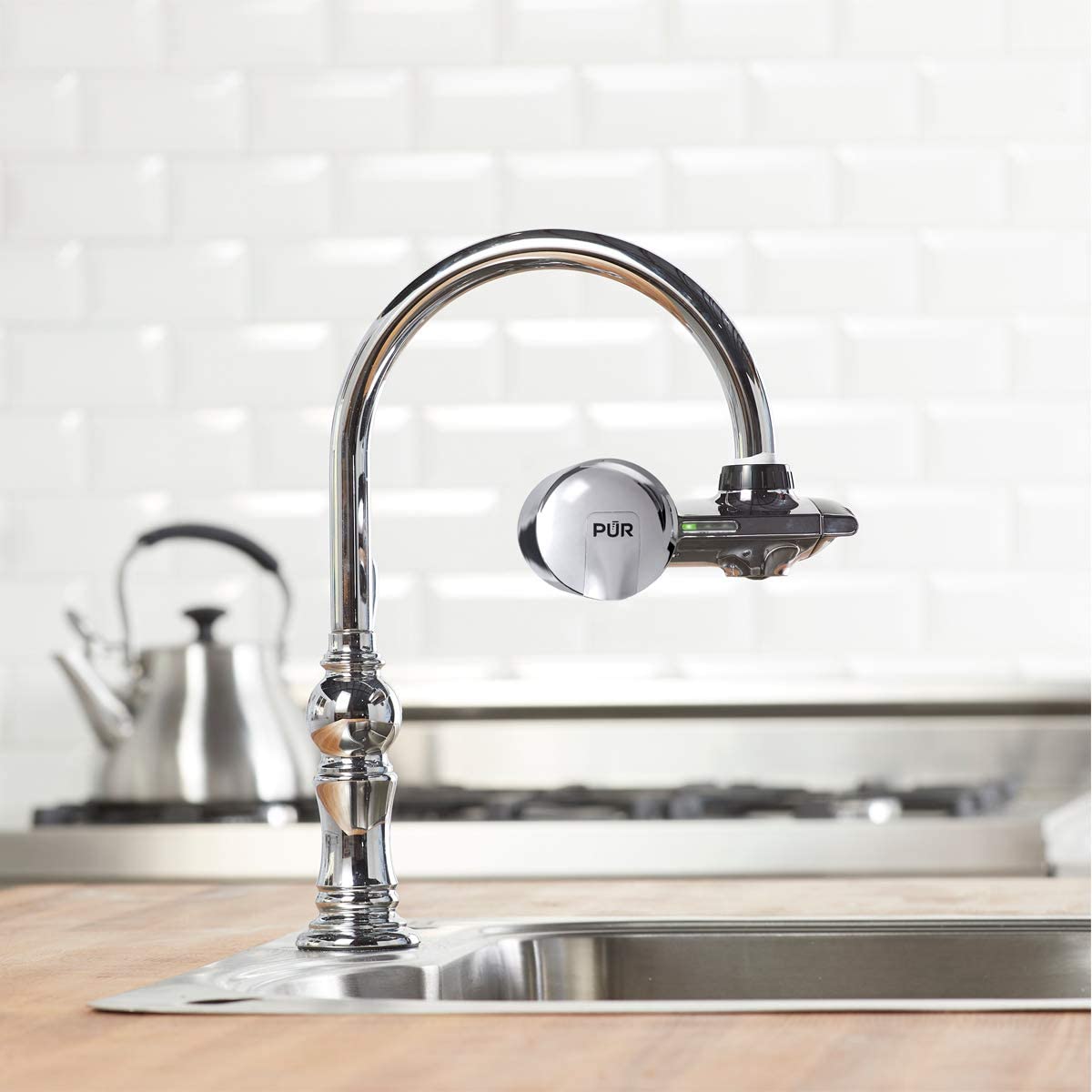 Advantages of PUR Faucet Mount Filters
This type of PUR faucet filter has quite a few advantages. First, the PUR faucet filter cartridges have a much longer lifespan than other types of PUR filters. They last for 100 gallons between replacements, which is about two to three months. That's two and a half times longer lifespan than the pitcher filters.
Faucet mount filters also offer a lot of convenience. Just flip the switch and you can have a never-ending stream of delicious filtered water, no waiting needed.
Drawbacks of PUR Faucet Mount Filters
Faucet filters take up a lot of sink space, inhibiting your sink's normal functionality. This can become a real nuisance if you wash dishes by hand. And depending on the model you choose; it may be a bit of an eyesore as well.
Another drawback to faucet filters is that you can only get room-temperature water. If you want it cold, you'll have to add ice or stick it in the fridge after you pour it.
2. PUR Pitcher Water Filters
A simple and popular alternative to faucet filters, PUR pitcher filters are simple to use and affordable. Instead of producing your water on demand like the faucet mount filters, a pitcher filter holds your water for when you need it.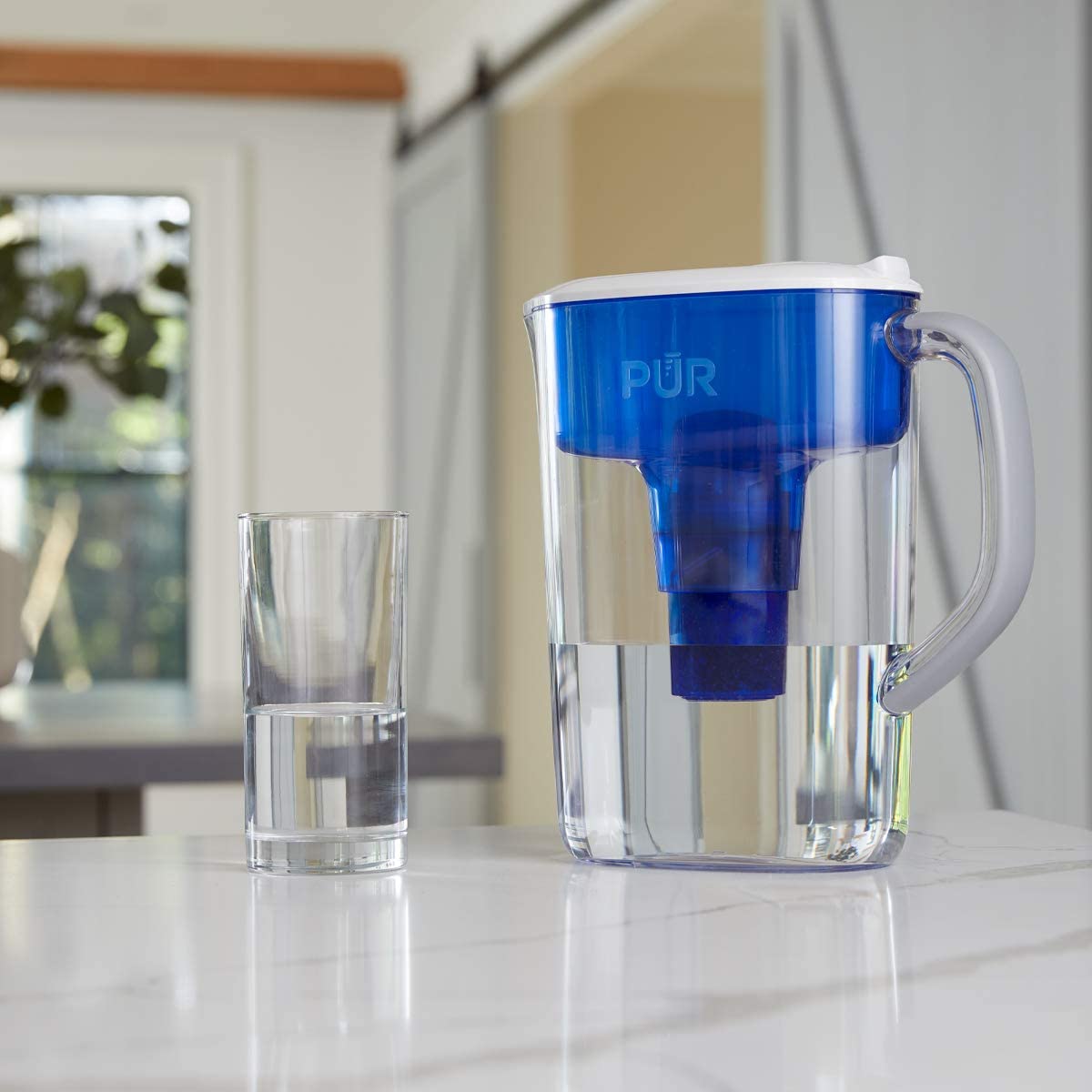 Advantages of PUR Pitcher Water Filters
One of the biggest advantages of a PUR pitcher filter is that it can be kept in the fridge. This means that your water will be cold and refreshing when you're ready for a drink, unlike water from a faucet filter that's always room-temperature at best.
Drawbacks of PUR Pitcher Water Filters
If you need water and your pitcher wasn't refilled last time, you may be waiting a little while for it to filter. Pitchers aren't as quick and convenient as faucet filters since the water isn't on tap. You're also limited to the capacity of the pitcher.
Another downside to the PUR pitcher filters is the poor filter life. The cartridges only last for 40 gallons between replacements, which is less than half the lifespan of a PUR faucet filter cartridge.
3. PUR Dispenser Water Filters
PUR dispenser filters aim to solve the capacity issue of pitcher filters by increasing the capacity to a much larger size. They still use the standard PUR pitcher filter replacement cartridges though, making them just as convenient.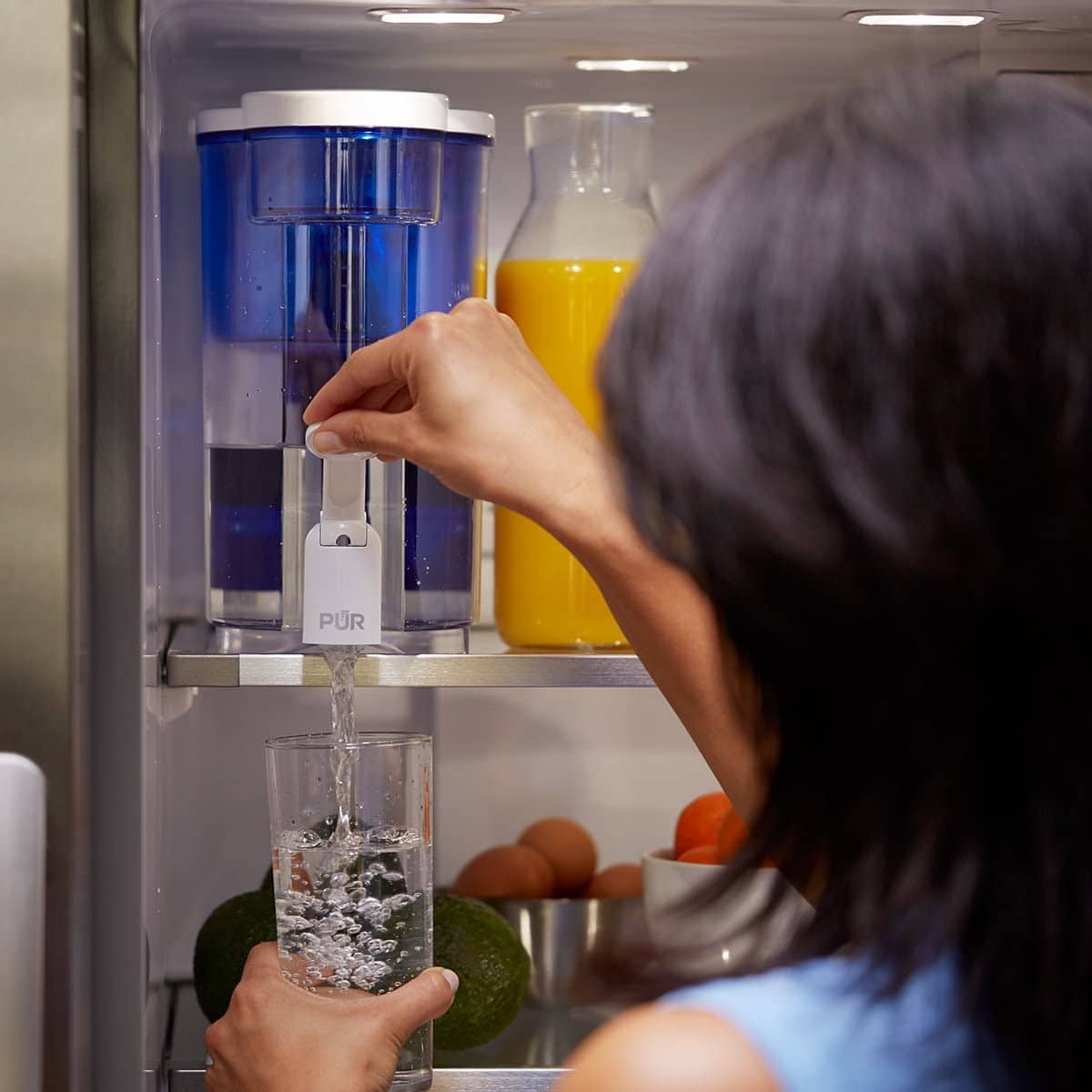 Advantages of PUR Dispenser Water Filters
The obvious advantage of a PUR dispenser is that it holds more water. This is especially advantageous for large families. PUR dispensers are also easy to pour from since they have easy-pour spigots.
Drawbacks of PUR Dispenser Water Filters
The thing that displeased us most about the PUR dispensers was the same thing we loved about them; their large size. While it's great to hold a lot of water, it's very hard to refill. With smaller pitchers, you can top the pitcher off each time you take a glass so it's always full. But the dispenser is very heavy when it's full of water, making it impractical to top up.

Conclusion
For PUR convenience with a reputation you can trust, you have a lot of options. We've tested many filters from the PUR lineup, including faucet mount filters, water pitcher filters, and dispenser filters as well. After trying them all, the top three from our reviews section are the ones that we most highly recommend.
The PUR PFM400H was our pick for the best overall. It's a great blend of price and performance that uses the standard PUR faucet filter cartridges. Plus, it's reasonably priced and easy for anyone to install.
We think the PUR filter with the best value is the PPT700W Water Filtration Pitcher. It requires no setup or installation and offers PUR reliability and convenience in an affordable package that easily fits in a crowded fridge.
For a premium PUR filter, we recommend the PUR-0A1 Faucet Water Filter. It's got a vertical design that doesn't take up much space, with a sleek chrome finish that complements your existing kitchen fixtures. We also liked the simple one-click installation and the convenient filter indicator light to remind you when it was time to replace the filter.