7 Free DIY Above Ground Pool Deck Plans You Can Make Today (with Pictures)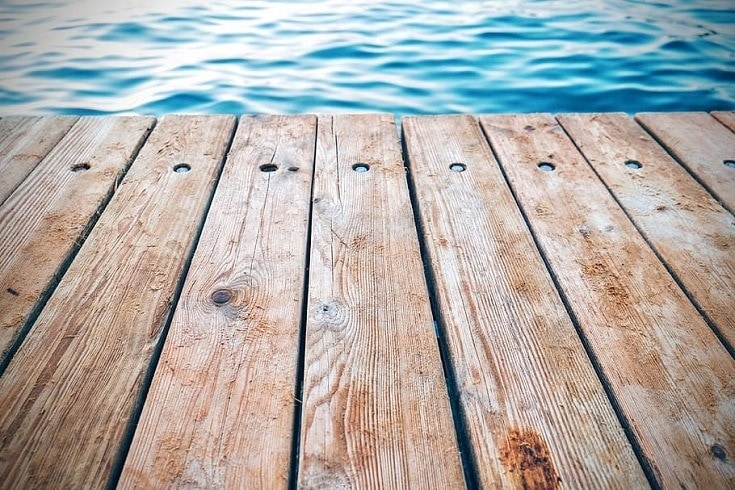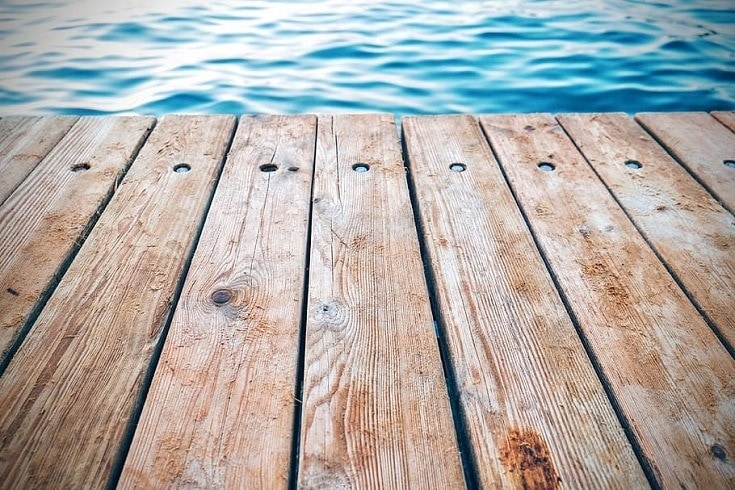 Having an above ground pool is an excellent addition to any backyard. Having a backyard oasis with a deck and a pool takes everything to an entirely new level. We have found seven free above ground pool deck plans for you to build your own pool deck. There are hundreds of different styles out there when it comes to pool decks, and even if one of these options is not your perfect fit, it will give you a great starting point to tackle this project.

The Top 7 DIY Above Ground Pool Deck Plans
1.

27 Foot Above Ground Pool Deck Plans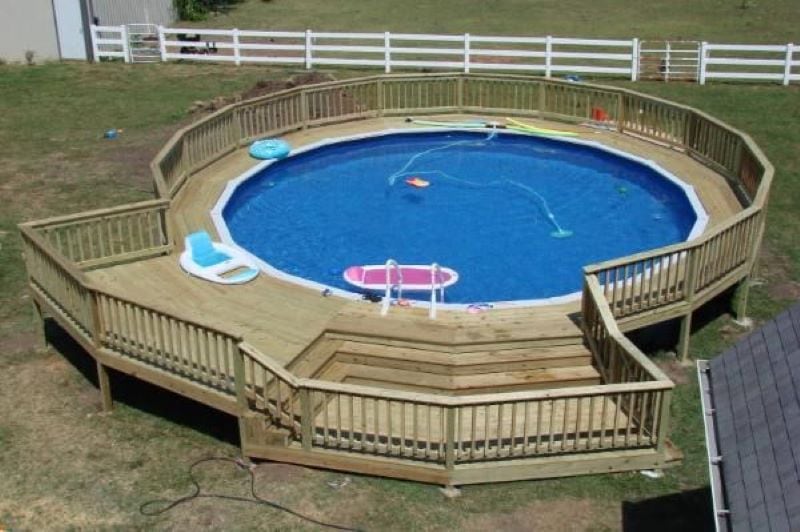 If you have a round 27-foot above-ground pool, you are in luck. This plan will give you everything you need to build a beautiful wood deck around the pool, including the railings around your pool deck.
This is an excellent option for those who still want an unobstructed view of the yard behind the pool area. As far as deck building goes, this plan will be a little harder than some others you may come across, but it certainly can be done.
---
2.

 Small Platform Pool Deck for Round Pool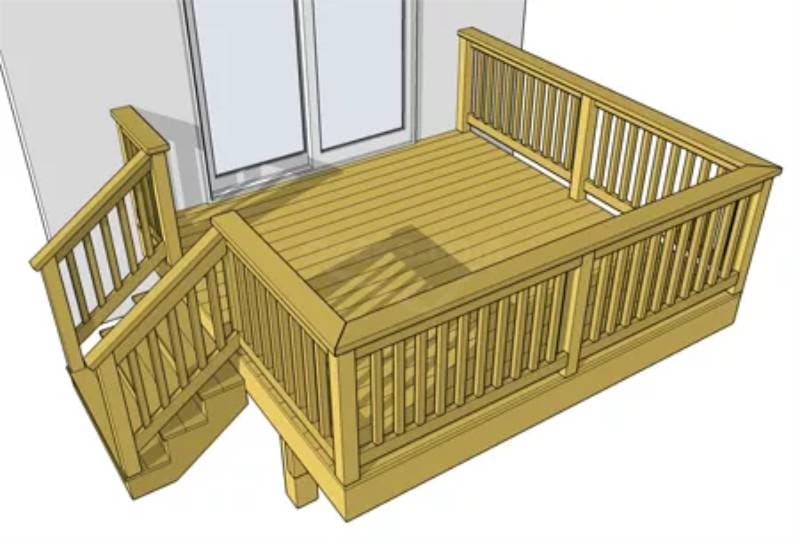 If you are looking to have a smaller scale pool deck where people can walk up, stand, and then enter the pool, this small platform pool deck may be a good option for you. With this pool deck, you will not need a ladder that goes on the outside of your above ground pool. This deck plan comes with the plans for the stairs, supports as well as the railings needed.
At the top of the stairs to the deck, there will be a gate. For safety purposes, this is very important, and the gate should have a locking mechanism as well. The actual deck on this pool will only cover about a quarter pool, leaving a beautiful view out of the majority of the pool. If your above ground pool is in a nice setting, this may be a great option. With the smaller size on this platform pool deck, you will also spend considerably less than other options out there.
---
3.

 Pool Quarter Round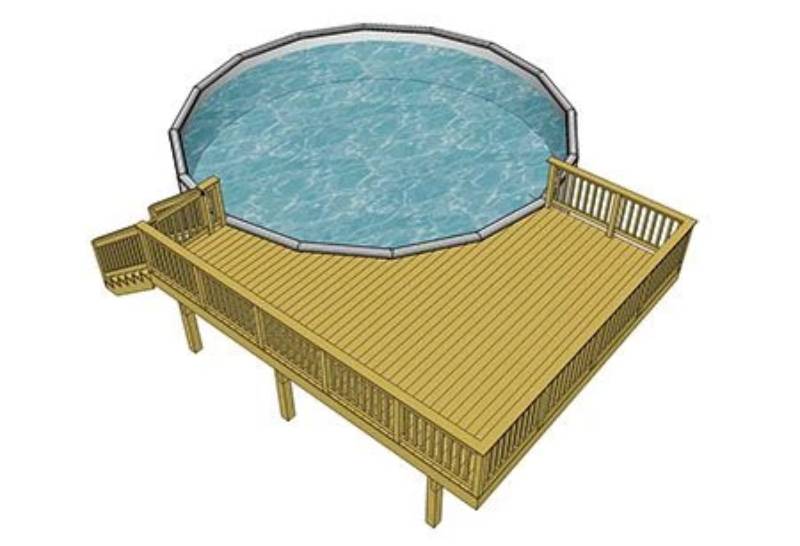 Next on our list is a very similar design to the small platform pool deck, but this one provides much more useable space at the top of the deck. This 17' x 20' deck will wrap a quarter way around a 24' wide and 52" high above ground pool.
If you are looking to place a few chairs and maybe a pool storage box with pool floats etc. this option will be a good fit for you. Similar to the small platform deck, this option has plans for the stairs, railings, and the gate at the top of the deck to make sure you are following safety guidelines and recommendations for your area.
This is a larger deck, so you will need quite a bit more yard space and a little bit of a larger budget to complete this model. This pool deck plan does provide some pricing information depending on what type of wood you use.
---
4.

Large Pool Deck Half Surround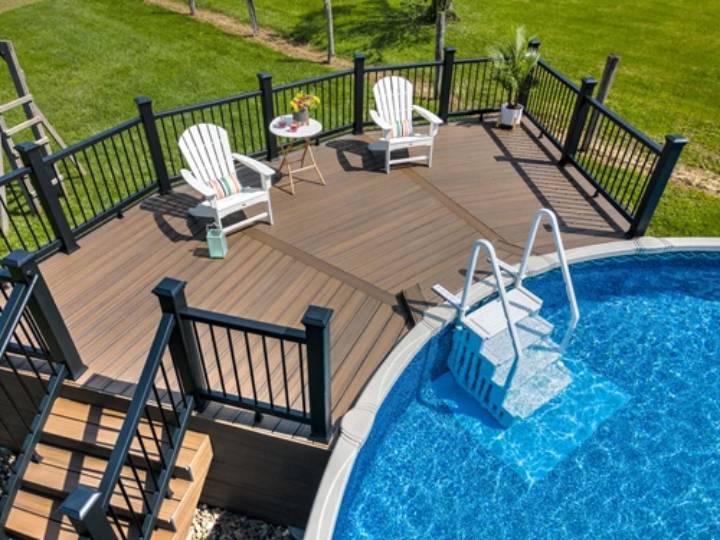 Continuing with our round above ground pool deck plans, we have the large pool deck half surround. This deck is a 20' x 34' deck designed to go around a 24' round above ground pool. This is a larger deck that will go halfway around your pool. This pool deck will provide several different entertainment areas, an entrance with stairs, and a few options for where to put the ladder into the pool.
This deck has room for potted plants, a kids table and a pool storage box as well. If you know that you and your family will be spending a good portion of the summer in the pool, this deck gives you a large and spacious area to walk around the pool comfortably. You will need a large yard and a large budget to complete this project. By the time you purchase the wood for the railings, steps, and flat decking area, it will be a good amount of material.
---
5.

 Splash Deluxe Pool Plan And Instructions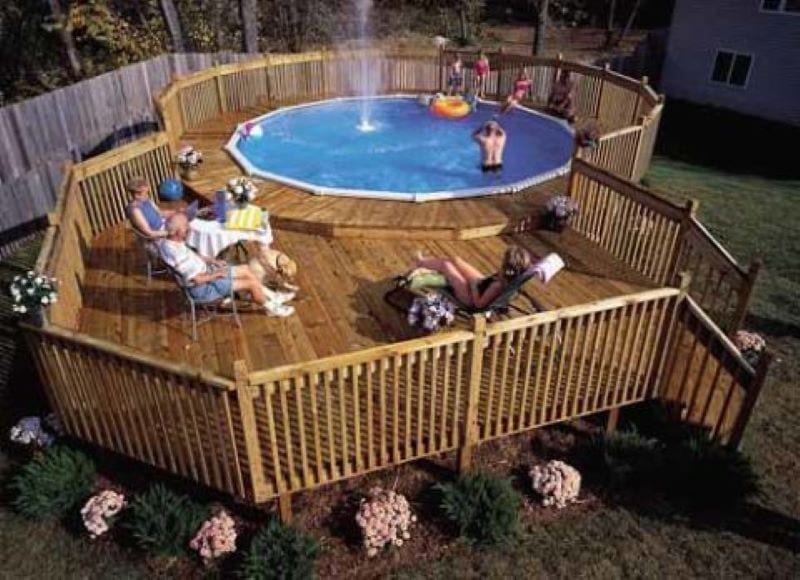 If you are looking for more than just a pool plan and you would like some real-life information on how to build a deck, this is an excellent option for you. This pool deck goes around a 21-foot round pool, and it is a complete wraparound option. This plan will show you the most important beginning steps of reinforcing the supports.
Putting a pool deck in yourself is entirely possible, but you need to make sure it is done right initially. Decks that move or sink over time can not only cause damage to your yard, but they can ruin your pool as well.
---
6.

Variable Sized Platform Deck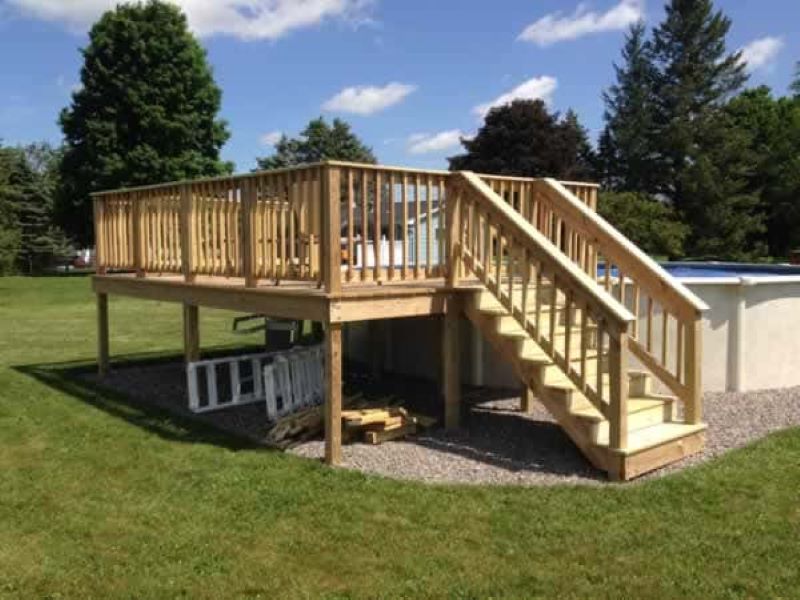 If you have not found the right option for your particular pool because of your pool size, this platform deck may work for you. This option gives excellent instructions on how to build this simple pool deck and how to customize it for your particular size pool. Not only do the above ground pools come in different shapes and sizes, but they also come in different heights. Trying to modify a pool plan to work correctly for an oval pool from a set of plans for a round pool is extremely difficult.
This platform deck plan will give you the details on how to build the stairs and the railings around your deck as well. Some of the essential steps in building a deck are digging for and setting the posts. If you have never had experience with this, it is worth taking a look at this information.
---
7.

Basic Steps and Landing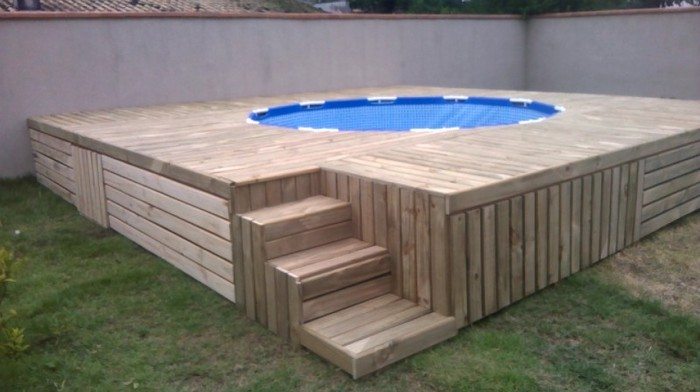 Last on our list is just a very basic plan to help you build some steps and a landing. If you are finding that having a ladder to get in and of the pool is just not your style, then a basic set of steps with a landing can do the trick to fix your pool entryway. This deck plan could work for an entrance to a home, or it can be modified to be an entrance to a pool as well.
This is a lower-priced option to build, and you can make it as nice as you would like it by adding decorative railing, etc. Even though this exact plan does not talk about a locking gate at the top of the steps, don't forget to add one. Sometimes a locking gate is not enough when it comes to pool safety. Look into pool alarms if you are concerned about young children entering the pool without your supervision.

Conclusion
These seven free above-ground deck plans are options that you can complete on your own. Building a pool deck is not a quick project, and it is certainly best if you have some help along the way, but it is also not an incredibly complicated project. If you have some basic woodworking skills, the correct tools, and the desire to make your yard even more inviting, you can put up your own above-ground pool deck.
Related Read:
---
Featured Image Credit: Felix Russell, WallpaperFlare