6 Best Manual Pole Saws – Reviews & Buyer's Guide for 2023
Everybody has that one small branch that blocks the view or covers the car with leaves or keeps hitting your gutter at night. We get it, you have tried standing on a ladder with a pruner, and it just doesn't cut it.
Calling in a landscaping company for this type of project will likely cost hundreds of dollars. The perfect solution is a manual pole saw.
As most saw related purchases go, there are a lot of options on the market. We wrote reviews on the six best manual pole saws we could find and some advice on how to narrow down which one is the best for you.
A Quick Comparison of Our Favorites in 2023
Rating
Image
Product
Details

Best Overall

Silky Telescopic Manual Pole Saw

Extends up to 21'
Easy blade removal
High-quality and durable
CHECK PRICE

ARS SC-EXW18 Manual Pole Saw

Lightweight and strong design
Versatile landscaping tool
Perfect for weeds and thorny bushes
CHECK PRICE

Best Value

Fiskars Manual Pole Saw

Pole extends up to 14'
Power lever cutting technology
Precision cutting and pruning
CHECK PRICE

Jameson Manual Pole Saw & Pruner

Sturdy
Durable
Long 18' reach
CHECK PRICE

Milliard 7-14 Manual Pole Saw

Pole extends to 14'
Made from fiberglass
Three-sided blade
CHECK PRICE
The 6 Best Manual Pole Saws
1.

Silky Telescopic Manual Pole Saw – Best Overall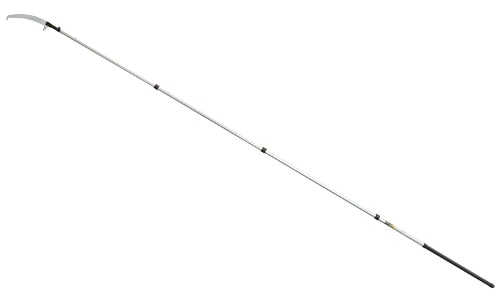 Emerging as the clear winner on our list of best manual pole saws is the Silky Telescopic 179-39. If you are one of those backyard tree-trimming people that need the premium, top-of-the-line option, this manual pole saw is your best bet.
These are professional manual pole trimmers. There is no question that landscape professionals could have several pairs of these on their truck. You may notice that the Silky saws are often sold in pairs or groups. It is because Silky assumes that landscape contractors are purchasing these saws.
The Silky is an aluminum telescoping pole that can extend about 21 feet, which is a long way. It will get to the majority of trimming work that needs to be done in the average yard. The thing that makes the Silky saws so expensive is the technology. You have a lot of control of the blade; there is a rubberized grip that ensures excellent hold, the blade has four rows of teeth. The blade does have some adjustability, and there is an upper and lower sickle on this pole saw.
In addition to all the wonderful features we mentioned, you also get a blade cover and a locking mechanism on the saw. In all honesty, there is nothing more you could ask for on this saw besides a lower price.
All in all, we think that this is the best manual pole saw of the year.
Pros
Extends up to 21 feet
High-quality and durable pole saw
Can be used for all landscaping needs
Ergonomically designed
Durable blade with hook and scabbard
Easy removal of the blade
Cons
Pole saw is somewhat expensive
---
2.

ARS SC-EXW18 Manual Pole Saw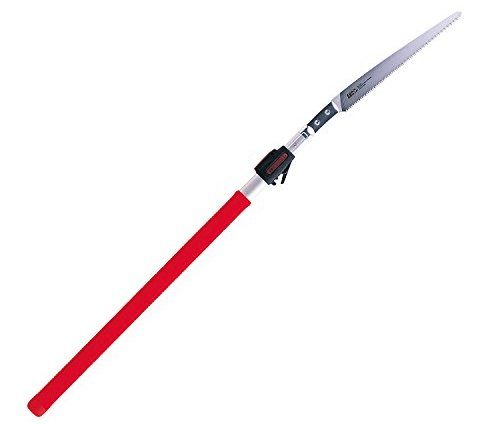 Although this is not going to be your longest option, the ARS SC-EXW18 is a powerful and easy to use pole saw. The range on this saw is only 4-6 feet, so it is best used for small garden pruning and low hanging branches. If you are trying to do an extensive tree trim on your yard, then this is not the best manual pole saw for you.
This saw has a 13-inch straight arborist blade that's effortless to control and cuts well. Sometimes with longer pole saws, you will feel as though you lose connection with the blade. Being a shorter model, it feels like the blade is in your hand, even at 6 feet away.
Not everyone wants a straight blade when it comes to a pole saw, but we love it for getting through plant material and reaching your exact cutting destination. Overall, this is a very lightweight saw, weighing in at just over a pound. You can walk around the yard throughout the day with this saw and not feel exhausted with it.
The pricing on the ARS is fair. It is not the highest option and not the lowest. It may seem a bit high, considering the length of the telescoping pole, but it cuts well enough to be justified.
Pros
High-quality landscaping pole
Lightweight and strong design
High-performance blade for precision cutting
Perfect for weeds and thorny bushes
Versatile landscaping tool
Cons
The pole only extends to 6 feet
The blade does not fit through standard diamond mesh
---
3.

Fiskars Manual Pole Saw – Best Value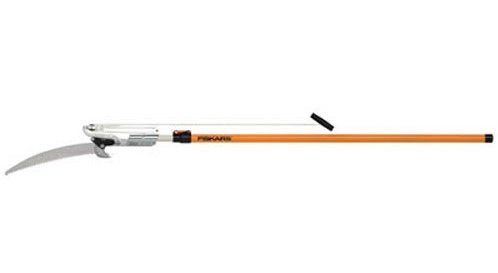 If pure, unadulterated value is important to you, take a look at the Fiskars 93016059J, our pick for the best manual pole saw for the money. After seeing the price and comparing it to the quote you got from the landscapers, you may change your mind about how handy you are in the backyard.
The Fiskars pole saw will extend to about 14 feet in total. This is the perfect length for a manual pole saw for a homeowner. Anything much higher than that, and you may want to start calling in a professional. The fact that you can trim 14 feet up without the use of the ladder makes this a much safer alternative than standing on the ladder with your grandfather's pruners in hand.
The Fiskars saw utilizes power level technology to maximize leverage and give you some extra cutting power. In other words, these things are relatively stable. However, the most cutting capacity you are going to see Is a branch about one to one and a half inches in diameter.
Potentially the best news (aside from the price) about these Fiskars pole saws is the lifetime warranty. A lifetime warranty on a smaller household landscaping tool like this is pretty hard to find. The only thing keeping the Fiskars pole saw out of our top spot is that some people mentioned having issues with the warranty even after a legitimate warranty concern came up with the pole saw.
Pros
Excellent value for money
Enable precision cutting and pruning
Pole extends up to 14 feet
Power lever cutting technology
Cons
Pole extension can be improved
Only for branches less than 1.5" thick
---
4.

Jameson Manual Pole Saw & Pruner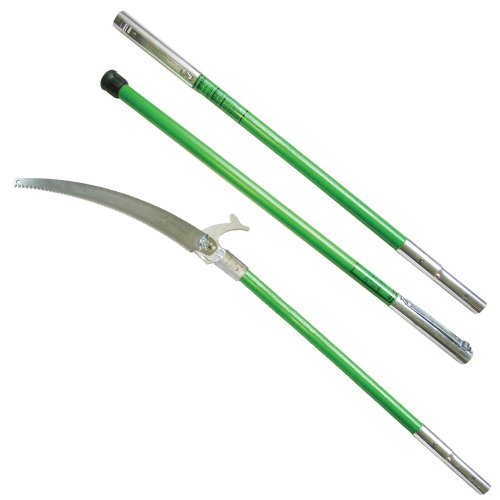 The Jameson LS-6PKG-6 can extend to a length of up to 18 feet and features aluminum ferrules with an external leaf spring locking button for added convenience. This is an interesting option because it is highly adjustable and comes with a three-pole system. The reason behind the three poles is to give you a variety of lengths to cut at.
 The Jameson has a low-profile head and a 16-inch blade. There is no question that this saw is highly capable of getting the job done. The one thing that we did notice with this saw is that the shorter extension pole options did a much better job of cutting than the longer ones. This tends to happen on the telescoping poles as well. It is certainly something to keep in mind if you know the majority of your cutting will be over that 7-foot mark. Additionally, when all of the poles are put together, the saw gets pretty heavy.
 The first pole on the Jameson is a 6-foot base; then, there is another 6-foot extension pole and a 6-foot pole with a saw head. The maximum reach you will get with this saw is eighteen feet, which should be plenty.
Pros
Sturdy and durable pole saw
Saw has a long 18-foot reach
Cons
Not as easy to set up and use
The grip may be uncomfortable
Pole is a little heavier than average
---
5.

Milliard 7-14 Manual Pole Saw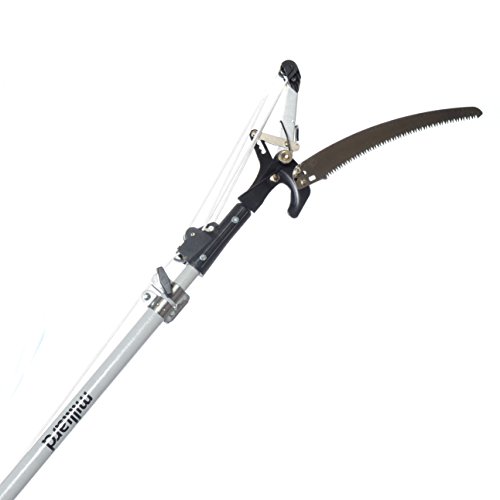 The Milliard 7-14 landscaping pole can reach a height of up to 14 feet and is made from fiberglass. The 3-sided blade is made from high-carbon SK5 steel and is 14 inches long. It is covered with a non-stick coating to prevent accumulation of plant materials and residue between the teeth. This pole also features a so-called "Double Tackle Compound Pulley System" to help cut through thick branches.
Unfortunately, upon closer inspection, there are a few flaws.
We will start with the positive features, this pole saw will extend up to 16 feet, and it has a 14-inch saw blade. The blade seems to be one of the best parts of the Milliard Pole saw. The saw works with a pulley system to help you cut through branches with little to no effort.
The problem that we found with this saw is that although the blade was far-reaching and made with high-quality material, the rest of the saw is not. The pulley system and fiberglass extension pole are poorly manufactured. We were not the only ones who ran into these issues with the Milliard Saw. The pole does not seem to hold up well over time, especially if you are trying to accomplish some more difficult pruning.
If you use this saw for lightweight pruning only, think like vines and twigs it could be a great option. If, however, you are expecting this pole saw to snap some decent size branches, you may just be looking at a snapped telescoping pole instead. There are other options in our review that will make more sense for heavy-duty or continual pruning.
Cons
Severe issues with quality
Poor design of connections and clamp
The blade is too coarse
Use limited to branches that are less than 1.5" thick
---
6.

DocaPole 6-24 Foot Pole Pruning Saw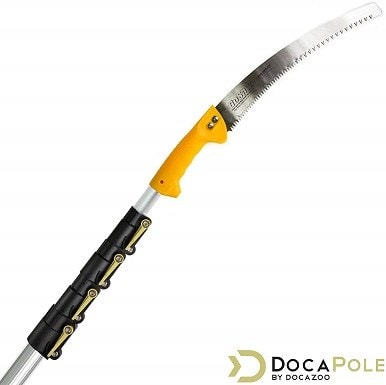 Last on our list is the DocaPole 6-24 Foot Pole Pruning Saw. It's last on our list for a few reasons, but it doesn't mean that we are telling you to avoid this saw altogether. The biggest problem with the Doca Pole 6-24 is that it is very lightweight. We found that if you were trying to cut any type of strong branch, this saw just doesn't cut it. So, if you are in the market for a lightweight option for easy and small pruning, you may like this saw.
The reason that this saw doesn't do as well for the more substantial branches is the fact that the aluminum pole is just not strong enough. There is a fine balance with aluminum when it comes to weight and strength. You will notice that even DocaPole recommends not using all of the extensions they offer because the saw just gets less and less useful as it gets longer. The functionality at different lengths is important to consider.
Pros
Great for pruning lightweight branches, vines, leaves
Good price
Pole extends to 22 feet
Cons
A weaker aluminum used on the pole
Only a 13" blade
The longer it gets, the less it can handle to cut
Will not be your most durable saw option
---
Buyer's Guide – Choosing the Best Manual Pole Saw
Buying a manual pole saw can be an excellent way to keep your overhead landscaping neat and tidy. It is also a versatile tool for keeping branches away from your walls, roof, and fences. Let's take a look at some of the things that you should consider when you want to buy a new manual pole saw.
Pole Length
Length matters when it comes to manual pole saws. If you are dealing with a small patio garden, you may only need something that extends about six feet. For those of you planning on pruning a little forest, you may need a pole saw that extends up to 22 or 24 feet. Before you purchase, take a walk around your yard and pick out the branches that annoy you the most. Make sure that whatever you buy can hit those branches and keep these two things in mind.
Add your own height to the length of the saw as you will be the one holding it. If the branch is twelve feet off the ground and you are six feet tall, you don't need a twelve-foot pole saw.
Will you be on a ladder or the ground?
Pole Material
Most of the manual pole saws have to balance the weight of the saw with the quality of the material. To make the pole saw light, many manufacturers use aluminum. There is nothing wrong with lightweight aluminum until you are working on sawing an extensive branch and your pole snaps. Choose a material and a pole construction that gives you a good mix of weight and strength.
Pole Saw & Pruner
A pole saw that is mixed with a pruner will also have a pulley type system that can help you snap a branch that you may have a hard time sawing through. This is helpful to some people that don't feel they have the arm strength to saw through branches. In our experience, unless you buy a high-end model, the pruner tends to have problems over time.
Blade
You will notice on the models that we reviewed that the blade size changes quite a bit. Potentially more important than the size of the blade is the quality of the blade. You want a steel blade, and you will likely need to sharpen this blade from time to time. Most manual poles saw blades are designed to be able to cut through plant material with ease, but over time they will wear down and need some attention to stay sharp.
Price
Manual pole saws are going to vary in price. Choose a model that works for your budget, but be realistic about how often you will use the pole saw. Paying $85 for a saw you use once a year is different than paying $100 for a saw you use 25 times a year.
---
Conclusion
Thanks for reading our buyer's guide! To conclude, we'd like to remind you that if you are looking for the best manual pole saw, we recommend the Silky Telescopic 179-39. This model is perfect in every way. The pole is durable, can extend to 21 feet, and the blade is a no-nonsense workhorse. If you are out to save money but don't want to compromise quality, consider the Fiskars 93016059J, a solid, high-quality, yet affordable pole saw that will take care of all your landscaping needs.
Again, high-quality and high-performance should be your number 1 requirement. You will get many affordable models that are durable and well-built.
Hopefully, you found this buyer's guide to being insightful and helpful. You may now have a better starting point and more information at your disposal to find a product that is perfect for you. Remember to take your own landscaping needs into account when you are shopping and limit your search to the models that meet your requirements.
We truly hope that this article helps you find the best manually-operated pole saw. Good luck!
Made up your mind and don't want to go manual? We've also reviewed electric pole saws here.
Related Pages: