10 Most Expensive Homes in South Carolina (With Pictures)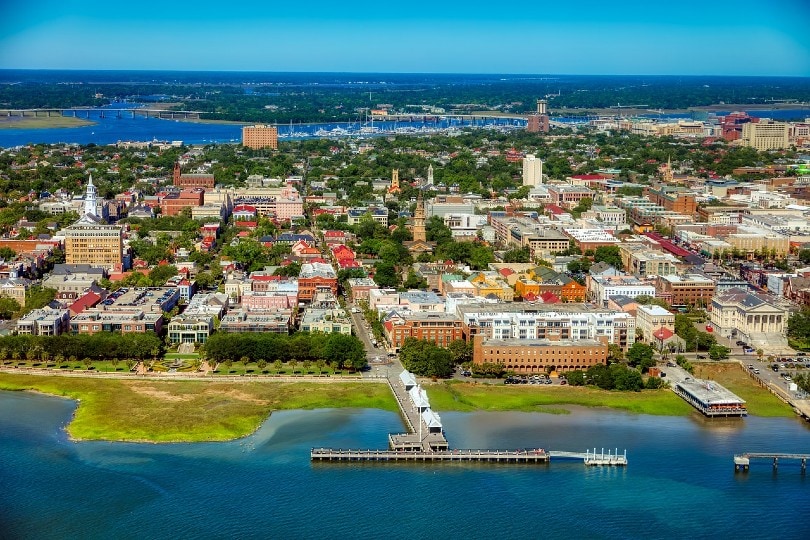 With beautiful year-round weather and incredible ocean views, it's clear why South Carolina features some of America's most luxurious pieces of real estate.
You don't have to travel too far along its 187-mile-long coast to tour the Palmetto State's priciest homes. Charleston and its surrounding islands are renowned coastal paradises, boasting all the tropical appeal of Florida without the extreme weather. Learn how far the world's wealthiest will go to secure their spot in this coveted oasis with this look at the top 10 most expensive homes in South Carolina.

The 10 Most Expensive Homes in South Carolina
1.

85 Blue Heron Pond Rd, Johns Island, SC 29455
| | |
| --- | --- |
| Sold Price | $15,250,000 |
| Size (Sq. Ft.) | 15,321 |
| Year Built | 2005 |
Sitting on 11 acres touching the Atlantic, this exquisite estate designed by Shope Reno Wharton sold for $15.25 million in 2017. Over 15,000 square feet feature every possible refinement. An enormous chef's kitchen, towering ceilings, and an extensive wine cellar are only a few of the many impressive sides of South Carolina's most expensive home.
An outdoor dining area connects to a patio surrounding an in-ground saline pool. A nearby separate guest house offers a fitness center, two luxury baths, and a full kitchen. Beyond the stately 7-bedroom mansion and manicured landscaping, the property provides a private dock to the Kiawah River for exclusive waterfront access.
---
2.

203 Sand Fiddler Ct, Kiawah Island, SC 29455
| | |
| --- | --- |
| Sold Price | $14,000,000 |
| Size (Sq. Ft.) | 7,117 |
| Year Built | 2008 |
A dizzying spiral staircase connects three stories in this sweeping 7-bedroom mansion on Kiawah Island. The Craftsman-style home built in 2008 sold for $14 million in January 2022.
The gigantic home abounds with luxury appointments, including coffered ceilings, gorgeous paneling and wallpaper, and premium appliances. French doors open from a living room on the main floor to a tiled patio with a pool. Past the outdoor hangout area, a stair set descends to a garden. The yard leads up to a narrow boardwalk heading toward the Atlantic.
---
3.

10 Legare St, Charleston, SC 29401
| | |
| --- | --- |
| Sold Price | $13,500,000 |
| Size (Sq. Ft.) | 8,596 |
| Year Built | 1857 |
The sale of the 4-story, 5-bedroom house at 10 Legare Street and its accompanying carriage house is the most expensive in downtown Charleston's history. The pre-Civil War home sold for $13.5 million in July 2021.
The main house is gorgeously renovated but retains its classic Greek Revival aesthetic. It presents a diverse collection of classic decorative details, including antique hardwood floors, ornate wood trim and paneling, and dazzling column-lined piazzas.
The updated carriage house provides an additional three bedrooms and five bathrooms. An outdoor area featuring a large patio and in-ground pool is a common area between the two living spaces.
---
4.

122 Flyway Dr, Kiawah Island, SC 29455
| | |
| --- | --- |
| Sold Price | $13,500,000 |
| Size (Sq. Ft.) | 6,667 |
| Year Built | 2021 |
The home at 122 Flyway Drive is a new construction only minutes from the island's famed golf courses. The 6-bedroom, 7-bathroom house sold for $13.5 million in 2021, more than two times the property's selling price in 2015.
A stunning modern interior includes a grand chef's kitchen boasting high-end appliances and a walk-in pantry, an enormous master bedroom with a private oceanview balcony, four guest suites, and a game room.
Outside, a wood deck holding a pool looks out toward the ocean, while another swimming pool sits one level below. A full bath sharing convenient access to the indoor area and pool is one of many thoughtful touches that enhance the unique appeal of this spectacular seaside residence.
---
5.

101 Flyway Dr, Johns Island, SC 29455
| | |
| --- | --- |
| Sold Price | $13,425,000 |
| Size (Sq. Ft.) | 8,400 |
| Year Built | 2020 |
The 4-story, 5-bedroom mansion at 101 Flyway Drive combines the finest modern amenities with access to Charleston's magnificent beaches. The home sold for nearly $13.5 million in 2021, only one year after its construction.
Key features of the home include a generous-sized kitchen with a range of professional-grade appliances, a rooftop deck, and a massive master suite with a balcony. An outdoor brick patio connects to a heated saltwater infinity pool. A quick trip across the lawn leads to a private boardwalk running toward the ocean.
---
6.

107 Flyway Dr, Kiawah Island, SC 29455
| | |
| --- | --- |
| Sold Price | $13,250,000 |
| Size (Sq. Ft.) | 7,173 |
| Year Built | 1993 |
Just down the street from the fourth most expensive home in South Carolina is this 6-bedroom home on Kiawah Island. The 7,000-square-foot abode, built in 1993, sold for over $13 million in 2021.
The house sits on nearly two acres of land facing the ocean. Three levels each feature a deck overlooking the estate's private slice of the Atlantic. The outdoor brick patio circles a large in-ground swimming pool, while a nearby guesthouse supplies a shady and relaxing respite from the South Carolina sun.
---
7.

169 Flyway Dr, Johns Island, SC 29455
| | |
| --- | --- |
| Sold Price | $12,750,000 |
| Size (Sq. Ft.) | 5,946 |
| Year Built | 1996 |
A delightfully beachy vibe doesn't take away from the grandeur of this 5-bedroom, 7-bathroom coastal retreat. The home, which sits on a lot barely under one acre facing the ocean, sold for $12.75 million in 2020.
Shiplap walls, beautiful, beamed ceilings, floor-to-ceiling windows, and striking hardwood floors fill the house with sophistication. Two guest suites enjoy convenient positions near the pool deck, while an elevator-accessible third-floor master suite provides breathtaking ocean views. Like its neighbors, the home offers a private boardwalk heading to Kiawah Island's 10-mile stretch of beach.
---
8.

18 Broad St UNIT 801, Charleston, SC 29401
| | |
| --- | --- |
| Sold Price | $12,000,000 |
| Size (Sq. Ft.) | 8,363 |
| Year Built | 1911 |
As a sharp divergence from the beachfront properties on this list, the 3-bedroom penthouse at 18 Broad Street is still one of the most expensive properties in the state. Occupying the top two levels of the historic People's Building in Charleston, the home sold in March 2020 for $12 million.
The residence is a magnificent array of high-quality construction, well-kept appointments, and spectacular city views from every window. It is distinctly geared toward entertaining. A second-floor lounge and billiards room make a perfect recreational getaway, and an extensive rooftop terrace offers glorious 360-degree vantage points overlooking Charleston.
---
9.

147 Flyway Dr, Kiawah Island, SC 29455
| | |
| --- | --- |
| Sold Price | $11,650,000 |
| Size (Sq. Ft.) | 8,897 |
| Year Built | 2006 |
Residing in one of Kiawah Island's most affluent gated communities, this marvelous mansion is well worth the nearly $12 million it sold for in 2021. The gigantic modern 6-bedroom home provides unparalleled vistas across its three floors, each featuring broad deck areas spanning both sides of the mansion. The back balconies overlook a travertine patio, T-shaped saltwater pool, and private boardwalk heading to the beach.
Indoor areas featuring the finest construction materials are as upscale and distinct as the home's panoramic views. Impressive, aged hardwood paneling and pine flooring are consistent elements among the house's prominent highlights, from the giant chef's kitchen and spacious living spaces to the climate-controlled wine room and third-floor private study.
---
10.

109 Flyway Dr, Kiawah Island, SC 29455
| | |
| --- | --- |
| Sold Price | $11,100,000 |
| Size (Sq. Ft.) | 7,482 |
| Year Built | 2009 |
Another exclusive site in Kiawah's Vanderhorst Plantation, the 8-bedroom residence at 109 Flyway Drive, is a magnificent new construction befitting its lofty 2018 selling price of $11.1 million. The 1.87-acre oceanfront property features the familiar private boardwalk to the beach, a 7-car garage, and an expansive Garapa wood deck with a built-in pool.
The mansion offers all the high-end design details that define the local architecture. You'll find the essential elements like the massive chef's kitchen, hardwood paneled living spaces, and a collection of bedrooms with private ocean views, all spread across three floors and accessible by a spiral staircase or elevator.
The upstairs master bedroom is the most impressive part of the home. The third-floor space supplies a spa-like bathroom, a huge walk-in closet, and the property's best ocean views. The top level also includes a fitness room and a private study.

Conclusion
While tourists flock to Myrtle Beach or head further south to Florida, the discerning elite settle in the unrivaled splendor of Charleston's coastline. One trip around Kiawah or John's Island puts you in front of dozens of America's wealthiest estates on some of the country's finest waterfront properties.
Since the days of its original plantation homes, South Carolina has been a haven of wealth. Older homes preserve a centuries-old character representing the region's rich history, while modern mansions continue the tradition of extravagance with an updated edge.
---
Featured Image Credit: 1778011, Pixabay