7 Best Engine Stands 2023 – Top Picks & Reviews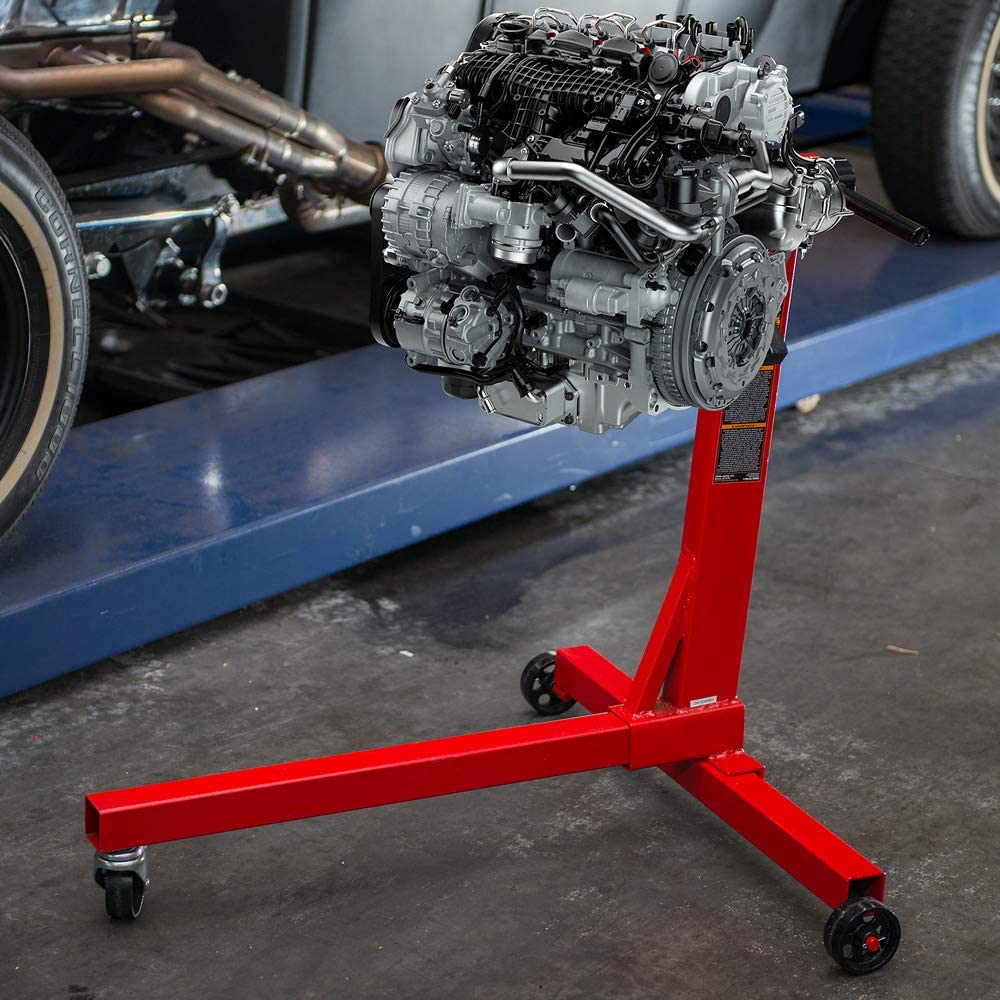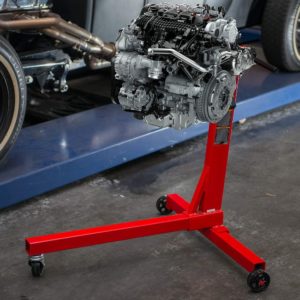 Whether you're a professional mechanic or a keen car enthusiast, there will likely come a time that you have to get right in the engine to investigate and to make repairs. An engine block safely lifts the weight of the engine, which could be as much as 700 pounds, and can be moved so that you can access different areas of the engine and from different angles.
Safety should always be the first concern when buying an engine stand, but you will also want to ensure that it is durable, that it is rated for the weight and size of engine that you work with, and that it is easy to operate and move around. Some stands have lockable mounts and wheels. Not only do these make working on the engine more convenient, but they can help ensure your safety while working, too.
Popular models are offered by manufacturers including Sunex and Torin, and while there aren't too many options and alternatives out there, you will want to ensure that you get a good quality engine stand. To help ensure that you get the model that best suits your requirements and the project you have in mind, we have compiled reviews of seven of the best engine stands for you to choose from.
A Quick Comparison of Our Favorites in 2023
Rating
Image
Product
Details

Best Overall

BIG RED T26801 Torin Steel Engine Stand

1
500-lb capacity
Legs fold for storage
360° rotation
CHECK PRICE

Best Value

BIG RED T23401 Torin Steel Engine Stand

Cheap
One-year warranty
Powder coated steel
CHECK PRICE

Premium Choice

OTC 1726A Engine Stand

Rated for a maximum capacity of 1
000 lbs
Made by OTC
Powder coated steel finish
CHECK PRICE

Performance Tool W41025 Engine Stand

6 lock positions
Heavy duty casters
1
000 lbs capacity
CHECK PRICE

JEGS 80041 Red Engine Stand

Capacity of 1
250 lbs
Cheap
Heavy-gauge steel frame
CHECK PRICE
The 7 Best Engine Stands
1.

BIG RED T26801 Torin Steel Engine Stand – Best Overall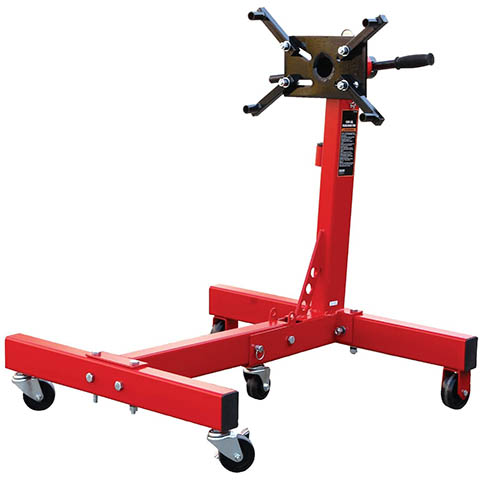 The Big Red T26801 Torin Steel Engine Stand is a steel engine stand. It has a maximum capacity of 1,500 pounds, which means that it is suitable for large engine blocks. It has five wheels, of which 2 are fixed and three of them have a 360° swivel action. Fixed wheels tend to be more secure and stable, while the swivel wheels allow you to swing the engine stand and engine around. A combination of wheel types affords you some stability while still offering a degree of movement, and offers an ideal compromise.
The wheels move easily enough to get the stand into position but will not move freely when under load. The mounting head itself has four adjustable arms and rotates 360°.
This rotation means that you can easily get to any section of the engine, and the quick folding mechanism allows for easy storage when not in use. The steel frame is powder coated and comes with a one-year limited warranty to give you peace of mind that the stand will last.
The affordable price, substantial weight capacity, and the good configuration of wheels and mounting head make this our choice of best engine stand for garages and workshops.
Pros
1,500-lb capacity
Legs fold for storage
360° rotation
Powder coated steel finish
Cons
Cross members can get in the way
---
2.

BIG RED T23401 Torin Steel Engine Stand – Best Value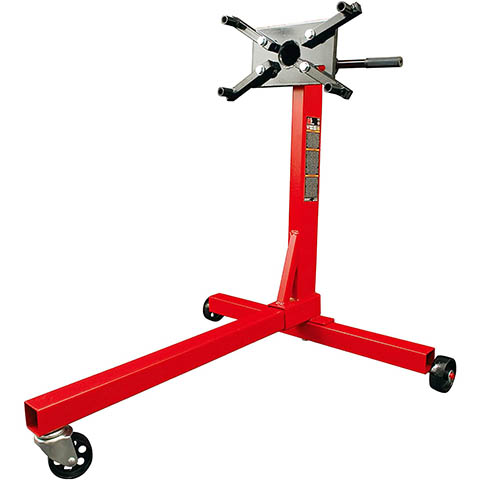 If you don't need to hold such large engine blocks, the Big Red T23401 Torin Steel Engine Stand only has three legs, compared to its bigger sibling's five legs, and only one caster offers a full 360° swivel action. This limited wheel configuration means that it is more difficult to move the stand around freely, but this is offset by the fact that the stand has a maximum weight capacity of 750 pounds. As long as you are only working on lighter and smaller engines, it could be a great choice that meets all your needs.
This model also has the same powder coated steel finish and comes with Torin's one-year limited warranty. The steel frame won't bend or snap and the powder coating help ensure that it won't corrode or rust.
While this model doesn't fold away for storage, and it has fewer supporting struts, its low price means that it is one of the best engine stands for the money. Although it is a no-frills option, the Big Red T23401 does its job very well, although it is lacking in additional features and extras.
Pros
Cheap
One-year warranty
Powder coated steel
---
3.

OTC 1726A Engine Stand – Premium Choice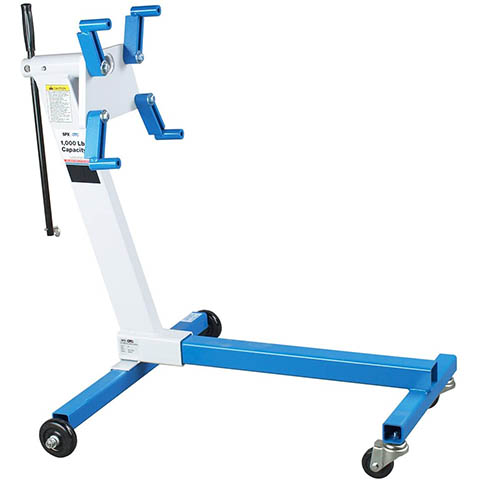 The OTC 1726A Engine Stand is an expensive engine stand. It is rated as suitable for a maximum weight of 1,000 pounds and it is sturdier, stronger, and more capable than most other blocks of the same rating. It also has the OTC name, which counts for a lot because it means that you can trust the device.
There have been some reports of the welds being off. This hasn't affected the stability of the stand, but this is the most expensive on the list, so you might expect more, especially from a brand of this stature. The head offers full 360° rotation, and the frame is made from powder coated steel so it will withstand rusting and corrosion. Considering most engine stands will live in damp conditions, corrosion can be a big problem for this type of device. Powder coating provides resistance to chipping and fading, but, more importantly, it also protects against corrosion and rusting. This is especially true because rust tends to start forming in areas of damage, such as chips.
The OTC 1726A Engine Stand comes from a well-respected name, has a decent weight capacity, and is sturdy, but considering its price tag, it isn't without its problems and drawbacks.
Pros
Rated for a maximum capacity of 1,000 lbs
Made by OTC
Powder coated steel finish
Cons
Some welds are out of position
Expensive
---
4.

Performance Tool W41025 Engine Stand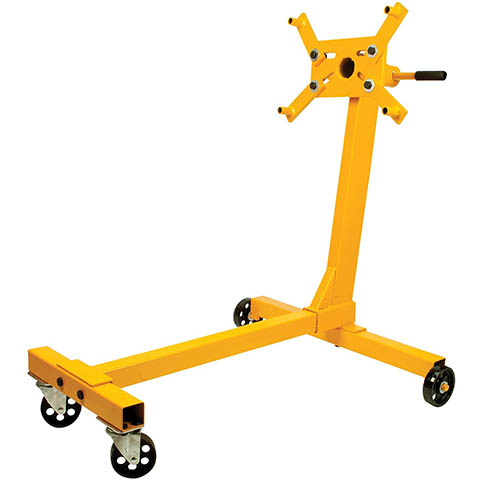 The Performance Tool W41025 Engine Stand is an inexpensive but highly rated engine stand. It has a weight limit of 1,000 pounds, comes in bright yellow so is easy to spot even in a gloomy workshop, and as well as two fixed wheels, it has two heavy-duty swivel casters to make the stand easy to move, even when it is under full load. This combination of fixed and rotating wheels should prevent the stand from moving too easily, while still allowing some motion.
The assembly head will rotate 360° and it has 6 different locking positions which should provide ample access to work on any section of the engine. Head locking positions are convenient. You can rotate the engine until it is in the position you want and then lock it into place. It prevents motion, and 6 locking positions should prove adequate to ensure that you can get the engine into a position to work on.
Although the Performance Tool W41025 is an inexpensive stand, and it might not have the same quality feel and finish as bigger brand names, it offers decent value for money and will hold and rotate most domestic engines.
Pros
6 lock positions
Heavy duty casters
1,000 lbs capacity
Cons
Build quality not as good as some
---
5.

JEGS 80041 Red Engine Stand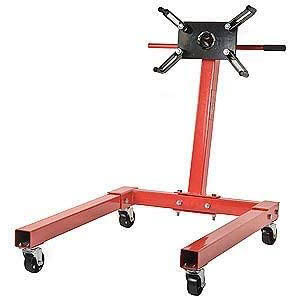 The JEGS 80041 Red Engine Stand is inexpensive, has an impressive weight capacity of 1,250 lbs and offers good value for money, being one of the cheapest on our list, especially considering its large capacity size.
The heavy-gauge steel frame is strong and durable, it features four swivel caster wheels that allow for total freedom of movement, and the stand is easy to assemble and take down. The stand does have a few build problems, including welding spots that are off, and even after lubrication, it takes two people to be able to move the engine arm around.
Although the JEGS 80041 Red Engine Stand is a cheap option, and it does have an impressive 1,250 lbs capacity, it is limited in its motion and movement. It only has four caster wheels, and while they all offer swivel motion, once the stand is laden to full capacity, they become very difficult to move around. This stand is best for those using cherry pickers or those with willing volunteers to help move the engine and stand around more easily. If you work solo, and will get close to the weight capacity, it may be too difficult to move on your own.
Pros
Capacity of 1,250 lbs
Cheap
Heavy-gauge steel frame
Cons
Takes two to move engine
Poor build quality
---
6.

BestEquip Engine Stand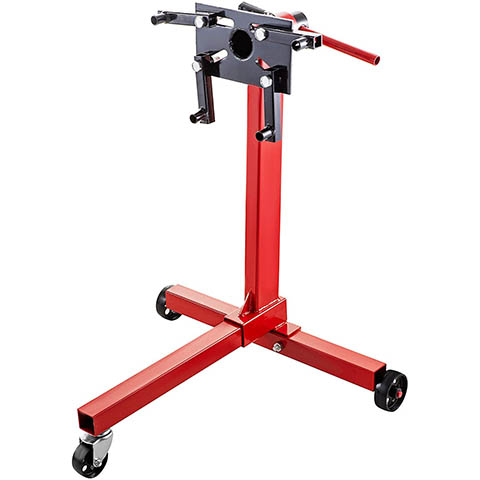 The BestEquip Engine Stand is a seriously heavy-duty carbon steel engine stand. 2,000 pounds, or 1 ton, is a huge capacity and one that is unnecessary for most people's requirements. However, having such a large capacity does offer peace of mind. If you work on large engine blocks, weighing around 1,500 pounds, the extra capacity means that you should be able to swing and move the engine around more comfortably and with less worry over stressing the stand head.
The powder coated finish will ensure that the exterior of the frame tube remains intact, while the frame has six wheels, all of which are swivel casters, ensuring that you can enjoy total freedom of movement and the ability to move the engine wherever you need it.
The mounting head and adjuster arms are fully adjustable, which means that you can turn the engine by simply turning the handle. Once you have the engine in position, you can use the locking buckle to fix it in place and prevent any movement. The design of the head means that pretty much just a single bolt connects it to the frame, which means that all of the weight of the engine block will be placed on this single bolt.
Pros
2,000-lb capacity
Six wheels
Cheap
Cons
Few bolts actually hold the engine weight
Hard to rotate when near weight limit
Casters could be better
---
7.

Sunex 8400 Folding Engine Stand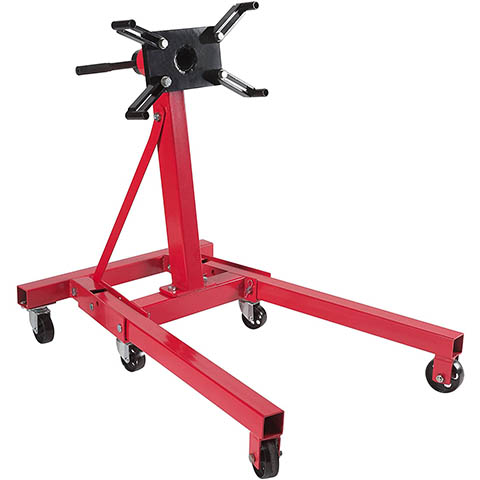 The Sunex 8400 Folding Engine Stand is one of the more expensive stands on this list. It has a weight capacity of 1 ton (2,000 pounds).
It has six wheels, which can be locked in place to prevent unwanted movement. They are ball bearing based casters, which means that they will move around even when they are under load. The reinforced mounting plate will easily hold most engine sizes and weights, although this frame does struggle with some larger blocks.
The rotating head will lock in any of eight positions, granting access to the section of engine that you want to work on. What's more, when not in use, the Sunex 8400 will fold up so that it can be easily and conveniently stored. A folding engine stand can be beneficial as a second stand, or in limited space. If you work on cars and engines at home, you can use a folding stand in the garage while working. Once you've fashioned repairs, you can fold it away and use your garage for parking and for storage, again. The Sunex 8400 is expensive and some of the holes appear misaligned once you add the weight of an engine to the device.
Pros
2,000 lbs capacity
Casters lock in place
Eight locking positions
Cons
Holes become misaligned
Expensive
---
Buyer's Guide – How to Choose the Best Engine Stand
An engine stand is a practical and functional device. It holds the weight of the entire engine block, while you work on it. It needs to provide access to the whole engine area, should be easy to move to allow access to the required areas, and it should be as safe as possible. The stand needs to be made from high-quality and durable material while also being flexible. When buying an engine stand, you should look for the following attributes and factors to ensure that you get the one that best suits your needs.
Wheels
Engine stands have wheels. They enable you to get the stand in position and they allow you to move the stand and engine once mounted. Without the wheels, you would have to move the engine into position and the stand wouldn't be convenient.
The wheels on engine stands are casters. Depending on the stand you buy, you can have between three and six wheels. Some may be fixed while others swivel. The more swivelling wheels you have, the greater the flexibility of movement, but it may also make it more difficult to keep the stand in place.
Wheel locks allow you to keep the wheels in your chosen position. They provide greater stability and they enable you to move the engine around without worrying about whether it is going to shift about.
Weight Capacity
One of the most important specifications of an engine stand is the maximum weight capacity. This can vary from 750 pounds to 2,000 pounds or more. The capacity of the stand you choose should obviously be determined by the amount of weight that you will place on the stand. As a guide, a typical car engine weighs up to around 500 pounds, while an SUV engine can weigh as much as 750. Motorcycle engines weigh 200 pounds, at most. Having additional capacity does mean that you can move the engine around more freely and easily, and you will need more capacity for truck and larger engines.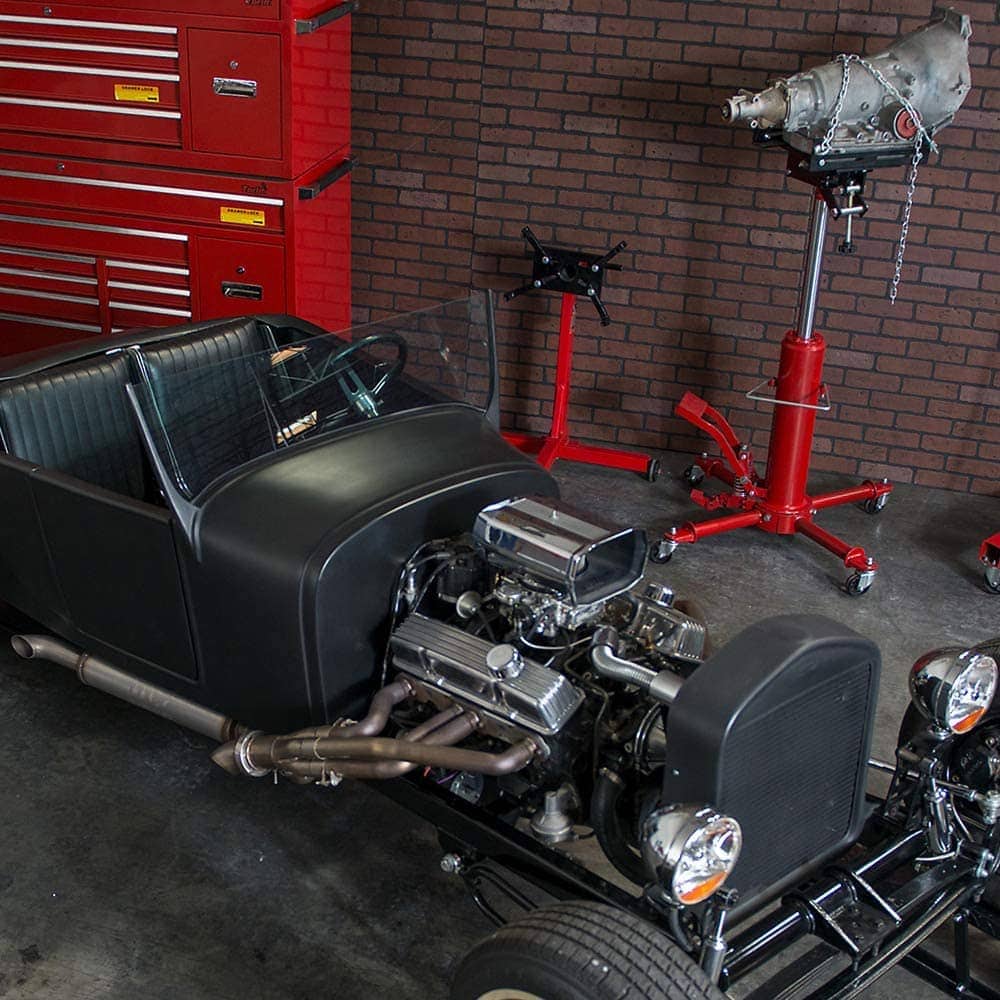 Folding Engine Stands
Some stands are folding engine stands. With these, either the frame folds up or the legs will fold so that the whole stand becomes a single, smaller unit. A folding stand is convenient and can be stored when not in use. This can be handy if you work on engines in your spare time, at home.
Locking Heads
The engine stand head is the section that the engine itself connects to while you're working on it. This section needs to rotate and swivel because it allows access to the engine. However, it also needs to lock in place to prevent movement and to stop the engine from shifting around while in use. Stands with locking heads allow you to lock the engine head exactly where you want it.

Conclusion
Engine stands perform an invaluable and important task, whether in your home garage or workshop. They will hold a car or truck engine in place while you work on it and will afford you access to the section of engine that you need. Different stands have different weight capacities, offer different configuration of wheels, and some have locking heads, while others are considered folding engine stands and can be folded and stored away for greater convenience.
The functionality of the engine stand is second to the safety, and with a variety of options on the market, including some that are less than optimal, it is important that you buy the right stand for your needs.
While writing reviews of the best engine stands, we found the Big Red T26801 Torin Steel Engine Stand was the best available. It is a folding stand, has a 1,500-pound capacity, and is a reasonable price for something so sturdy. The Big Red T23401, which is the smaller sibling of the T26801, offered the best value for money. It has a lesser weight capacity of 750 pounds, but this should be more than enough for most car and SUV engines, and it is a strong and inexpensive stand.
Other car-related articles we've written: