10 Best Hearing Protections for Lawn Mowing in 2023 – Reviews & Top Picks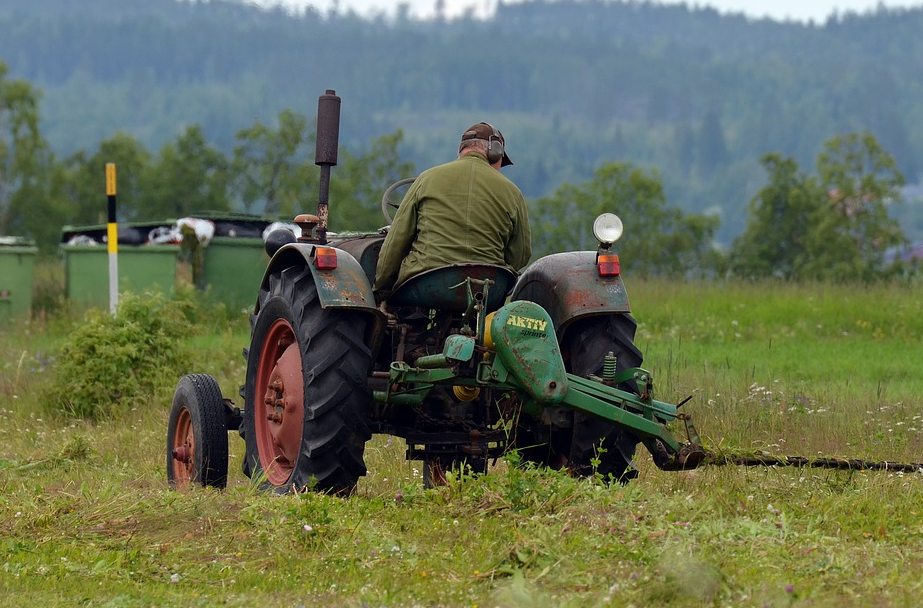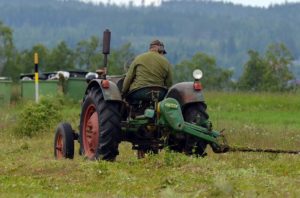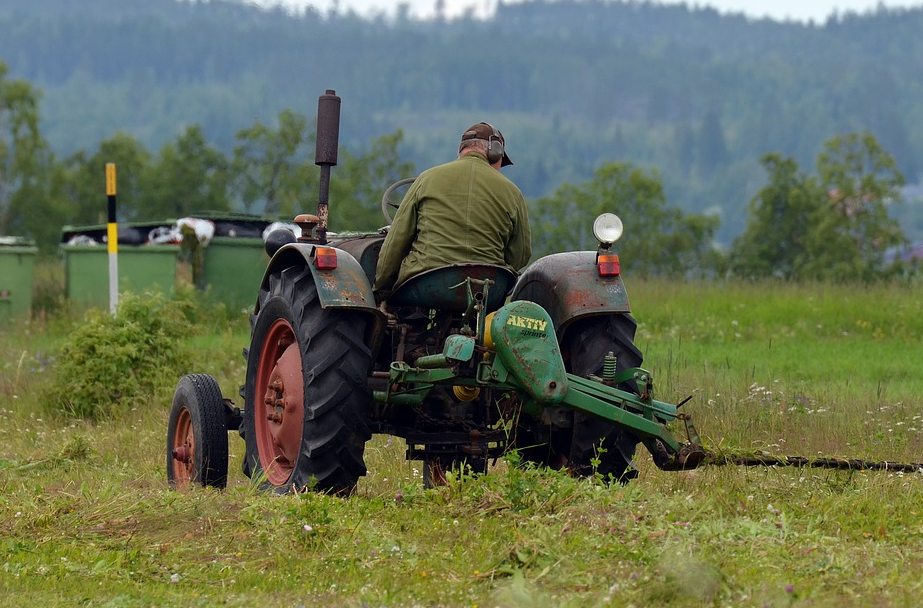 Gas-powered lawnmowers can really brutalize your eardrums. Whether you cut the grass weekly, or for a living, you need something to protect your ears from the deafening noise. The right ear protection can go a long way towards ensuring you have a safe, and enjoyable user experience.
But when the wrong product can jeopardize the health of your ears, the buying decision can become high-pressured. How can you tell good products from the bad? Guides like this one are one way to ensure you get something good and reliable. We've spent a ton of time testing hearing protection options to help you find something that is both safe and effective.
So, with all that in mind, let's get right down to it, shall we? Read on for some hearing protection for lawn mower reviews!
A Quick Comparison of Our Favorites in 2023
Rating
Image
Product
Details

Best Overall

3M WorkTunes

Bluetooth-ready
Radio-capable
Wireless
CHECK PRICE

Best Value

ClearArmor Hearing Protection

Lightweight
Affordable
Comfortable
CHECK PRICE

Premium Choice

PROTEAR Radio Earmuff

Bluetooth
Can handle phone calls
8-hour battery life
CHECK PRICE

Honeywell Impact Sport Earmuff

MP3
Long battery life
Affordable
CHECK PRICE

ZOHAN EM042

Affordable
24dB protection
Ten pre-saved radio stations
CHECK PRICE
The 10 Best Hearing Protections for Lawn Mowing
1.

3M WorkTunes Hearing Protector – Best Overall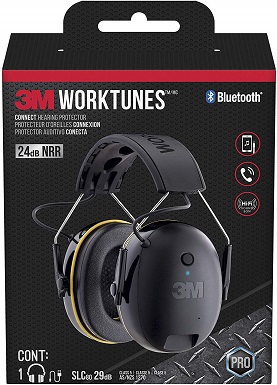 Our top choice for the best ear protection for mowing, the 3M benefits from being both protective and entertaining. This is a Bluetooth capable unit that can be hooked up to a WiFi source for listening to tunes or AM/FM radio. The padding of the unit helps to protect excessive soundwaves, while still providing the audio that you want to hear.
The battery of the unit will last for up to 8 hours, which should keep you covered during a complete workday.
Naturally, given the tech-heavy features, it should be no surprise that this is one of the more expensive options on our list. However, if you are professional that needs something safe and entertaining this will be a great option for you.
Pros
Bluetooth-ready
Radio-capable
Wireless
Effective sound suppression
8-hour battery life
---
2.

ClearArmor Hearing Protection – Best Value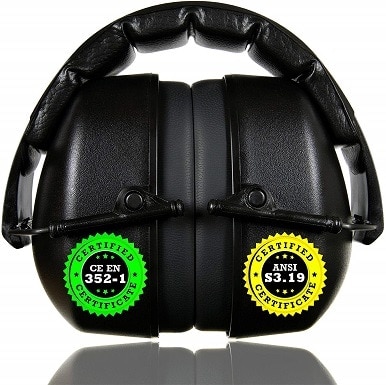 ClearArmor is our best hearing protection for lawn mowing for the money pick. It is an affordable protect that will be an appealing alternative option for those scared away by the price of our top choice.
The unit is lightweight at just several ounces, and it features comfortable padding that will make it easy to use for many hours at a time. It can be safely used anywhere from a shooting range to your yard. Unfortunately, though, it doesn't have any of the special features of our top choice. It also isn't extremely durable. The plastic may fall apart if put to task.
Fortunately, hearing protection is not really meant to get roughed up. Still, weird things can happen on the job site.
Pros
Lightweight
Affordable
Comfortable
---
3.

PROTEAR Radio Earmuff – Premium Choice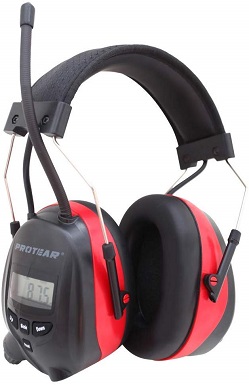 The Protear features Bluetooth connectivity. It is rated to protect your ears against sound levels up to 25dB. This is a true deluxe unit for the fact that you can listen to music, audiobooks, and the radio with ease. The high-quality design keeps the sound of your lawn mower out, while still delivering the high-quality audio that you want.
You can even handle phone calls with this headset. It features a specialty microphone that allows you to speak freely without interrupting your work session. The headset is also extremely comfortable. It is padded with high-quality foam, and it features an 8-hour battery life.
All in all, it is a great product that pretty much everyone is going to love. If you can swing the hefty price tag, this is going to be the right one for you.
Pros
Bluetooth
Can handle phone calls
Wireless
8-hour battery life
---
4.

Honeywell Impact Sport Electronic Earmuff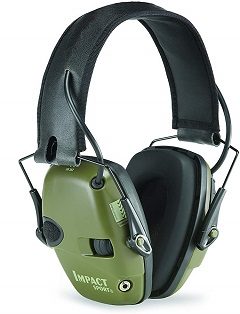 The Honeywell is a moderately priced unit that features a noise reduction rating of 22. And, like many of the options on our list, it can produce noise as well as prevent it. The headset hooks up to the MP3 of your choice via a detachable cord. It is battery-powered and can run for up to 4 hours at a time without taking a break. The aggregate life expectancy of the battery is 35 hours.
Unfortunately, many users report that the noise prevention is not quite as effective as many competing options. If you are a professional you will probably want to invest in something a little bit more heavy-duty.
Pros
MP3
Long battery life
Affordable
Cons
Not great for heavy-duty use
---
5.

ZOHAN EM042 Hearing Protector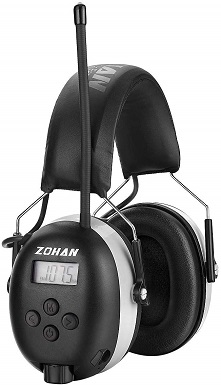 The Zohan is a comfortable option with a noise reduction rating of 24dB. It also features an output mode that gives you access to up to ten preselected radio stations. It can also hook up to audio devices via a detachable cord. The audio mode is powered by AA batteries.
This is a great way to get a lot of high-end features for a very moderate price. However, buyers should note that the audio output quality is fairly lacking. The clarity isn't tremendous, and the radio reception also leaves a lot to be desired.
It's still a good, affordable product for occasional use but it may be disappointing for people that count on their headset for daily use.
Pros
Affordable
24dB protection
Ten pre-saved radio stations
Cons
Audio quality limited
Poor radio reception
---
6.

DECIBEL DEFENSE Safety Ear Muffs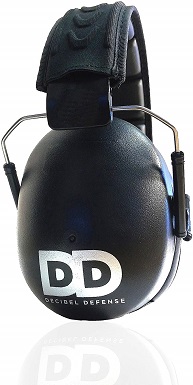 The Decibel Defense features a noise reduction rating of 37dB, making it great for people that work in really extreme environments. It is available in seven different colors, and it features a comfortable build and a very low-profile design.
The unit weighs in at 11 ounces which will be nice for people that use the headset often, and it even benefits from a money-back guarantee. If you aren't happy with your purchase after a month you can get a new product. Unfortunately, there are no special features here. For the same money, you could get something with audio output features as well.
Still, if protection is your top concern this option has got plenty of it.
Pros
37 db reduction
Lightweight
Very comfortable
Many color options
---
7.

Husqvarna Headband Hearing Protectors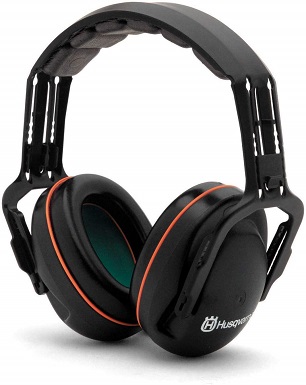 The Husqvarna is an affordable, one size fits most unit that can be effortlessly adjusted to suit a wide range of users. The simple and low profile design will do well to suit the needs of people that want something practical and effective.
The unit features a noise reduction rating of 25dB, and it is specially padded for comfort. Unfortunately, though, the band itself is not very comfortable. Many users report that it creates a pinching sensation that can be very uncomfortable for long-term use.
Pros
Affordable
One size fits most
Comfort padded
Cons
Band may cause pinching sensation
---
8.

Pro For Sho Safety Ear Protection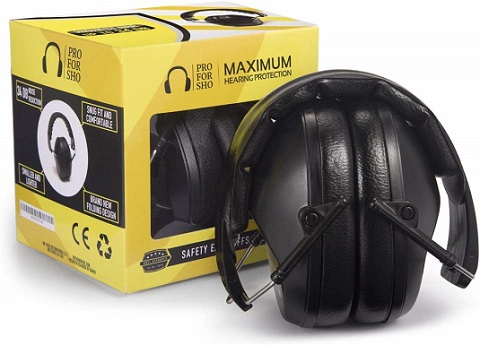 The Pro For Sho features an impressive noise reduction rating of 34dB. It is available in 10 different colors and can be easily folded up so that it fits safely in your pocket. And, at only 7 ounces, it is one of the lighter products on our list today.
Unfortunately, there are a couple of complaints to bear in mind. One is that many users report that the band is overly tight, causing discomfort. Some users also feel that the 34dB rating may be off. While it is effective, the experience is a little bit less impressive than one might expect given the advertisement.
Pros
10 different colors
Lightweight
Cons
Some feel advertised noise rating is inaccurate
A little tight
---
9.

WULFPOWERPRO Safety Ear Muffs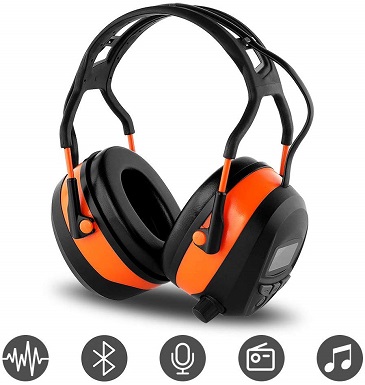 The Wulfpowerpro is an MP3/ Bluetooth capable headset. It can even hook up to your phone so that you can handle calls without needing to stop what you are doing. It features an LCD display and a rechargeable battery.
As earphones, this set is really great. As a noise-canceling unit, it is less impressive. Many users feel that it lets in a substantial amount of sound despite its 29dB rating. It's also very pricey, and somewhat uncomfortable.
Cons
Not great at eliminating noise
Uncomfortable
Pricey
---
10.

ProCase Noise Reduction Ear Muffs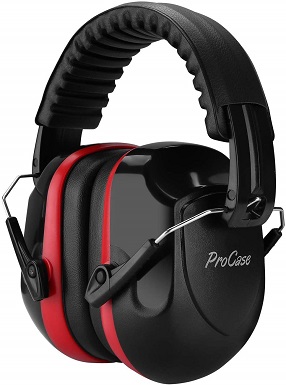 The ProCase features a noise reduction rating of 28db and a very affordable price tag. Unfortunately, though, they also produce a good number of complaints that put them at the bottom of our list. For one thing, these are only a headset which means they lack many of the special features found in the options above.
They also tend to be very tight, which can lead to pinching and even headaches. It also isn't very adjustable which means it literally will not work for some people. It's alright for occasional use, but yard care professionals will probably want to steer clear.
Cons
Uncomfortable
Very basic
Not adjustable
---
Buyer's Guide – Choosing the Best Hearing Protection for Lawn Mowing
It can be hard to make a decision when faced with a list of ten really great ear protectors for lawn mowing. If you haven't quite worked out which unit is right for you, it may help to look at these helpful buying considerations.
Noise Reduction Rating
There is no consideration more important than the noise reduction rating. This factor determines how many decibels of sound is being blocked out by the headset. For the purposes of yard work, anything above the 25dB mark should be more than enough to help keep you safe. Still, the higher you go, the more versatile the set ultimately becomes.
Many people like to use their headset for a variety of things. For example, they may take their headset to the shooting range, or a professional worksite—both settings that require a really high noise reduction rating.
Music?
Headsets don't just block out noise. Some of them can also produce it. Many higher-end sets can sync to your phone so that you can listen to music, audiobooks, podcasts and more. Some even feature speakers so that you can handle phone calls without pausing your work.
These features are really great for people that use their headsets for extended periods. There is a minor consequence though: it seems that many MP3 enabled units don't shut out quite as much noise as plane jane options.
Graned, for the purposes of yardwork, most Bluetooth units are going to be just fine. Still, you should pay extra close attention to the decibel rating if you are looking into a Bluetooth headset.
Comfort
Unfortunately, noise-canceling headsets are not always extremely comfortable. To maximize the comfort factor there are several steps you can take. For one thing, you'll want to make sure that the earpieces are well-padded. You will also want to see if the headset is adjustable.
While "one size fits most" is nice, the truth is that you are better off when you can really customize the fit to the shape of your head.
Weight is also a factor. While most headsets aren't super heavy, there are the odd exceptions. Ideally, you will be able to find something under 10 ounces. Bluetooth or MP3 headsets tend to weigh a little bit more because they have extra hardware to contend with. For some, the tradeoff may be well worth it, but in any case factor for the weight of the headset as you make your decision.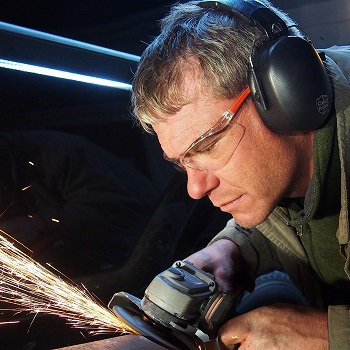 Price
Noise-canceling headphones tend to be a little bit pricey. In order to ensure that you are getting something of dependable quality, it will be a good idea to set aside $30 for the purchase. For this money, you will at least be able to get something with a really solid noise reduction rating.
If you want bonus features though, like MP3 capabilities you will need to budget significantly more.
Radio
In addition to MP3, some units are also able to pick up a radio signal. This is a simple and relatively affordable way to listen to music while you work. Unfortunately, these headsets tend to be not as effective as say, a car radio. This is mostly for the fact that they feature a small antenna.
Still, if you can't afford a Bluetooth headset but still want some entertainment while you work, this might be a good way to get it.
---
Final Verdict
In our ear protection for lawn mowing reviews, we've seen ten really great products. Do you want something super effective? If so, you'll probably want to take a long look at our top choice for the best hearing protection for lawn mowing, the 3M WorkTunes Connect Hearing Protector.
Or, maybe you want something a little bit more budget-friendly. If finding something affordable is more your priority, you can still get a really solid product by looking into the ClearArmor 141001 Hearing Protection.
Related Reads:
---
Featured Image Credit: Pixabay