Where Do I Put a Toilet Paper Holder in a Small Bathroom? 7 Great Spots!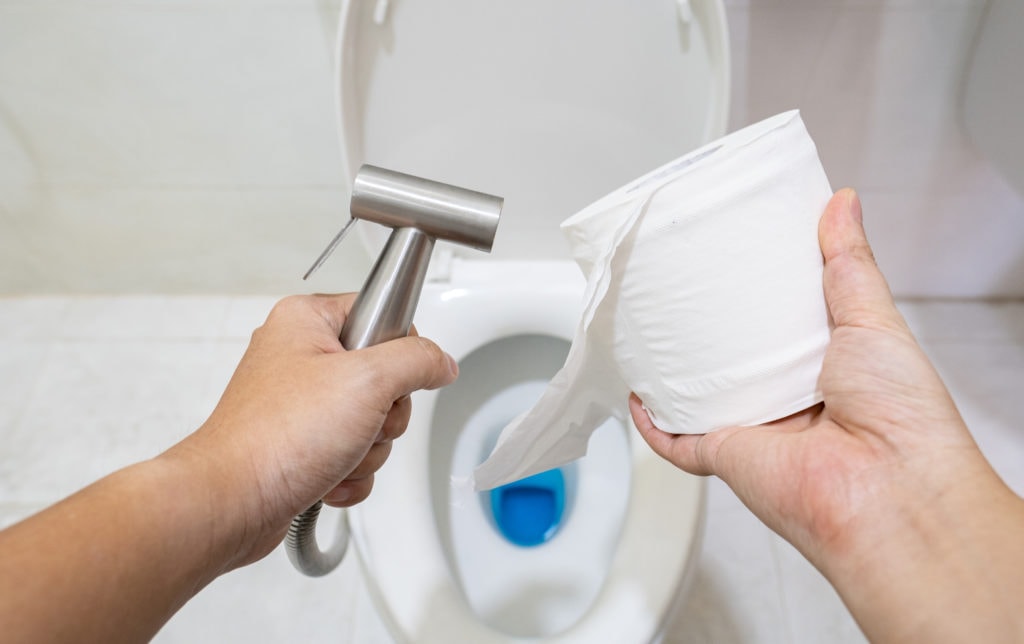 One of the challenges of having a small bathroom space is correctly placing fixtures in the bathroom. You do not want to clutter a space that is already small and get them in the wrong position. Designers are getting creative these days with storing a lot of things in a way that makes them accessible without having to take up so much space.
According to the National Kitchen and Bath Association (NKBA), there are acceptable measurements and placements for a toilet paper holder which have a standard height and distance of the toilet holder from the toilet.
The position of a toilet paper holder can be a challenge. Luckily, we have some strategic ideas for the placement of the toilet paper holder and will share them in this article.

The 7 Places to Put a Toilet Paper Holder in Small Bathrooms
1.

A Storage Rack Above the Toilet Seat and Tank
The space above the toilet rack is usually free, and it presents itself as a nice position for holding the toilet paper. This rack can also strategically be used to hold other toilet and bathroom supplies like packs of dry towels, soap, cleaning materials, and makeup.
This type of rack usually comes with about three separate layers where different materials can be stored. They come in a variety of colors and sizes, and you can choose a color based on your preference.
The size of the rack should depend on the size of the bathroom; you do not want to get a large shelf that covers the entire bathroom wall space and obstructs the free flow of air. Remember that the bathroom is one place that needs a lot of good air circulation.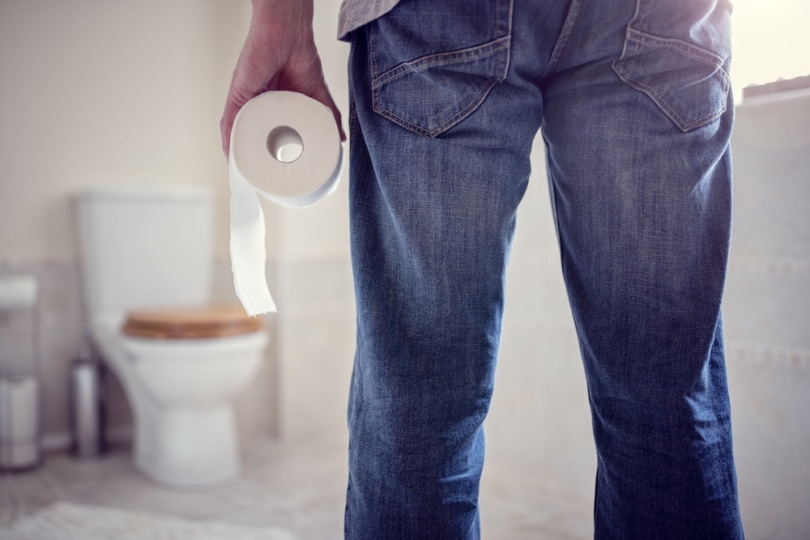 ---
2.

Beside the Sink
If your bathroom sink is close to the toilet seat, then mounting a toilet paper holder beside the sink is a great idea. This way, you can easily stretch out and access the paper while on the toilet seat. Some double holders can both serve as holders and store some extra toilet paper.
---
3.

Free-Standing Toilet Paper Holders
If you prefer a holder that is not fixed, but can be moved around, then there are some brilliant ideas that you can use.
Floor Stand Holders
Here are some examples of floor stand holders. They are mainly stainless steel, and they have rollers for easy movement around the bathroom. Most of them can house up to 3 extra toilet paper rolls to ensure that you do not run out of supplies. You can easily place them somewhere inconspicuous, like in the space between the bathtub and the wall or the space between the sink and the toilet.
Baskets
If your bathroom is really small, a rolling floor stand might not be ideal as there might be insufficient space to move the stand around the bathroom. In this case, you might consider a standing basket to place the toilet paper and other small bathroom supplies. You might also like a wall-mounted basket slightly above the toilet tank.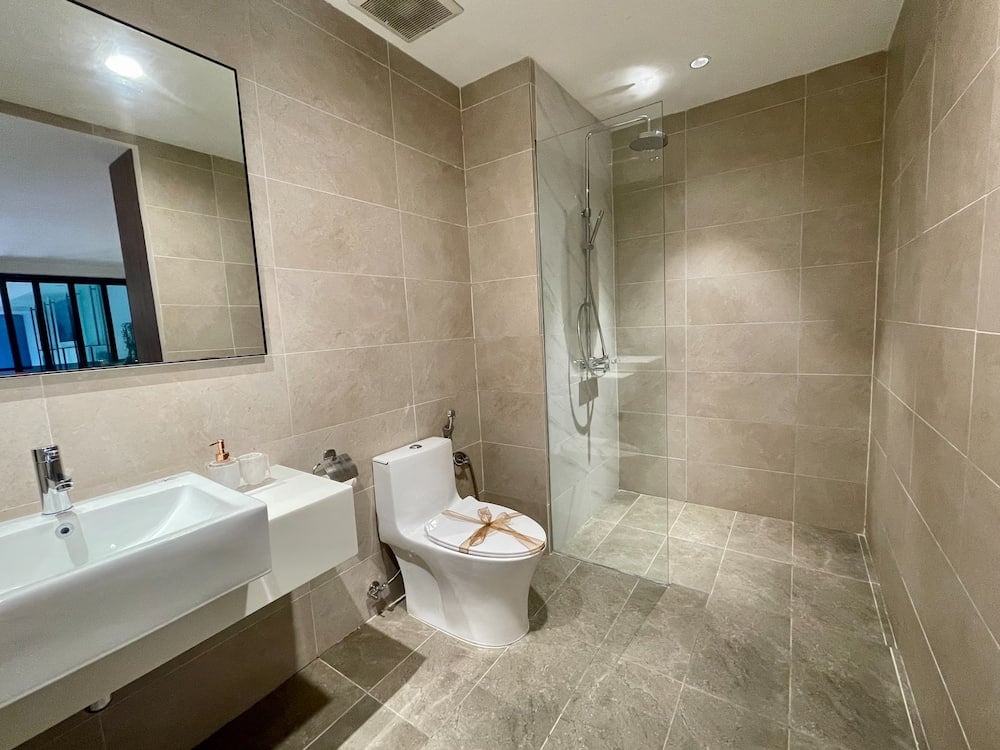 ---
4.

Mounted Toilet Paper Holders
A more common option is to mount the toilet paper holder on the wall behind the toilet seat. According to approved regulations, the toilet paper should be mounted at about 26 inches above the ground and 8 to 12 inches away from the toilet top. This is just the perfect position for easy accessibility.
However, if your bathroom is small or the bathroom is built for a smaller person, these measurements might not be ideal. In this case, you might want to grab a measuring tape and get the right measurements for yourself and mount the toilet paper holder accordingly.
A challenge with mounting the toilet paper on the wall might be your unwillingness to deal with drilling and screws. This can easily be fixed by using an adhesive holder that sticks to the wall without requiring additions or calling a plumber. Wall-mounted holders are best as stainless steel since they are more durable and do not get affected by water.
---
5.

A Rack Beside the Toilet Tank
If your bathroom is really small you can mount a rack by the side of the toilet tank. Nothing else happens here, so it is a free space that you can take advantage of. The rack is usually wide enough to contain about three extra toilet paper rolls.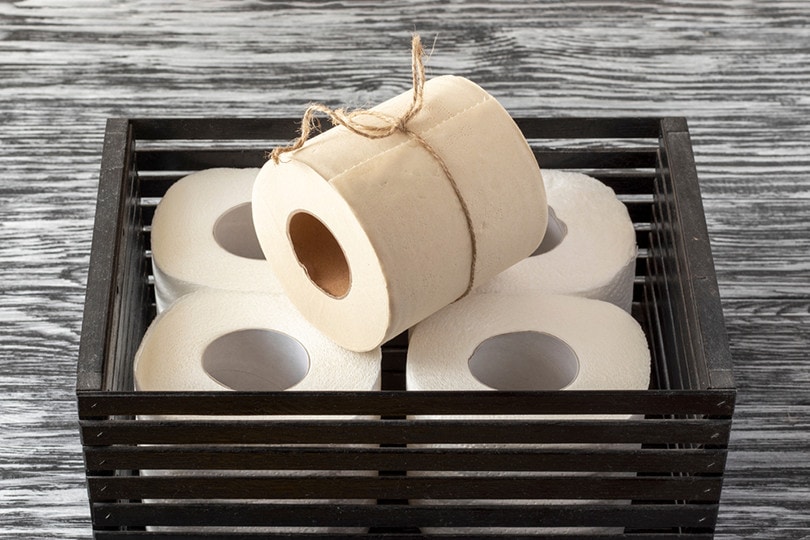 ---
6.

A Floating Shelf
A floating shelf is a great way to save space and bring some modern design into your bathroom. There are several designs for a floating shelf in the bathroom. A floating shelf is mostly wooden and can be sculpted into any suitable shape and even painted to suit the bathroom. If crafted well, a floating shelf will add to the beauty of the bathroom. The toilet paper can be placed neatly on the shelf, and other small supplies can also share this space neatly.
---
7.

Industrial Pipe Toilet Paper Dispenser
Several aesthetic-looking industrial pipe dispensers can serve as toilet paper holders. To make your bathroom look more aesthetically pleasing, you can match some other fixtures in your bathroom like the light bulb holders, the soap dish, the curtain rails, and door handles with the industrial pipe material.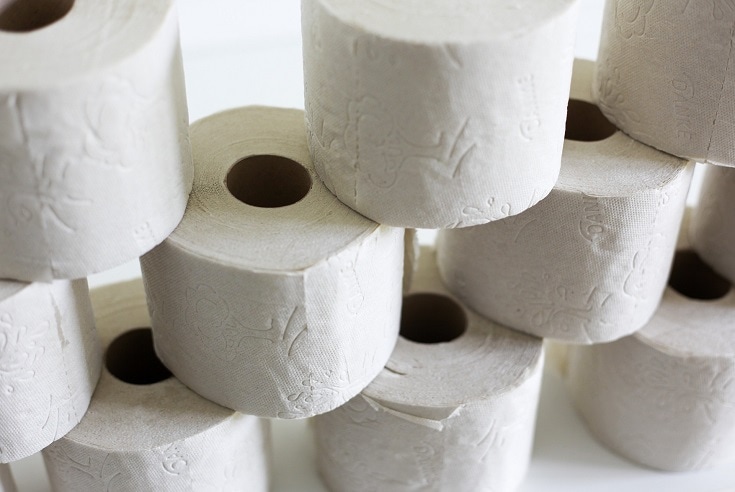 Final Thoughts
We understand that equipping small bathrooms can be a hassle. Finding a way to fit in everything you need while trying to maintain the space in the bathroom and make it look stylish and modern is not an easy task. However, with the ideas that have been listed in this article, you can find a way to get a functional and stylish bathroom.
You may also be interested in: 8 Best Bathroom Trash Cans — Reviews & Top Picks
---
Featured Image Credit: James-Are-Shutterstock