WORX Switch Driver Review 2023: Pros, Cons & Verdict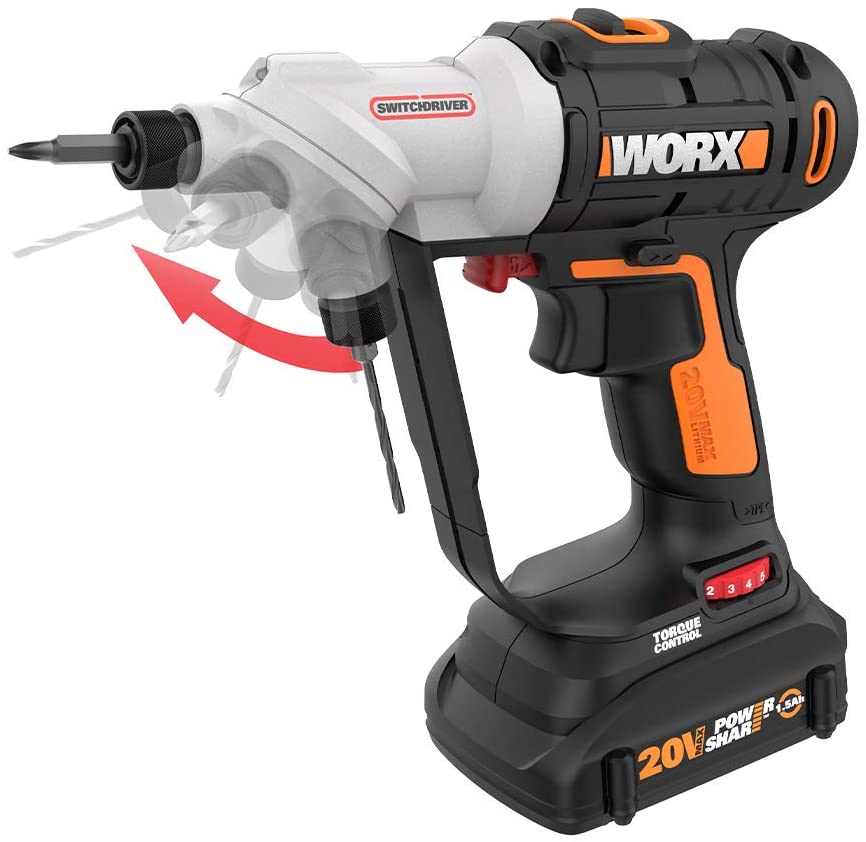 We give the WORX Switch Driver a rating of 4.5 out of 5 stars.
Build Quality: 4.5/5
Power: 4.5/5
Features: 4.75/5
Price: 4.25/5
Review Summary
The Work Switch Driver is a fantastic tool for the DIY crowd that gives the user a powerful drill with 2 chucks. You can swivel the head for quick access to the chuck, so you can have a drill bit in one and a screwdriver in the other for quickly drilling and inserting screws in your project without needing to change bits. This function can save you considerable time if you have a large project like a fence to build.
Let's take a closer look at the pros and cons of this device, so you can better decide if it's right for you.
Worx Switch Driver – A Quick Look
Pros
2 bits at once
Automatic torque control
2 speeds
Lithium-ion battery
Press button to change chucks
LED headlamp
Less than 3 pounds
Cons
Only accepts hex bits
Poor quality charger
Specifications
Manufacturer: Positec USA
Item Weight: 2.9 pounds
Batteries: 1 lithium-ion battery
Height: 9 inches
Width: 3.5 inches
Length: 8.5 inches
Voltage: 20 volts
Wattage: 1,500 watts
Avg Battery life: 2 hours
Battery Charge Time: 3 – 5 hours
Low speed: 0 – 400 RPM
High Speed: 0 – 1,500 RPM
Min Chuck Capacity: ¼-inch hex-style
Warranty: 3-year manufacturer's warranty
Includes: 2 batteries, 3 bits
Dual Chuc
Without a doubt, the Worx Switch Driver's main selling point is the convenient 2-chuck system. This unique system lets you keep 2 different size drill bits, or one bit and a screwdriver tip equipped at all times for a quick transition between them. It's very common to drill a hole before installing the screw, and this system makes it quick and easy to do so with just the press of a button.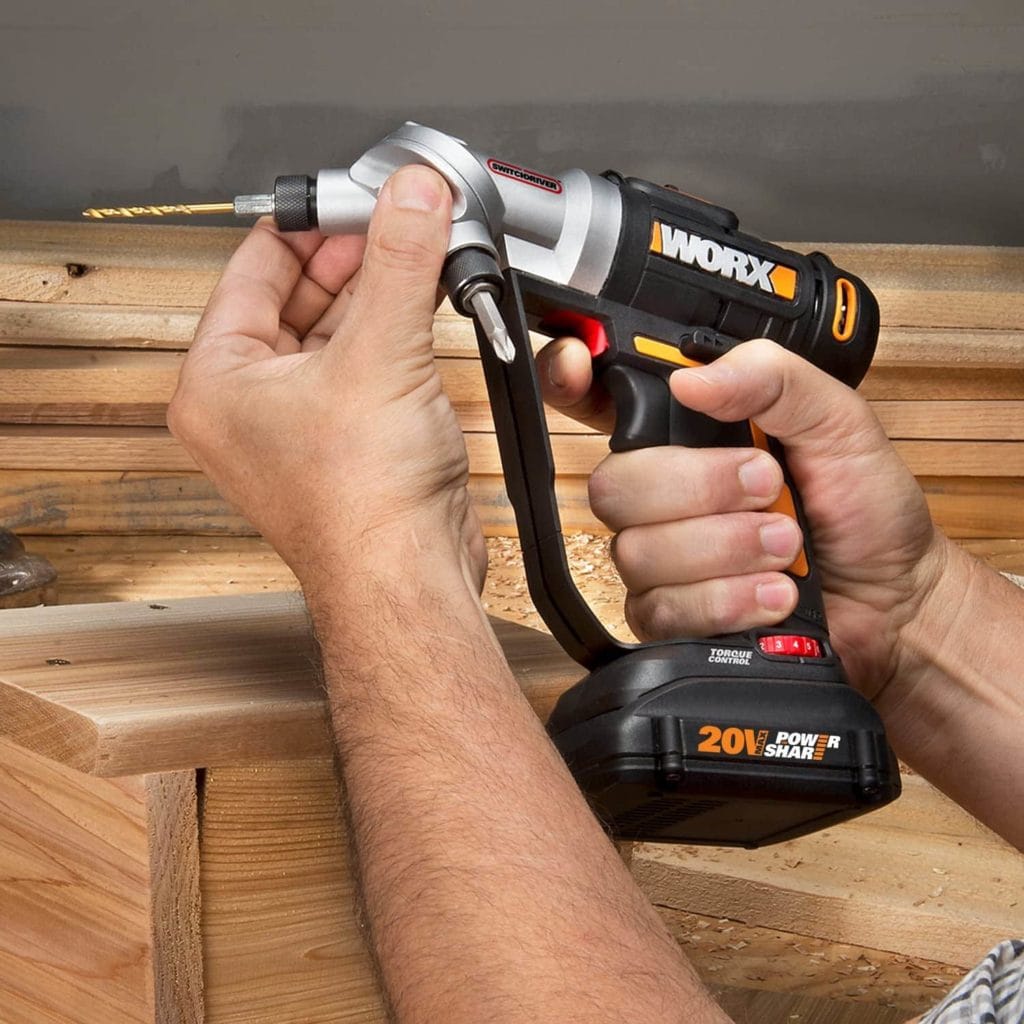 Portability
Another important feature of the Worx Switch Driver is its portability. Its 20-volt lithium-ion battery can run for up to 2 hours on a single charge, which should be enough time to complete most tasks. You can use it anywhere without the need for an electrical outlet or heavy extension cord.
High Powered
Don't let the fact that it uses batteries lead you to believe it's underpowered. The modern lithium batteries are quite powerful and can match an electric drill's torque as long as it has a good charge. The built-in torque control automatically senses when the screw is set and stops turning to prevent stripping.
LED Headlamp
The built-in LED headlamp is indispensable when working in low light because it illuminates the surface where you are drilling. It's not as good as a flashlight, but it's more than enough to prevent misplaced holes. The LED component is extremely durable and will not burn out for the life of the tool.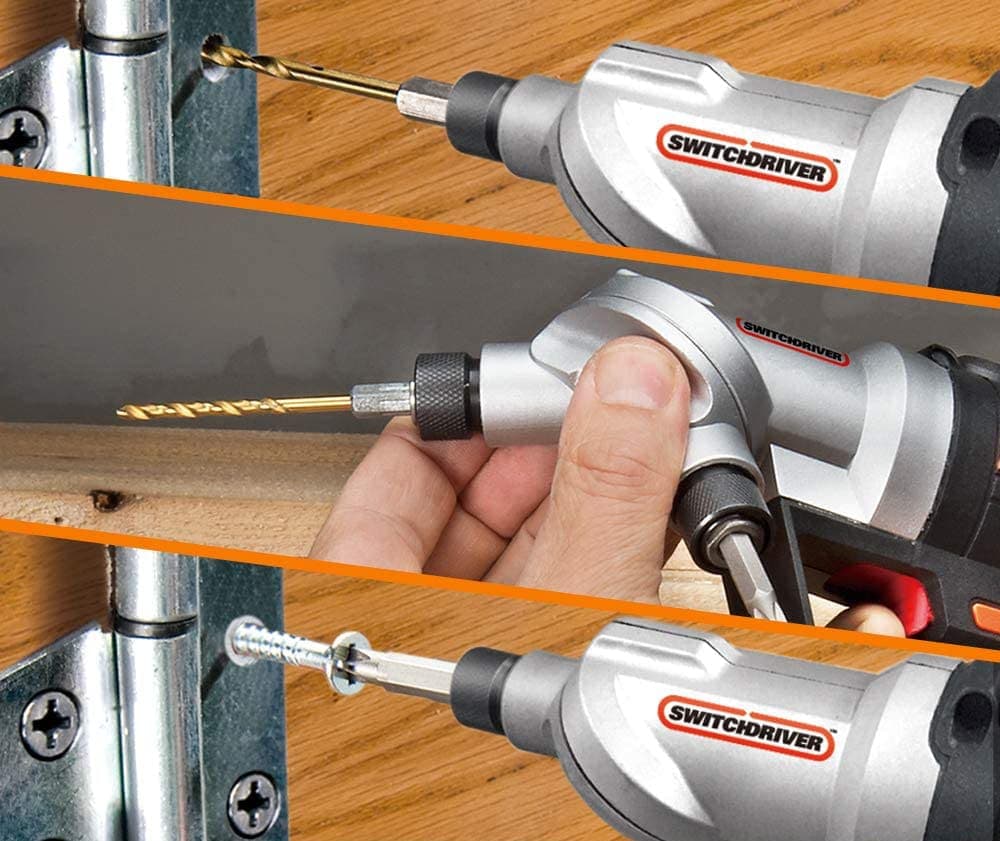 Reversible
Another powerful feature of the Worx Switch Driver is that both chucks are reversible, so you can use it as a regular drill but can also reverse it so you can remove screws much easier.
Battery Charger
One aspect of the Worx Switch Driver that can use some improvement is the battery charger. As it is, there is no auto-shutoff to protect the battery. Most chargers shut off when the battery reaches full charge, but the Worx will continue charging, which can quickly ruin the battery.

FAQ
Does the Worx Driver come with a battery and charger?
Yes, one battery and a charger come with it.
Does it have a hammer option for drilling masonry?
No, there is no hammer option on this model.
Does it come with a hard case?
No, there is no hard case included with the Worx Driver.
Is the Worx Driver reversible?
Yes, you can use it to insert or remove screws.
How do you remove a stuck bit?
Use a pair of channel locks to gently twist the bit back and forth until it comes loose.
Does it have variable speed?
Yes, there are two ways to adjust speed. A switch on top of the tool allows you to choose between high and low speed. The trigger is also variable speed and the chuck will rotate faster the harder you squeeze it.
What the Users Say
Most people enjoy the convenience of the dual chuck.
Most people find it lightweight and easy to use.
Many people warn about the faulty battery charger.
Many people felt it had plenty of power, while a few complained it was too weak.
Many people commented on the convenience of the LED headlamp.
Several people found the 2-speed switch useful.
Some people complained that it only accepts quick release hex bits.
A few people consider it an expensive gimmick.

Conclusion
We hope you have enjoyed our deep look into the Worx Switch Driver and found the answers to any questions you may have had. The Worx Switch Driver is a unique tool that can dramatically speed up the process of installing lots of screws. It also gives you the capability to drill different sized holes without changing the bit. It's portable and extremely lightweight, and you will get plenty of use out of each charge. If we have convinced you to give it a try, please share this Worx Switch Driver on Facebook and Twitter.