8 Most Expensive Homes in Illinois (with Pictures)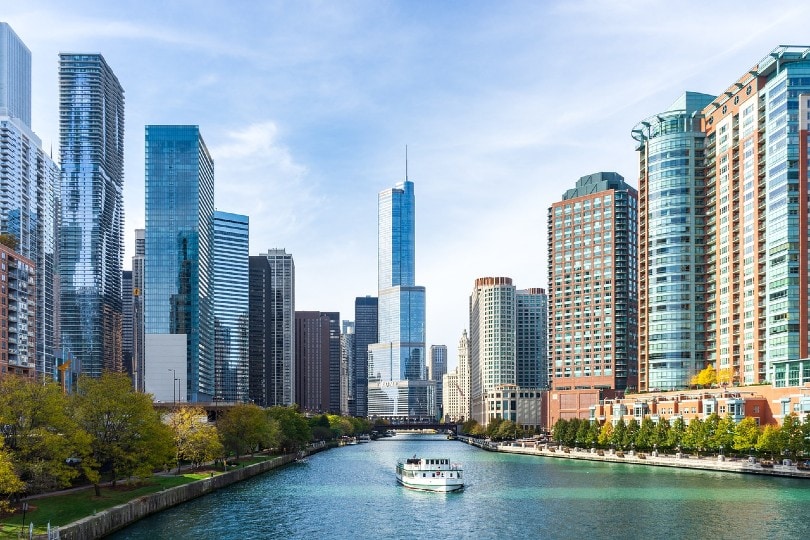 Illinois can be a fun place to live and work. What you may not know about this midwestern state is that it's more than just farmland! It has beautiful homes not only in Chicago but also in the surrounding suburbs. Read on to see what Illinois' most luxurious homes have to offer.

The 8 Most Expensive Homes in Illinois
1.

68 Locust Road, Winnetka, Illinois
| | |
| --- | --- |
| Sale Price | $8,750,000 |
| Bedrooms | 6 |
| Bathrooms | 10 |
Winnetka is one of the wealthiest cities in Illinois, and its impressive homes prove that. This beauty on Locust Road has a wine cellar with pebble-stone floors and a restaurant-quality bar. There are plenty of spaces for guests to park in a garage that fits 9 cars. A gym, spa room, theater, and swimming pool put the finishing touches on the house. The home's designer, Richard Landry, is known for designing celebrity homes in California.
---
2.

322 Kenilworth Avenue, Kenilworth, Illinois
| | |
| --- | --- |
| Sale Price | $2,600,000 |
| Bedrooms | 5 |
| Bathrooms | 6 |
This single-family home in Kenilworth, Illinois has been preserved to maintain its original look but includes modern upgrades. This Queen Anne architectural-style home was built in 1896. The house has an expansive front porch, original custom moldings, high ceilings, and a beautiful staircase. There is a coach house that includes a kitchen and full bath. Three fireplaces in the home ensure that the rooms are always cozy.
---
3.

52 E. Bellevue Place, Chicago, Illinois
| | |
| --- | --- |
| Sale Price | $7,500,000 |
| Bedrooms | 6 |
| Bathrooms | 7.5 |
Jiravat Yoovidhya purchased this Bellevue mansion with his wife. Yoovidhya is the son of Red Bull creator Chaleo Yoovidhya. This 130-year-old Georgian, four-story house is in the Gold Coast neighborhood of Chicago and has an elevator. The first floor has herringbone floors. There is also a gym, three laundry rooms, a wine cellar, and a theater room with a 120-inch projection screen. Outside, there are five outdoor decks, a fire pit, two grilling stations, and three wet bars.
---
4.

1238 W. Montana Street, Chicago, Illinois
| | |
| --- | --- |
| Sale Price | $4,795,000 |
| Bedrooms | 6 |
| Bathrooms | 4.5 |
This limestone home takes up three lots, making it a huge, sprawling home in the middle of a busy city. It has a wraparound porch, a walk-in pantry next to a custom kitchen, and a private balcony off the master suite. There are full guest quarters and a theater room. The house is kept private due to the lush vegetation all over, giving it a suburban backyard feel.
---
5.

901 E. Rosemary Road, Lake Forest, Illinois
| | |
| --- | --- |
| Sale Price | $5,057,253 |
| Bedrooms | 6 |
| Bathrooms | 8 |
This renovated Lake Forest estate sits on 4 acres and has a game room, theater room, and a kitchenette on the third floor. Each bedroom has a full bathroom attached. The house was originally built in 1914 for Ginevra King Mitchell and her husband, William. Ginevra is thought to be the inspiration for Daisy Buchanan in "The Great Gatsby."
---
6.

1251 W. Whitmore Ct, Lake Forest, Illinois
| | |
| --- | --- |
| Sale Price | $2,837,500 |
| Bedrooms | 5 |
| Bathrooms | 8 |
This French manor home in Lake Forest has a seven-car garage and superior design that was inspired by travels to France. Resting on 1.5 acres, this house has walnut hardwood floors, a slate roof, and a stone-and-limestone exterior. The landscape features lush vegetation and several ponds. The master suite bathroom includes a marble bath, steam shower, and whirlpool tub. The basement has a bar, pool table, rec room, and gym.
---
7.

234 S. Prospect Avenue, Clarendon Hills, Illinois
| | |
| --- | --- |
| Sale Price | $1,563,000 |
| Bedrooms | 6 |
| Bathrooms | 5 |
This beautiful Clarendon Hills home was built in 2021. It's a new construction that features custom cabinetry, white oak hardwood flooring, and luxury appliances. The oversized kitchen includes a walk-in pantry. A wood-burning fireplace, sunroom, and mudroom are on the first floor. Each room in the house is soundproofed and insulated for energy efficiency. A fire sprinkler system is installed in the home for extra safety.
---
8.

7 Fox Hunt Road, Barrington Hills, Illinois
| | |
| --- | --- |
| Sale Price | $4,573,623 |
| Bedrooms | 8 |
| Bathrooms | 14 |
This gorgeous Barrington Hills home was built in 2004 and is located on 70 acres. It has a water view and a six-car garage. The exterior is stone, stucco, and brick. The outdoor areas have hidden ponds, a lake full of fish, and a waterfall. You'll also find a putting green and two golf holes, so you can work on your game. Inside, you can enjoy playing in the arcade and then drinking at the English pub. The elevator can take you from floor to floor.
Who Is the Richest Person in Illinois?
Ken Griffin is Illinois' richest person, with a net worth of $25.5 billion. Ken founded Citadel, a Chicago-based hedge fund firm. He started trading in his dorm at Harvard in 1987, using a satellite dish that he installed on the roof to get stock quotes in real time. Ken has given $1.3 billion to various philanthropic causes.
Ken paid $58.75 million for the top four floors of a condo building at 9 W. Walton St. in Chicago.
Conclusion
As you can see, a few of the homes in Illinois can rival those of celebrities in the fanciest parts of the country. Some of the state's most famous residents live in Chicago's Gold Coast neighborhood and ritzy suburbs. The best part is that you can also find modest homes for more affordable prices. The Prairie State has many homes in every price range, so you can find one that fits your needs and won't break the bank.
Related read:

---
Featured Image Credit: anikinearthwalker, Pixabay