10 Best Mini Tillers (Compact, Small & Lightweight) Reviews 2023
Any successful gardener will tell you that maintaining an already established garden begins with the soil. To make sure the ground is free of weeds and aerated enough to absorb rainfall and watering, you need a tool to properly dig below the surface without disturbing the roots of your crop. Mini tillers go where larger sized tillers can no longer fit. Their lightweight and narrow design makes it possible to get in between the tight rows of your vegetable or herb garden. Best suited for smaller plots with already loose, mostly stone-free soil, mini tillers keep your soil in optimal condition.
When it comes to purchasing a mini tiller, it can be difficult to sort through the many models and different price points. To help out, we've listed reviews for the 10 best mini tillers for this year based on best value and performance. Our buyer's guide goes further in-depth so you can make an informed decision.
---
A Quick Comparison of Our Favorites in 2023
Rating
Image
Product
Details

Best Overall

Sun Joe TJ603E

Powerful, durable 12-amp motor
Environmentally friendly electric motor
Able to cultivate difficult soil conditions
CHECK PRICE

Best Value

Earthwise TC70065

Powerful 6.5-amp motor
Soft ergonomic grip
Effective weed control
CHECK PRICE

Premium Choice

Schiller Grounds 7940

Infinite speed control
No fuel mixing, only gas
Honda four-cycle engine
CHECK PRICE

Mantis 7924

Fast-start technology
Can dig into hard clay
Fingertip-controlled speed
CHECK PRICE

BLACK+DECKER LGC120

Long-lasting battery
Counter-oscillating tines
Cordless electric engine
CHECK PRICE
The 10 Best Mini Tillers
1.

Sun Joe Electric Tiller and Cultivator – Best Overall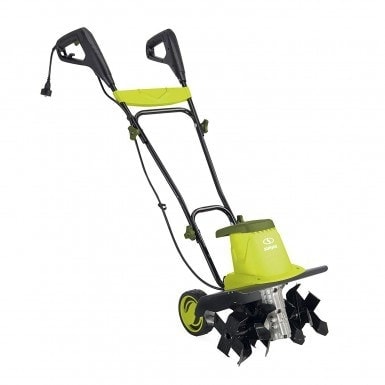 One of the best mini tillers on the market, the Sun Joe TJ603E Electric Tiller and Cultivator supplies power and durability while being environmentally friendly. The 12-amp electric motor starts with the push of a button and matches the strength of similar high-emission engines, but you won't have the added maintenance.
Six steel angled tines rotate at 340 RPM to effortlessly cultivate a width of 16 inches and a depth of eight inches. You'll be able to cut through tough weeds and aerate a variety of soil conditions, including hard-packed and rocky ground.
The Sun Joe TJ603E Electric Tiller and Cultivator also earns its place at our top spot for its clever and convenient transport and storage features. You can adjust the sturdy rear wheels into three different positions to make maneuvering back and forth an easy task by simply tipping back and rolling it. The collapsible handle allows for compact storage.
Pros
Powerful, durable 12-amp motor
Environmentally friendly electric motor
Angled steel tines
Able to cultivate difficult soil conditions
Sturdy and adjustable rear wheels
Collapsible handle for easy storage
Cons
Electric cord may become tangled
Heavier than other mini tillers (27.1 pounds)
---
2.

Earthwise Corded Tiller/Cultivator – Best Value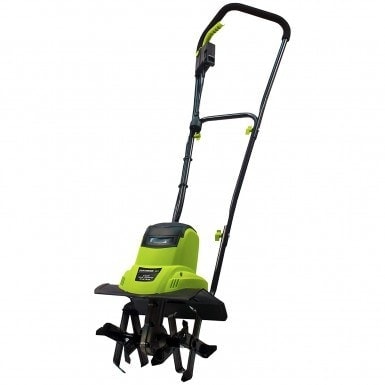 The Earthwise TC70065 Electric Tiller and Cultivator is the best mini tiller for the money. It has a powerful 6.5-amp electric motor, making it an eco-friendly alternative to gas-powered machines. Four durable steel tines cultivate and till up to 11″ wide and 8″ deep.
Best suited for small to mid-size gardens and flower beds, this tiller and cultivator effortlessly tackles weed control. Its single lever startup switch, lightweight design, and soft ergonomic grip make this tiller enjoyable to operate and compact to store.
While the Earthwise TC70065 has impressive power and durability for the price, it's not quite as powerful and versatile at handling all soil conditions, landing it in second place. However, if you're planning to use the Earthwise to maintain soil aeration and effective weed control, this mini tiller will give you the best performance for the value.
Pros
Powerful 6.5-amp motor
Environmentally friendly electric motor
Effective weed control
Lightweight design
Soft ergonomic grip
Compact to store
Cons
Limited to small to mid-sized gardens
Can't handle packed, rocky soil or thick weeds
Tines are not curved
---
3.

Schiller Grounds Care Tiller Cultivator – Premium Choice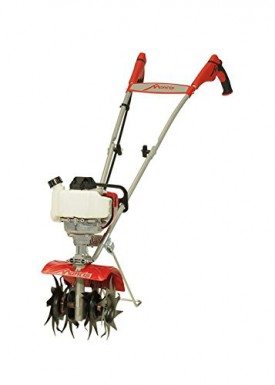 If you're willing to pay for thoughtful design options and power, the Schiller Grounds Care Mantis Tiller Cultivator is the premium choice. The Honda four-cycle engine requires only gas, with no fuel mixing. This 25cc engine spins the curved tines at a speed of up to 240 RPM and has the capability to break up even the most compacted soil.
You'll find this mini tiller easy to start, practical to operate, and quiet to use. The nine-inch-wide mini tiller allows you to vary the speed through a finger-controlled throttle. You can also choose which depth to till by flipping the tines from a 10-inch depth to a shallow setting of two to three inches. At 24 pounds, it's a lightweight choice due to its unique transmission design.
The extra features, such as ergonomically flared handles, infinite speed control, kickstand, and folding option for convenient storage, make this a premium, if high priced, choice.
Pros
Honda four-cycle engine
No fuel mixing, only gas
Infinite speed control
Tine depth adjustment
Curved tines
Ergonomic handles
Convenient storage
Cons
Priced high
Not eco-friendly
---
4.

Mantis 7924 Fast Start Tiller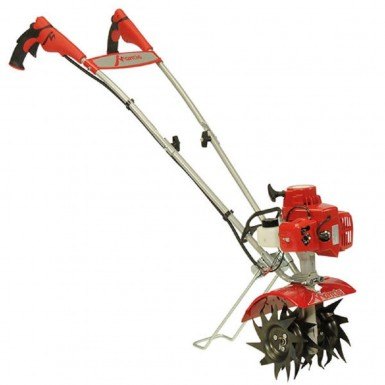 The Mantis Fast Start Tiller solves any frustrating and time-consuming starter cord issues with fast-start technology, making it 75% easier to pull the starter cord. This mini tiller is also built for durability and ease of use.
The 21.2 gas two-cycle engine has the strength to dig into solid soil and hard clay. The lightweight mini tiller weighs only 21 pounds due to its transmission and engine-over-tine design. It has a narrow width of nine inches.
This mini tiller offers you versatility with the fingertip throttle, infinite speed control, and tine depth options. Spinning at a rate of up to 240 RPM, you have the choice of a full 10-inch depth or a shallow two to three inches. Other factors keeping this mini tiller at the top of our list include Sure-Grip handles that fold for compact storage.
Pros
Fast-start technology
Can dig into hard clay
Fingertip-controlled speed
Tine depth adjustment
Ergonomic handles
Convenient storage
Cons
Not eco-friendly
Smaller engine
Tines are not curved
---
5.

BLACK+DECKER Cordless Garden Cultivator/Tiller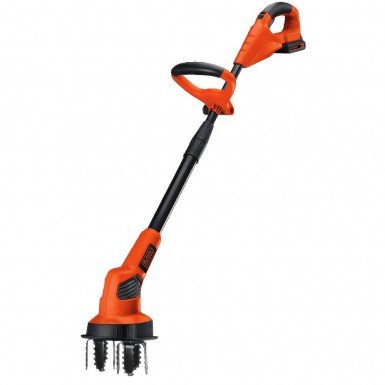 If you're in the market for an electric engine without the cord, this model from Black and Decker has a 20-volt MAX lithium-ion battery that boasts a long lifespan of up to 325 square feet cultivated per charge. This mini tiller comes with a two-year limited warranty, which includes a battery and an Energy Star-qualified charger that can charge a fully depleted battery in about eight hours.
Another interesting feature of this battery-powered tiller are the counter-oscillating tines, which prevent weeds from tangling and disrupting the two long tines.
Best for already worked, loose soil, this mini tiller will help you with the season-long maintenance of seed prepping, weed control, and proper aeration of your gardens and landscape beds. It has an upright design, comfortable grips, and an adjustable, telescoping shaft.
Pros
Cordless electric engine
Long-lasting battery
Energy Star-qualified charger
Counter-oscillating tines
Adjustable, telescoping shaft
Cons
Takes eight hours to recharge battery
Less powerful engine
Less cultivation depth
---
6.

Honda Rotating Gas Mini Tiller-Cultivator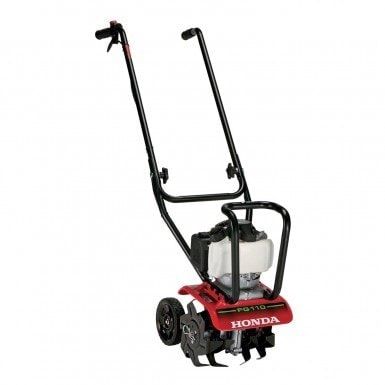 Earning its place mid-way on our list, the FG110 has a standard wheel kit and depth bar, but this tiller-cultivator from Honda is also built to provide power, durability, reliability, and ease of operation. The Honda GX25 25 cc 4-stroke engine can cultivate most moderately packed soil.
The four heavy-duty, forward-rotating metal tines have a hybrid construction and are designed for strength and optimal performance.
This Honda model includes a long-lasting, reliable transmission. It also keeps your safety in mind with the added protection of a front engine guard.
Pros
Powerful Honda engine
Heavy-duty metal tines
Reliable transmission
Safety feature
---
7.

Earthquake 31635 Mini Cultivator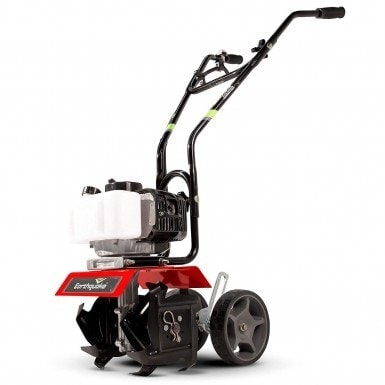 If you're looking for a mini tiller that can cultivate, weed, mulch, mix in fertilizer, and aerate a variety pre-tilled soils, the Earthquake Mini Cultivator is a solid choice. The versatile nature of this mini cultivator is ideal for small to medium gardens and flower beds.
Don't worry about sacrificing power for this mini tiller's small size and light weight. This model is equipped with a Viper engine, which is one of the largest and most powerful in its class.
The Earthquake Mini Cultivator also handles well. Overhand controls help you maneuver around plants and tight spaces while maintaining an even till. The on-board wheels can adjust, allowing you to set the depth you prefer and transport back and forth.
Pros
Completes a variety of tasks
Powerful Viper engine
Handles well
Adjustable on-board wheels
Cons
Not eco-friendly
Tines aren't heavy duty
Only effective in pre-tilled soil
---
8.

GardenTrax 4 Cycle Mini Cultivator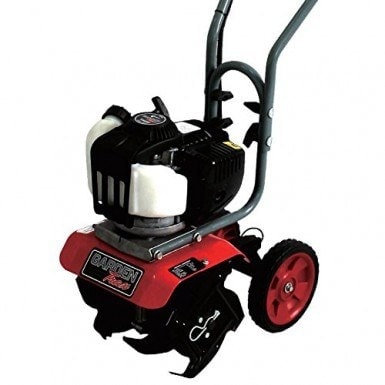 You can feel reassured by the manufacturer's two-year warranty that the GardenTrax Mini Cultivator is built to last. It also has plenty of power supplied by a 38cc four-cycle engine that requires only gas and no oil to mix. This engine has all the strength you need to weed, cultivate, and till your established garden.
The forged steel tines are reversible and efficient and turn at 250 RPM, so you'll be impressed with the smooth, aerated texture of the soil. No tools are necessary to adjust the tines or wheels. The top handle control allows you to maneuver between narrow rows of plants.
Pros
Two-year manufacturer warranty
Powerful engine, gas only
Steel-forged tines
Easy adjustment for tines and wheels
Top handle control
Cons
Not eco-friendly
Handle is not ergonomic
No fold-down handle for easy storage
---
9.

Craftsman 2-Cycle Gas Cultivator/Tiller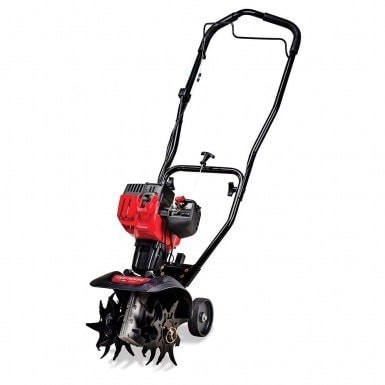 The Craftsman Gas Powered Cultivator/Tiller has many features that make it ideal for the regular weeding, cultivating, and tilling of small flowerbeds and gardens. It comes with a compact 25cc two-cycle engine that does require mixing, although the appropriate engine oil is included with purchase.
The patented steel tines are forward rolling and can be adjusted both in width from 6″ to 9″ and in depth of up to 5″. This lightweight, compact garden cultivator/tiller is easy to operate, as it offers variable speed throttle and a comfortable V-grip handle. There are also transport wheels that can be removed.
This model finds itself as our penultimate pick for its inconsistent start-up. Though it does feature a simple three-step start, user feedback suggests that it doesn't always function properly.
Pros
Backed by a two-year limited warranty
Patented steel tines
Adjustable tilling in both width and depth
Cons
Inability to consistently start up
Must manually remove transport wheels
Engine requires gas/oil mixture
Not as powerful engine
Only effective in pre-tilled soil
---
10.

Landworks Super Mini Tiller Cultivator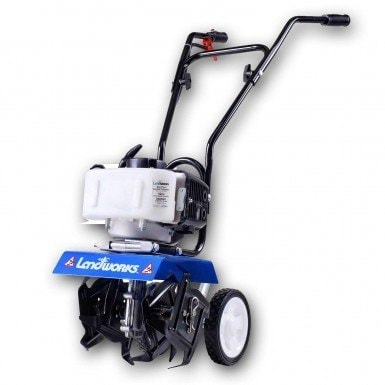 The Landworks Super Duty Tiller Cultivator made the cut for the last spot on our list. Touted as rigorously tested and EPA certified, this mini tiller works best in loose soil to dig, cultivate, and aerate.
A 3HP, 52cc, gas, two-stroke, single cylinder OHV engine powers this mini tiller, which also features four steel replaceable and adjustable forward-rotating tines. As the tines do get tangled in large, vined vegetation, it's more ideal for removing weeds between garden rows.
You should note that there is assembly required and that some customers have reported difficulty with the instructions provided. It does require pulling a cord for start-up, which may take several attempts.
Pros
Ideal for small weeds
Adjustable, steel tines
EPA certified
Cons
Potential for weed entanglement
Inconsistent startup pull cord
Insufficient assembly instructions
Lack of ergonomic design
No helpful storage features
---
Buyer's Guide – Picking the Best Mini Tiller
We hope our reviews will help you choose which mini tiller will work best for your garden's needs. If you're still undecided or would like to gain more in-depth knowledge about mini tillers, read on. This buyer's guide breaks down the most important features to consider when making a purchase. It also covers what to expect and anticipate once you go to start up your new tiller.
Engine Power
When it comes to engines, you'll have to choose between an electric engine and a gas-powered model. While both can produce as much power, you will have to either operate an electric mini tiller with an extension cord or choose a cordless model with a rechargeable battery. However, electric is the more environmentally friendly option. If you decide to opt for a gas engine, make sure you're clear whether it takes gas only or an oil mixture. Gas-only options are more convenient than taking the time to create a mixture.
Types of Tines
If you have a project that requires breaking in hard-packed soil or clay, you'll find better success if the tines of your mini tiller are curved rather than straight. Also, the material of the tines affects the durability. Ideally, look for steel. The tines' RPM has a significant impact on the quality of aeration and texture of the finished tilled soil, and they should be able to adapt to any depth to allow for more versatility. Optimal depth for cultivating a standard garden should be around 10 inches, while routine weed control and aeration may only need a depth of two to three inches.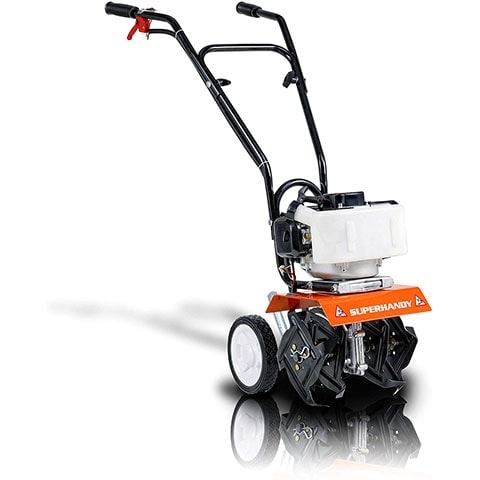 Maneuverability and Storage
Mini tillers are intended to be lightweight, below 30 pounds. For transporting your mini tiller from storage to garden and back again, it will be far less effort when your machine has well-functioning, durable wheels. Also, you want to be able to maneuver your tiller through narrow plant rows. Many of the top mini tillers come with ergonomic handles and infinite speed control at your fingertips, and a collapsible handle makes it easy to find space to store your mini tiller.
Which Mini Tiller is Right for Your Needs?
In the end, you need to consider how you'll use your tiller. Certain higher priced models offer an array of features. However, if your needs are to simply maintain your garden rows and flower beds to keep them free of weeds and well aerated, you can opt for a lesser priced, basic model. However, don't skip on value. Make sure that the engine suits your needs, that the tines are made of high-quality steel, and that the method of startup is reliable. Push button startups save a great deal of time and frustration.
Other Lawn Care Products We've Reviewed
---
Conclusion
For overall value and optimal performance, the Sun Joe TJ603E 16-Inch 12-Amp Electric Tiller and Cultivator tops our list of the best mini tillers. This mini tiller has a powerful, durable, 12-amp, environmentally friendly electric motor. Its angled steel tines are able to cultivate difficult soil conditions. Plus, it ranks first on our list for its high-quality components, including sturdy and adjustable rear wheels and a collapsible handle for easy storage.
For the best mini tiller for the money, the Earthwise TC70065 6.5-Amp 11-Inch Corded Tiller/Cultivator is just right for routine maintenance of garden and flower beds. While it can't dig through packed, rocky soil or thick weeds, it does have an environmentally friendly electric motor, provides effective weed control, and has a soft ergonomic grip.
Our third-place selection, Schiller Grounds Care Mantis 7940 4-Cycle Tiller Cultivator is the premium choice due to its powerful Honda four-cycle engine, ergonomic handles, and thoughtful design.
We hope our reviews and buyer's guide have helped you make a more informed choice when deciding on the best mini tiller. Now you know which features to keep in mind for the value and the performance.