10 Best Hard Hats of 2023 – Reviews, Top Picks & Comparison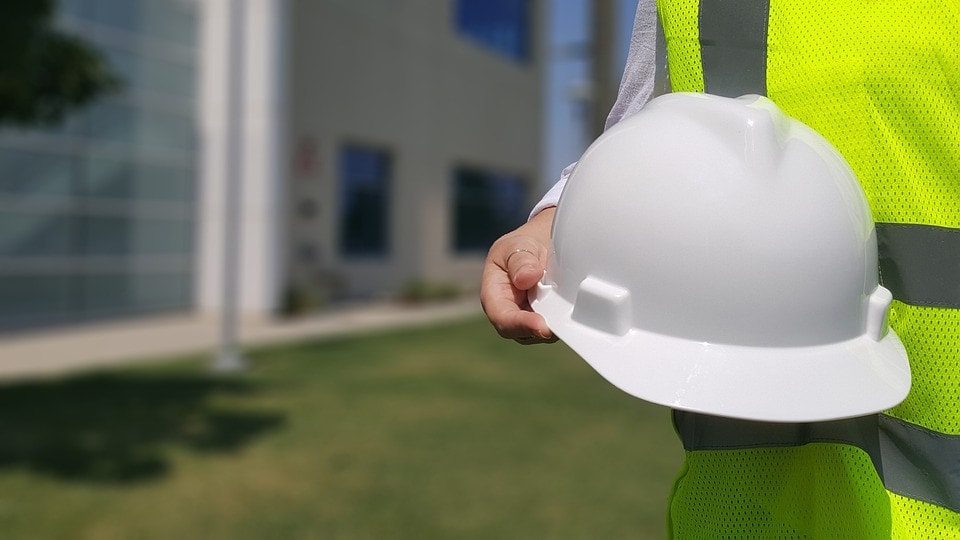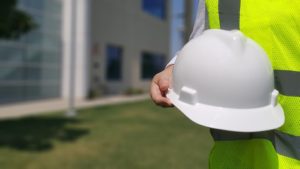 Is your hard hat a bit of a headache? Hot, heavy, bulky, uncomfortable – there are dozens of potential problems with hard hats, and all of them can distract you from doing your job well and enjoying it in the process. In order to keep you as safe as possible, a hard hat needs to be a good fit in every way – fit to your tasks, your needs, and your actual head!
Choosing a hard hat and getting into the practical details of every feature is an in-depth and tedious endeavor that most professionals simply don't have the time for. Drowning in reviews across the internet is not exactly the top of anyone's to-do list! Our reviews of the best hard hats are here to give you a head start on all you need to know about hard hats before making your next purchase. Plus, our buyer's guide includes helpful information about how to approach the huge lineup of features and specs to be sure you're buying what's truly best for you.
---
A Quick Comparison of Our Favorites in 2023
Rating
Image
Product
Details

Best Overall

Klein Tools 60407 Hard Hat

Headlamp and mount included
Easily adjustable suspension
Ventilation
CHECK PRICE

Best Value

3M H-710R Hard Hat

Accessory compatible
Lightweight
Color options
CHECK PRICE

Premium Choice

MSA 475407 Skullgard Hard Hat

Suspension options
Brim options
Adjustable fit
CHECK PRICE

Pyramex HP54117 Ridgeline Hard Hat

Extremely light
Thoroughly adjustable
Low clearance
CHECK PRICE

Lift Safety HDF-15NG DAX Hard Hat

Leather dome
8-point suspension
Sleek look
CHECK PRICE
The 10 Best Hard Hats
1.

Klein Tools 60407 Hard Hat – Best Overall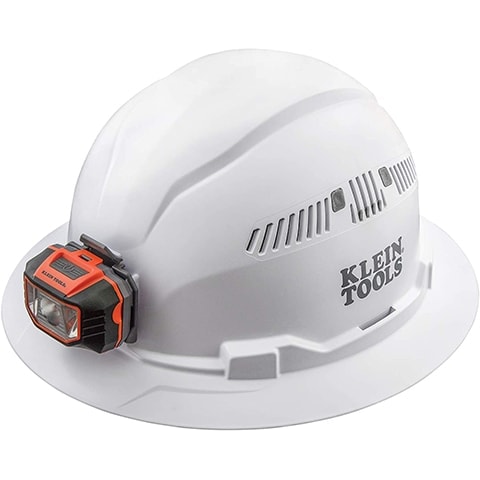 Available in white or yellow and including a helpful light, the Klein Tools 60407 Hard Hat is our top choice for the best hard hat due to its balance of safety features, thoughtful design, and affordability. Stay cool and clean with a built-in padded, breathable, sweat-wicking band – which you can even wash in your laundry machine! The hat protects against electrical contact and earns Class G and E ratings. Adjustable vents provide extra airflow and can be opened or closed depending on your environment, while still keeping the hard hat safety compliant and dependable. The cap brim allows for plenty of peripheral visibility.
The unique suspension system was designed with both comfort and breathability in mind, and you can adjust the ratchet with only one hand using the large knob, even while you're wearing gloves! Long hair? No problem, Klein thought of everything! To keep from getting in the way of pony tails or buns, the soft neck pads pivot. Thoughtfulness abounds in the many features and accessories incorporated in this hard hat to make life on the job more convenient. For those professionals working long days, the slightly heavier weight might be the only drawback, as this model weighs in at 1.3 pounds – but that weight also contributes to unmatched durability.
Pros
Headlamp and mount included
Easily adjustable suspension
Ventilation
Washable, sweat-wicking padding
Reasonably priced
Cons
Slightly heavier than competitors
---
2.

3M H-710R Hard Hat – Best Value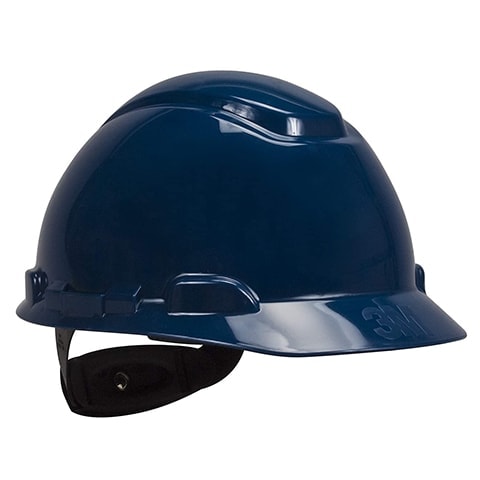 If you're looking for protection from the most bang and the most bang for your buck, look no further. This model comes in at the top of our list of best hard hats for the money. Plus, enjoy wide-open visibility with a cap shape made possible by reverse donning. Struggling to find a helmet that sits low enough on your head to feel comfortable? This one is built to reduce pressure points and its four-point ratchet suspension system is highly adjustable and secure.
Enjoy the cushion that the soft brow pads provide, and replace them easily when needed. This hat offers vents for great circulation and even includes a sensor that will alert you to UV exposure. Easily incorporate 3M accessories like earmuffs, face shields and headgear. Choose between eight color options so you can flaunt a hat that feels personalized as well as comfortable (it only weighs 13 ounces!). Just be aware that you'll have to install the suspension yourself!
Pros
Unbeatable price
Lightweight
Color options
Accessory compatible
Adjustable suspension
Cons
Some users have difficulty assembling
---
3.

MSA 475407 Skullgard Hard Hat – Premium Choice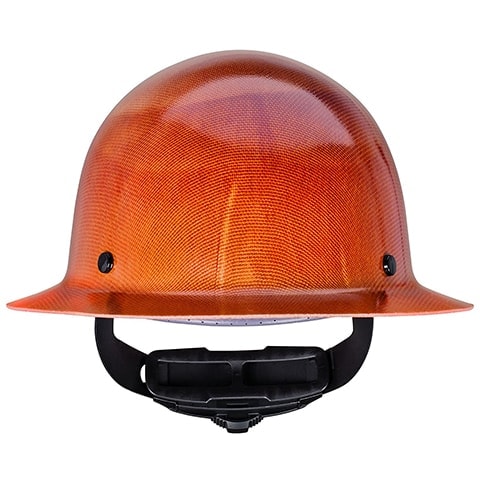 For optimal safety and comfort, no hard hat can quite compete with the MSA 475407 Skullgard. Working around electricity? You're covered, since this hat will provide dielectric protection up to 2,200 volts. Preferred by firefighters and Class C, G and E rated, Skullgard helmets stand up against radiant heat loads all the way up to 350 degrees Fahrenheit. Anyone working in construction, steel mills, or in environments with elevated temperatures will be glad they purchased this hard hat. Whether you're facing impact, heat, or electricity, this hard hat has your back.
Don't worry – tons of safety measures do not equal an uncomfortable hard hat! Weighing only 1 pound and with adjustable sizing options and ratchet-style suspension, you can make quick changes and stay comfortable all throughout your work day. Enjoy extra airflow and no hair pulling. Plus, the model comes in three different suspension options and two brim options (a protective cap or a full brim hat). Picky about colors or need to adhere to a uniform? There are plenty of color options to choose from in this high-quality hat.
Pros
Protects against electricity
Temperature protection up to 350 degrees F
Impact protection
Variety of colors
Suspension options
Brim options
Adjustable fit
Cons
Higher price point
Color may darken with use
---
4.

Pyramex HP54117 Ridgeline Hard Hat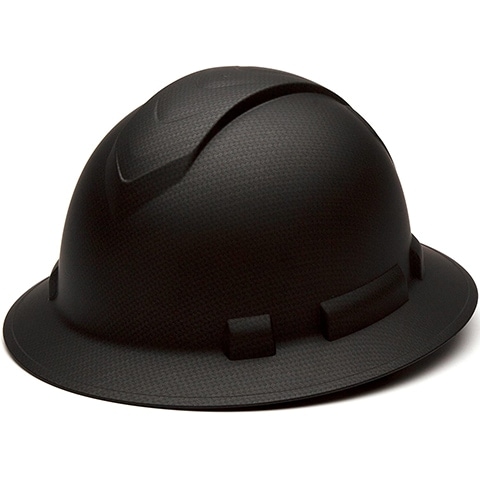 Made of heavenly lightweight ABS material and sporting ratchet suspension, the Pyramex HP54117 Ridgeline Hard Hat provides tons of comfort and all-around protection. Find yourself needing to change the fit of your hat midday? The ratchet suspension in this hat allows you to adjust the hat without even taking it off! Four points of adjustable suspension leave space to adapt the fit of this hard hat to any head shape without sacrificing safety. Temperature-wise, you're all set as long as you're working between -22 and 140 degrees Fahrenheit.
Weighing in at only 13 ounces, this full-brim hat provides plenty of protection without becoming burdensome. Available in 15 different colors and at an excellent price, the Pyramex Ridgeline offers comfortable padding and low clearance. Our main concern with this hard hat is that it's not particularly long hair friendly and might require some tape or other additions to keep it from getting stuck.
Pros
Lots of color options
Extremely light
Thoroughly adjustable
Low clearance
Great price
Cons
Tough on long hair
Some styles suffer paint melting
---
5.

Lift Safety HDF-15NG DAX Hard Hat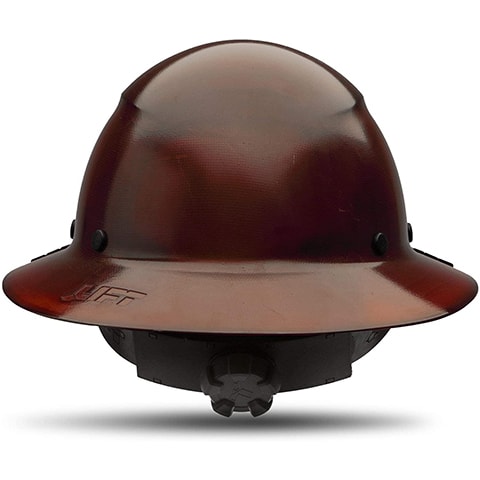 Enjoy topnotch security and impact protection with this Lift Safety model. The shell is made of fiber-reinforced resin, plus there's a shock-absorbing EVA foam insert built to protect you from impact to the top of the head. 8-point suspension means you've got plenty of opportunities for adjustments, which you can make using one large, easy-to-grip dial – even if you're wearing gloves.
Stay safe and comfortable inside the Clarion synthetic leather comfort dome, and adjust the placement easily using the secure brim grips. A full brim provides all-around safety (Class G), but the hat is still comparably lightweight at about 17 ounces. Keep a dry head with the moisture-wicking foam-backed liner. On the other hand, there are no slots for attachments or accessories. The webbing inside the hat isn't as secure as we'd like, and sometimes it slips out with removal of the hat. We've also noticed the brim chipping a bit – it's thinner than expected. If you're looking for an approved hard hat for work, this one might not be quite up to par.
Pros
Leather dome
8-point suspension
Sleek look
Cons
Only one color option
No easy accessory attachment
Higher price point
Thin
---
6.

Noa Store HDPE Hard Hat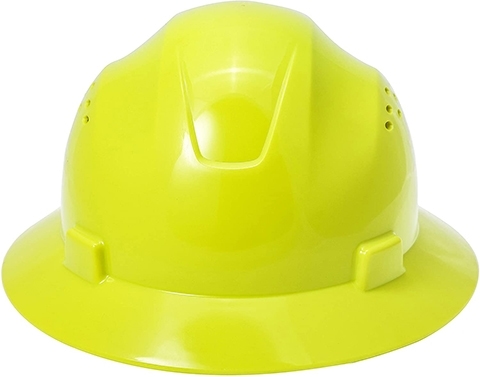 One of the best options if staying cool is your top priority, the Noa Store HDPE Hard Hat comes equipped with vents for plenty of refreshing air flow. If those don't do the trick to keep your head sweat-free, have no fear: the suspension "x" straps are washable, and the chinstrap is adjustable! Change up the sizing to fit your head comfortably with four-point suspension. Plus, this plastic hat is nice and light at 13.6 ounces.
Choose from four different colors and enjoy the easily adjustable suspension. This is a great pick for anyone working in construction, steel mills, or high-temperature environments, plus it meets requirements for a Class C type 1 top impact helmet. The full brim provides extra protection and keeps rain and sun off the back of your head and neck.  Visibility stays intact with a short brim, and the cap provides a convenient low profile. We did have some trouble integrating face shields with this model, so it may leave welders a bit frustrated. The paint may also begin to chip away prematurely.
Pros
Affordable price point
Great ventilation
Washable straps
Chin strap included
Cons
Cheap paint
Scratches easily
Difficult to integrate accessories
---
7.

Evolution Deluxe 6161 280-EV6161-10 Hard Hat

Made of polyethylene and complete with a 6-point suspension system made up of polyester straps, the Evolution Deluxe is a great option if you're looking for a full-brim Class C hard hat. The fit of this model is especially precise because the 3D adjustment feature allows you to change harness depth settings, so both comfort and safety are accounted for. The vented high-density shell material provides nice cool protection from sun and weather as well as any debris. In five basic colors with an easy-adjust ratchet knob, this no-frills hard hat is a great basic buy.
At times, we found the low price point to be evident in the quality of this product. The straps have a cheap feel to them and sometimes pop out of place. Some users have also had trouble with ratchet system functionality.
Pros
Competitive price
Well ventilated
Adjustable harness depth settings
Cons
Cheap straps
Unreliable ratchet system
---
8.

TRUECREST Hydro Dipped Hard Hat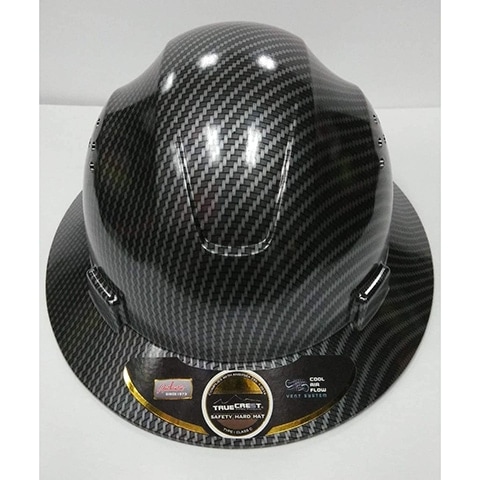 If you're finding that other hard hats are too tight of a fit on your head, the TRUECREST Hydro Dipped Hard Hat may be your solution! Significantly larger than other helmets and with plenty of breathability, this is a great "size up" if other adjustable straps have still left you still feeling suffocated. The fast-trac suspension makes the hard hat easy to adjust and the chin strap keeps it secure.
Assuming you've had success with other, smaller hard hats, this model will likely be too large and heavy to satisfy your needs. If you need to wear goggles or other accessories on the job, you'll have a tough time fitting them securely over this hard hat. Workers exposed to electrical risk should also look elsewhere, as this is only a Class C. Some users also report cracks in the plastic or broken suspension within only weeks or months of purchase. This model only comes in one color, a black dipped pattern.
Pros
Ventilation
Fast-trac suspension
Extra room
Cons
Only one color option
Too heavy
Can't use with accessories
Risk of breaking
---
9.

Safety Works 818066 Hard Hat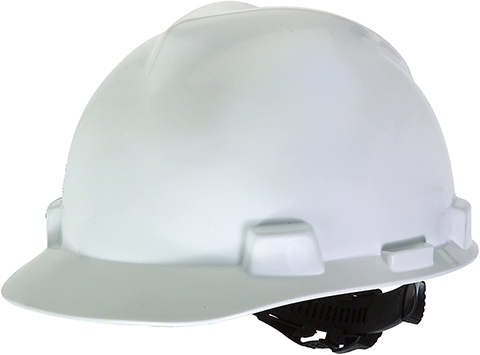 The Safety Works 818066 Hard Hat comes in at a nice low price point, but you get what you pay for. If you'll be using a hard hat all day at work, look elsewhere. If you just need a hard hat for one-off projects or hobbies and budget is a top priority, you may be happy sacrificing some comfort to use this model. The hat does adjust easily and allows for nice visibility with a cap shape, but we find the sizing too small and the harness uncomfortable. We've got safety concerns about the too-small sizing, plus the hard hat sits too high to be entirely protective.
This model only weighs 11.2 ounces, which makes it lighter than most hard hats. However, it only comes in white and the tightening mechanism isn't the convenient knob you'll find with most competitors. The instructions for suspension installation are likely to cause some headaches even before you put the tight-fitting hat on!
Cons
Too small
Sits high
Safety concerns
Difficult to install suspension
No knob
---
10.

Honeywell E1RW Hard Hat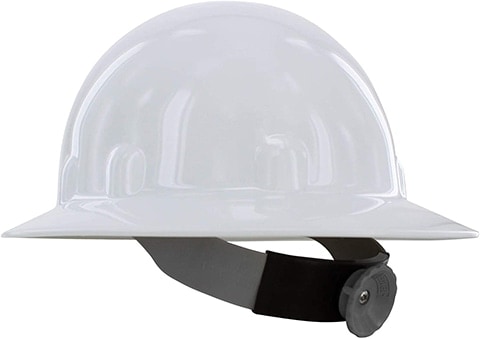 With eight load-bearing suspension points and a quick-turn knob, the Honeywell E1RW is impressively adjustable. A full brim protects against rain, sun and debris, and the thermoplastic is heat resistant so you can keep going on hot days. Stay safe against electricity with Class E protection. The ratchet suspension technology comes equipped with non-slip and non-strip headgear so that it stays securely in place for your convenience and protection.
Lack of ventilation is a big concern here, but the smooth crown of the hard hat is designed to deflect any falling objects. At 6.9 ounces, the hat is also the lightest on our list! Like the Safety Works model, this hard hat sits too high on the head to inspire much confidence in terms of either safety or appearance, unfortunately. There's no height adjustment to make up for it. Compared to other models, some at the same price point, this hard hat feels flimsy.
Pros
Ratchet works well
8-point suspension
Cons
Flimsy
Sits too high
No ventilation
No height adjustment
---
Buyer's Guide – Choosing Between the Best Hard Hats
Having read our reviews and gotten familiar with the details and features of our ten favorite hard hats, you might still find yourself wondering how to sift through all of the specs to find the right fit for your needs. Narrow down your options by considering a few key factors and see what model matches most closely with your ideal hard hat.
Safety
Obviously, a hard hat's main purpose is to keep you safe. Depending on what you're using it for and, if it's for professional use, what certifications your employer requires, you may need to pay special attention to the class certification of your hard hat options. If you're not working anywhere with electricity-related risk, a Class C or conductive helmet may be just fine. For a bit more protection against impact and electricity resistance up to 2,200 volts, opt for a Class G or general helmet. Anyone working around electrical systems should level up for the Class E, or electrical helmet, since this class will resist up to 20,000 volts. Also keep in mind that fit, suspension, visibility and quality also play their own roles in the safety of a hard hat.
Main Reason for Use
Your most important deciding factor determining which hard hat is best for you boils down to your main reason for needing a hard hat. A firefighter needs different features than a construction professional, who needs still different features than a home improvement enthusiast. Your environment will also be a consideration because it will dictate how important cooling features and UV protections are. If you do most of your work indoors or in dark spaces, you might need to prioritize a hard hat that comes with a light or at least will easily attach to one.
Frequency of Use
How long and how often will you need to wear your selected hard hat? 6 days a week for 9 hour days? Just a few hours a year? How much time you plan to spend in the hard hat will determine how carefully you need to consider comfort-enhancing features like suspension and ventilation. It will also help you figure out how much money it makes sense to spend on the helmet and how durable you'll need it to be.
Suspension
Suspension is a main factor of comfort and safety. The more suspension points a hard hat has, the more adjustable it is, meaning you can fit it accurately to the true size and shape of your head. Plus, if an impact does occur, the force will be distributed between those suspension points. Since you don't want too much force concentrated in one spot, to suspension points we say: the more the merrier! You'll generally find that hard hats come in a range from four to eight suspension points.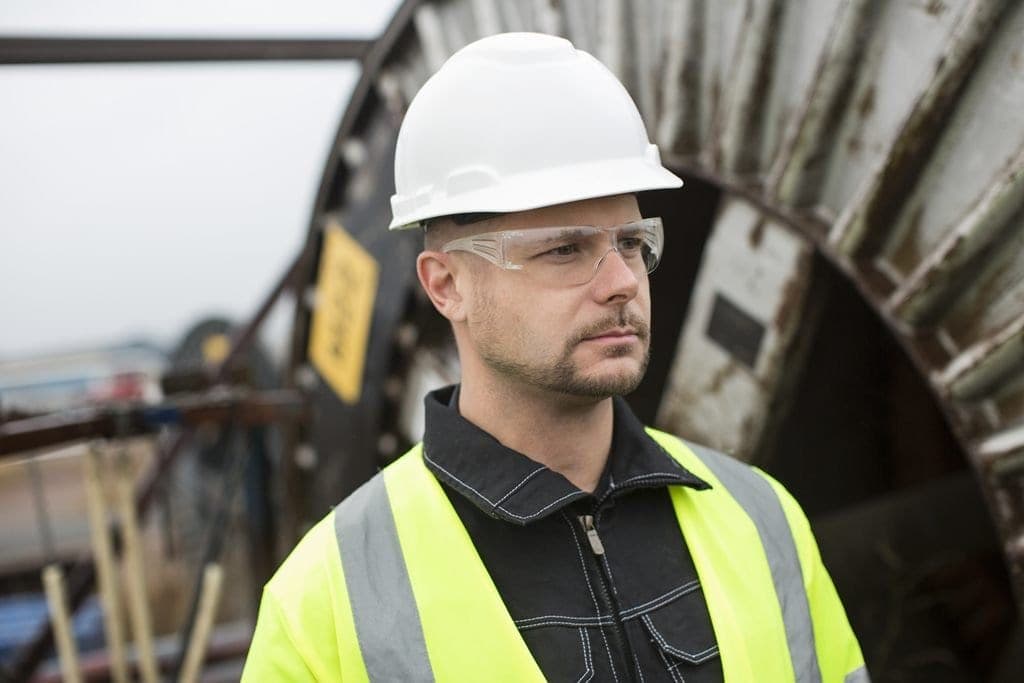 Visibility
The type of brim on a hat will impact how well you can see while wearing it. A cap brim often provides better peripheral visibility than a full brim. In order to fully understand what that looks and feels like for your particular profession, it's a good idea to try on a coworker's hat if you'll ultimately need to order a hard hat online, without trying it on. Take note of where the hat enters your field of vision and whether it bothers you enough to impede your work at any angle.
Appearance
Caring what you look like doesn't make you vain, and wanting to match your hard hat color to your uniform doesn't make you shallow! Some hard hats might look silly or clunky to you, or having lots of color options may be a fun way to bring your personality to work. In addition to more technical aspects of the hard hat options you're weighing, be sure to think through how you'll look and feel while flaunting it! 
Budget
If you're buying a hard hat for work or very frequent use, there's honestly not enough variance in price to spend too much time weighing your budget decision – even the higher-end models won't break the bank, and the hours (or maybe years!) of comfort and protection you'll get out of a good hard hat will pay off tenfold. Those who just need a hard hat for a hobby or for infrequent use might do well to decide on a budget limit and use that as the first narrowing factor.

Conclusion
Overall, the thoughtful details and safety considerations behind the Klein Tools 60407 Hard Hat put it at the very top of our list of the best hard hats. It's not too pricey either, but if you're looking for a real steal, the 3M H-710R Hard Hat comes at a great price and offers plenty of comfort and adjustability. For professionals who will spend lots of time inside their helmet or those who need to protect themselves against electrical risks, be sure to opt for a Class E rated hard hat like the MSA 475407 Skullgard Hard Hat.
With an abundance of options in adjustability, fit, brim, and even style, the most important step to finding the best hard hat is to get clear about what you'll use it for and what you need. Pinpoint issues from your past purchases and picture what the helmet of your dreams would be like! From there, use our reviews and buyer's guide to zoom in on the perfect hard hat for you. We can't overstate the importance of keeping your head safe!
---
Featured Image Credit: Pixabay