5 Best Horizontal Band Saws – Reviews & Top Picks 2023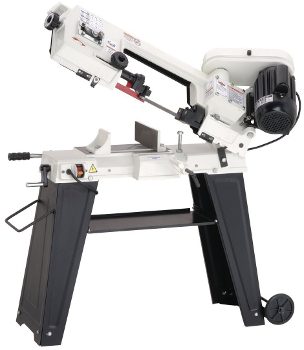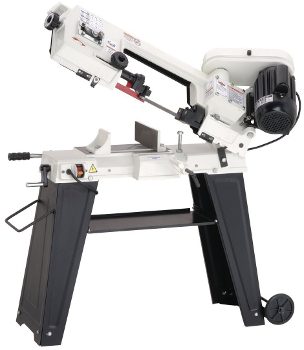 The horizontal band saw is a versatile and underrated tool. Often pigeonholed as a metal cutter or a replacement for chop saws, these little fighters can handle wood, plastic, and ferrous and non-ferrous metals.
They're ideal for cutting stock down to size, as well as for trickier cuts. With a horizontal band saw, you can make cuts in metal that look as straight and professional as your miter saw cuts in wood. "All right, I'm convinced," you might be thinking. "But I've never owned a horizontal band saw before. Where do I start?"
With our reviews, of course! We've compiled a list of five bandsaws to teach you everything you need to know about what's on the market right now. After the ranking, stick around for our buyer's guide, where we'll unpack all the features you should be aware of when buying your horizontal band saw. We hope our reviews make this purchase a little bit less daunting.
---
A Quick Comparison of Our Favorites in 2023
Rating
Image
Product
Details

Best Overall

Grizzly G0561 Horizontal Band Saw

Very low footprint
Extremely powerful
Very consistent
CHECK PRICE

The Runner-up

JET 414560 HVBS 712D Deluxe Horizontal Bandsaw

Large
convenient table
Cuts perfectly straight
Adjustable to vertical
CHECK PRICE

Best Value

WEN 3975 Band Saw

Small and portable
Decent capacity and bevel range
2-year warranty
CHECK PRICE

Fox Shop W1715 Metal-Cutting Horizontal Band-Saw

Easy to move
Good safety features
Good pre-installed blade
CHECK PRICE

JET 414458 HVBS-56M Band Saw

Better than a chop saw
Easy to assemble
2-year warranty
CHECK PRICE
The 5 Best Horizontal Band Saw
1.

Grizzly G0561 Horizontal Band Saw – Best Overall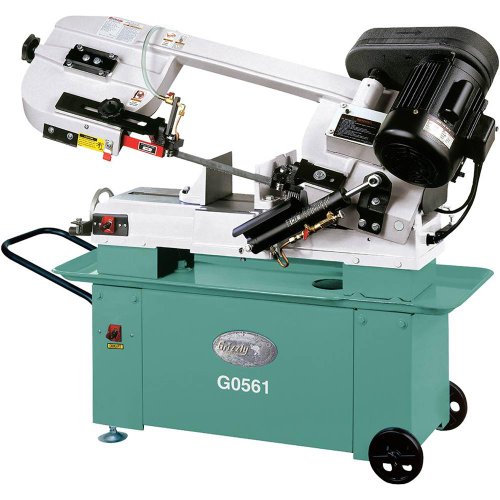 Grizzly Industrial can't be beaten in the large tools category. With the G0561 Horizontal Band Saw, the company builds on its line of quality band saws. Without taking up much space, the Grizzly G0561 cuts through thick lumber and also makes short work of metal. Its 1-HP, 110V/220V motor keeps the blade moving at up to 308 FPM, while the heavy steel base keeps it from rattling. It's also equipped with vises, adjustable blade guides, and a coolant applicator for cutting metal.
The G0561's horsepower and ¾" blade width set it above the competition. The sharpness and consistency of its cuts kicked it to #1, however. Whether working with wood or metal, the Go561 squared perfectly, cutting at the same angle every time. Grizzly's responsive customer service also grants it several bonus points.
We only have one real issue with the G0561. The blade speed adjusts in steps, and changing the speed by changing the belt's tension requires a lot of force; you have to lean on it to adjust it properly.
Pros
Very low footprint
Extremely powerful
More blade width makes it easier to square
Very consistent
Good base construction
Cons
Hard to adjust blade speed
Complicated setup
---
2.

JET 414560 HVBS 712D Deluxe Horizontal Bandsaw – The Runner-Up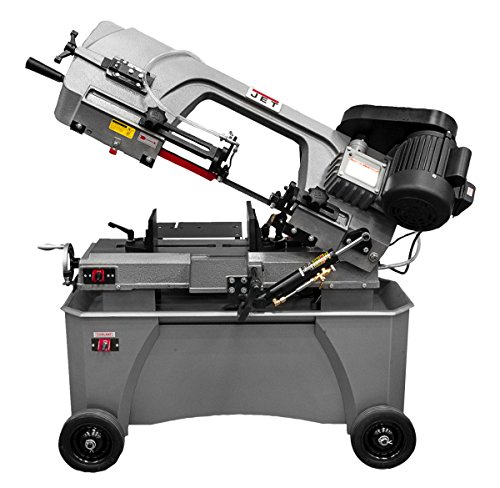 For our second-place finisher, we chose the JET HVBS-712D, an adjustable horizontal-to-vertical bandsaw. It's a close competitor with the Grizzly G0561, featuring that model's ¾" blade width. In the vertical position, its built-in blade guides give it an 8″ capacity, while its large table helps balance workpieces in both settings.
You're here to see how these saws cut horizontally, and we have good news in that department. We tested it by mitering 2x4s and cutting through metal bars and found the blade wandered less than a tenth of an inch.
The HVBS-712D comes with useful extra features. Its blade guides are fitted with ball bearings, making them easy to adjust, the chip tray catches most chips and burrs, and the storage cabinet in the base is excellent for keeping your smaller tools accessible. It also has the standard coolant delivery system for cutting metal.
The JET HVBS-712D is so close to the greatness of the Grizzly G0561 that we mainly marked it down for costing so much more. There's no reason to spend extra on a very similar product. We also noticed that the coolant system is inefficient and tends to splash.
Pros
¾" blade width
Large, convenient table
Excellent added features
Cuts perfectly straight
Adjustable to vertical
Cons
Overpriced
Coolant drips and splashes
---
3.

WEN 3975 Band Saw – Best for the Money
Band saws are expensive, so we understand that some of you are just here to find the best horizontal band saw for the money. Look no further; the WEN 3975T is exactly what you want. This bench-top model is cheap, space-efficient, and boasts the best quality you'll ever find for this price.
The 3975T can cut cylindrical workpieces up to 5″ in diameter or square pieces as large as 5″ x 4⅞". The blade can be adjusted from 0 to 60 degrees for bevel cuts. Its blade speed can be adjusted on a spectrum from 125 to 260 FPM.
The low price is a big draw, but the lightness and portability of the WEN 3975T are welcome traits too. Since it's small, manageable, and easy to carry around, The WEN 3975 is the perfect horizontal band saw for amateurs and hobbyists. The 2-year warranty is also nice.
One drawback that makes the 3975T less of a bargain is that it's hard on blades. The interior wheel design puts them under a lot of strain, wearing them out much faster than a similar model would. That same system makes this saw extremely loud when cutting; we recommend ear protection.
Pros
Affordable
Small and portable
Decent capacity and bevel range
Two-year warranty
Cons
Wears through blades quickly
Incredibly loud
---
4.

Fox Shop W1715 Metal-Cutting Horizontal Band-Saw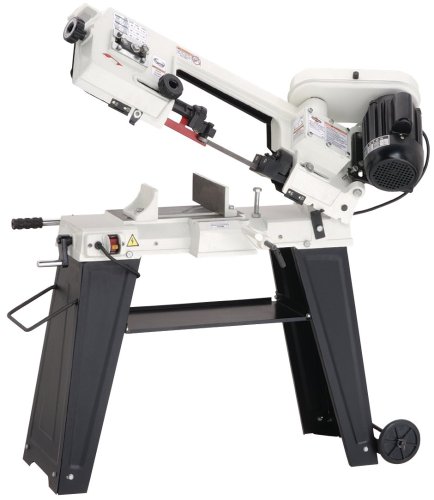 The Shop Fox W1715 is another well-made, budget-priced horizontal band saw. It's not quite as powerful or cheap as others in the price range, like the WEN 3975T we put at #3. However, it's still a dependable, portable unit you won't regret purchasing.
With ¾ HP and 110V, its motor is powerful enough to handle most materials, and the factory-installed blade holds up far better than you'd expect. Its three cutting speeds (78 FPM, 108 FPM, and 180 FPM) aren't very fast, and you can't adjust the speed anywhere between them. However, while it will take longer, this saw can get through any stock you feed it.
Other perks of the Shop Fox W1715 include its solid construction, reliable automatic shutoff safety feature, and handles and wheels that make it a snap to move. Besides the slower, less versatile blade, a few other issues might make you say, "You get what you pay for." While the saw is built well, the base is not; we found it too light to keep the saw from shaking. There's also no lube system, so you'll have to apply oil if you're cutting metal.
Pros
Budget price
Easy to move
Well-built body
Good safety features
Good pre-installed blade
Cons
Adjusting to vertical is more trouble than it's worth
Low cutting speeds
No lubricant delivery
Flimsy base
---
5.

JET 414458 HVBS-56M Band Saw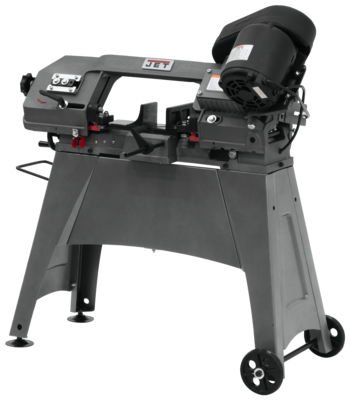 Last on our list of noteworthy horizontal band saws is another product from JET. The HVBS-56M is a mid-range saw mounted on an open stand, featuring a ½-HP, 115V/230V motor and a 5″x5¾" cutting capacity. You'll find the full list of expected features here, including three blade speeds (80, 120, and 200 FPM) and a 45-degree bevel.
None of the HVBS-56M's specs are bad on their own; they just pale compared to its competitors. For example, it's hard to justify buying a band saw with a ½-HP engine when the Shop Fox W1715 gives you ¾-HP for a fraction of the price.
It seems as though most of the extra cost of this saw goes toward a pre-installed base, which isn't worth it, especially when the allegedly heavy-duty base does not hold steady at all. Like the WEN 3975, the HVBS-56M eats blades for breakfast, but unlike the WEN, it doesn't cut straight. JET is usually great, but this saw is one to skip.
Pros
Better than a chopsaw
Easy to assemble
Two-year warranty
Cons
Does not cut straight
Eats through blades
Shaky base
Overpriced
Weak motor
---
Buyer's Guide – How to Purchase the Best Horizontal Band Saw
When buying a horizontal band saw, most people will look at the price sticker before seeing anything else. If you only buy the least expensive band saw you can find, you will miss out on many of the features and power you might need for your projects, and you could lose money if your cheap saw breaks down (or won't stop snapping your blades).
Instead, we recommend spending some time to assess your needs. What do you plan to do with this saw? What do you need it for now, and what might you need it for later? How much space do you have for it in your shop?
Capacity
Horizontal band saws can only cut material up to a specific size. You don't want to discover that your lumber or metal is too big for your band saw after dropping $1,000 on it. Luckily, the maximum workpiece size is one of the first things listed in any horizontal band saw's marketing material.
The average horizontal band saw has a capacity between 5 and 7 inches horizontally and vertically.
Blade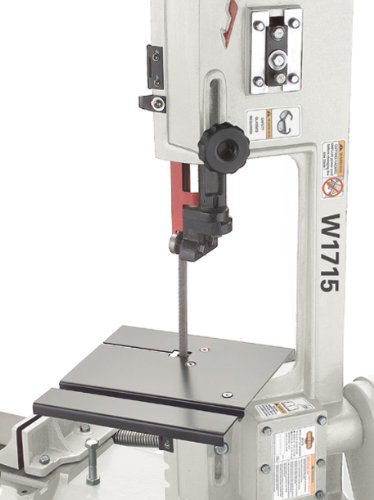 Like most other power saws, your horizontal band saw's factory-installed blade may be less than spectacular, but they're inexpensive to replace. However,you can look for these traits in the blade on any band saw you might buy:
It should have the capacity to hold blades that are at least ½" wide, and ideally ¾". Wider blades are easier to hold to a straight line.
It should be easy to change out and replace the blade. Even the best band saws wear out blades over time. This is doubly important if you want to install your own preferred blade right away.
The band saw should match readily available blades. You should be able to buy a new one at any hardware store.
A strong factory-installed blade is not necessary, but it's nice to use the saw for a while out of the box without having to swap out aftermarket parts.
Motor
The power of the band saw's engine determines how quickly the blade cuts (measured in feet per minute, or FPM). This is less about whether your blade can cut a certain material and more about how fast it will cut.
The table is the platform where you place your workpiece to saw through it. The base is what the table rests on and can be placed on either your workbench or the floor. The most important traits to look for in a table and base are:
Table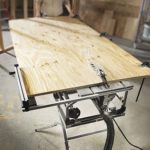 Large enough that you can place workpieces on it and keep them balanced without supports
Strong enough to handle being repeatedly hit with a saw blade
Should sit at a comfortable height
Base
Made of a strong material that will ensure the table doesn't rattle. It should be constructed so that the table stands evenly
Make sure there are wheels and handles attached to the base. Don't forget to test whether the wheels lock
Guide
Guides ensure that you make the exact cut you want: smooth, straight, and accurate. They're pretty simple but can make or break a saw's usability.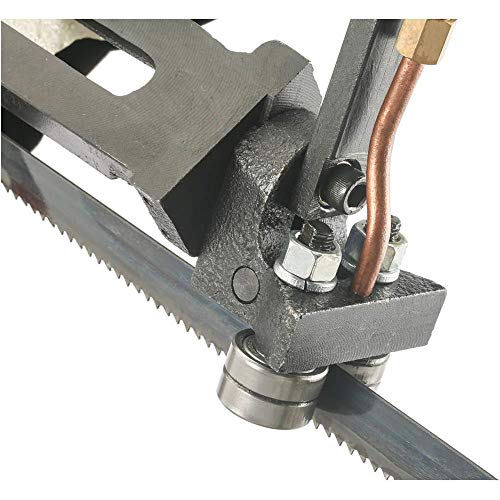 Adjustability
Some horizontal band saws can be adjusted to work as vertical band saws. If that is important to you, make sure the adjustment isn't too difficult and is tool-free if possible.
Coolant System
If you're cutting metal with your horizontal band saw, you'll need to regularly apply a cooling lubricant to keep the blade from overheating.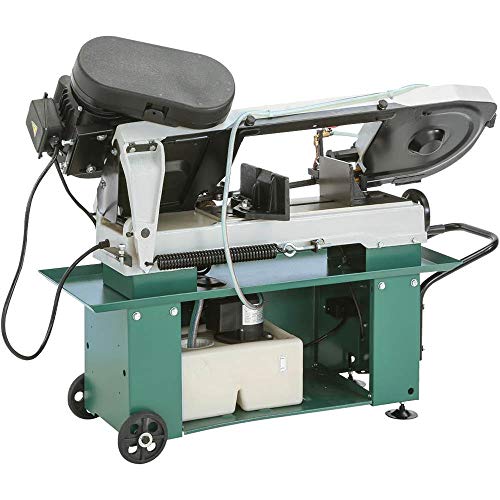 Other Features
All horizontal band saws worth your money have clamps and vises to hold workpieces in place, safety switches to keep the saw from running at dangerous times, and an adjustable angle gauge for bevel and miter cuts. A few other extra features are also reasonably common.
·      Clamps and vises should be made of durable, high-quality materials. Workpieces held in them should not move around.
·      There must be a safety switch. This critical feature will keep the saw from turning on unexpectedly. Stop the blade and activate the safety immediately whenever you're not using the saw.
·      If you need [thrive_highlight highlight='default' text='light'][/thrive_highlight]adjustable angle gauges, make sure they move far enough to make the cuts you want. An average horizontal band saw can be adjusted 45 degrees in either direction.
Conclusion
In our reviews, the Grizzly G0561 handily beat out most of the competition. Yes, it's an import on the pricier side, and the blade speed adjustments can be tense. But in every other area—power, speed, user-friendliness, durability, and extra features—the G0561 shines.
The JET HVBS-712D is close on its heels. Its big table, wide blade, and top-tier calibration make it a standout pick, even before considering that it's decked out with valuable accessories. Yet it's a little expensive, and the coolant system is subpar. Hopefully, our reviews have pointed you in the right direction, whether you're looking for your first horizontal band saw or your new favorite. Thanks for reading, and we'll see you on the next project!
You may also be interested in: Chop Saw vs. Band Saw For Metal: Pros, Cons, and FAQ