10 Best HVLP Spray Guns for Woodworking – Reviews & Top Picks 2023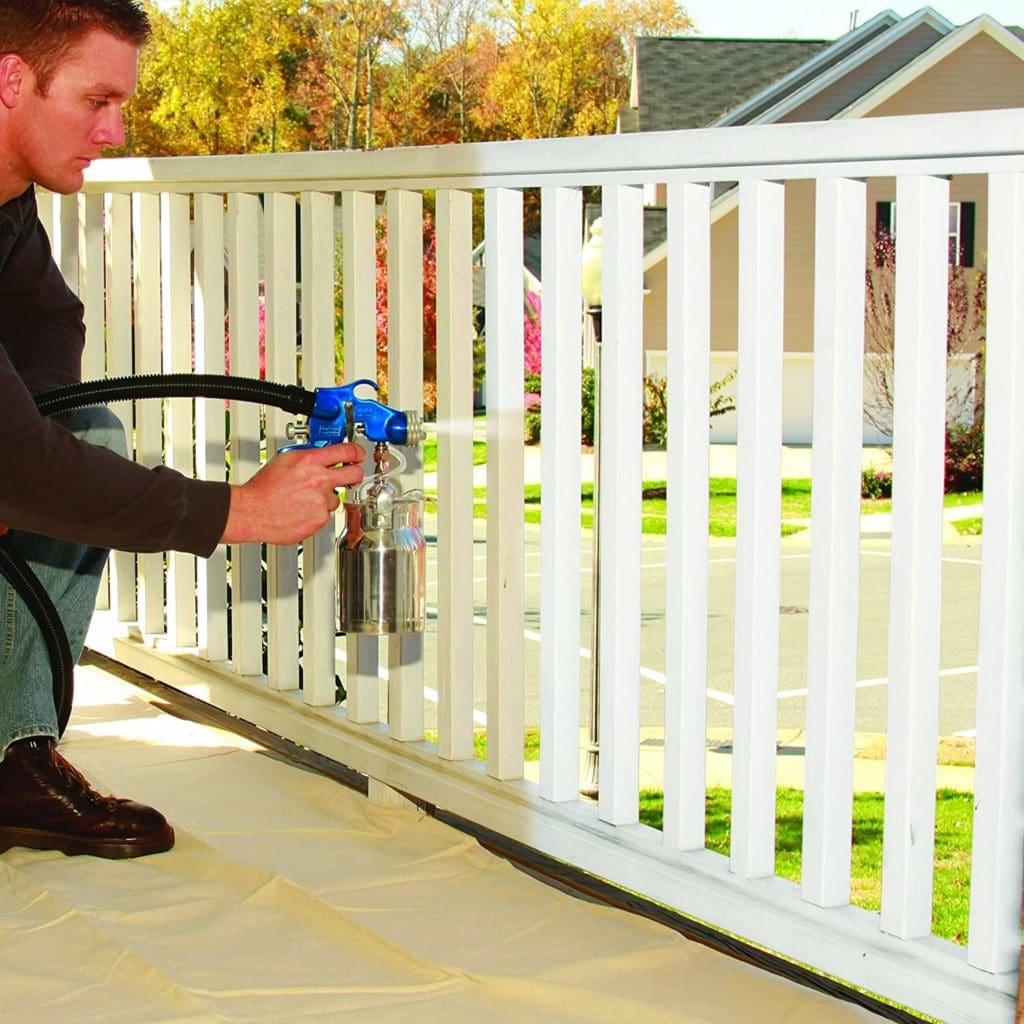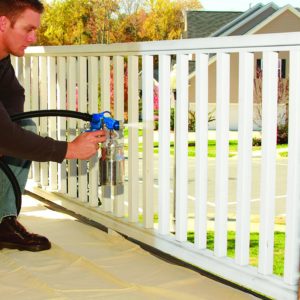 Woodworking is an incredibly rewarding hobby and profession. Creating something beautiful out of raw materials provides a special feeling of accomplishment. But every good woodworker knows that a project isn't finished until you put on the finish. Whether it's paint, stain, clear coat, or anything else, the finish can make or break the project.
Sure, you can use the old-fashioned application method of applying your finish by hand with a brush, rag, or roller. But these are imperfect ways of finishing your work and can often leave undesirable effects such as lines, lint, and more.
A good HVLP spray gun will allow you to create smooth, beautiful finishes with just about any material. Even better, they can save you loads of time, helping you create a better-looking finish faster than applying material by hand. We've used a lot of these useful tools over the years. When we upgraded recently, we decided to put some of the most popular spray guns to the test by comparing them in the following reviews.
A Quick Comparison of Our Favorites (2023 Update)
Rating
Image
Product
Details

Best Overall

Wagner Spraytech HVLP Paint Sprayer

Includes everything you need to paint
Adjustable pressure control dial
Adjustable material flow
CHECK PRICE

Best Value

NEU MASTER Electric Spray Gun

Dirt-cheap pricing
Adjustable material flow rate
3 nozzles included for various types of projects
CHECK PRICE

Premium Choice

Earlex HVLP Paint Sprayer

Built-in 650-watt turbine
Works with a wide range of materials
Push and click spray pattern changes
CHECK PRICE

NuMax SPS08 Pneumatic Spray Gun

3 adjustment knobs for precise control
Regulator built-in
2-step trigger design
CHECK PRICE

Fuji Semi-PRO 2 Gravity HVLP Spray System

25' hose for increased reach
Non-bleed professional spray gun
Adjustable fan pattern control
CHECK PRICE
The 10 Best HVLP Spray Guns for Woodworking
1.

Wagner Spraytech HVLP Paint Sprayer – Best Overall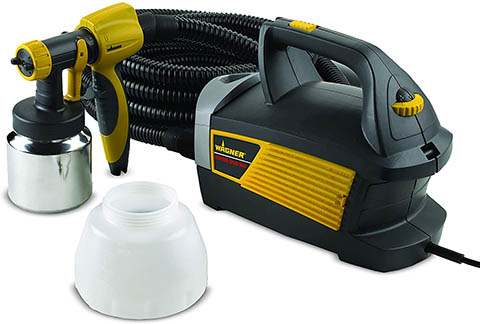 Wagner makes a lot of great paint products, including the HVLP paint sprayer. It's a great setup for anyone looking for an all-in-one solution to help them paint their woodworking projects. With this machine, you won't need anything else; it includes everything you need to get painting.
You'll get a spray gun with 2 material cups of different sizes. There's also a lightweight two-stage turbine that's separate from the sprayer and connected by a 20-foot hose, which provides plenty of reach for getting all the way around your project and hitting it from every side.
This sprayer gives you very precise control over how your material is sprayed. You get an adjustable dial for controlling pressure and another dial that you can adjust to change how much material is flowing through the gun. You can also turn the air cap to get different spray patterns; round, horizontal, and vertical.
Our only problem with this sprayer becomes apparent when it's time to clean up. There are lots of parts to clean and getting all the paint out of the gun proved a challenge, though it's one we can deal with considering the performance this sprayer offers.
Pros
Includes everything you need to paint
Adjustable pressure control dial
Adjustable material flow
20' hose provides plenty of reach
Cons
Difficult and time-consuming to clean
---
2.

NEU MASTER Electric Spray Gun – Best Value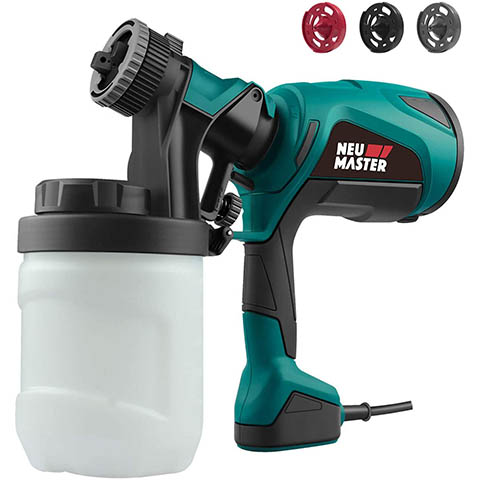 If you've never used a NEU MASTER product before, then you'll be pleasantly surprised at the great performance offered by the electric spray gun. Don't let the price fool you. This sprayer might be priced dirt-cheap, but it offers performance on-par with far pricier products, which is why we think it's one of the best HVLP spray guns for woodworking for the money.
This is a standalone unit. You won't need a separate compressor to run it. There's also no separate turbine; everything is built into a single hand-held unit. This makes it very simple to set up and use. However, it can also make the gun pretty heavy; especially when filled with material.
With this sprayer, you'll get excellent control over your spray. There are 3 nozzles included, allowing you to alter your spray pattern for different uses. You can adjust the flow rate of your material as well. Thankfully, this gun works with a wide range of materials including paint, enamel, urethane, stain, sealers, lacquers, and more. But many materials will need to be thinned down to work in this sprayer.
Pros
Dirt-cheap pricing
3 nozzles included for various types of projects
Adjustable material flow rate
Works with a variety of materials
Built-in turbine – no compressor needed
Cons
Gets heavy when filled with material
Many materials require substantial thinning
---
3.

Earlex HV5500 HVLP Paint Sprayer – Premium Choice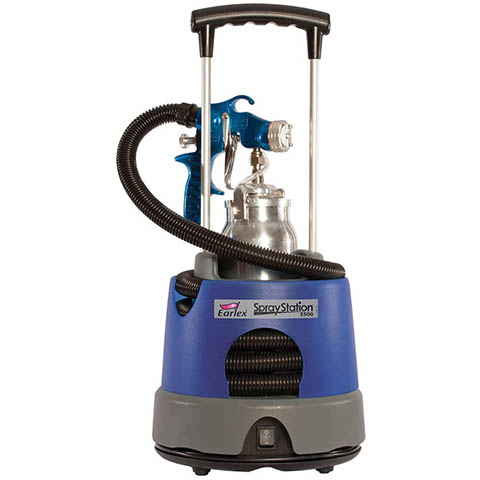 The Earlex HV5500 HVLP spray station is several times the price of other sprayers that we liked. But it offers some excellent functionality that makes it perfect for woodworkers. Even though it's a bit pricey, we think it's well worth the extra cost. Using this machine, you'll be able to produce beautiful, high-quality finishes that look amazing and really make your project shine.
This machine features a built-in 650-watt turbine, so no compressor is required. The turbine is separate from the spray gun, so you won't have to hold up much weight. Built into the turbine is storage for all of the included parts, including the spray gun.
You can spray a variety of materials through this sprayer, such as stains, oil-based paints, water-based paints, lacquers, urethanes, varnishes, acrylics, and much more. With the push and click system, you can change your spray pattern in seconds. There's also a flow control dial for precise control over your material.
The spray gun and turbine are connected by a 13-foot hose. We think this is a bit short. Luckily, the turbine is on wheels, so you can wheel it around the shop, though it's also limited by a 5.5-foot power cord.
Pros
Built-in 650-watt turbine
Push and click spray pattern changes
Works with a wide range of materials
Convenient on-board storage
Cons
13' hose doesn't provide much reach
---
4.

NuMax SPS08 Pneumatic HVLP Gravity Feed Spray Gun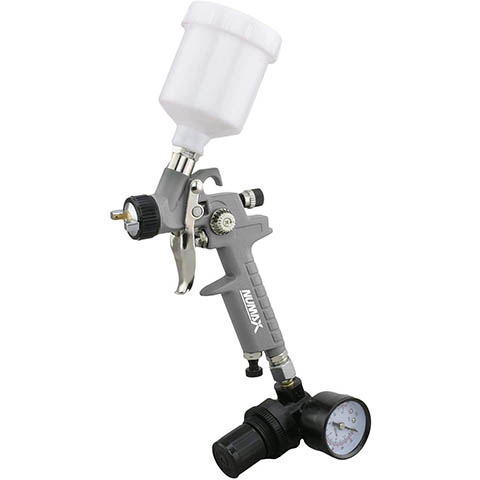 The NuMax SPS08 pneumatic HVLP gravity feed spray gun offers some excellent features for the affordable price it sells at. However, you're only paying for the gun. It's not a whole spray kit like many others we tested. To make this spray gun work, you'll need a separate air compressor. Luckily, this sprayer doesn't have high airflow requirements, so just about any decent compressor should power it without issue.
A regulator is built onto the bottom of this sprayer to ensure the incoming pressure is appropriate, keeping the gun protected and helping to achieve a good spray. For control over the output, there are 3 adjustment knobs built-in as well. This gun even features a two-step trigger design. Pull it lightly for airflow, pull farther for paint.
If you're mostly doing small projects, then the included 125cc material cup might be adequate. But for projects of medium to large size, you'll probably need a bigger material cup. Between the additional material cup and a separate compressor, this gun can get more expensive if you don't already have everything you need. These flaws will prevent this sprayer from breaching our top three, though it's still a great product.
Pros
Priced affordably
3 adjustment knobs for precise control
Regulator built-in
2-step trigger design
Works well with standard compressors
Cons
125cc cup doesn't hold enough material
You'll need a separate compressor
---
5.

Fuji 2203G Semi-PRO 2 Gravity HVLP Spray System
We tested a lot of different HVLP sprayers for this list. Out of them all, the Fuji 2203G Semi-PRO 2 Gravity HVLP spray system was the most expensive. It also provided some of the best performance we've seen, though we did see similar performance from other systems that weren't quite as pricey, which is why the Fuji sprayer isn't in our top three.
The spray gun in this setup is a pro-quality non-bleed sprayer. It's excellent to work with and provides an incredible finish when used correctly. It also allows for accurate control over your spray with adjustable fan pattern control, so you can dial in the perfect spray pattern for every situation.
This kit includes a separate turbine in a metal case, keeping it safe, even during transport. There's also a gun holder on the turbine case, helping to keep everything organized and neat. Connecting the spray gun and turbine is a 25-foot hose that provides plenty of reach for most woodworking projects. Though if you're finishing a large project, the included 400cc material cup might not hold enough to spray the entire thing.
Pros
25' hose for increased reach
Non-bleed professional spray gun
Adjustable fan pattern control
Covered by a 2-year warranty
Cons
Far pricier than other options
400cc gravity cup doesn't hold much material
---
6.

HomeRight Painter Paint Sprayer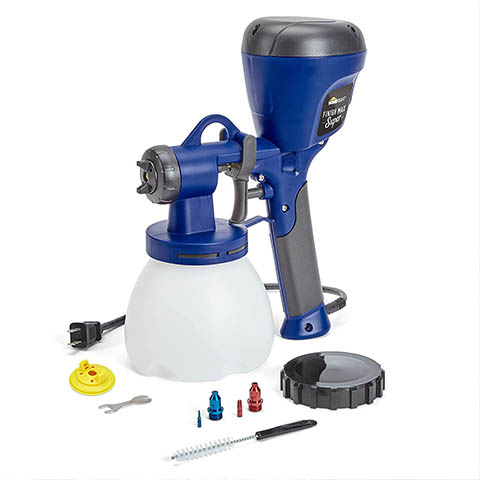 With the HomeRight paint sprayer, you won't need anything additional to start spraying. It's got a turbine built-in, eliminating the need for a separate compressor. Overall, it's a very convenient package that's simple to use since everything is contained in one unit. On the other hand, this makes the sprayer pretty cumbersome, so expect to feel some arm fatigue. This problem is even worse when the material cup is full.
Still, it doesn't get much simpler. Plug in the sprayer and fill the cup with material and you're ready to go. The cord is extremely short though, so you'll need an extension cord to make use of it. Three spray tips of different sizes are included so you can adjust your spray to match your project and material.
We like the all in one design of this sprayer, but we tested several similar products that were far less expensive. Since this one doesn't seem to offer any special features or functions that make it superior, we can't recommend it over the other products. At least it's covered by a 2-year warranty!
Pros
No air compressor necessary
Includes three spray tips for varied finish
2-year warranty
Simple and easy to use
Cons
Short power cord
All the weight is on the gun
More expensive than similar products
---
7.

Neiko HVLP Gravity Feed Air Spray Gun– Best Value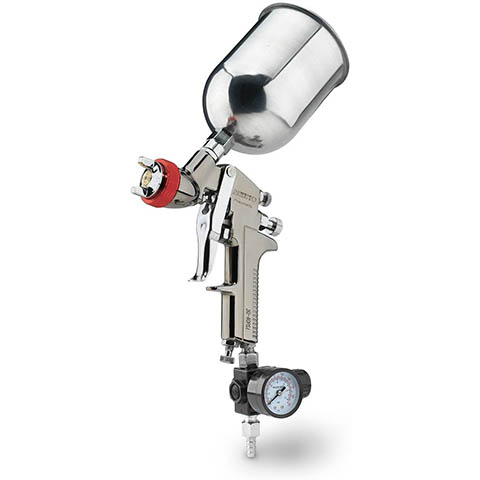 The Neiko HVLP gravity feed air spray gun is a decent device, though you'll need some additional items to make it work. To start, a separate air compressor is required to power this sprayer. Thankfully, this sprayer only requires 4.5 cubic feet per minute (CFM) of airflow. Some cheap compressors won't be able to power it, but most decent compressors can.
Thanks to the three adjustable valve knobs, you'll get precise control over how your material is sprayed when using this gun. The whole gun body is one-piece and crafted from durable steel. Even still, it's more affordable than some of the other similar spray guns we tried.
You can pick this spray gun with one of 5 different nozzles. If you want more than 1 nozzle though, you'll have to purchase them separately. This means that you're somewhat limited out of the box. If you already have additional nozzles and a good air compressor, then this gun might still be applicable. For everyone else, there are far better choices available.
Pros
Only needs 4.5 CFM of airflow
3 adjustable valve knobs provide precise control
Durable 1-piece gun body made of steel
More affordable than other options
Cons
Requires a separate compressor
Only includes a single nozzle
---
8.

DeVilbiss HVLP Gravity Spray Gun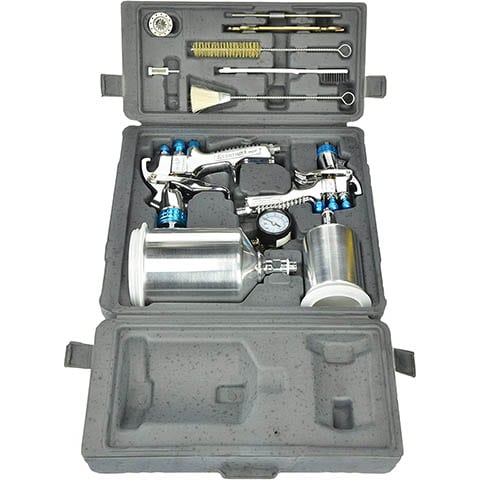 DeVilbiss makes high-end paint products. These aren't toys and they're not meant for amateurs, which is why they expect you to already be set up with the other stuff you'll need. For instance, this gun requires a high-end compressor to function. We're not talking about a decent consumer-grade compressor. This needs a pro-grade compressor since it'll have to produce 13 CFM of airflow to properly run this gun. Less airflow and you'll have poor performance at best.
Not only do you require a high-end compressor just to make this gun function, but the gun itself is also prohibitively expensive, making it a huge investment to get started with. Granted, you do get 2 guns for the price — an HVLP spray gun and a detail gun. There's also a carrying case included to keep everything organized and protected.
Since the entire gun is polished chrome, cleaning it is pretty easy; especially compared to some of the plastic sprayers we tested. And there's no doubt; this sprayer creates a beautiful finish. But it's so much of an investment to get started with that it's out of reach for many. Worse, the built-in regulator functions poorly and will need to be replaced quickly.
Pros
Includes spray gun and detail gun
Carrying case keeps everything organized and safe
Easy to clean up
Produces a fine finish
Cons
It's prohibitively expensive
Requires a high-end compressor for 13 CFM airflow
Doesn't run well with less airflow
Low-quality regulator
---
9.

Paasche Airbrush HG-08 HVLP Touch-Up Spray Gun
At just over half a pound in weight, the Paasche Airbrush HG-08 HVLP touch-up spray gun is a lightweight device that's easy to maneuver and use. It won't wear you out after hours of use the way some of the heavier sprayers we tested would. This is also a versatile device that will work just as well with water-based and solvent-based paints.
You only get one nozzle with this sprayer, though you have your choice of 5 different sizes. To get the functionality of another size, you'll have to purchase an additional nozzle separately. You'll also need to purchase a compressor separately if you want to use this gun. It should work with just about any compressor though since it only needs 1.5-4 CFM of airflow.
The included material cup is tiny; it holds just 3 ounces. It's meant for touch-up work, so it's great for that, though it's inadequate for painting whole projects. But the real problem is the inconsistent spray we got with this gun. Even with a great compressor providing airflow, this sprayer never gave us a consistent finish, which rules it out for serious work in our book.
Pros
Works with water-based and solvent-based paints
Weighs just over half a pound
Cons
Requires a separate compressor
The included material cup holds only 3 ounces
Inconsistent spray patterns
---
10.

DEWALT HVLP Spray Gun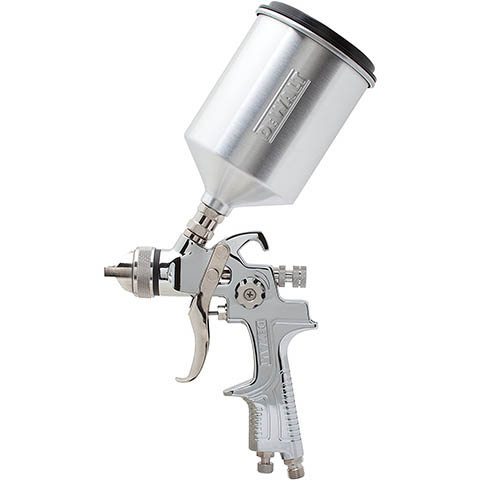 DEWALT is a big name in tools and their products have topped many of our lists previously. However, they're not a company known for their pneumatic tools, and the HVLP spray gun is a miss by our accounts. It is protected by the DEWALT 3-year warranty, but that's not enough to save this device.
To start, this sprayer is more than twice as expensive as most of the similar products we tested. Does it offer performance that's twice as good? Not by a mile. The performance isn't terrible, but it's only on par with those cheaper devices. But you'll have to add an additional cost to the price of this sprayer; a compressor.
This is also a very heavy sprayer. At just over 2 pounds, it weighs 3-4 times as much as other sprayers we've tested. We also noticed that the cap for the material cup doesn't seal. When you tilt the gun, paint will drip from the material cup, creating a nice mess for you to clean up. We still like DEWALT, but we'll probably avoid their pneumatic tools in the future.
Pros
Protected by a 3-year warranty
Cons
More expensive than similar spray guns
Weighs over 2 pounds
Requires a separate air compressor
The cap drips
Related Read: 10 Best Paint Sprayers – Reviews & Top Picks
---
Buyer's Guide – Choosing the Best HVLP Spray Guns for Woodworking
As you can tell, there are some major differences separating different HVLP sprayers. If you're experienced with this type of tool, then you might be ready to make a purchase and get to work. But if you're still trying to figure out which sprayer is a good fit for you, then hopefully, this short buyer's guide will help.
Questions to Help you Select the Right Sprayer
If you're struggling to decide on an HVLP sprayer for your woodworking projects, the following questions are designed to help you narrow down the decisions and pick the product that will best serve your needs.
Do You Have a Compressor?
The first question is easy to answer. If you do have a compressor, then there are more doors open to you. You could purchase a spray gun without a turbine since you can hook it up to your compressor.
If you don't have a compressor already, then you're looking for an all in one kit. Otherwise, you'll have to purchase a compressor separately, which requires additional research and will make your paint sprayer investment far more expensive.
Is Your Compressor Capable?
Having a compressor is only part of the battle. You need to be certain that your compressor is capable of running the HVLP gun you plan to purchase. These sprayers vary widely in regards to their airflow needs. Many of them only need about 4 CFM of airflow to function properly. Not all cheap compressors produce this much airflow, but most of the mid-range compressors do.
However, some of the spray guns we tested had outrageous airflow requirements upwards of 10 CFM. To power these, you're going to need a serious compressor; likely pro-grade. These are very expensive machines, so if you don't have one, you'll need to stick to a spray gun with minimal airflow needs.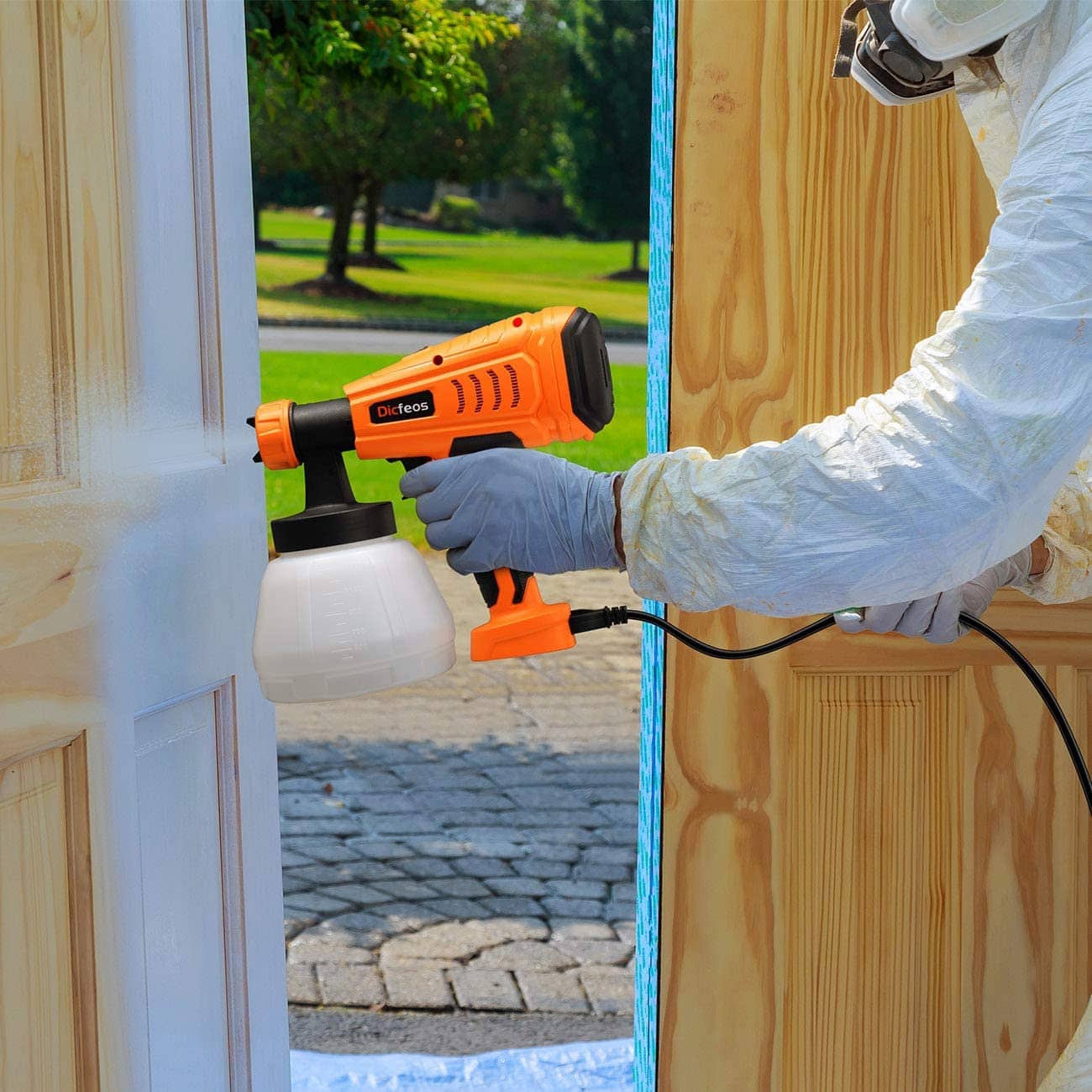 How Much Material do you Need to Hold?
Are you painting small woodworking projects like birdhouses and puzzle boxes? Or are you finishing bigger things like storage chests, bunk beds, or dog houses?
If you're mainly working with smaller projects, then you should be fine with a material cup of practically any size. But if you're working on large projects often, you'll want to look for a sprayer that can hold an adequate amount of material. Otherwise, you'll have to spend time thinning and adding material in the middle of a coat, which can be time-consuming and can even have detrimental effects on your finish.
How Long Will you be Spraying?
Are you spending hours painting your projects or just a few minutes at a time? If you're only painting for short periods, then a heavy spray gun won't become much of a nuisance. But if you spray for several hours straight, you'll need to think about the weight of your sprayer and find one that's light enough not to overly-fatigue you while you're working.
Related Read: 5 Best Commercial Paint Sprayers – Reviews & Top Picks
What are you Willing to Spend?
At the end of the day, it doesn't matter what features and functionality you desire if you're not willing or able to spend that much. That doesn't mean you have to settle for subpar sprayers if you're not wanting to spend a fortune.
Figure out what you really need as well as what features would be nice. Then, look for a sprayer with as many of those features as you can find that's within your budget.
There are great products at many different price points. Just because you don't want to spend a lot doesn't mean you can't end up with a great sprayer.
Related Read: 5 Different Types of Paint Sprayers: Which is Right for You?

Conclusion
A good HVLP sprayer can help you finish your projects with better results in less time. But if you get the wrong sprayer, you might end up with the opposite. A waste of money that provides nothing but frustration. At worst, it might even ruin one of your projects. Our reviews should help you avoid such a situation, but we're going to cover our recommendations once more just in case.
The Wagner Spraytech Spray Max HVLP paint sprayer was our favorite overall. It comes with everything you need to get started, including a turbine, so you won't need a separate compressor. You get precise control over your coverage with adjustable pressure and material flow and a rotating air cap to change the spray pattern quickly.
Our budget-priced pick is the NEU MASTER electric spray gun. This dirt-cheap spray gun is an all in one painting solution with the turbine built-in. It works with a wide range of materials and even includes three nozzles for various uses.
If you're looking for professional quality and reliability, we suggest the Earlex HV550 HVLP spray station with its built-in 650-watt turbine, push and click spray pattern changes, and convenient onboard storage.