9 Best Hybrid Table Saws of 2023 – Reviews & Buyer's Guide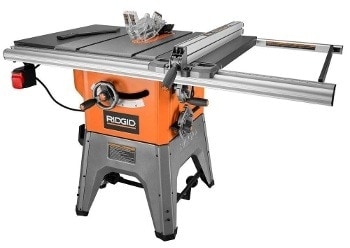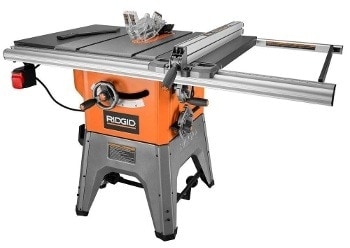 Hybrid saws are great because they look nice and cut well while remaining within budget. For many of us woodworkers, we don't cut enough lumber to require the high horsepower delivered by the cabinet maker saw. Still, we want something a little fancier than the basic carpenter's table saw.
Choosing a brand that falls somewhere in the middle can be quite challenging, and that's why we have chosen five different brands to review for you. We'll go over what each saw is good at and not so good at, and we'll also discuss and extra features each brand provides. At the end of the reviews, we have included a short buyer's guide where we take a close look at the hybrid table saw and discuss what it is, as well as what's important to look for as you shop.
Join us while we take an in-depth look at the hybrid table saw and discuss engine size, safety features, exhaust ports, and more to help you make an educated purchase.
---
A Quick Comparison of Our Favorites (2023 Update)
Rating
Image
Product
Details

Best Overall

Shop Fox W1819 Hybrid Table Saw

Polished cast iron table
Four-inch dust port
Thermal overload protection
CHECK PRICE

Laguna Tools Fusion Hybrid Table Saw

1¾-HP engine
10-inch blade
Riving knife
CHECK PRICE

Best Value

Shop Fox W1837 Hybrid Table Saw

Mobile base
Quick-release blade guard
Lightweight
CHECK PRICE

Powermatic 1791230K Hybrid Table-Saw

Riving knife
1¾-HP engine
50-inch fence
CHECK PRICE

RIDGID R4512 13-Amp Hybrid Table Saw

13-amp motor
10-inch blade
CHECK PRICE
The 5 Best Hybrid Table Saws:
1.

Shop Fox W1819 Hybrid Table Saw – Best Overall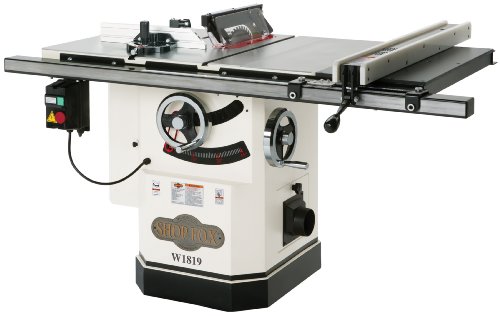 The Shop Fox W1819 is our pick for the best overall hybrid table saw. This model features a polished cast iron table, and the 3-HP motor is one of the strongest on this list. It has plenty of features, like a T-slot miter gauge and a four-inch dust collection port that help you get your work done quickly and accurately. This 10-inch saw can also tilt to a 45-degree angle, and it also has built-in safety features, including thermal overload protection and a riving knife that helps prevent kickback.
The main downside to the Shop Fox W1819 Is that it comes in two separate shipments and it requires quite a bit of assembly. The instructions were hard to follow, and some of the images were a little small for our eyes.
Pros
Polished cast iron table
Four-inch dust port
Thermal overload protection
T-slot miter gauge
10" saw
45-degree tilt
---
2.

Laguna Tools Fusion Hybrid Table Saw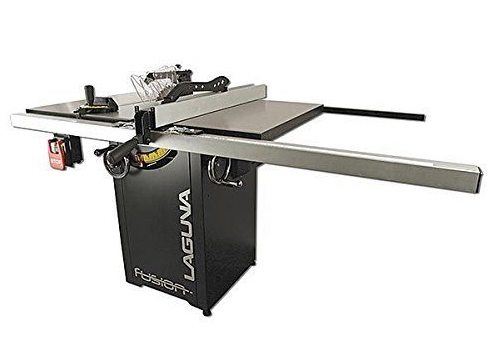 Let's get this out of the way: the Laguna Tools Fusion hybrid table saw is not geared towards heavy-duty jobs. It does, however, come with mind-blowing features and benefits that make it worth considering, especially if you are looking for something for your hobbyist workshop. The Laguna Tools Fusion is fitted with a sufficient 1¾-HP motor from 110 volts that is more than enough for the weekend DIYer. The 10-inch blade is on par with the standard hybrid table saws.
The table tilts to 45-degrees for precision angled cuts, and the engine is in a dust-free cabinet. Safety features include a quick-release riving knife and a blade cover.
While we were reviewing the Laguna Tools Fusion the only problem, we had was the 4-inch dust collection port didn't work well and left a lot of dust around the table.
Pros
1¾-HP engine
10-inch blade
Riving knife
45-degree tilt
Cons
Not for industrial use
4-inch dust port isn't awesome
---
3.

Shop Fox W1837 Hybrid Table Saw – Best Value
Although not perfect, the Shop Fox W1837 is our pick for the best hybrid table saw for the money. This saw features a potent 2-HP engine that can make short work of most woods. It uses a 10-inch standard saw blade, and the table can tilt to a 45-degree angle. It features a 4-inch dust port that we found to work exceptionally well. It also comes with a lift-off fence and wings for stable, accurate cuts. This hybrid saw also includes plenty of safety features like a quick-change blade guard and anti-kickback pawls. It's very lightweight when compared to  other brands on this list, and it rides on lockable wheels, so you can move it around if you need to.
The biggest downside with the Shop Fox W1837 is flimsy fence and wings. With these parts removed, the saw is much smaller. We also had a hard time assembling the unit, and it took us several hours to get through the challenging instructions.
Pros
2-HP engine
4" dust port is better than the W1819
Lift-off fence
Mobile base
Quick-release blade guard
Lightweight
Cons
Flimsy fence and wings
Difficult assembly
---
4.

Powermatic 1791230K Hybrid Table-Saw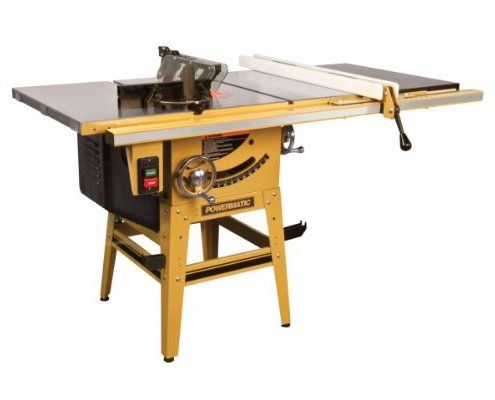 The Powermatic 1791230K 64B Table Saw accommodates a 10-inch blade. Its 1¾-horsepower engine delivers high RPM, and you run this saw using 120 or 240 volts. It comes with a 50-inch fence, and the table left tilts to 45-degrees, allowing you to cut large boards at precise angles. It also includes the standard safety features, like the anti-kickback riving knife and the see-through blade guard.
We enjoyed using the Powermatic 1791230K 64B Table Saw, but when running on an ordinary outlet, we found the engine was often underpowered for the work we were doing and would bog down. If you want to use this saw for larger jobs, you will need to run it at 240 volts.
Pros
Riving knife
1¾-HP engine
50-inch fence
Cons
Needs 240 volts to be powerful
---
5.

RIDGID R4512 13-Amp Hybrid Table Saw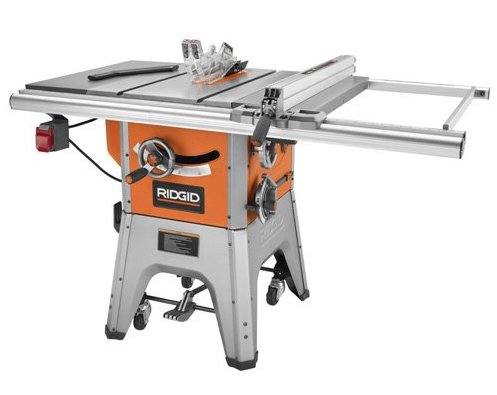 The RIDGID R4512 13-Amp Cast Iron Table Saw features a powerful motor capable of producing up to 3450 RPM. It uses a standard 10-inch blade and has a 4-inch dust port to help remove sawdust as you work. It features a finely polished tabletop, and it's fairly lightweight compared to many of the other brands on this list.
While we were reviewing the RIDGID R4512 13-Amp Cast Iron Table Saw, we felt it had a lot of cutting power, but the fence was impossible to adjust correctly, and it would shift when you lock it down. This shifting fence ruined many boards.
Pros
13-amp motor
10-inch blade
---
6.

SKILSAW SPT99-11 10″ Table Saw – Best Hybrid Table Saw Under $1000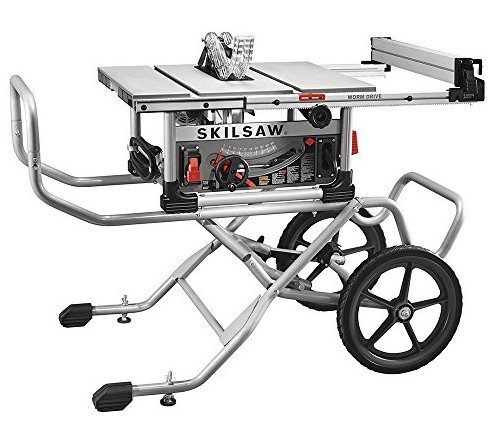 SKILSAW is known for making great power saws, so it shouldn't be much of a surprise to find their SPT99-11 Heavy Duty Table Saw topping our list.
One of the most important features of any table saw is its rip capacity. Luckily, this SKILSAW has a 30.5-inch rip capacity, plenty of space to rip a full sheet of plywood in half. Even better, a support arm on the left side makes it much easier to work with large sheets when you don't have a second pair of hands available.
One thing that turned us off was the flimsy plastic zero-clearance insert. It doesn't provide enough support, collapsing down on the side and causing your material to get caught up. But we were impressed with the smooth-rolling and accurate fence.
Though most hybrid table saws will probably spend their life parked in one workshop, you may still need to move it when you rearrange and change things up. To that end, this saw has 16-inch wheels that allow you to easily roll it to a new place. You can even take it out of the workshop if you need to! All in all, we think this is the best hybrid table saw under $1000.
Pros
Left support for cutting larger materials
16″ wheels make it portable
Smooth and accurate fence for clean rips
30.5″ rip capacity
Cons
The zero-clearance insert is flimsy plastic
---
7.

RIDGID R4512 10" 13-Amp Hybrid Table Saw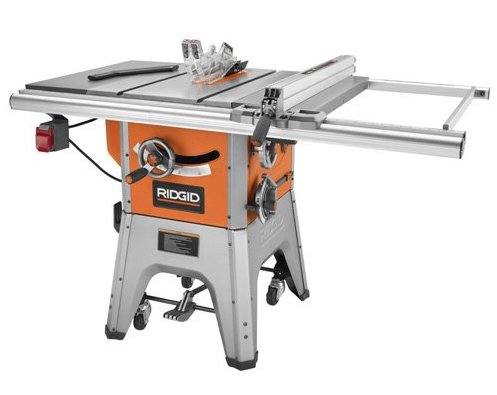 Our runner up is the R4512 10-Inch Hybrid Table Saw from RIDGID. This saw is equipped with a 13-amp motor that's pushing an impressive 3.8 horsepower. That power can turn the blade at speeds up to 3450 RPM, gliding effortlessly through any wood.
One of the biggest draws to the RIDGID line of tools is its impressive lifetime warranty that applies to all of its products. Well, it applies to their products purchased from Home Depot. Unless purchased from there, RIDGID will not honor your warranty.
The table on this saw is made from cast iron. It's extremely heavy, helping to keep vibration to a minimum. The saw weighs 267 pounds, so you might expect it to be difficult to move or adjust. Thankfully, RIDGID thought of this and included a convenient foot pedal that allows you to reposition the whole saw.
We've seen a lot of problems with fences on table saws, but the RIDGID fence locks on the front and back. This prevents migration during cutting and ensures that your cuts will be straight. And if you need to add on more tabletops or fences, built-in accessory slots make it easy.
Pros
Heavy cast iron table keeps vibration to a minimum
Aluminum fence clamps in front and back for extra support
Accessory slots allow for auxiliary fences
The saw can be repositioned via the foot pedal
Powerful 3.8-HP motor
Cons
Not for industrial use
Warranty will not be honored unless purchased from Home Depot
---
8.

DeWalt DWE7491RS 10" Table Saw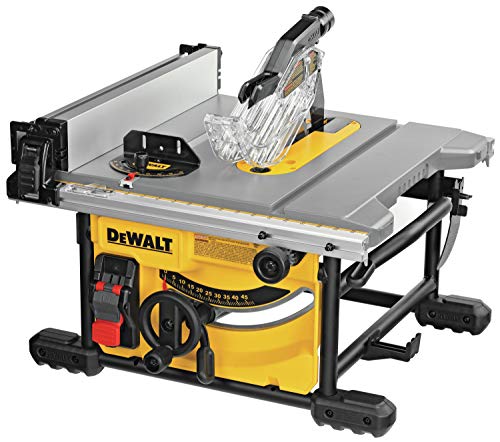 DeWalt makes some of the most trusted cordless power tools in the game. Their DWE7491RS 10-Inch Table Saw doesn't break that tradition. It's an excellent tool that's perfect for anyone who doesn't always work in the shop.
The 15-amp high-torque motor on the DeWalt table saw is the main attraction. It's got enough power to turn the blade at 4800 RPM, allowing it to cut through sheets of wood like butter.
This is a pretty compact table saw, so we were surprised when we were able to make rip cuts up to 32.5 inches. That's pretty impressive for any table saw, let alone one this portable. And speaking of portable, this saw weighs a mere 90 pounds. With wheels built-in, it's easy to move this tool to wherever it'll be most useful.
But despite the praise, we still found some flaws on this saw. For instance, the cheap miter gauge that was included got used once and tossed aside. But the real problem was the dip in the tabletop. It's right by the blade, and if your material is just the right size, it can get caught up on the divot.
Pros
5" rip capacity
Powerful 15-amp, high-torque motor
4800 RPM no-load speed
Weighs just 90 pounds
Wheels make it easy to transport
Cons
Cheap miter gauge
There's a dip in the tabletop by the blade
---
9.

Rockwell RK7241S Hybrid Table Saw
Sitting about halfway up our budget, the Rockwell RK7241S Table Saw packs a lot of power into an affordable package, which is why we think it's one of the best hybrid table saws under $1,000 for the money.
When it comes to cutting depth, Rockwell is leading the pack. This saw has a 3½-inch maximum cut depth, just enough to make it through a 4×4 in a single pass. But that takes a lot of power, which is why this saw is capable of blade speeds as high as 4800 RPM.
We were satisfied with the 30-inch rip capacity, but we weren't impressed with the fence on this saw. It wasn't very stable and it had a tendency to migrate during cuts. Worse, the blade wasn't parallel to the miter guide from the factory, which meant we had to tear it apart and make some adjustments.
This saw also includes a laser indicator for adjusting blade tilt. This was an interesting feature that we haven't seen on other table saws, though it's really just a novelty.
Pros
3½" max cutting depth
Laser indicator for adjusting blade tilt
Capable of speeds up to 4800 RPM
30" rip to the right of the blade
Integrated wheels for easy transportation
Cons
The blade wasn't parallel to the miter guide
The fence isn't as stable as other saws
---
Buyer's Guide: Selecting the Best Hybrid Table Saws
Let's discuss the most critical elements of the hybrid table saw.
What is a Hybrid Table Saw?
A hybrid table saw is a combination of a cabinet maker saw and a contractor saw. Let's look at the differences between each.
Contractor Saw
A contractor saw features an iron table that stands on four legs. The tilt mechanism and the motor both bolt on to the bottom of the table and are exposed. These tables are heavy, but you can move them, and they usually have motors around 1.5 horsepower. These saws are much less expensive than cabinet maker saws, and the exposed nature of the motor makes it easier to maintain. Still, because the parts are exposed, it's less aesthetically pleasing.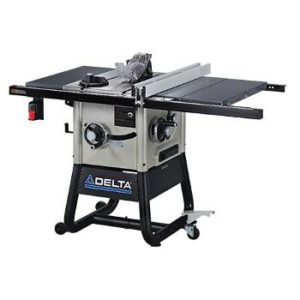 Contractor Saw Pros
Less expensive
Easier to maintain
Portable
Contractor Saw Cons
Lower power
Less aesthetically pleasing
Cabinet Maker Saw
A cabinet maker saw features a purposely built cabinet to house the motor and other components exposed in the contractor saw. These saws often use 3-horsepower motors and require a 240-volt circuit. These saws look nicer than the contractor saw, and they are more powerful, but they are much more expensive, permanent, and harder to maintain.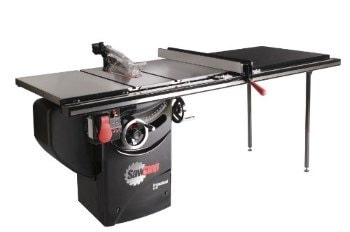 Cabinet Maker Saw Pros
Hidden motor
Higher power
More attractive
Cabinet Maker Saw Cons
Expensive
Require 240-volt circuit
Hybrid Saw
A hybrid saw is a combination of the two types of saws. A hybrid saw is a contractor saw that places the motor and other components into a wooden cabinet. These saws use the lower-powered motor that does not require a 240-volt circuit, but they are less expensive, more attractive, and the components are better protected.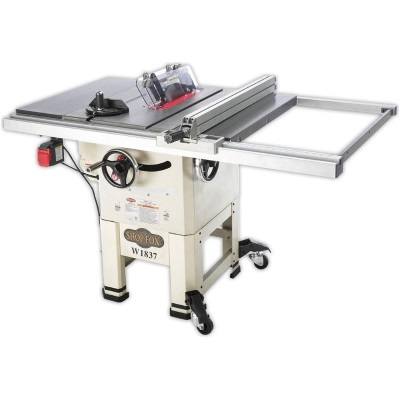 Hybrid Saw Pros
Hidden motor
More attractive
Features To Look For
Now that you know what a hybrid saw is, let's discuss some of the features to look for while you shop.
Power
As we mentioned earlier, most hybrid tale saws have less horsepower than a cabinet maker saw, but that is not always the case. Our top choice on our list has a 3-HP engine, which is pretty standard for a cabinet maker saw.
We recommend getting the highest horsepower saw your budget allows since this is the heart of the table. An underpowered saw can produce jagged cuts, and an overworked saw can cause the system to overheat, which can lead to equipment failure and even fire.
Drive
While not as critical as the horsepower, you might want to look at what type of drive your table saw will use to spin the blade. There are two types of drives available for a hybrid table saw, and they are belt drive and direct drive.
Direct Drive
On a direct drive hybrid table saw, the motor is in direct contact with the blade. There is no power lost in transmission, so this type of drive has more cutting power. It also produces fewer vibrations, so cuts are straighter. This type of drive can fit in a smaller space making it perfect for hybrid table saws, and they are less expensive over time because there are no belts to replace.
The downside to direct drive saws is that the blade tends to spin long after you shut off the saw, and the proximity of the motor to the wood means that it is susceptible to getting sawdust in the inner workings. Also, as sawdust builds up around the engine, it can act as insulation, causing it to overheat.
Direct Drive Pros
No power lost in transmission
Smaller footprint
Fewer vibrations
Direct Drive Cons
Susceptible to sawdust
Blade spins after saw stops
Belt Drive
As the name suggests, the belt drive uses a belt to transmit the power from the engine to the blade. These systems are not as prone to sawdust buildup, and the engine typically lasts longer than the engine in a direct drive system. You can cut thicker woods due to the ability to extend the blade further, and you can use very large motors for virtually unlimited horsepower.
The downside to the belt drive is that the belts wear out and changing them costs money and time. Belt drives also tend to be louder.
Belt Drive Pros
Runs cooler
More power
Cuts thicker wood
Belt Drive Cons
Louder
Frequent belt replacements
Dust Collection
Dust collection is a crucial feature for all types of the table saw, and we recommend looking for a brand with a four-inch dust port for maximum effectiveness. Many of these require connecting to a vacuum system, so be sure to have it in place before you start cutting.
Safety
In this section, we want to talk about the safety features of the machine as well as the ones you wear. Your safety is a vital part of woodworking, and you should never begin cutting without the following protections.
Safety Glasses
Heavy-duty Gloves
Ear protection
Dust mask
Even if you have adequate dust collection or are working outside, you should always still wear the above protective equipment. Your hybrid table saw can also supply some safety features in the form of a blade guard and a riving knife. Riving knives are essential for preventing kickback, and there are also special kickback bars installed on some brands.
Conclusion:
We hope that you have found our hybrid table saw reviews helpful and our buyers guide informative.  When it comes to purchasing your next saw, we recommend starting with the most horsepower you can find. Once you have the horsepower, we recommend looking at expandability, like wings and fencing. Net check over the safety features and make sure it has the basics, like a blade guard and a riving knife.
Our top choice is a perfect example of a hybrid table saw we would recommend. The Shop Fox W1819 is the undisputed winner. If you are out to find the best value for your money, we recommend that you seriously consider the Shop Fox W1837.
We truly hope that this guide helps you find the best hybrid table saw for your workshop. Good luck in your search!