Best Hybrid Table Saws under $1000 – Reviews & Top Picks 2021
Hybrid table saws represent the mid-point between contractor-grade table saws and professional-grade cabinet saws. They're a great choice for anyone who does most of their work in a shop and needs a reliable, yet affordable table saw that they can count on.
We were getting ready to replace our table saw recently, but once we started looking, it became apparent that it was going to be a rather expensive replacement. So, we set a budget of $1,000 and set out to find the best tool for the price.
After testing many saws to find the best ones, we narrowed down the field to five that are worth mentioning. But only four of them have earned our recommendations, which we will share with you in the following reviews.
---
A Quick Comparison of Our Favorites
Rating
Image
Product
Details

Best Overall

SKILSAW SPT99-11 10″ Heavy Duty Table Saw

16″ wheels make it portable
Smooth and accurate fence
30.5″ rip capacity
CHECK PRICE

RIDGID R4512 10" 13-Amp Hybrid Table Saw

Heavy cast iron table
Aluminum fence clamps
Powerful 3.8-HP motor
CHECK PRICE

Best Value

Rockwell RK7241S Hybrid Table Saw

Has laser indicator
3½" max cutting depth
Speeds up to 4800 RPM
CHECK PRICE

Best Portable

DeWalt DWE7491RS 10" Table Saw

5" rip capacity
Weighs just 90 pounds
Wheels make it easy to transport
CHECK PRICE

Shop Fox W1837 Hybrid Table Saw

Powerful 2-HP motor
30″ rip capacity
Kickstand operated mobile base
CHECK PRICE
5 Best Hybrid Table Saws under $1000
1.

SKILSAW SPT99-11 10″ Heavy Duty Table Saw – Best Overall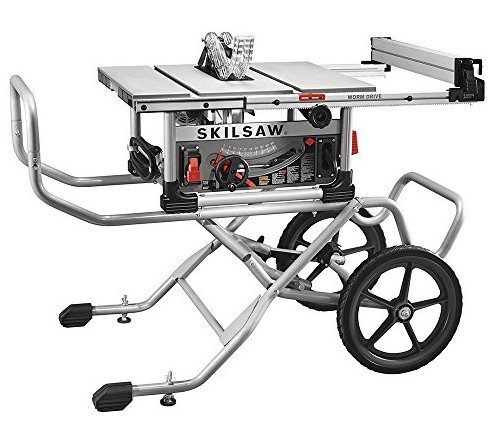 SKILSAW is known for making great power saws, so it shouldn't be much of a surprise to find their SPT99-11 Heavy Duty Table Saw topping our list.
One of the most important features of any table saw is its rip capacity. Luckily, this SKILSAW has a 30.5-inch rip capacity, plenty of space to rip a full sheet of plywood in half. Even better, a support arm on the left side makes it much easier to work with large sheets when you don't have a second pair of hands available.
One thing that turned us off was the flimsy plastic zero-clearance insert. It doesn't provide enough support, collapsing down on the side and causing your material to get caught up. But we were impressed with the smooth-rolling and accurate fence.
Though most hybrid table saws will probably spend their life parked in one workshop, you may still need to move it when you rearrange and change things up. To that end, this saw has 16-inch wheels that allow you to easily roll it to a new place. You can even take it out of the workshop if you need to!
Pros
Left support for cutting larger materials
16″ wheels make it portable
Smooth and accurate fence for clean rips
30.5″ rip capacity
Cons
The zero-clearance insert is flimsy plastic
---
2.

RIDGID R4512 10" 13-Amp Hybrid Table Saw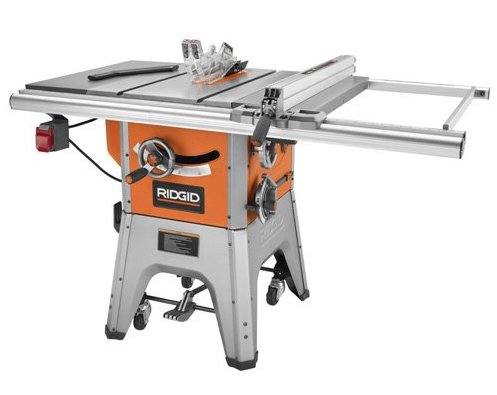 Our runner up is the R4512 10-Inch Hybrid Table Saw from RIDGID. This saw is equipped with a 13-amp motor that's pushing an impressive 3.8 horsepower. That power can turn the blade at speeds up to 3450 RPM, gliding effortlessly through any wood.
One of the biggest draws to the RIDGID line of tools is its impressive lifetime warranty that applies to all of its products. Well, it applies to their products purchased from Home Depot. Unless purchased from there, RIDGID will not honor your warranty.
The table on this saw is made from cast iron. It's extremely heavy, helping to keep vibration to a minimum. The saw weighs 267 pounds, so you might expect it to be difficult to move or adjust. Thankfully, RIDGID thought of this and included a convenient foot pedal that allows you to reposition the whole saw.
We've seen a lot of problems with fences on table saws, but the RIDGID fence locks on the front and back. This prevents migration during cutting and ensures that your cuts will be straight. And if you need to add on more tabletops or fences, built-in accessory slots make it easy.
Pros
Heavy cast iron table keeps vibration to a minimum
Aluminum fence clamps in front and back for extra support
Accessory slots allow for auxiliary fences
The saw can be repositioned via the foot pedal
Powerful 3.8-HP motor
Cons
Not for industrial use
Warranty will not be honored unless purchased from Home Depot
---
3.

Rockwell RK7241S Hybrid Table Saw – Best Value
Sitting about halfway up our budget, the Rockwell RK7241S Table Saw packs a lot of power into an affordable package, which is why we think it's one of the best hybrid table saws under $1,000 for the money.
When it comes to cutting depth, Rockwell is leading the pack. This saw has a 3½-inch maximum cut depth, just enough to make it through a 4×4 in a single pass. But that takes a lot of power, which is why this saw is capable of blade speeds as high as 4800 RPM.
We were satisfied with the 30-inch rip capacity, but we weren't impressed with the fence on this saw. It wasn't very stable and it had a tendency to migrate during cuts. Worse, the blade wasn't parallel to the miter guide from the factory, which meant we had to tear it apart and make some adjustments.
This saw also includes a laser indicator for adjusting blade tilt. This was an interesting feature that we haven't seen on other table saws, though it's really just a novelty.
Pros
3½" max cutting depth
Laser indicator for adjusting blade tilt
Capable of speeds up to 4800 RPM
30" rip to the right of the blade
Integrated wheels for easy transportation
Cons
The blade wasn't parallel to the miter guide
The fence isn't as stable as other saws
---
4.

DeWalt DWE7491RS 10" Table Saw – Best Portable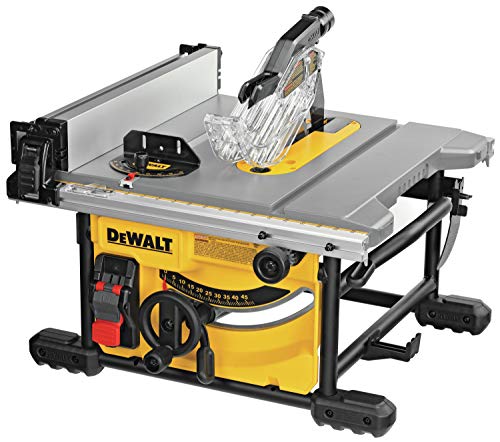 DeWalt makes some of the most trusted cordless power tools in the game. Their DWE7491RS 10-Inch Table Saw doesn't break that tradition. It's an excellent tool that's perfect for anyone who doesn't always work in the shop.
The 15-amp high-torque motor on the DeWalt table saw is the main attraction. It's got enough power to turn the blade at 4800 RPM, allowing it to cut through sheets of wood like butter.
This is a pretty compact table saw, so we were surprised when we were able to make rip cuts up to 32.5 inches. That's pretty impressive for any table saw, let alone one this portable. And speaking of portable, this saw weighs a mere 90 pounds. With wheels built-in, it's easy to move this tool to wherever it'll be most useful.
But despite the praise, we still found some flaws on this saw. For instance, the cheap miter gauge that was included got used once and tossed aside. But the real problem was the dip in the tabletop. It's right by the blade, and if your material is just the right size, it can get caught up on the divot.
Pros
5" rip capacity
Powerful 15-amp, high-torque motor
4800 RPM no-load speed
Weighs just 90 pounds
Wheels make it easy to transport
Cons
Cheap miter gauge
There's a dip in the tabletop by the blade
---
5.

Shop Fox W1837 Hybrid Table Saw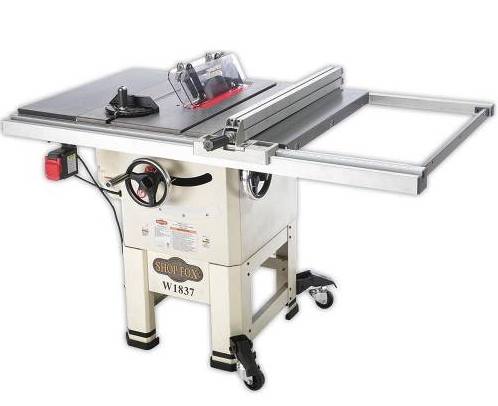 At first glance, the Shop Fox W1837 Hybrid Table Saw seems like a winner. It's got some great features like a 30-inch rip capacity and a powerful two horsepower motor. We also liked the kickstand operated mobile base that makes it easy to reposition this saw anywhere in your shop.
This saw features a precision-ground table made from cast iron. We were excited about it, but ours was warped! It was still usable, but there was noticeable deflection in the surface.
Steel wings are used to extend the length of the saw table, giving you far more rip capacity with the fence. But the wings didn't seem to fit right, which caused the fence to have some problems. It wouldn't slide evenly, each end moving on its own, instead of as a single unit. The fence also doesn't lock securely, so it kept migrating while we were making cuts.
In the end, we were a bit disappointed by the Shop Fox saw. It looks excellent but performs subpar.
Pros
Powerful 2-HP motor
30″ rip capacity
Cast iron tabletop is precision ground
Kickstand operated mobile base
Cons
The rip fence migrates and won't slide evenly
The tabletop is warped
Steel wings didn't fit right
---
Buyer's Guide
Now you've seen some of the best hybrid table saws available for under $1,000. The problem is that these are all excellent tools. So, how do you choose just one?
If you've never used a table saw before, then you may not have encountered some of the common problems that plague them. To make sure you avoid products with subpar features, we're going to briefly discuss each important feature that you should consider and what to look for when doing so.
Types of Table Saws
Cabinet
A
cabinet table saw
is a high-end professional tool that's the largest and most powerful of all table saw styles. Most weigh several hundred pounds and house 3+ horsepower motors. Once they're set up in a dedicated space in your workshop, the cabinet table saw is likely to never leave the premises – unless you move to a new shop.
Any professional woodshop has a cabinet-style table saw or it's not a professional woodshop. Cabinet table saws are used for cutting boards of all shapes and sizes and usually include a rip fence. With all the power and accuracy comes a focus on safety – cabinet saws are probably the safest of all saws to use.
Contractor
The
contractor's table saw
is a much cheaper piece of equipment that isn't meant for making the same fine cuts of a cabinet saw. Its main appeal is in the name: this type of table saw is favored by construction teams. They're not genuinely "portable" but they typically have wheels for repositioning around the job site, and have many of the same features of a cabinet saw.
Contractor saws are also good for semi-professional workshops that don't have space for a sprawling cabinet saw, but still need that ripping capacity of a larger table. Think of the contractor saw as the middle child of the table saw family. It's neither the biggest nor the smallest.
Hybrid
Hybrid table saws are the little brother to the cabinet and contractor saws. They have many of the same features but they're not as robust or precise. However, hybrid saws are always
portable
,
usually
fitted with some type of wheel system – or in the case of the DeWalt, a two-person carry handle system.
On the downside, hybrid table saws are still very expensive. Most "true" hybrid table saws are going to cost well over $1,000. It's not uncommon to see them for $2,000 and beyond, but that's to be expected with professional-quality tools. But they still can't match the older siblings when it comes to precision and durability.
What to Look for in a Table Saw?
Power
Most hybrid table saws have enough power for heavy-duty jobs, and if you are a casual handyman, motor power will most likely not be an issue, regardless of what you buy. Most hybrid table saw motors are rated with a power of 1.5 HP to 1.75 HP. This is more than enough for the home workshop.
Higher-end hybrid table motor can go up to around 3 horsepower. These motors are aimed at long-term industrial use and their work surfaces may also be larger. These heavy-duty hybrid table saws are pricier as well. If you are a professional handyman with cash at hand, this may be a viable option for you. Consider your needs. For the regular DIYer, however, a 1.5-HP motor will be sufficient.
Rip Capacity
One of the most important specifications for any table saw is the rip capacity. Rip capacity is a measure of how wide your saw can cut when you run a piece of wood through it longways. Many lower-end table saws have minimal rip capacities that can be a real hindrance if you're doing any serious work.
At a bare minimum, you'll want to find at least a 24-inch rip capacity. This will give you the ability to rip a full-sized 4'x8' sheet of wood in half, resulting in two boards that are each 2'x8'.
But even 24-inches is a smaller rip capacity than we'd recommend. Your best-off looking for saws with a rip capacity upwards of 30 inches. This will give you more freedom, allowing you to make much larger rips. Hey, you never know what kind of project you might be taking on next!
SEE ALSO: 6 Table Saw Uses
Maximum Cutting Depth
After rip capacity, maximum cutting depth is the next trait you need to ensure will fulfill your needs. If you want to be able to cut through a 4"x4" piece of lumber but your saw has only a 2¼-inch max cut depth, you'll have to cut it from both sides to make it all the way through.
Of course, not everyone plans on cutting through thick materials like that with their table saw. Table saws are most often used to cut sheets of wood, such as plywood, but that doesn't mean you can't use it to cut other types of wood as well!
The Fence
The fence is arguably one of the most important parts of any table saw. When you're making rip cuts, you do it by securing the fence to the proper distance from the blade, allowing you to push your material through and getting a straight cut. You can also make repeated cuts without having to readjust or remeasure.
But if the fence on your saw isn't secure and stable, then you might run into some problems.
It's very common, especially on cheaper table saws, for the fence to move while you push your piece through. This is called migration, and it's incredibly frustrating. It will ruin all of your cuts by making your pieces inconsistent.
What happens if you lock the fence into position but it's not straight? On many saws, there's not much you can do to mitigate this issue. But good saws generally have a fence that clamps in the front and back, locking it in much more securely.
The fence is positioned on rollers that allow you to slide it in either direction so you can position it precisely where you need it. But many cheap fences have poorly functioning rollers that won't let you make the minute adjustments you might need.
SEE ALSO: Our reviews of the best table saw fences
The Tabletop
Since all of your material will be sliding across the tabletop, it's important that it's smooth and flat. If there's any warping in the tabletop it can hold up your piece or even cause the blade to bind. We've seen a surprising number of table saws coming from the factory with warped tabletops that have divots or dents. Try to find a saw with a flat, level tabletop that's devoid of any obvious flaws.
Safety Features
When you are shopping for a hybrid table saw, make sure that they have high-quality blade guards. A flimsy blade guard will not protect you sufficiently.
Also, make sure that your hybrid table saw has a riving knife that prevents kickback. If a hybrid table saw doesn't have one, remove that model from your list. You can also check out the specs for other safety features that a hybrid table saw may have.
Padlocks are another important safety feature, especially if you have children that are regularly present in the area. Children sometimes like to press buttons, and a padlock will prevent anyone from getting. Make sure that the power button is easily accessible in case you need to stop the motor from running during an emergency.
Conclusion
We've covered a lot of information in these reviews, but we want to be sure that our recommendations are fresh in your mind, so we're going to summarize them once more.
Our favorite hybrid table saw overall was the SKILSAW SPT99-11. It's got a 30.5-inch rip capacity to the right and a support on the left for cutting large materials. Plus, it's easily portable on 16-inch wheels and has a smooth-rolling, accurate fence for straight and reliable cuts.
The runner up was the RIDGID R4512, which is equipped with a powerful 3.8 horsepower motor to easily cut through any wood. And the heavy cast iron table helps keep the vibration down.
If you're looking for the saw with the best value, we recommend the Rockwell RK7241S. It can cut through a 4×4 in a single pass with blade speeds up to 4800 RPM. Plus, it has a 30-inch rip capacity and integrated wheels for easy transport.
But if you need a portable hybrid table saw, we suggest the DeWalt DWE7491RS. It weighs just 90 pounds, making it easy to move, especially with the built-in wheels. Moreover, it has a 32.5-inch rip capacity and a powerful 15-amp motor.