7 Best Japanese Toilets in 2023 – Reviews & Top Picks
Is there any country other than Japan where toilets are a tourist attraction?
Whether because of its Buddhist and Shinto heritage emphasizing cleanliness, because it's blessed with abundant natural water, or because summer gets hot and sticky, the people of Japan place a high value on proper hygiene. This leads not only to their luxurious culture of onsen (public hot springs) but also to some of the world's most advanced toilets.
Japanese toilets are famous for their special features. They were ahead of the rest of the world in adding dual-flush systems, heated seats, washlets, and built-in sinks, and they are now leading the way in remote control toilet technology. And we can't forget the button you can push to make a flushing sound (don't worry, we'll explain).
The rest of the world has discovered Japanese-style toilets, and we can't get enough. If you've decided you want your next toilet to come straight from Tokyo's most advanced bathrooms, we have reviews of the best Japanese toilets you can order today.
As they say in Japan: Toire wa doko desu ka! ("Where's the bathroom?")

A Quick Comparison of our Favorites in 2023
Rating
Image
Product
Details

Best Overall

WOODBRIDGE B-0960S

Huge range of special features
Seat warming stands out
Flushes extremely well
CHECK PRICE

Best Value

Brondell Swash 1400

Affordable
especially when bought used
Comfy elongated bowl
Wide range of bidet options
CHECK PRICE

Premium Choice

TOTO MS920CEMFG

Most customizable toilet on the market
Multiple water-saving features
Deodorizer and heated seat are luxurious
CHECK PRICE

Ove Decors 735H

Full range of Japanese-style features
User-friendly control panel
Requires little cleaning
CHECK PRICE

Bio Bidet Slim ONE

Longest hot water heater we've ever seen
Fits seamlessly with elongated bowls
Great nozzle geometry
CHECK PRICE
The 7 Best Japanese Toilets
1.

WOODBRIDGE B-0960S Smart Bidet Seat Toilet – Best Overall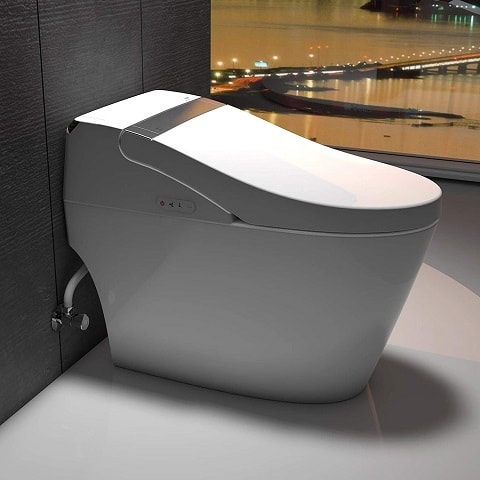 It might seem strange that our favorite Japanese toilet is manufactured by an American company, but to be more clear, we mean Japanese-style toilets. That means heated seats, hidden tanks, washlets, deodorizers, and other enticing special features.
California-based Woodbridge Bath is the US company that best captures the Japanese spirit of bathroom innovation. Their B0960S smart toilet has all the features we could ever wish for: hands-free operation, a remote-control bidet that can oscillate to massage your posterior, and a heated seat, deodorizer, and air dryer. It even has a night light and its own dedicated tech support team.
Even the best toilets aren't perfect, though. If you choose this one, beware of some problems with the wax hose rings: the one provided needs to be tightened before use, or water will leak all over the floor. Despite this, we still think this is the best Japanese toilet available today.
Pros
Huge range of special features
Seat warming stands out
Flushes extremely well
Automatic systems work great
Cons
Wax ring doesn't always form a good seal
---
2.

Brondell Swash 1400 Luxury Bidet Toilet Seat – Best Value
Think you have to blow four digits on a luxury Japanese-style toilet? You might be surprised to learn that's not true. The Brondell Swash 1400 is the best Japanese toilet for the money, granting you Shibuya style on an economy budget.
Brondell's bidet toilet seat fits comfortably on any elongated-bowl toilet and can be installed by an amateur in an hour. Its extra features include a customizable bidet wash, built-in deodorizer, and heated seat. What we like is the number of different water spray shapes and pressures; it has enough combinations to guarantee you'll find one you like.
As our value pick, this Brondell seat doesn't quite reach the heights of Woodbridge's at number one. It's a seat, not a full toilet, and won't fit with every toilet bowl, especially standard round ones. Because of the extra hardware, you'll find yourself sitting farther forward on the bowl than you'd like.
Pros
Affordable, especially when bought used
Comfy elongated bowl
Wide range of bidet options
Cons
Only a seat, not the whole toilet
Sits a bit far forward
---
3.

Toto MS920CEMFG#01 Washlet with Integrated Toilet – Premium Choice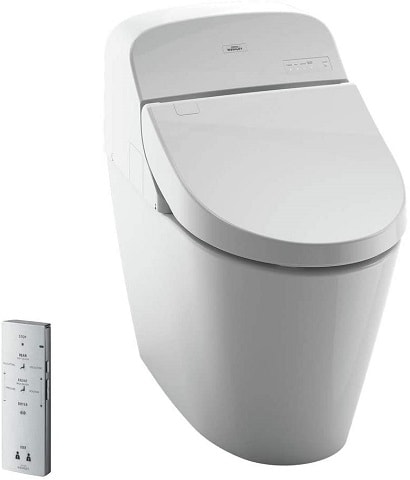 Our premium pick is more expensive than most, but that's because it's the real deal. Unlike the other toilets and bidet seats inspired by Japan, this one's from Japan; Kyushu-based Toto is known as Japan's king of toilets.
This is an integrated toilet/washlet. The toilet is dual-flush, with a water-saving cyclone system and a nearly invisible tank. The washlet cleans your front and rear at five temperature and pressure settings. Almost everything about a Toto toilet works automatically, from the seat to the deodorizer, but customization options still grant you a high level of control.
Are there any downsides other than the price? As a full toilet, this has to be installed by a contractor, lest you risk voiding your warranty. The automatic seat is overly sensitive and lifts up every time you walk by. Finally, while your mileage may vary with bidets in general, the air dryer on this one is less powerful than most models.
Pros
Most customizable toilet on the market
Multiple water-saving features
Deodorizer and heated seat are luxurious
Cons
Need a plumber or contractor
Some auto features are too hair-trigger
Bidet dryer is somewhat weak
---
4.

Ove Decors 735H SMART TOILET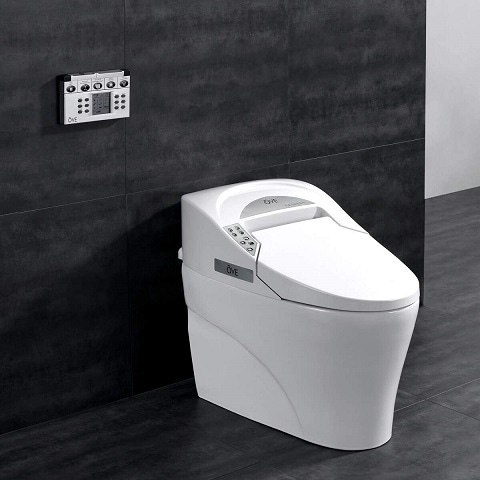 Quebec-based Ove Decors is also jumping into the smart toilet game with all the Japanese-style features we like to see. Luxuries like heated seats, hands-free operation, and night lights come standard,  but the Ove 735H (also called the "Saga") still has some traits that stand out.
The in-bowl control panel is one of our favorites and makes an especially good choice for people with mobility issues; everything you need will always be within arm's reach. It also balances efficient self-cleaning with very low water use.
If we had to criticize something about the 735H/Saga, we'd point out that the user manual is not intuitive since it comes poorly translated from Chinese. There's also an unfortunate delay on several automatic features, especially the flush, which can take up to 10 seconds.
Pros
Full range of Japanese-style features
User-friendly control panel
Requires little cleaning
Cons
Bad instruction manual
Sluggish automation
---
5.

Bio Bidet Slim ONE Smart Toilet Seat
The Bio Bidet Slim is easily the most affordable Japanese toilet attachment we've listed. That said, there's a reason it's not our pick for best value. There is a lot to like about this seat. Its warm water supply is unbeatable, and the bidet can spray a heated jet for more than 60 seconds. It's also constructed very well and fits onto any elongated toilet bowl without complaint. Despite not being built into a toilet, the nozzle is also extremely well positioned.
The problem is the lifespan. After six months to a year of use, some Bio Bidet Slim units stop producing water and must be prodded back to life. While the product does come with a warranty, it's not always long enough, and some customers have reported the company made them pay to ship the seat in for repair.
Pros
Longest hot water heater we've ever seen
Fits seamlessly with elongated bowls
Great nozzle geometry
Cons
Some products stop working around 6–12 months
Warranty is difficult to claim
---
6.

SmartBidet SB-1000 Electric Bidet Seat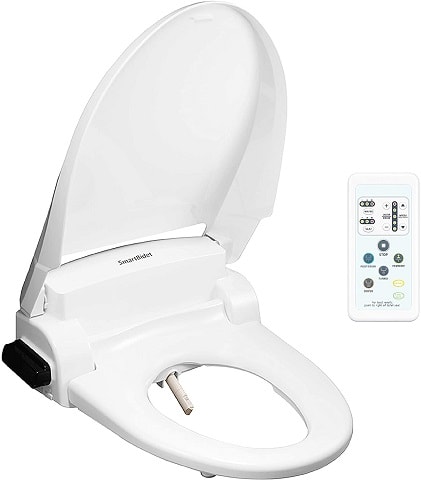 Made by a Korean company, the SmartBidet SB-1000 is an electronic smart seat that's easy to install with just a power supply. It boasts front-and-back washing, adjustable temperature, pressure, nozzle direction, and a 330-pound weight capacity.
The relatively affordable price is a standout feature, as is the reliable remote control. Mostly, though, this is just another way to deep-clean your butt. With so many innovative bidets out there, we need to be wowed by something, and SmartBidet didn't come up with anything out of the ordinary.
That said, the extremely long lifespan is a big plus. The SB-1000 can go for years without losing power.
Pros
Budget price
Front-and-rear washing
Good lifespan and weight capacity
Cons
Aesthetically uninteresting
Weak air dryer
Front cleanser often malfunctions before the rest of the toilet
---
7.

TOTO SW2034#01 C100 WASHLET Electronic Bidet Toilet Seat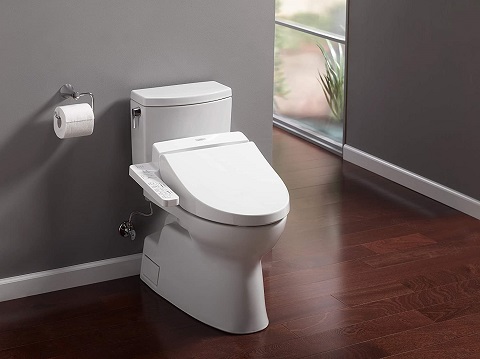 Another entry on our list from Japan's king of toilets, the Toto C100 Washlet is a great choice for people who want Toto luxury but can't afford to import an entire toilet. It's a seat attachment that offers a comfortable bidet cleanse, and you don't need a contractor to install it. We like the visual design, the heated seat, and the soft-close lid.
The reason it's not higher ranked is that we've observed a consistent water connection problem in multiple units. Toto C100s sometimes ship with a defective washer that can cause leaks. If you order one, you must check the washer where the toilet connects to the tank and replace it if necessary.
Pros
Great alternative to a full Toto toilet
Heated seat
Soft-close lid
Looks good
Cons
Potentially defective washer
Poor instruction manual
Low water pressure

Buyer's Guide – Finding the Best Japanese Toilet
In this section, we'll do our best to answer the most common questions about Japanese toilets.
How Can I Get a Japanese Toilet in the United States?
The best way to get a Japanese toilet is to buy it from an online store; we've shared the links above. You can also go directly to the manufacturer if you prefer. If you're buying a seat, you can usually install it without professional help. Don't be afraid to ask a plumber if there's anything you're uncertain about. If you're getting the whole toilet, you will almost certainly need a plumber or contractor, not just because it's hard to do but because installing it without certified help can void your warranty.
Are Japanese Toilets Sanitary?
Yes! They're no less clean than traditional western toilets and sometimes are much more so. Following Toto's lead, most Japanese-style toilet bowls are coated with a finish that prevents waste from adhering to them. When you own a Japanese toilet, don't be surprised if you clean it much less often.
As an added bonus, some Toto and Toto-inspired toilets come with UV lights to destroy any microbes on the bowl.
How Do You Use a Japanese Toilet?
The number of buttons on a Japanese bidet seat can be intimidating to Americans who aren't used to bathroom technology more complicated than porcelain. The learning curve isn't as steep as it looks, though.
Each model is different, but generally, the three setting you'll want to change are the pressure, temperature, and direction of the bidet stream. We recommend starting with low pressure and a warm temperature, then changing the angle until it's just right.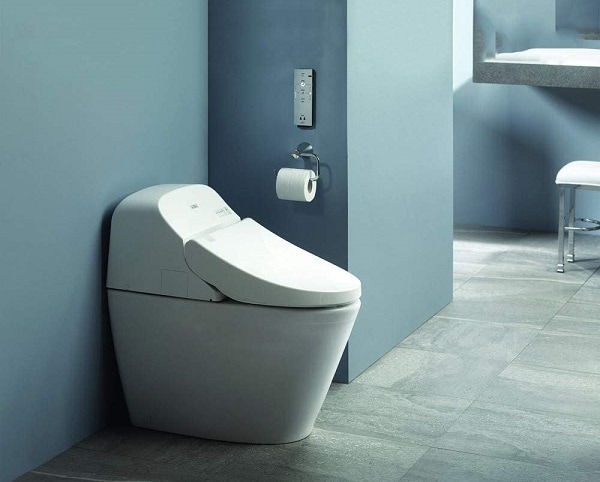 Why Do Japanese Toilets Have Buttons That Make a Flushing Sound? You Promised You'd Explain That.
Oh, right, we did! Well, many people in Japan have historically felt ashamed of the sound of their own defecation. In a public bathroom, some were in the habit of flushing over and over to hide any noise.
This got so commonplace that it started seriously driving up water bills. To eliminate the waste, toilet manufacturers began adding the sound button instead. If you don't want anyone to hear you pooping, press it as much as you like—nobody will ever know!

Conclusion
For a luxurious, spa-like bathroom experience, it's impossible to beat the WOODBRIDGE B-0960S Smart Bidet Seat. With its full menu of perfectly realized features, it's the perfect entry point to Japanese luxury, impressing without going overboard. The only problem we noticed, with the unreliable black wax ring, is easily solved.
The great thing about Japanese toilets is that if you can't afford the whole thing, you can still get the full experience with a smart seat. The Brondell Swash 1400 Luxury Bidet Seat is far and away the best way to do that. Yes, it doesn't fit round toilets, and it makes you sit a bit forward. Outside of our few complaints, though, nothing's better than transforming your everyday toilet into a full spa experience.
That's all for our toilet reviews! We've told you everything we know about catching the Japanese-Style toilet wave. We hope you have a better idea of how to buy your own Japanese toilet or seat and join the chorus of people saying they don't know how they ever lived without one.
See Also: