6 Best Jointer Planer Combos of 2023 – Reviews & Top Picks
For anyone who has ever planed a piece of wood by hand, you have probably reaped the rewards of a perfectly straight bit of timber, the pride of hard work well done, and a whole mess of calluses. It takes a long time to cut the warp out of cheaper wood, and the higher quality stuff like oak or hickory requires lots of physical power to push the blade across the edge.
To improve efficiency, many woodworkers that prefer both quality and speed choose to use an electric jointer planer that does all the work with no ill effects for the user. They come in tabletop or floor models and can do the job of planing your wood pieces with such precision you will never do it by hand again. These machines are a staple in most professional woodshops.
For your next woodshop investment, we have a list of the best jointer planers and reviews to help you pick your jointer planer.
---
A Quick Comparison of Our Favorites in 2023
Rating
Image
Product
Details

Best Overall

Grizzly G0634Z Planer/Jointer – Best Overall

12" cutter head
Quick-release fence
Sturdy
CHECK PRICE

Best Value

Jet 8" Jointer/Planer Combo

Lightweight
Tabletop model
13-amp motor
CHECK PRICE

RIKON Power Tools12-Inch Planer/Jointer

Powerful motor
Sturdy
56 4-sided carbide inserts
CHECK PRICE

JET 12-Inch Jointer Planer

Rapid cutting
Superior finish
Powerful motor
CHECK PRICE

RIKON Power Tools 10" Planer/Jointer

Tabletop or floor standing
44 4-sided carbide inserts
5-year warranty
CHECK PRICE
The 6 Best Jointer Planer Combos
1.

Grizzly G0634Z Planer/Jointer – Best Overall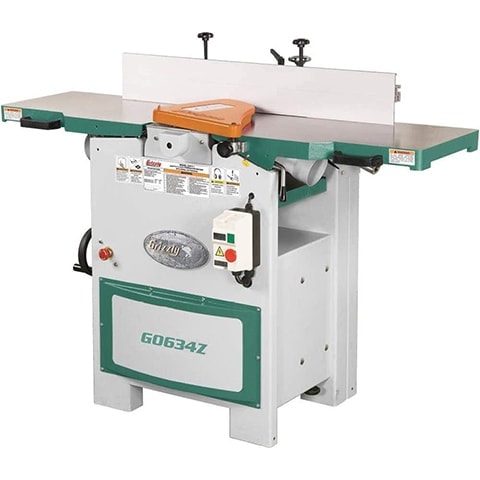 Grizzly is the right name for this product. It is a beast. The Grizzly G0634Z Planer/Jointer with Spiral Cutter Head boasts heavy-duty machine joints and uses a 12-inch cutter head for planing. It is an incredibly sturdy floor model, weighing 734 pounds, so you know this won't topple over no matter what you are planing. And the tabletop is just shy of 60″ L x 14″ W.
This hulking structure uses a carbide insert spiral cutter head, which will give you a very smooth planing cut, and it can perform well over 20,000 cuts per minute. Using the same machine for planing and jointing saves you money, to convert it from a jointer to a planer is as simple as lifting the quick-release fence.
As it is a monster of a machine, its size and weight are the only downsides. If you are looking for a more portable, tabletop option, or don't have the space for another floor machine, this could be an encumbrance. And it is reasonably expensive, however, it will last a very long time, and the quality is second to none which is why we think it is the best jointer planer combo you can buy.
Pros
12" cutter head
Quick-release fence
Sturdy
Large tabletop
Smooth cut
20,000 cuts per minute
---
2.

Jet JJP-8BT 8" Jointer/Planer Combo – Best Value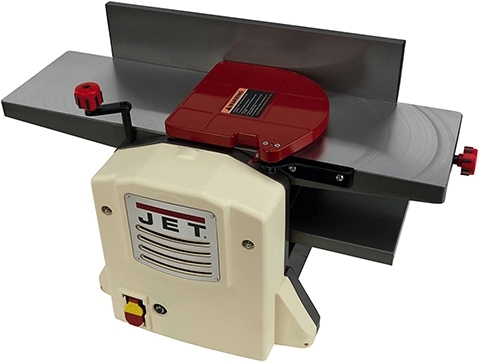 To maximize your workspace, the JET JJP-BT is a benchtop jointer and planer will take care of your needs with speed and precision. Made even easier with the oversized, ergonomic nobs that will allow maximum control and ease of use. And the machined tabletop ensures smooth, clean cuts.
It has a hard-working 13-amp motor and two high-speed knives. Combine that with planing and joining table locks, and you get some very straight slicing. It has an integrated cord wrap and large aluminum fence for safety, and weighing only 67 pounds, transport and storage are a snap. The JJP-8BT is top of the list of best jointer planer combos for the money.
Leveling the beds on this model has proven to be tricky for some consumers. Adjustment screws don't seem to be present, so if the bed is off level, it isn't possible to fix unless you call the manufacturer. This machine is fine for small, occasional jobs, but not designed for a full-service, busy shop.
Pros
Lightweight
Tabletop model
13-amp motor
Two knives
High fence
Cons
Planing tables not level
No leveling screws
---
3.

RIKON Power Tools 12-Inch Planer/Jointer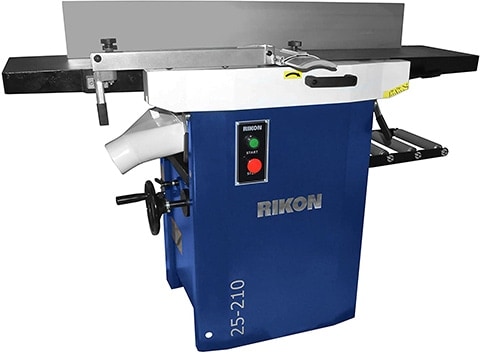 The RIKON Power Tools 25-210H, a monstrous floor model, comes with a powerful 220V, 3 horsepower (HP), 3400 RPM motor, and is capable of very easy cuts. It produces the smoothest finish with its four-row helical cutter heads and 56 four-sided, carbide inserts that can be changed easily.
It can handle a feed rate of up to 23 feet per minute, it comes with a 5-year warranty, and its design saves floor space. It operates quietly and more smoothly than some other models and has easy to operate controls for greater precision and speed.
Many owners have a problem adjusting the fence. The table doesn't hold a specific calibration. Vibrations cause the table stops to drift. All of these combined lead to an uneven cut, and a handful of frustration.
Pros
Powerful motor
Sturdy
56 4-sided carbide inserts
Feed rate of 23 feet per  minute
4-row cutter
Cons
Uneven fence
Adjustment issues
Table stops drift
Uneven cutting surface
---
4.

JET JJP-12 12-Inch Jointer Planer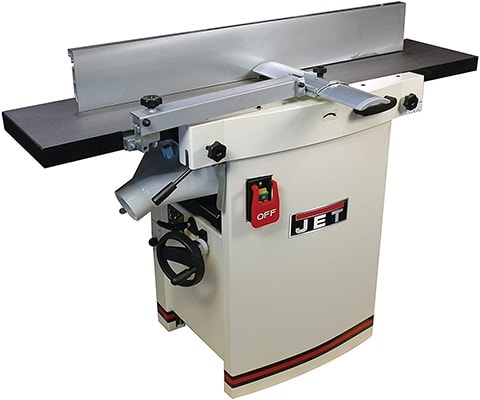 For rapid cutting and a superior finish, the JET JJP-12 incorporates three high-speed steel knife cutter heads. Its design is in a parallelogram, keeping the table close to the cutter head, which allows for precise depth of adjustments while improving the overall finish.
The extra-large fence has centered controls, which allow you to make adjustments quickly and accurately. This machine gives the operator a quick changeover between planing and jointing, without needing to remove the fence. And the powerful 3 HP induction motor can handle anything you need in planing or jointing.
This model has an unfortunate safety flaw. There is a bracket that holds the guard, keeping the user away from the blades. This bracket seems to be made of cheap metal and is easily broken. A simple bump can shatter the bracket. The manufacturer cannot keep up with the demand to replace this weak design issue.
Pros
Rapid cutting
Superior finish
Powerful motor
Large controls
Cons
Manufacturing defects
Cheap bracket on guard assembly
Dangerous safety flaw
---
5.

RIKON Power Tools 10" Planer/Jointer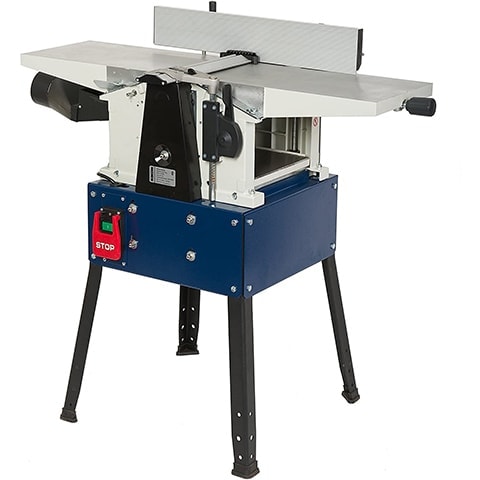 The RIKON Power Tools 25-010H doesn't know the meaning of the word quit thanks to the 110V/220V 1.5 HP motor. It cuts accurately with its 44 four-sided indexable carbide inserts, which are easily changeable when necessary.
It has a four-row helical cutter head and a feed rate of 13 feet per minute. It has a sturdy set of legs that are easily removable to make it a workbench top model, and only weighs 166 pounds total. With its rudimentary design and 5-year warranty, it's not a powerhouse, but it will get the job done.
This model's biggest concern is getting the tabletop coplaner to sufficiently do the job it is designed for. After many adjustments, stripping the threaded mounting hole on the aluminum table mounting bracket is a common issue. And the planer adjustable bed is not parallel with the cutting head, which is a pretty serious defect.
Pros
Tabletop or floor standing
44 4-sided carbide inserts
5-year warranty
Cons
Coplaner difficult to adjust
Bed not parallel
Cumbersome design flaws
---
6.

JET 10-Inch Bench-Top Jointer/Planer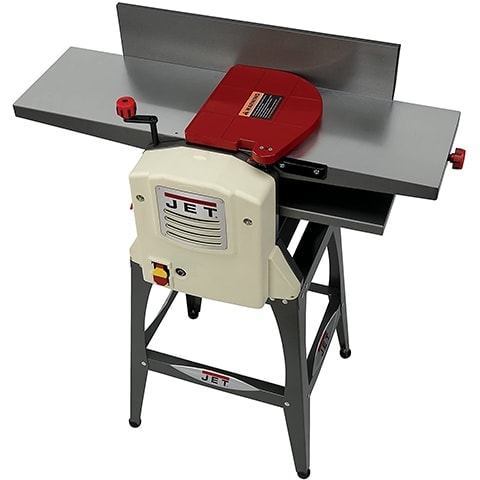 At 18, 000 cuts a minute, this little workhorse is ready for business. The JET JJP-10BTOS has built-in stands that allow it to work as a floor model, and easily transition into a benchtop. Its cutting width is 10 inches maximum, with the jointer max cut at a depth of 0.125 inches.
The planer max cut depth is to .08 inches, allowing for smooth, clean shaving along the polished table surface, and the aluminum gate is aligned with easy to use adjustment tools. With its lightweight design and sturdy construction, the JJP-10BTOS is a good tool to have for a hobbyist.
Trouble begins with this model if you expect too much out of the weak motor. It doesn't work well with hardwoods like oak and tends to bog down. In making multiple passes in hopes it will work that way, the rollers will leave black marks on the wood. And it only has a 3-year warranty.
Pros
18,000 cuts a minute
Lightweight
Removable floor stands
Cons
Bogs down with hardwoods
Leaves marks on wood
Easy to push out of plane
Poor quality
Fence not square

Buyer's Guide – Choosing the Best Jointer Planer Combo
As is evident from these reviews, there are only a few brands that make a planer and jointer combo, and even less that have done it right. Many have tried to improve on the older designs, giving it an updated style and changing certain parts to make it more economical, but it has resulted in an inferior product over the original designs.
Knowing what you need is as important as knowing how much to invest in your shop or hobby needs. If you need a model that can chew through a lot of cuts, then a model with plenty of blades is better. Although, for hobbies, simpler might not be better. Allow us to elaborate in this handy buyer's guide.
Picking Your Planer/Jointer
When selecting the planer/jointer combo for your needs, there are factors that need to be considered beyond price, and there is a good reason. Just because it is inexpensive doesn't mean it will work less effectively, and just because it costs thousands of dollars, doesn't mean it won't frustrate you into pulling your hair out.
The more important aspects that make a great planer/jointer are things like how many cutting blades they have, how easy it is to level the coplaner, and whether it has indexable carbide inserts. Is it easy to move or will it live in one place? And the warranty is also key.
Efficiency of a Planer/Jointer
How well a planer/jointer works is a measure of three factors:
Motor horsepower
Blades and types of blades
Internal electricity
The horsepower of the motor is obvious, in that a bigger horsepower motor will work harder, but the electricity to properly run that motor is key. If it only accepts 110V, like that of a standard household plug, it might run fine.      But if it is rated for 110V and 220V, you will get much more work out of it with the bigger voltage. However, that takes some creative electrical wiring.
One blade can do the job, but two, or four, can do it much more effectively without bogging down the motor. This is simple physics. So, when choosing a planer/jointer for your shop, if you want maximum effort out of it, more blades are better and will give you a better cut.
Cutter Head Styles
The style of the blade or cutter head will make a difference in the smoothness of your cut as well. A spiral cutter head will have a different groove track than a four-sided cutter head. The bigger concern here is replacing them when needed. Most manufacturers will sell replacements but be sure before you pick your planer/jointer, so your machine doesn't become a hunk of useless metal.
The same applies to the carbide inserts. Carbide is a very tough metal, but it will deteriorate after many hours of continued use. And by many, we mean hundreds, so don't be too concerned about losing one or two immediately. They will be with you for a long time. But still, knowing where to get replacements is always a good thing to know.
You can find our other buyer's guides here:

Conclusion
Having a planer/jointer in your shop is an excellent way to be more efficient, not only in this wonderful 2-in-1 concept but also in the space you save having one tool instead of two. If you opt for the floor model, they take up minimal ground space while being very sturdy, and if you go with the tabletop option, the same applies, except with elevation.
Our reviews were a no brainer, and the Grizzly G0634Z is the clear best pick. It is a floor unit, just like most of the Grizzly line, and its long table surface makes planing and jointing a very simple and efficient process. It is a force to be reckoned with.
The most economical option was the Jet JJP-BT. It had a nice mix of quality and value and would make a great addition to anyone's shop. Jet products are known to be a fantastic find in the jointer and planing field, and to combine their strengths, makes this inexpensive beauty a formidable tool to have.
We know that picking your machine can be a lot to process. So many bells and whistles to consider. We hope these reviews and the information in this guide helped in some way to give a better sense of shape to your next planer/jointer purchase plan.
---
Featured Image Credit: Vladimir Sidorov69, Shutterstock